The UK and Europe might not be seeing eye to eye on much these days but present political differences were put aside for the now annual Brit and Euro Classic Car Show in Auckland. We went along for a nosy.
What can you get for free these days? Not much, so it was great to spend a few hours wandering around Lloyd Elsmore Park in the Auckland suburb of Pakuranga last month, taking in the shine of the machinery at the Brit and Euro Classic Car show, all free of charge.
Well, except for the young ones we brought along to educate about the preservation of the motor car. They were there primarily for the promise of hot chips but they learned a few things along the way. The show is the fruition of a few local East Auckland classic car enthusiasts. A germ of an idea was sparked in 2015, and the first Brit and Euro fest happened in 2016 with over 480 cars on display.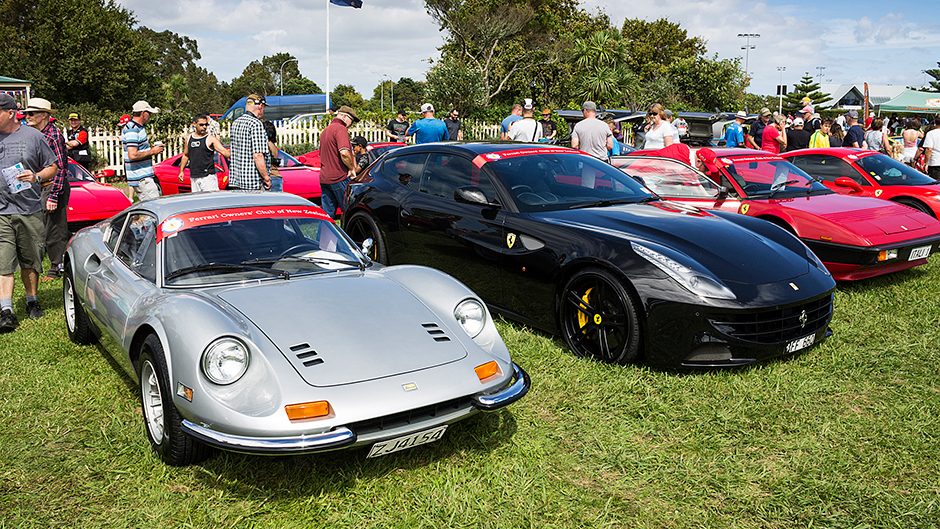 Now in its third year, this gathering attracted some 800 cars of all vintages and conditions but all with their European roots in common. Helping were the local car clubs, the show attracting a wide range of marques and as there's no points up for grabs for best in show, it creates a particularly relaxed atmosphere.
There are very few cars that are roped off and so you're free to wander about the lines of classics with plenty of owners nearby happy to spin the tale of their car. If you're no fan of yank tanks and hot rods, this is one for you, the closest thing to a muscle car being a V8-powered Capri.
And so attire such as black singlets, flannelette shirts and stubbies are a rare sight. There's still plenty of horsepower on display from the line-ups of outrageously styled TVRs to big Bentleys and Bugattis. Most marques are well represented, particularly Jaguar with a big turnout of cats, including some rarities like an SS100.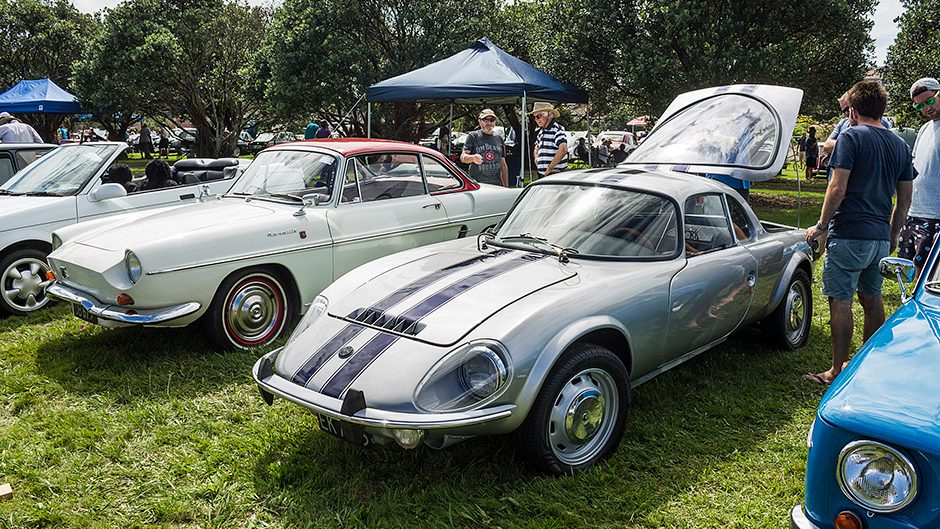 Audis were thin on the ground and there are more than a few machines that require a closer inspection to see just exactly what they are. It's a well organised show with easy parking and lots to see. Did we mention it's free? If you missed it this time, keep it in mind for next year people. Most of our ex-army Landies were assembled in Oz and so earned the name Skippy from our soldiers. However this 1972 Series2A 88 was actually screwed together in Wellington.
Along with its 2.3-litre petrol engine and a four-speed manual, additional NZ Army modifications made at the time of assembly include twin fuel tanks, bush bars, lifted suspension, cutaway quarter panels and deleted side valances. Jowett Jupiter's are odd looking creatures, especially with the bonnet propped up to reveal its low-slung, flat-four engine. This one has been modified, the engine enlarged to 1500cc and its compression ratio bumped to 10.0:1. With twin downdraught Zeniths, it's good for 75hp.
First registered in NZ in 1952, it has been with its current owner since 1980 and is on its third block and fifth set of pistons. This little Renault Floride from 1961 features a removable hardtop. It's been in the same family since it was originally imported new from France. The car is in near original condition, with the factory vinyl still lining the seats, though it has been recarpeted and repainted over the years. These little French fillies use a 895cc ohv four with a Solex carb and run a six-volt electrical system.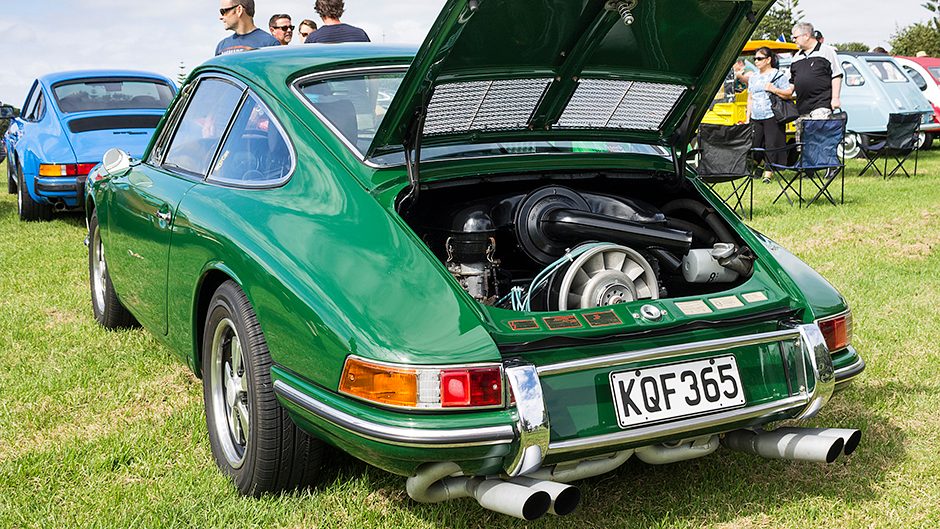 One of a few Rollers on display, this a 1930 20/25 model. Park Ward were the coach builders, fitting a six-light enclosed limousine body. Six-light you ask? It references the six winding windows installed. Some 3824 20/25s were built between 1929 to 1936, and they say 70 per cent of those are still running around today. This car came to NZ in 1978 and is said to be in original condition, down to the carpets and leather trim. They sure don't make 'em like they used to.
Among the cluster of Ferraris, this Dino was a standout, looking a model of elegance alongside the el weirdo FF. This 1973 246 GT started life as an American before making its way here in 2000 to be raced in various Targa rallies. Its new and current owner treated its engine to a rebuild last year. The 2.4-litre, 60-degree V6 with triple Weber carbs is good for just shy of 200hp at 7600rpm, and the Dino is still one of the best looking Ferraris, even when painted silver.
The car that drew the largest crowd of admirers all day was the Bugatti Type 59/50S. A recreation, it's still a fabulous looking machine. It's said just one 59/50S was ever made in 1935, racing in the French GP, and it was soon superseded by the T50B. The original 50S was reengineered for a different class of racing with a smaller engine and reportedly has been lost to time. This car has been rebuilt using factory drawings and period photos. It uses a 4.9-litre straight eight with twin overhead cams. Burning methanol and breathing with the help of a blower, it is said to make 485bhp. And is a glorious work of art.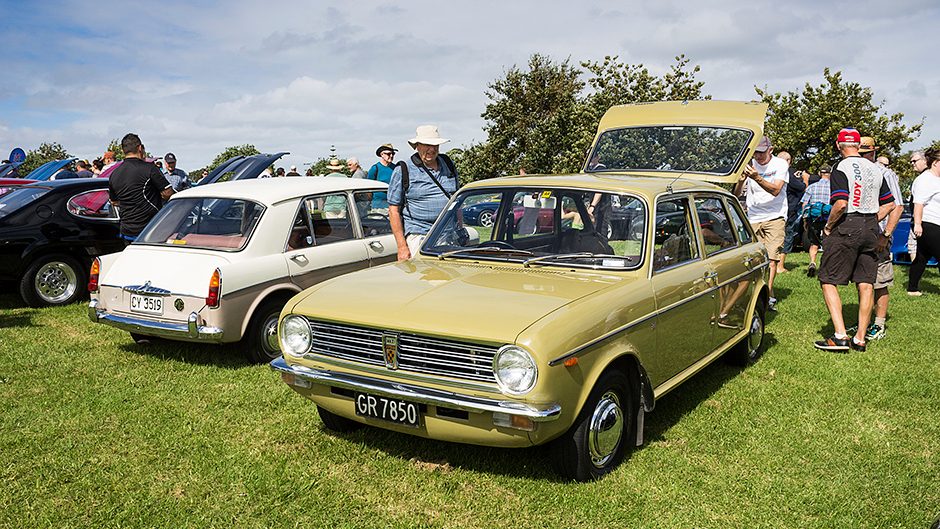 The Jaguar Club was well represented on the day with swags of Jags lined up. Among them the menacing looking SS100, and this beautiful number, a 1961 E-Type. Said to be the 29th E minted at Browns Lane, the owner claims it to be the oldest E-Type in the country. This was built just six weeks after the car debuted at the Geneva Motor Show and is thought to be amongst the twelve oldest surviving examples in the world. Purchased from an owner in Scotland in 2009, it has undergone a full resto, yet retains many of its original parts.
These shows have the oddities on display, like the 123E Anglia Estate Deluxe from 1964. A UK built car, the Anglia Estate made its way down to this South Sea colony in 1965. With eight owners and time spent in a barn, its current custodians reckon its a bit of a rarity in the world of classic Brit Fords. There were only 215 123Es built with a 1200cc Kent engine, and this is one of only 51 sold in the UK at the time.
Daisy, as she's known, is a 1955 Ford Popular 103E. Purchased new in Whanganui, it's never been off the road and is described as mostly original, unrestored and a delight to drive. And with a three-speed gearbox and a 10hp, 1172cc side-valve four pot, there will be plenty of time to smell the daisies on a journey in this time capsule.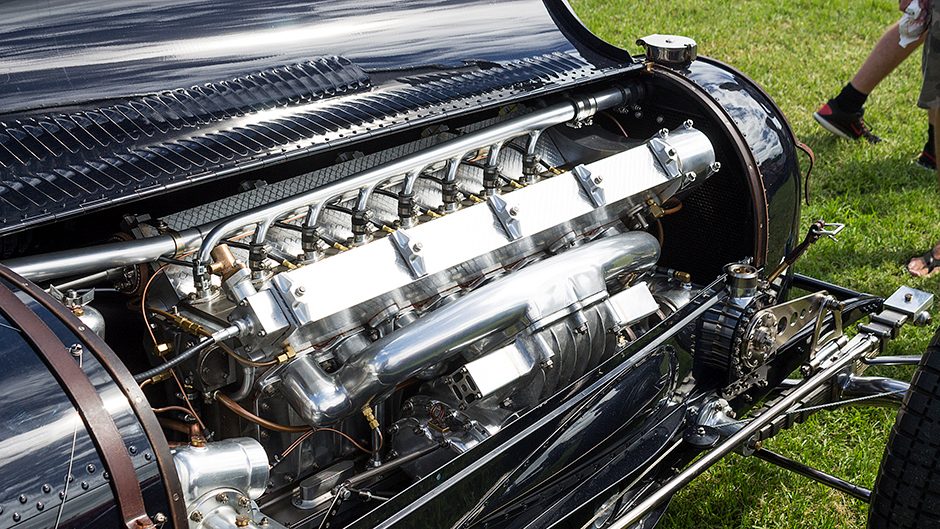 No Brit car show would be complete without some BMC/British Leyland gems like this 1973 Austin Maxi. The last of Issigonis' creations, it took the Mini concept and maximised it with five doors, five seats and five gears. Some 450,000 Maxis were made between 1969 and 1981. This Olive-A-Twist coloured Maxi is delightfully named Dolores and was assembled in Wellington. A great feature was the transformation of the interior into a double bed, which suggests reliability was iffy and this provided emergency accommodations for stranded owners.
This 2.0-litre 1967 911 was an American native for much of its life until it was shipped to New Zealand in the mid-nineties. It lay idle for a decade before the current owner resurrected it. The body was refurbished and the engine rebuilt, complete with its racy-looking Monza sports exhaust. It's a relatively new 911 on the local scene having been complied just last year.
The Matra Jet 6 was the final iteration of the original Djet, designed by Frenchman René Bonnet in 1962. Its claim to fame is it's the world's first mid-engined production car. While the car used a Renault 8 engine and a gearbox from a van, its use of independent wishbone type suspension with coil springs and four wheel discs was advanced for the time.
It used a fibreglass body made by Matra bonded to a steel chassis frame, and with its weight totalling 600kg, it's charm was in its handling rather than its speed or looks. Matra took over the project when Bonnet ran into financial trouble, and the last iteration was the Jet 6 in 1968, powered by a 1255 cc Renault 8 Gordini engine.