BMW has enviable heritage in building flat-twin sport-tourers, and it shows in the latest R 1200 RS, forty years in the making.
When you think of vehicles with history and heritage the 911 springs to mind, around since 1964, the layout and look essentially unchanged. And while the RS line from BMW Motorrad isn't quite in that league of longevity, launching first in 1976 as an R 100 RS, the original across-the-frame boxer twin motorcycle dates back to the early 1920s. It featured shaft drive, still present on the 2016 R 1200 RS.
The R 1200 RTs have long been the police mount of choice, and those we've spoken with about them rave. The RT is essentially the full dress tourer version of the R 1200 while the RS is half-faired and lighter, more the sport-tourer.
Once you hop aboard the latest air and liquid-cooled R 1200 RS, it doesn't take long to work out why the cops love their machines. That slow but deliberate development path is immediately apparent; this feels like a well oiled giant Swiss watch in the way it goes about things. First gear slots sweetly into place and the shifts are short, slick, lightweight and devoid of false neutrals. The clutch initially seemed to engage too far out in the lever arc but handspan adjustment remedied that. And that's the thing about this bike; almost everything is adjustable. There's an analogue speedo but dig into the instrument submenus and you discover one of the trip computer settings offers three different instrument "styles", one of which features a digital speed readout.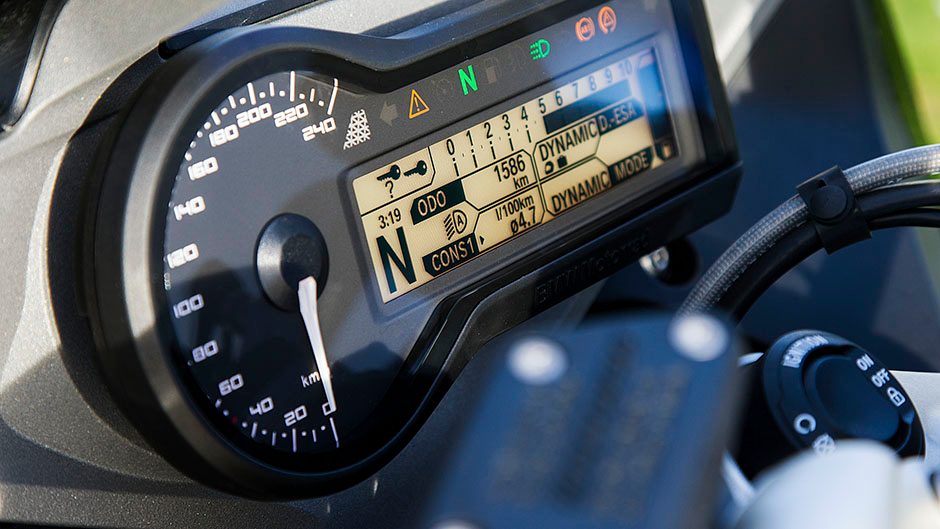 The RS, now sporting a face resembling an S 1000 RR's, isn't inexpensive at $28,490, but you want for little. Standard items include electronic suspension adjustment, heated grips, traction control and ABS, Brembo radial brakes, various engine modes (Rain, Road, Dynamic, User), cruise control, trip computer, adjustable screen, and the list goes on. Panniers add $1449. Currently, BMW is throwing in a free satellite navigation system worth $1499 with each RS sold.
Powered by the same 1200cc liquid-cooled boxer twin engine in the RT and GS models, the RS lives up to its name (RS translates to Racing Sport) by being subtly quick, the oily first to second shift adding haste to an optimised 0-100 run. Just pootling along on this bike you might not suspect it's that fast; how can a flat twin compete with the might and power of lighter weight four-cylinder machinery? Well it can't quite, of course, its 80-120 overtaking time about a half second adrift, but what it might lack in sheer muscle, it more than compensates by developing syrupy torque at everyday revs.
Lugging away merrily from 2000rpm, once it hits 3000rpm there's a glorious surge of torque, slingshotting you forwards. That happens to equate with precisely 100km/h in top gear, so overtakes don't even require a gearshift if you're feeling lazy. And with such tall gearing and an aero-optimised screen this loafs along at an incredibly efficient rate, easily sipping into the low fours. About the worst we managed was 5.3L/100km.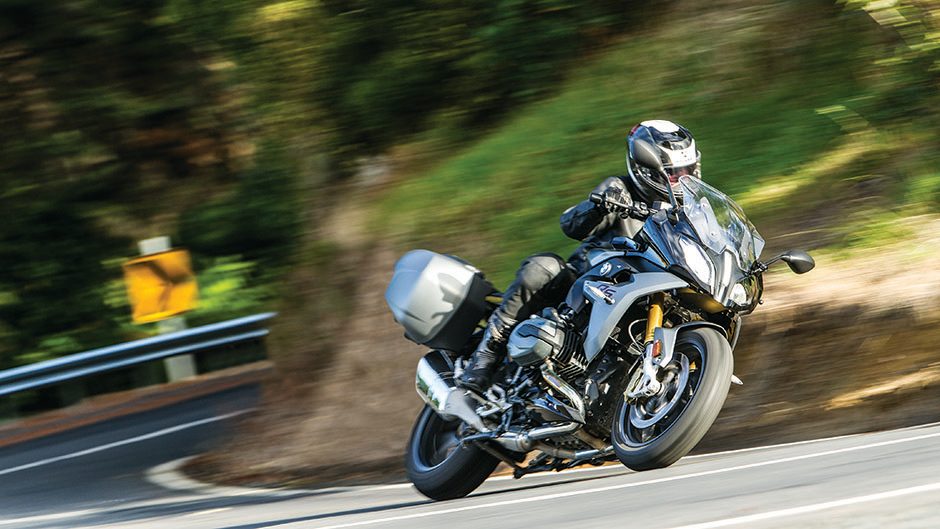 It can hike using top revs but that feels a little like conduct unbecoming, such is its mountain of torque in the 3000-5000rpm area. Given free reign this managed a 0-100 time of 3.3sec, which is not hanging around. And that's without even disengaging traction control. I actually didn't know how initially – there's lots to learn on this bike. One of the other things that temporarily had me stumped was how to access the petrol filler. Eventually it dawned on me the ignition needs to be off to release the flap. Duh.
There's lots to fiddle around with, as we said, but in the end it's the ride that counts and this offers moving pleasure in volumes and screeds. At 250kg with a pair of panniers attached, the RS is a surprisingly easy bike physically to manhandle. Within a short time we were managing feet-up U-turns during the photo shoot which, being winter, was cool and damp (rather than the cold and wet that followed).
Never mind, for it does weather protection as a well honed sport-tourer should. The screen is pretty trick, without the added weight of power adjustment. Grab a hold of both sides and give it a yank; the angle of the screen changes to more upright as it rises by about 12cm or so. In the more aquiline position it's slipperier though the air and quieter too, despite the full air blast hitting your helmet. We managed an ever so slightly quicker overtaking time with the screen raised, oddly, and probably a fluke. In second gear alone it managed 1.79sec, about as quick as the fastest cars we've ever performance tested. It doesn't want for speed this RS. And the top-line part-interconnected brakes are simply wizard.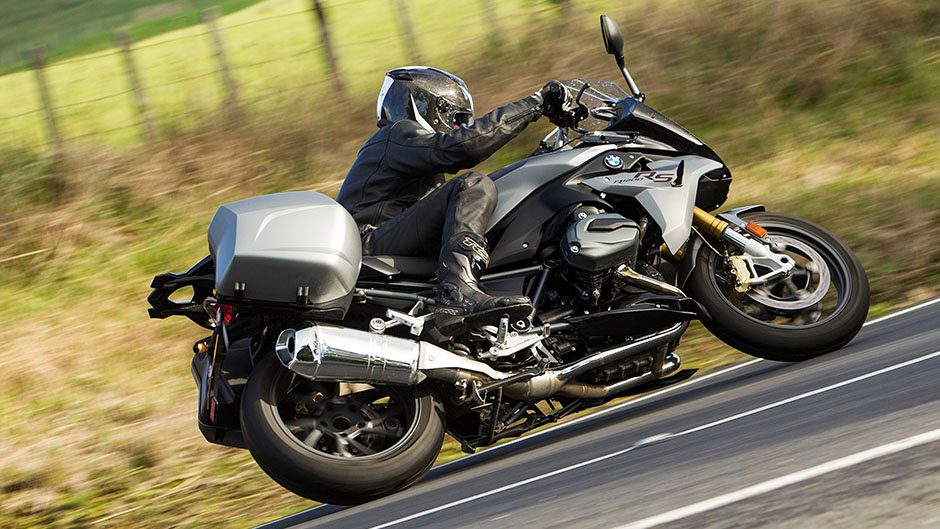 So it has the rapidity but does it have the right sport-touring genes? Oh my word, yes, and it's a glorious mix of the two, part sport, part touring, with no particular area dominating. Panniers are capable of holding a helmet, as demonstrated, and are easily attached and detached. Because they add a bit of width I was initially reluctant to lane split, but given the bike is no wider than the handlebars at any point, we kept that in mind when easing between vehicles.
Comfort is a bit of a given on a sport-tourer, and this is as supple as you'd want, soaking up any of the bigger hits without transmitting shock, never once producing a wallow or head shake (the steering damper probably contributing). Stability is first rate, imbuing cornering confidence, and with Michelin Pilot Road rubber there's every reason to forge on and push a few limits (mainly yours rather than the bike's). With its inherent boxer twin low centre of gravity this lives to carve up Kiwi roads, its suspension ideally suited to flattening out our lumpy surfaces.
All the while the engine with its characterful flat-twin bark is a model of smoothness, vibration is just not part of the equation. You want a mile muncher to have a roomy riding position and well padded seat, both of which this has. There's more of a stretch to the flat bars than I imagined. You get the feeling the riding position is optimised for travel at average speeds of 160 clicks or so on European roads but it's nothing like as compromised as the average superbike, the wrists never aching. And given as there are no cylinders sticking up from underneath, it's narrow across the rear of the tank, which makes it easy to grip with your knees.
We felt after riding the F800 GSA the extra few grand was probably well spent on the R 1200 GS and this mechanically similar set-up (same engine, transmission, final drive) would validate that impression. If you're after something you might want to use daily for commuting the more upright naked R 1200 R ($26,490) might be the go. But for sport-touring we'd probably go here before looking at the more expensive ($32k) and vibey S 1000 XR. The cops ride R 1200s day in and day out and were evidently alarmed when a model change was mooted. One can understand why.
| | | | |
| --- | --- | --- | --- |
| Model | BMW R 1200 RS | Price | $28,490 |
| Engine | 1170cc, liquid-cooled, fuel injected, flat-twin, 92kW/125Nm | Drivetrain | 6-speed, shaft drive |
| 0-100km/h | 3.36sec | 100-0km/h | 39.48m |
| 80-120km/h | 1.79sec (51.88m) | Weight | 254kg |