Eight-cylinder machines from Europe are a threatened species, making cars like BMW's 550i Xdrive an increasing rarity. Should you get in before legislation consigns it to extinction?
I recently read a news snippet regarding those still suffering from the pandemic overseas. Some have been WFH for so long that they miss their commute. Before work, these poor souls reckon they drive around for about 20 minutes, usually to source caffeine, before they return to their home office for the daily slog. Sounds truly bizarre but maybe they have a BMW M550i xDrive in the garage, and any excuse is a good one.
This is quite the Jekyll and Hyde act, a sports sedan parading as a luxury car, but it's a master of each discipline. Such wide-ranging abilities don't come cheap, of course, the 550i starting at $152,990 (some $3k more expensive than when pricing was announced just last year) but it's quite the machine, for all that.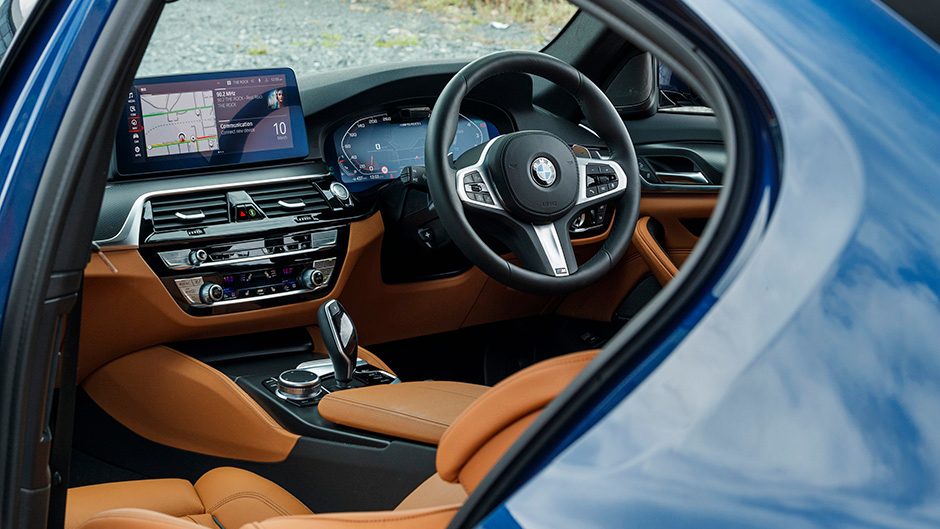 We like its appearance, the M Aero package hinting at its prowess with its bumper trims, side sills and discreet diffuser on the rear deck. The 20-inch wheels are even subtle, housing the optional M sport brakes.
There's a fetching tan interior which contrasts rather well with the mix of alloy, faux carbon and black trim in the cabin. The 5 Series is one for the tech freaks with its 12-inch digital instrument panel that morphs to relay more relevant info according to which drive mode you select. Yet more data is imparted via the head-up display but, like the LCD array of the temperature controls, it's hard to read if you have polarised sunglasses. More tech flows from the main screen, offering all manner of connectivity, but you have to be an Apple fanatic as there is no Android support. There are enough ways to control the infotainment centre; you can use the touchscreen or the iDrive controller, speak to it with the 'Hey BMW' voice controller and then there is the pointless Gesture Control gimmick too.
This model 550i they call the 'Pure' as there is a more expensive version available at $175k with yet more stuff on board. But really, there's not a lot you miss out on here. For weary bones, grand seat comfort comes as standard. The Germans tend to like it firm under the buns but the 550i's 'Sports seat' is almost tender to the touch and multi-way adjustment means you can bend it to suit your frame almost perfectly.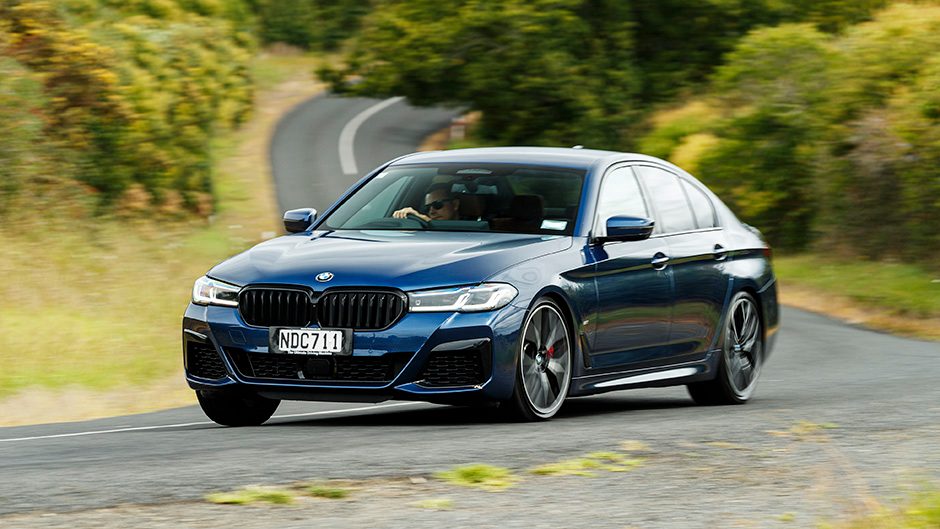 The 5 is fairly easy to enter as well; the doors are big, the seat height not too low and the steering wheel moves up and out of the way to facilitate an overly nourished mid-section. Like the cabin, the seat is generous of width, so you don't feel hemmed in. The rear quarters are ample too. Its boot is accessed by a powered lid (overkill) and while the opening is decent the overall width of the hold is the limiting factor. To our mind, this is as big a sedan as you'd ever need; forget the Seven. And this has better styling proportions to boot.
The 550i's Assisted Drive mode takes care of the traffic flows, working smoothly in the grind. While large, the 550i has reasonable turnaround dimensions, despite the AWD, and a multi-angle parking camera relays omnifarious perspectives to ensure you can't possibly hit anything. BMW's reversing assistant is there to help extract you from tricky parking situations too, the car retracing its wheel tracks and taking care of the steering. The active lane keeping is aptly named. It's in on the action above 70km/h and if you're not strictly disciplined in your lane, and fastidious with your indicating, it'll tell you off. On state highways, you're locked in a constant battle for ultimate control; it continually corrects your position in the lane, and then when you let it steer (ill advised as it's about as smooth as a sight-impaired learner driver after too many lemonades) it rebukes you as it thinks you don't have your hands on the wheel. You can however switch the function off (very much advisable) leaving just the helpful active cruise.
The V8-powered 5 has the benefits of xDrive so the mammoth outputs (390kW/750Nm) from the twin-turbo V8 are fully utilised. You want your luxury car to have more than enough power to get any job done, and that's a fitting notion for the five fifty. The throttle needs but a mere prod to get things moving briskly. You can get by using less than 2000rpm, with torque everywhere. It's quiet and refined when mooching yet the bent eight still blares when you wring it with a nice burble and discreet pop offs as accompaniments.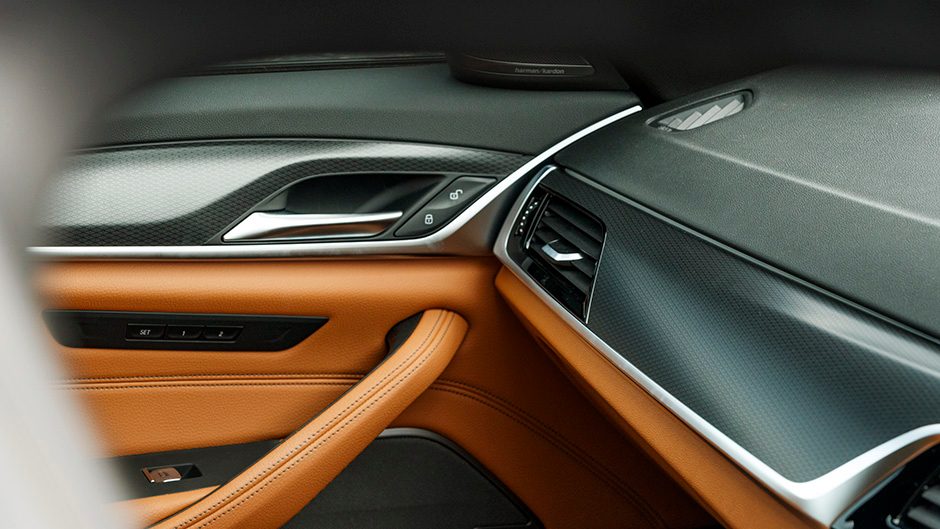 Being an M Performance model, there are a multitude of drive modes. Default is Comfort and while there's a slight underlying firmness to the Adaptive M suspension, especially when those big wheels hit something significant, there's enough give around town. On coarse chip surfaces there is some tyre-generated hum but it's not intrusive. While Comfort works well for 'quick touring', the handy Adaptive mode, (with 'predictive adjustment of vehicle settings for the driving situation') firms the dampers when necessary in the bendy bits, better fending off the roll and it will access a sporty throttle map when you're hard on the gas.
When you want to stretch the legs, Sport keeps it lively, the firmer suspension setting adding some jostle over the bumpy bits but the transitioning weight is brought under stricter control. It's a big car, tipping in at 1900kg, but it has that integral BMW balance with only a hint of understeer in the really tricky corners. The steering gets a tad hefty in Sport mode though it's quick to turn in with enough 'at the wheel feel' to engage. The AWD and M Sports diff combine to good effect; this punches hard off the bends without drama. It's fast and efficient in that unflappable AWD manner, helped by the small and undetectable inputs from the electronic dynamic aids. The trans does an okay job, until you realise it too has a Sport mode, accessed by pushing the lever across and then you get the racier shifting patterns, being quicker on the downshifts and holding gears longer. The V8 rolls on well from 2000rpm but punch it and the torque and power combine mightily. It's a fast machine, and probably quicker from a standing start if you remember the launch control setting but really BMW, just make it simple. As it stands, 4.1sec without it ain't bad going. Brakes are good too, massively effective.
You drive this and wonder why would you need an M5? You don't, but some will always covet the ultimate in excess. For anyone else seeking the allure of a Euro V8, this is damn fine. The similarly powered competition is limited; you have to go all out on the RS and AMG models to get an octad of cylinders so it has a niche market position. It's certainly one of the last of the great Euro eights, so if you're that way inclined get in while you still can.
| | |
| --- | --- |
| Model | BMW M550i xDrive |
| Price | $152,900 |
| Engine | 4395cc, V8, T/DI, 390kW/750Nm |
| Drivetrain | 8-speed auto, all-wheel drive |
| Fuel Use | 10.7L/100km |
| C02 Output | 246g/km |
| 0-100km/h | 4.15sec |
| Weight | 2244kg |