BMW Group New Zealand has moved to new office premises that align with its strategic business direction focusing on sustainability to reduce the company's environmental impact whilst enhancing operational efficiencies.
The relocation comes after 32 years at its Mount Wellington location and will signal a new era for the brand as it continues to expand its product portfolio of electrified vehicles from both the BMW and MINI brands.
The new premises are located at Mercury in Newmarket, a modern and innovative building that exceeds 5 Green Star certification from the New Zealand Green Building Council by harnessing natural light and air and making use of recycled materials throughout its construction.
The building's large atrium features openings that deliver natural ventilation – significantly reducing reliance on air conditioning – while extensive indoor planting contributes to air purification and cooling.
The woven vinyl flooring incorporates a high level of recycled material and can also be recycled at the end of its life, while rainwater harvesting collects and stores water to significantly reduce wastage.
The new office has been designed to suit flexible work styles in line with the global BMW ConnectedWorks approach where flexibility is offered while remaining connected. EV charging is also available to use by BMW Group New Zealand staff and visitors.
BMW Group New Zealand heralded the move to its new premises with an official opening on Friday, August 26, with attendance from Auckland Mayor Phil Goff, alongside BMW Group locally-based and international executives visiting from Munich.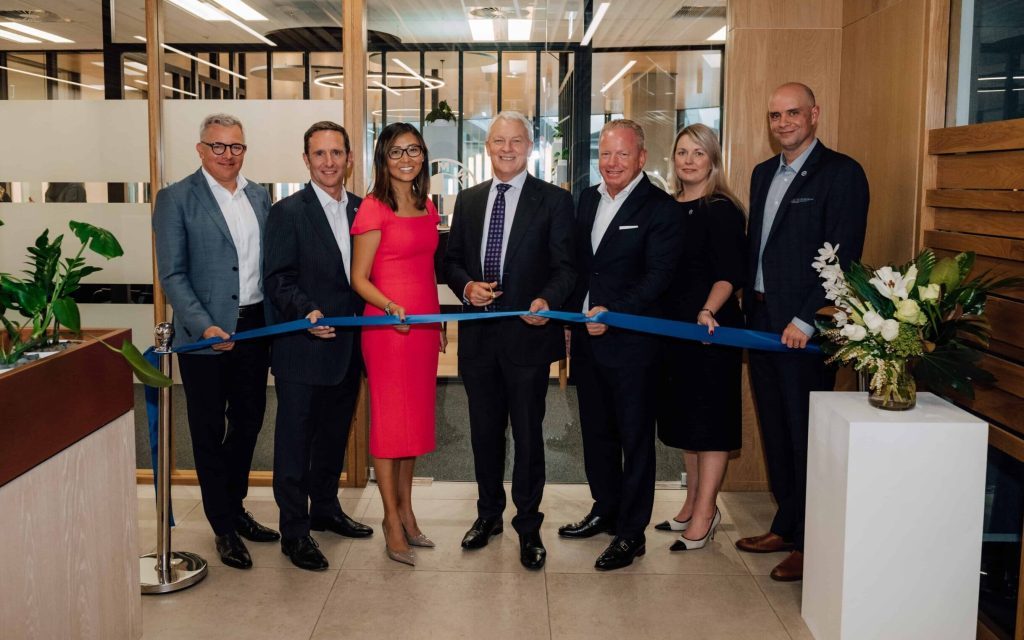 These included Jean-Philippe Parain, Senior Vice President for Asia Pacific, Eastern Europe, Middle East alongside Mike Wetherell, Regional CEO of BMW Group Financial Services for Asia Pacific, BMW Group New Zealand Managing Director Adam Shaver, BMW Group New Zealand Financial Services Managing Director Teresa Rice, BMW Group Australia CEO Wolfgang Buechel and BMW Group Financial Services Australia CEO May Wong.
Mayor Goff said he was pleased to open BMW Group New Zealand's new premises. "The new BMW New Zealand office is an innovative space that includes a number of sustainability measures in keeping with the company's efforts to reduce its impact on the environment," he said.
"It's great to see businesses promoting sustainable building design such as the use of recycled materials, rainwater harvesting and natural ventilation. As our city grows we need to encourage such measures so that we can continue to work towards a more sustainable Auckland."
Mr. Shaver added that the company would benefit in all respects from its move to the new location to ensure it continues to provide exceptional support to its valued dealer network across the North and South Islands.
"Our new office space is representative of our company's commitment to the New Zealand market and our aim to embrace sustainability across all areas of our business, while also offering our staff a modern, spacious and light-filled environment in a fantastic location." Mr. Shaver said.
News of the move comes in the wake of impressive first half year sales growth for BMW Group New Zealand, with registrations of fully electric BMW models seeing quadruple percentage figure growth and registrations of the acclaimed MINI Electric Hatch seeing triple digit percentage growth.
BMW Group New Zealand is continuing to expand its electrified product portfolio with the recent launch of fully electric models: the BMW iX3, iX and i4 Gran Coupé – whose line-up includes the first emissions free BMW M car, the M50 – and the debut of the BMW i7 flagship sedan model later this year. Next year will also see arrival of the first-ever BMW iX1.
With addition of these models to its model line-up, BMW Group New Zealand will offer 10 electrified models to local customers, which is among the most of any automotive manufacturer in New Zealand.