Another BMW model courts styling controversy or does it? We drive the least expensive 4 series during the silly season.
Over the Christmas-New Year holiday period we found ourselves driving the 420i Coupe, another BMW with a controversial styling element. The enlarged double kidney grille of the 4 Series is unquestionably the aspect that will polarise aesthetically.
Is it auto art or abomination? Or is it just motor noters taking exception? Each time I arrived at the local golf club, I asked interested onlookers about the styling and literally everyone either admired it or were neutral.
Evidently the inspiration was the jutting kidney grille of the 3.0CSi from the early 70s and did anyone dislike that? BMW is certainly not alone in producing attention-grabbing frontal adornments. Audi dominates their front ends with massive grilles, and these don't seem to put people off. We guess BMW felt it might check out this strategy, stretching the dimensions of those kidneys to add a certain something.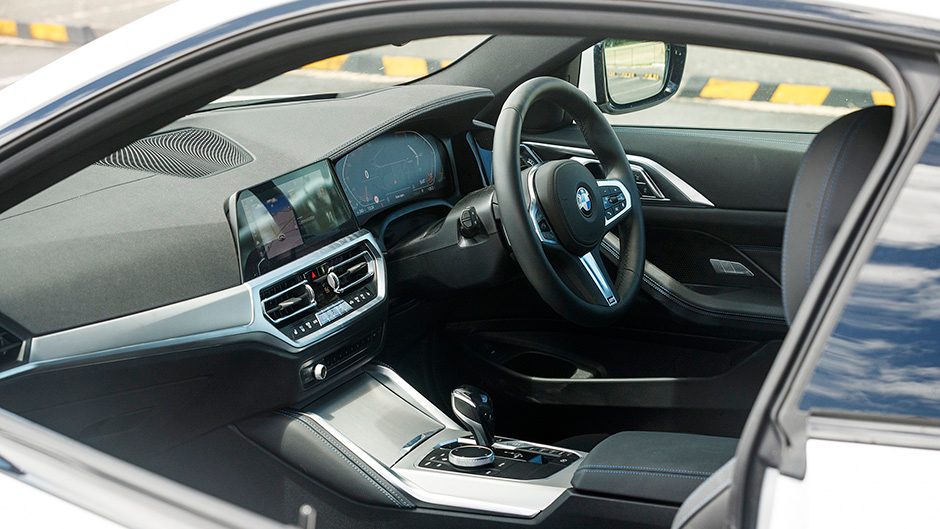 BMW stylists don't always hit the mark, it has to be said, and have produced some controversial designs over the past couple of decades, so the fact this also has people talking (or not) is hardly surprising. Designer Adrian van Hooydonk describes the 4 Series shape as an "expressive character" with "great independence", which we'd interpret as daring to be different. Our in-house design experts (editor, designer and photographer) aren't impressed, nor do they especially like the overall shape of the 420i, one likening it to a Mustang minus the muscle.
Personally I don't find the shape off-putting – it reminds somewhat of an A5 Sportback and the glass tapering at the rear seems almost Nissan GTR-like. Being lower and wider than the 3 Series sedan upon which it is based makes it look more up for it dynamically, as does front and rear strengthening of the superstructure.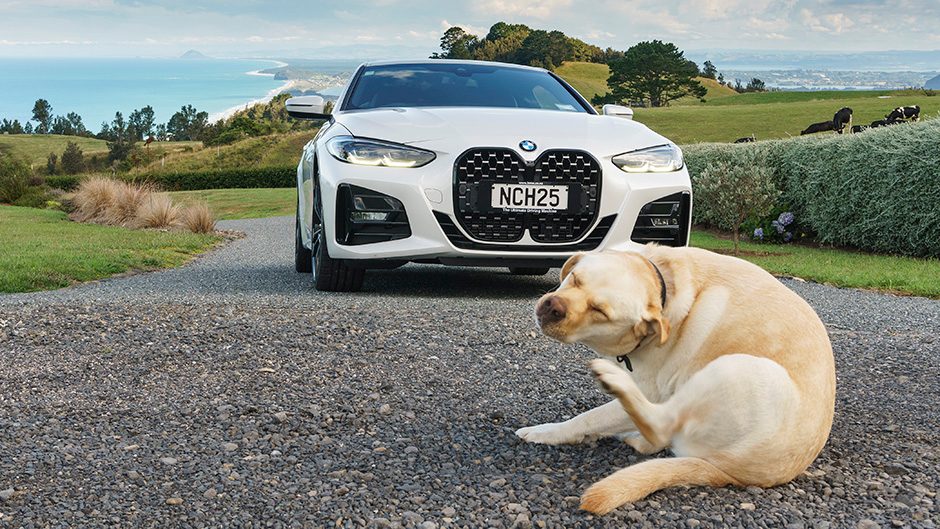 Lower, leaner and meaner
The dimensions are enlarged compared with its predecessor, being longer by 128mm to 4768mm, wider by 27mm to 1852mm and the wheelbase has stretched by 41mm to 2851mm. While it is also slightly taller at 1383mm, that's still 57mm below the roofline of the latest 3 Series sedan, while its tracks are 23mm wider. So on physical attributes alone this should stick and corner better than its four-door brethren.
Helping round out the dynamic package is the standard sport suspension set-up and also part of the $81,900 price is adaptive damping. There are numerous drive modes to sift through, including the default Comfort mode, optimised for everyday use, and Adaptive which mixes Sport with Comfort. There's also an Eco-Pro mode but given we failed to use up a tank of gas in the entire holiday period, including a trip down to and back from the southern Coromandel area, why would you bother? The average consumption was stuck on 8.8L/100km, while cruising at typical summer speeds saw instantaneous use at 5.0L/100km or less. That's in part because of tall gearing, 100km/h using up only 1500rpm in eighth gear. A combined figure of 6.4L/100km is claimed.
For some strange reason the other must-have 'adaptive' feature, that of active cruise control, doesn't make the standard equipment list; it's a $1750 option. Consider this an essential item as with its stop and go feature, it makes life in busy urban motorway driving much safer and less anxiety inducing.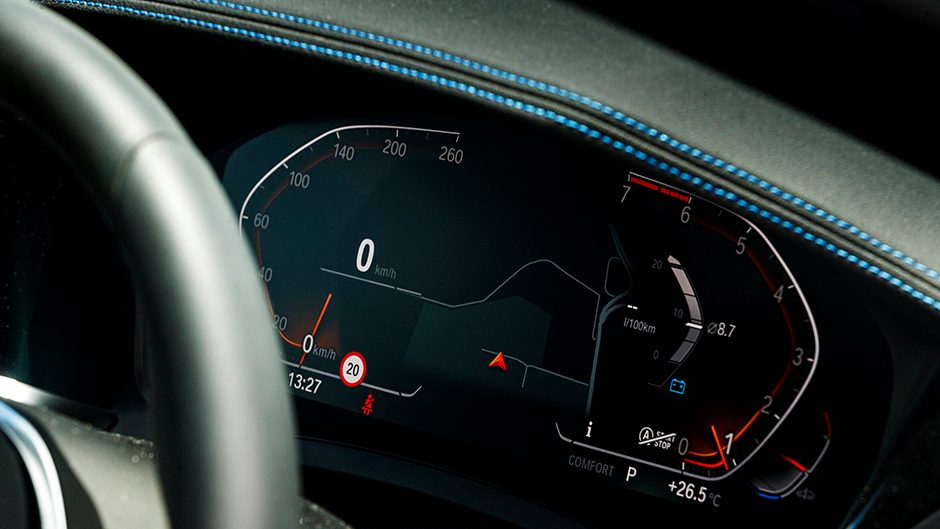 We like the way the vehicle automatically unlocks as you approach, key in hand, though this too is a cost option, part of the $2700 Comfort package that includes a powered boot lid (unnecessary), adjustable lumbar support and gesture control of volume, the latter also not needed. Laser lights, a glazed sunroof, ambient lighting and sun protection for the glasswork comprise the Visibility package, adding $5800.
Standard items not already mentioned include head-up display, i-Drive, adaptive LED headlights with high beam assistance, 19-inch lightweight alloys, alcantara and sensatec upholstery, full split folding of the rear seats, wheel-mounted shift paddles, self parking, and enhanced digital services thanks to a built-in SIM card. Android auto is now a feature of the infotainment system. A sunroof, metallic paint and ambient lighting are also available. There are numerous personalisation options for the interior and exterior.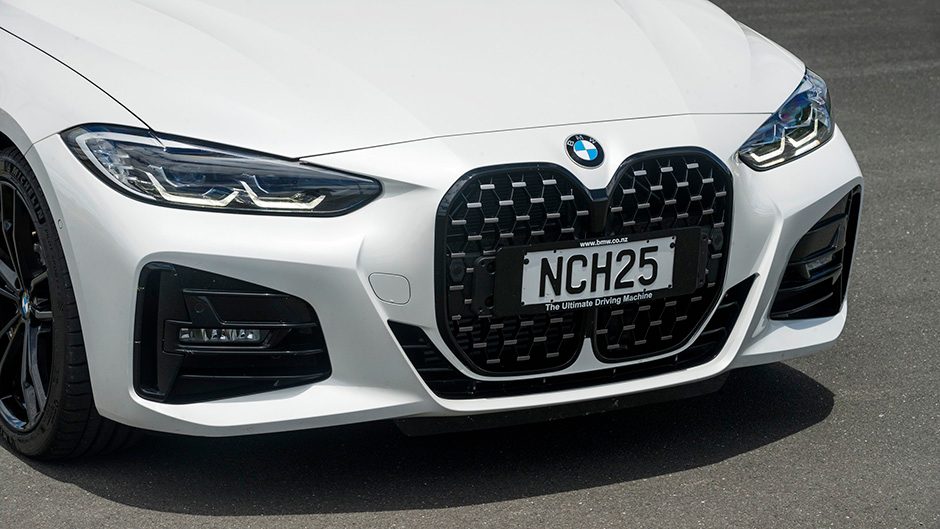 Power to burn?
Does this have the go to match the show? Largely, especially as you're looking at paying the best part of $50k more for the M440i variant, admittedly with AWD and lots of extra speed. But is it really necessary? This one is reasonably quick, its 135kW and 300Nm sufficient to match its mid-seven second performance claim, and it hauls particularly well when you shove the shift lever to the Sport position before overtaking. It takes a touch over five seconds 80-120, so you can't just shoot the gap like you can with some high-horse sportsters. The M440i with 285kW/500Nm is said to get to 100km/h three seconds quicker than this, should sound more authoritative and will feel more secure in wet or dicey conditions.
But for all that, the 420i gets you the look that's little different from the big dog, and the torquey engine is good to go from 1500rpm, with eight silky transmission speeds helping it along. It feels effortless at town speeds in Comfort mode, and while progress is a touch firmer than in the sedan equivalent, it's never jarring. Up to open road speeds and both Comfort and Sport work fine, the latter obviously better if you're feeling frisky. In Sport the ride quality is still fine for distance travel.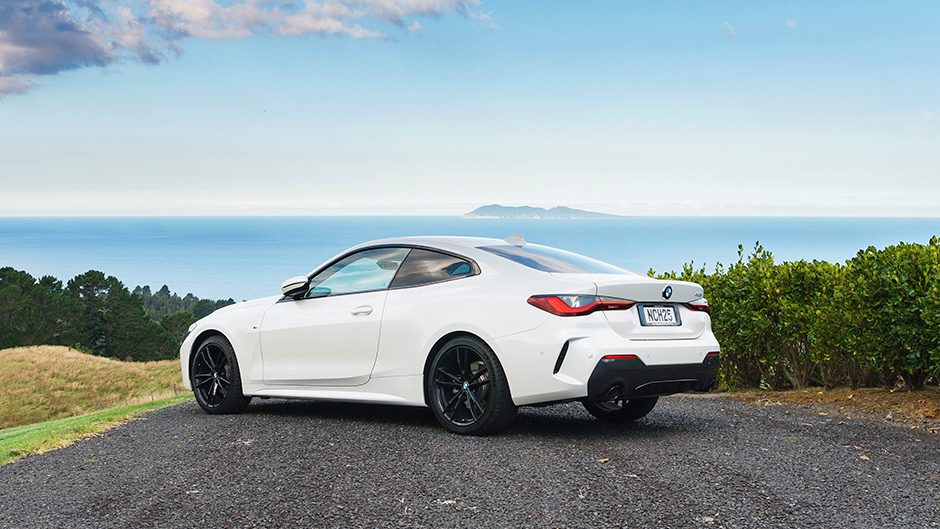 Cornering plus
This is low slung, but it's easier to enter than you might expect, the bolsters of the standard sports seats not too pronounced. A seat belt provider avoids having to do the reach around. The driving position is highly adjustable, and includes pumps for lumbar and thoracic support. Even the headrest is adjustable in two planes, good for avoiding whiplash injuries. Pleasingly, the lane change and keeping safety aids that autosteer can be cancelled at the push of a button.
We've long felt that the M Sport steering wheel rims are too bulky. This would be okay for pianist's digits but not everyone has those. Still, the 420i turns with real vim, as you'd expect of something rear drive, with a 50/50 weight split and just 2.2 turns full lock right to left. The Pilot Sport 4 rubber not only makes the best use of this inherent natural balance but also roars much less than you might expect thanks in part to a standard-fit acoustic windscreen.
So for distance touring this is really rather adept, particularly given there are two usable seats in the rear, better for height challenged folk admittedly as there's not great headroom. The boot offers 440L of space, enough to accommodate a golf bag crossways.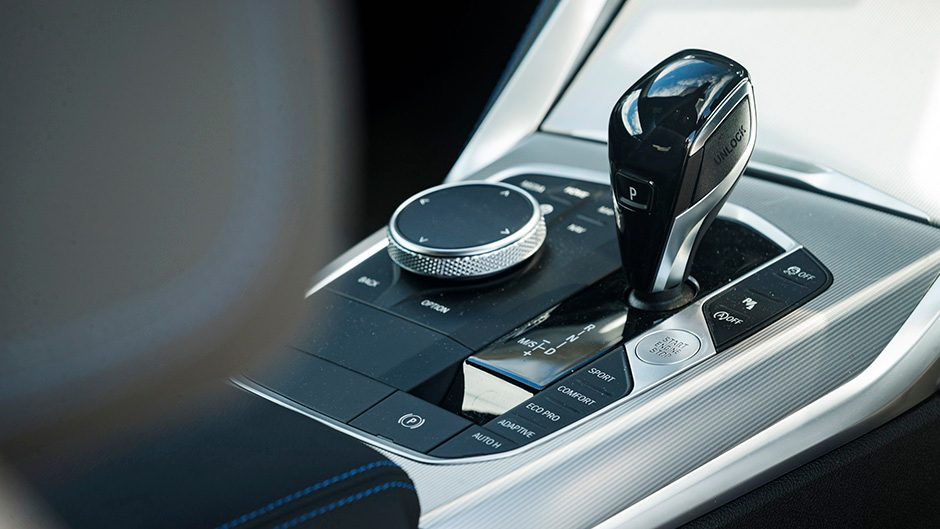 We're not too sure about the counterclockwise rev counter in this but given the engine is mainly grunting away in the 2000-4000rpm area, you spend little time looking at it. More is spent checking speed, made easier by the standard-fit head-up display, which includes the speed limit recognition.
So if you like the look, the 420i should not disappoint, certainly not on a dynamic level, nor for performance. There's no announcement of the expected plug-in variant as yet but an electric i4 based on this architecture is under development.
| | |
| --- | --- |
| Model | BMW 420i Coupe |
| Price | $81,900 |
| Engine | 1998cc, IL4, T/DI, 135kW/300Nm |
| Drivetrain | 8-speed auto, rear-wheel drive |
| Fuel Use | 6.4L/100km |
| C02 Output | 146g/km |
| 0-100km/h | 7.45sec |
| Weight | 1557kg |