BMW's 330e could well be, with improved electric range and performance. But is it still an ultimate drive with all that battery weight to lug around?
What does the future hold for these hybrid plug-ins we wonder? They are a good intermediate step between the old ICE and the new EV worlds, and as this new BMW 3 Series version proves, they are getting better with each update. But EVs too are improving with more options coming to market. So does the hybrid have a viable future? With the UK announcing it will ban the sale of vehicles with any form of a combustion engine within 15 years, and other European markets likely to follow, will companies like BMW bother with further hybrid development? In markets like the UK, where company car tax and other motoring-related levies are weighted according to the amount of CO2 a vehicle produces, the 330e is an attractive proposition, and it's likely to account for 25 per cent of 3 Series sales there.
Here however, there is nothing much to incentivise take-up. But you might like the way this hybrid drives. The 330e sits alongside the 330i in terms of specification, but at $91,900, carries a $2000 premium. BMW rates the 190kW/400Nm 330i as hitting 100 in 5.8sec and returning 6.4L/100km, while the 330e has 218kW/420Nm, gets to 100 in 6.0sec and returns 2.2L/100km. But as with any hybrid, there are a few caveats. Those output figures are a combined total, the 2.0-litre petrol turbo good for 135kW/300Nm with a 83kW/265Nm motor chipping in for a system output of 185kW and 420Nm. New for this 330e is an Xtraboost function where the electrics can spike the power output to 218kW for 10 seconds under full acceleration thanks to an improved motor and associated hardware, and a bigger 12kWh lithium-ion battery. The bigger battery also improves the all-electric range, now quoted at 59-66km.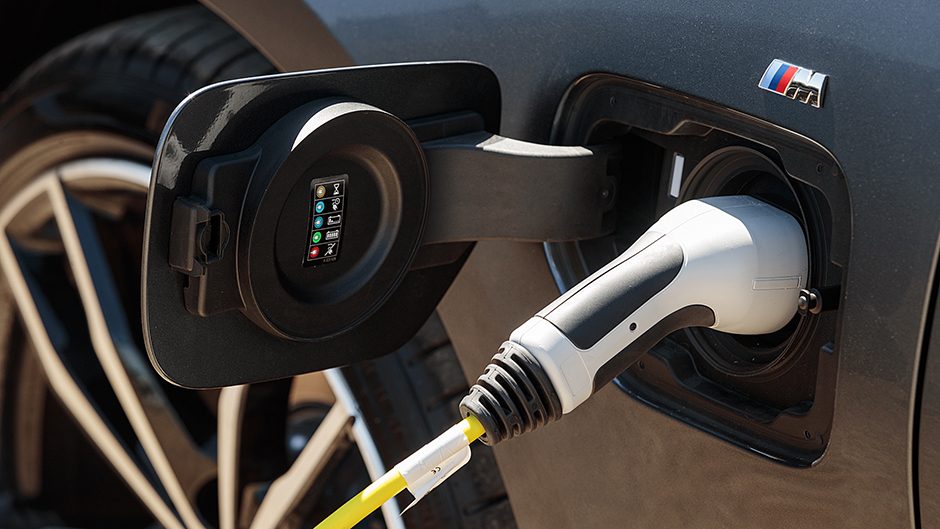 The 330e impresses from the driver's seat, no matter what mode you have it in. And there are a heap of them; Adaptive, Electric, Hybrid and Sport, the latter with a Plus and Xtraboost sub-mode. Pleasingly, there are no brake regen settings to fiddle with. The electric drive feels lively enough around town, the motor working via the eight-speed auto. Shifts are all but imperceptible. This is a hybrid that will rarely need to call on the engine for extra help, unless you bury your foot, and then the ICE is weighing in quickly. As for that 60km EV range, yeah nah, it's more like 35-40km, at least in the summer heat with the AC blasting. The best we achieved was 43km of EVing, the worst 32km. Then the 330e reverts to hybrid mode, which is still economical as it looks to shut the engine off whenever it can.
Plugging in every night is the key to low consumption figures. We averaged 1.9L/100km for the first 108km of travel, until it came time for performance testing and a run over the reference road to test those 3 Series dynamics. That didn't do much for consumption, which rose to 7.2L/100km. This figure settled back to 5.4L/100km over the week with a few more recharges and electric miles covered. Still good considering it's turn of pace.
When in Sport mode, the 330e delivers bulk torque from the get go to virtually eliminate any feel of turbolag from a standing start, while the Xtraboost function helps with full bore acceleration. It'll hit 100km/h in 5.9sec, and zips through the 80-120km/h move in 3.6sec. While it's a little slower off the mark than the 330i (we recorded 0-100km/h in 5.6sec when we tested it) it's line ball on the overtake. And that's despite a 255kg weight penalty. It takes a moment longer to move the 1832kg mass, but once up and trucking, this hauls. And this is one of the better hybrids you'll ever drive. It's still a 3 Series in the way it steers, turning with a deft balance. It's one of the only hybrids you'll be able to turn by giving it a decent squirt on the throttle. The Xtraboost function isn't overtly obvious, but the 330e is certainly quick enough. You don't notice the electrical bits that are involved and even the brake pedal has a good action; there are no strange effects of regeneration here.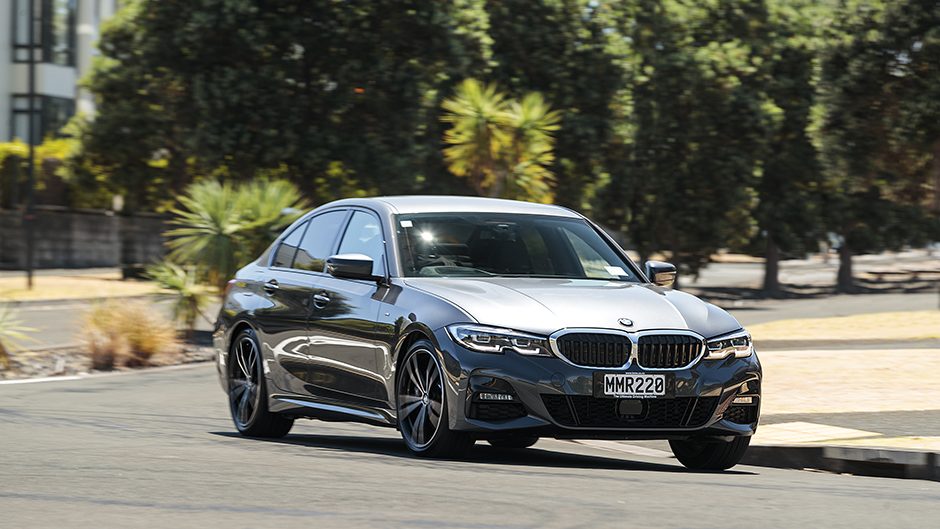 With some hybrids, you feel the battery weight in the rear end upsetting the balance but not so here. It's perhaps at the brake pedal you feel it more, the 1800kg taking its toll on the pads. In Sport mode, the adaptive dampers can be a tad firm on the rear, but configuring them back to Comfort helps alleviate this, while still providing the 330e adequate body control. The Adaptive drive mode doesn't work as well as it does on a conventionally powered BMW, for it's constantly switching between Hybrid and Sport mode. It's best to stick with Sport on a winding road, when you're enjoying the reason you opted for a 3 Series, and Hybrid on the highway as it can switch to electric power at speeds of up to 140km/h. Not that you'd be doing so in New Zealand of course.
Back in the city, the Xtraboost function gives the 330e a zap of energy too. It feels right stroppy when you need it to go. But being a plug-in hybrid, you tend to find yourself in EV mode more often, enjoying the quiet, refined progress.
Plug it in overnight using the supplied portable charger, and it'll be full in the morning, using 12.2kWh of power. BMW says it takes about 2.5 hours to recharge on a 16A wallbox. The take up of this option in New Zealand is said to be very low however, given a full recharge is achievable overnight using the three-pin plug. It might be a handy addition at the office for those who travel more than 40km a day.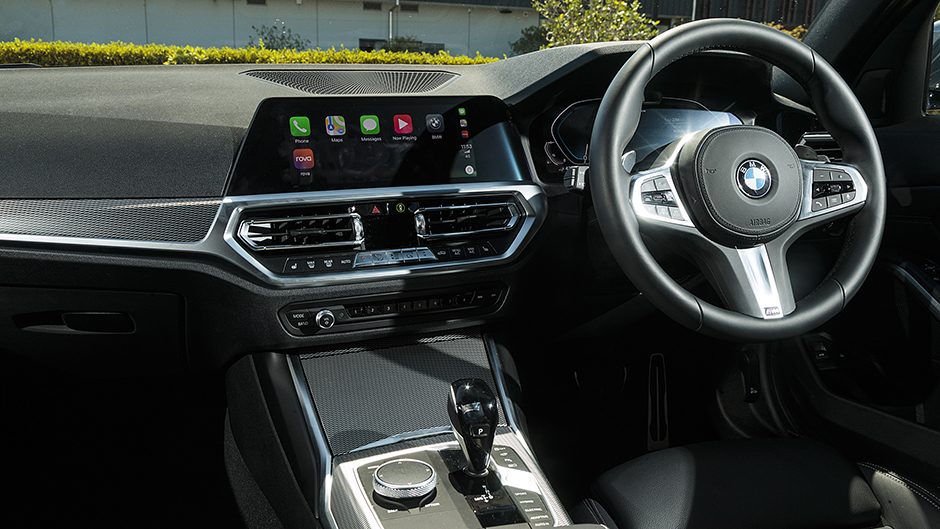 The only compromise with the 330e is boot space, the battery eating into the capacity. It's rated at 375L to the 330i's 480 tally. There is now a split folding function, but the aperture is tight.
The price is steep but then it's a high end 3 Series, while the premium over the 330i is minimal in the scheme of things. The 330e is a good plug-in option, one with a usable EV range, satisfying dynamics and few compromises. Though we imagine those that want to make more of a statement will drop their money on the Tesla Model 3.
| | | | |
| --- | --- | --- | --- |
| Model | BMW 330e | Price | $91,900 |
| Engine | 1998cc, IL4, 135kW/300Nm | Drivetrain | 8-spd auto, RWD |
| Fuel Use | 2.2L/100km | C02 Output | 50g/km |
| 0-100km/h | 5.89 sec | Weight | 1382kg |