Bentayga is the best selling Bentley, with over 20,000 finding new homes already. For 2021 it gets a buffing, making it even easier to command.
Right from the outset, the Bentayga wasn't quite the looker of the Bentley line-up, not a patch on the Continental GT, but that hasn't stopped it from becoming the best selling Bentley of all time. And that's the same story for most luxury car makers adding a high-riding variant. Porsche was in on the act early, and the Cayenne, despite looking weird compared with its striking sports cars, went on to not only be its best seller but was also credited as being the saviour of the brand. Why even Rolls Royce has produced a luxury SUV in the Cullinan, though of course it's not called anything quite so vulgar as SUV but rather a "high-sided vehicle". Even those who said they'd not join the luxury/performance SUV set are doing so, not that Ferrari's Purosangue will be called an SUV either.
Anyhow, back to Bentley and for 2021, the Bentayga has undergone a facelift with fresh metal from the A-pillar forward, a new clamshell bonnet, reprofiled grille, and pumped guards. The outgoing styling director, Stefan Sielaff, said the concept behind the Bentayga facelift was to give it "more of a family look". Up front the new grille has lost its surround and seems less in yer face than before. The headlights are subtly different too, sited higher, reshaped and now LED matrix designs. With added crystal lustre they are said to pop more in the daylight.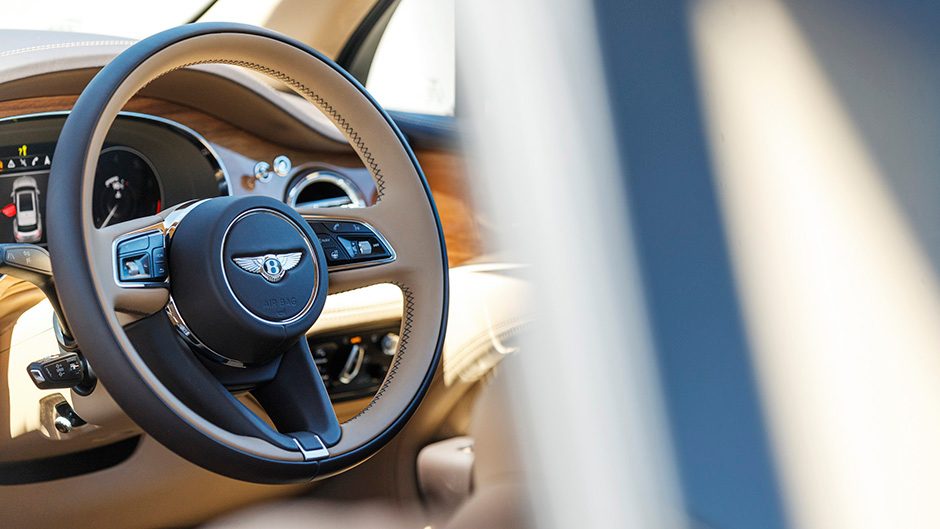 It's at the rear where the most noticeable changes have been made, with a new tailgate shape (proudly wearing Bentley lettering), while the oval taillights are now more in line with those of the coupe, echoed in the reshaped exhaust outlets, and the spoiler is bigger. New 22-inch wheel designs round out the external changes.
Inside there have been subtle updates, essentially to rid the centre console of more buttons to simplify operations, there's a new upper vent, and behold the upgraded 10.9-inch central screen which relays possibly the best reversing camera image I've yet encountered in any vehicle. It's so clear it is almost hyper-real, and you want that when you're reversing something that's this big, over 5.1m in length.
During turnarounds on typical Kiwi roads, you do notice the size of this machine, and also when negotiating the right-angle turn in our driveway. In most smaller vehicles I just whip around the corner but in this it pays to take it slower so as not to remove the corner of the boy's bedroom with the front left fender.
Other interior updates include reconfigured seats, not that they were wanting before, new USB-C ports, an air ioniser, a cell phone charge pad, and embedded SIM card. A new 790wpc 12-speaker audio system is standard, and both smartphone types are compatible with the head unit. In the rear there's said to be at least 30mm more knee space, and cleverly the seats are on manual sliders.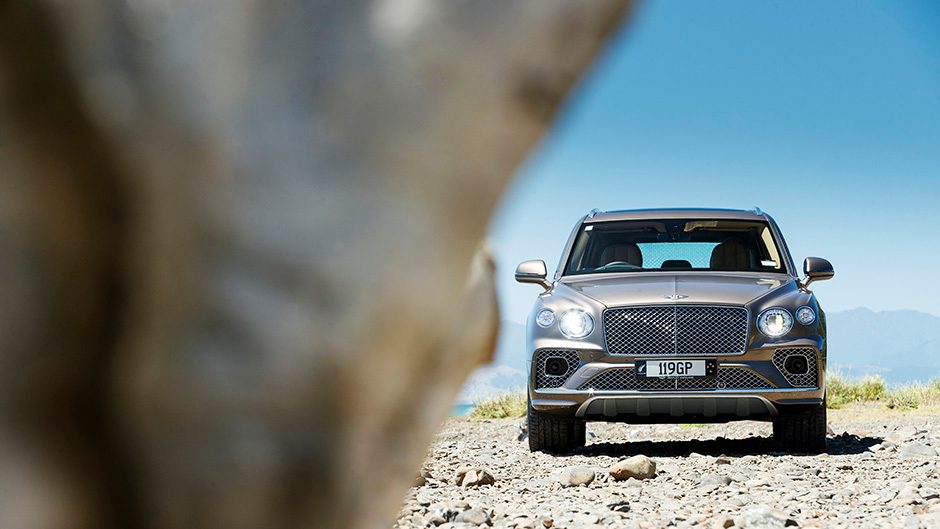 Options for Africa
To go with its big size is a big ticket; you won't leave the showroom without having spent at least $336k. Few go out the door without extras, most new owners shelling out a further $30k-$40k, on things like Touring spec (which includes head-up display and numerous safety items), Sunshine spec (panoramic sunroof, tints) and the like. Our evaluation vehicle was also optioned up with acoustic side glass, heated wheel and hands-free tailgate, and much more. Enough, in fact to take the tally to well over $400,000. Upsizing is possible in more ways than one.
You certainly pay for your luxury but the attention to detail is impressive, and it's the little things (as well as the big picture) for which Bentley is famous. Like, for example, the fact that leather extends to inside the map pockets in the doors, which are self closing when you pull them to. Both reimagined front seats are multiway adjustable and have five different massage programmes available. The squab and torso bolsters can both be firmed or loosened, the roll at the front of the squab lengthened or shortened. All the buttons feature a knurled finish. Like we said, they get the details down pat.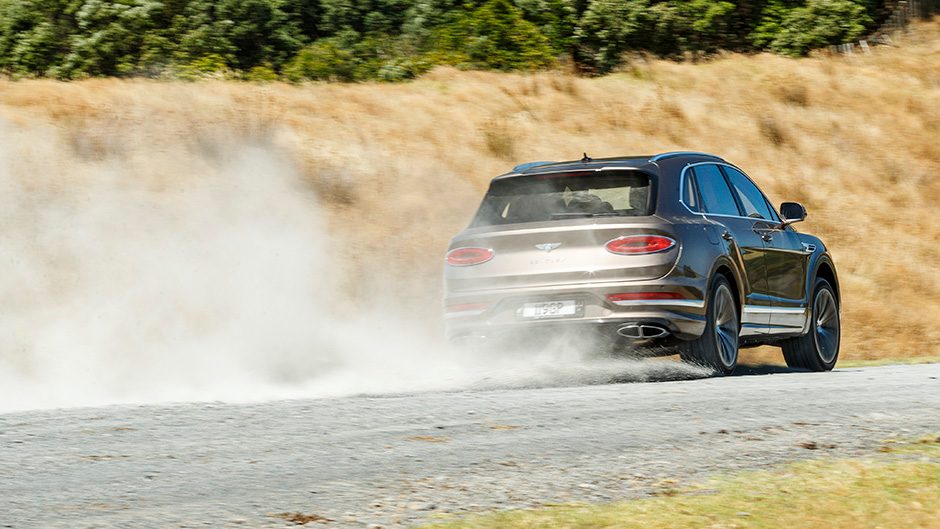 Sussed suspension
But there's nothing much wrong with the bigger picture stuff either. Some SUVs exude sheer muscle and go like crazy in a straight line only, while others are built to devour highways. Some waft along with no real pretense to cornering well, while others like this Bentley can kind of do the lot with disdain. And that's especially true when the optional 48v Active Roll Control system is fitted, as in this vehicle. This comprises dynamic antiroll bars, keeping things rigidly level in Sport mode, no matter the cornering forces, easing right back in Comfort mode.
The Bentayga as kitted can be set up to do just about anything, including off-road antics (select Custom mode and dive into the submenus where Off-Road raises ride height – there are four levels – and modulates TC while there's also hill descent control).
For pampering, just select the Comfort or waft mode where it mops up every conceivable imperfection, at the expense of some wayward body movement if you forget to change modes. A shift to Sport sees rigid control of pitch, yaw and the like, and most impressive cornering ability. Essentially, so long as you're not carrying silly speeds in, this just rounds up the corners, and does so in commanding style and comfort. A mere peep from the front tyres suggests you might want to back off. The multiadjustable air suspension with adaptive damping, torque vectoring by brake, and the active sway bars certainly do the business.
But it's the Bentley mode that most will eventually select and use day in, day out, for this is the ideal middleground, body control sufficient for more than a hint of sports driving and ride compliant enough for just about any conceivable surface.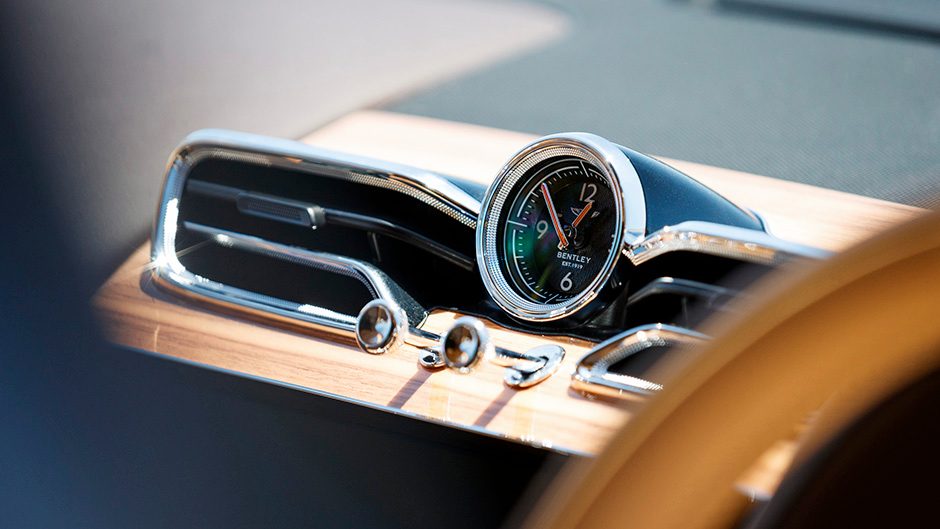 Tiger fast…
The Bentayga is a bit like its feline soundalike namesake; it's ridiculously quick for something this big. We drove the original Bentayga V8 back in 2018 and were astonished to find it clicked off the 0-100km/h test in under 4sec. Bentley is ultraconservative in its 4.5sec claim. This latest machine was equally fleet footed; 3.91sec is holy cow quick for something this sizeable, beating its V12 sib which needs 0.3sec more. It's only when the bigger, pricier alpha machine really gets into its stride that it shows the V8 the way.
The Bentayga V8 hasn't quite the aural outpourings of the V12 either, as you'd probably expect but for performance you'd scarcely feel hard done by. And the Akrapovic exhaust our one wore sounded rich and refined. Even from 2000rpm which is where peak torque of 770Nm from the twin-scroll biturbo V8 is available, this feels riotously strong, and using revs in the next sector up, from 3000-4000rpm, you're quickly doing speeds that the constabulary won't look kindly upon. Because the engine is so strong down low, the fuel use isn't extreme, and we average into the 13s, which is what the WLTP combined figure is (13.3L/100km).
Overtakes are a sensation; so long as there's about 70m of roadway available, it's all on. It takes only 2.5sec, quick in anyone's book. Which means you don't need to wait for long if those in front don't get the message that you want to get by. We couldn't improve upon our best braking figure from before of 35.96m, achieving that once again, to the centimetre.
These are impressive stoppers, never fading during our photographic session which requires quick-fire speeds ups, slow downs, turnarounds and repeat. Those vehicles with undercooked brakes are quickly outed, just like they are on track.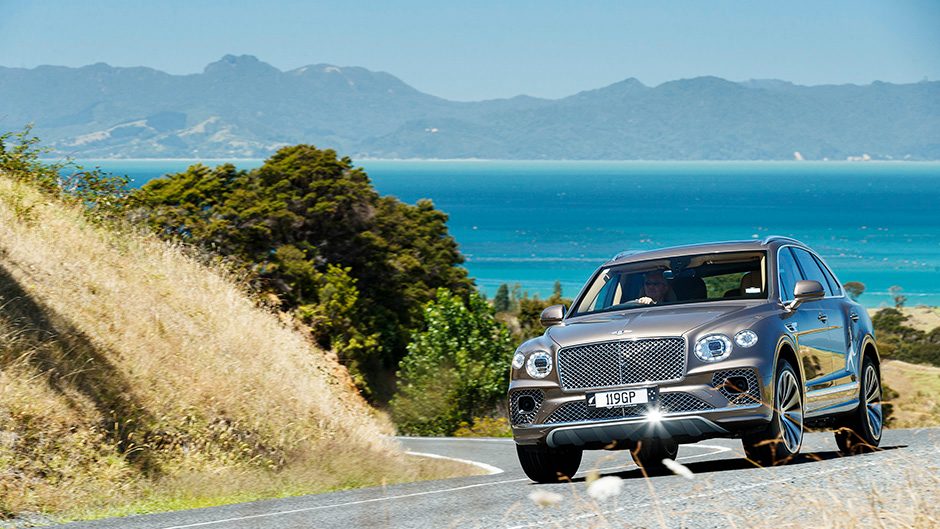 ..but not furious
The handling benefits from a little less weight over the steering tyres (than with the 12-pot machine) so it points a bit sharper and changes direction with a touch more enthusiasm. But with either of these, there's still the better part of 2.5 tonnes beneath you. It's just that with the V8 you're less aware of that. At times carrying a bit of pace through a lumpy corner, the weight shift throws the vehicle off line. And one time on a gravel road, we hit a poorly cambered corner with a bit much entry speed and it drifted towards the edge, a dab of brake reining things in. Like we said, this is solid so you just need to have that back of mind.
Despite commanding dimensions on regular country roads it's no problem keeping it in your lane, even with a 20mm increase in rear track. Sure it's a physically imposing thing, but it seldom feels oversized at the helm except perhaps when it comes time to perform a U-turn and then it helps having a driveway to turn into. It also helps that the wheel only needs two and a bit turns to go from one lock stop to the other.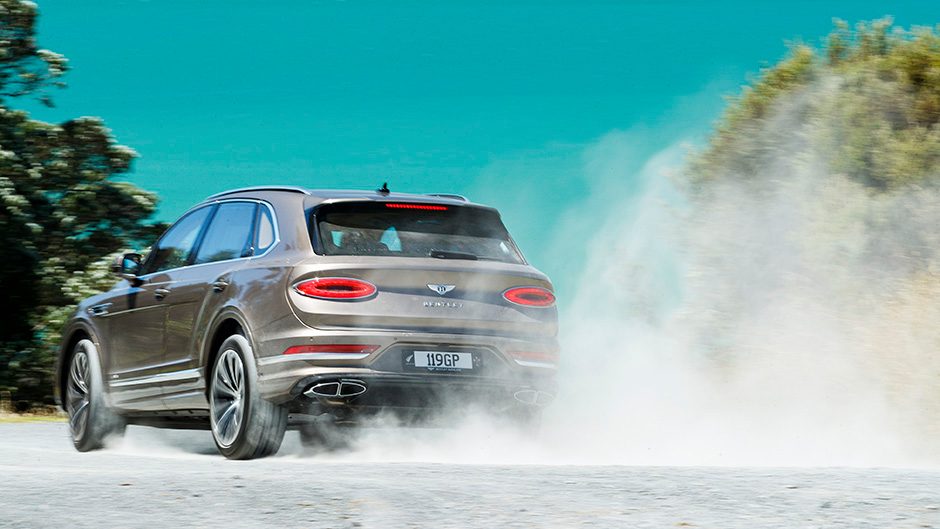 What else to consider?
In this rarified segment there were few options when it launched four years ago, but that's not the case any longer with some hard chargers like the Urus. And then there are others trying to outdo the Bentley on the hush and plush fronts, like Cullinan. However, if there's one incoming that might prove a thorn in the Bentley's side it will be Aston Martin's like-priced DBX which should match it for go but eclipse it for show. Meantime, few do the whole nine yards quite like the Bentayga V8.
And if it's environmental concerns you have with this vehicle, Bentley can help there too with plug-in hybrid V6 powertrain due (3.3L/100km/78g per km CO2), though demand in big markets might delay its arrival until later in the year.
| | |
| --- | --- |
| Model | Bentley Bentayga V8 |
| Price | $336,000 |
| Engine | 3996cc, V8, T/DI, 404kW/770Nm |
| Drivetrain | 8-speed auto, all-wheel drive |
| Fuel Use | 12.0L/100km |
| C02 Output | 272g/km |
| 0-100km/h | 3.915sec |
| Weight | 2486kg |