Fast truck aficionados are treated simultaneously to the arrival of the second-gen rs q3 and the first rs q8, the two extremes of the rs q range. Are these proper rs machines?
Kiwis and Aussies really seem to appreciate RS models. Per head of population, we are amongst the biggest buyers of the hottest Audis.
But we also love our SUVs, for they now represent roughly one in two new vehicle sales. The Germans were quick to create high sport versions of these high riders, Audi doing RS Q models, BMW offering XM variants and Daimler creating Mercedes-AMG versions.The Brits and Americans build fire trucks too.
Audi has recently introduced a pair of RS Q newcomers, one at the very pinnacle of the range in the form of the $244k RS Q8 and the other being the latest generation of the RS Q3, the smallest of the RS high-rise vehicles. This is the successor to the first-generation RS Q3, which was then the only example of an RS Q vehicle produced by the company.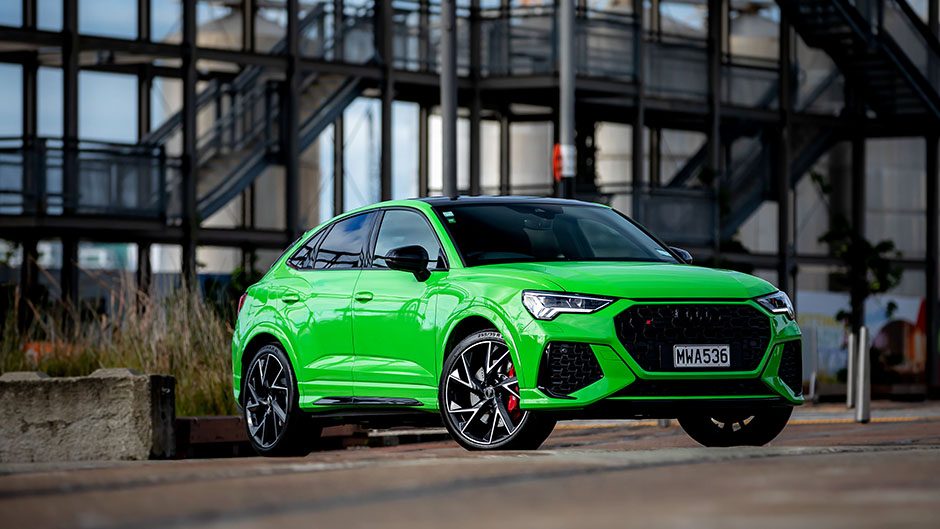 There's actually a pair of them now, kicking off at $111,900 for the base RS Q3 and $114,900 for the RS Q3 Sportback, essentially the five-door coupe version.
So these are the two extremes of the RS Q range, and it just so happened they arrived on our doorstep, figuratively speaking, simultaneously. The RS Q3 retains the iconic 2.5-litre IL5 shared with the RS 3 and TT RS, but in the intervening years since we last drove it, power is now closing in on 300kW with nearly 500Nm of torque. Audi rates it as a mid four-second runner.
The RS Q8 on the other hand is much bigger, still a five seater mind, so it gets a swag more grunt, its biturbo 4.0-litre V8 stumping up with 441kW and 800Nm. Despite weighing in at an unlikely 2.5 tonnes, far and away the heaviest RS vehicle ever, it can rush the walk, hitting 100 in a claimed 3.8sec. That puts it up there with some of the fastest trucks we've tested.
In the few days that they were with us, it rained intermittently and was cold as well so the roads were wet the entire time. Fortunately, they both share quattro drivetrains, and huge alloys encircled with the tastiest of rubber. So we had the opportunity to not only drive these in conditions they're partly designed for, but also performance test them in the wet. That's not something we ever do if we can avoid it, but needs must for this pair and AWD grip means they get off the line well, wet or dry. We also ran the braking figures in the wet, which is something we absolutely try not to do. In the past we've found it can add up to 15m of distance but, like we said, conditions weren't optimal. So is the biggun, more than double the price of the smaller Q, twice the vehicle? Or is the RS Q3 the overachiever?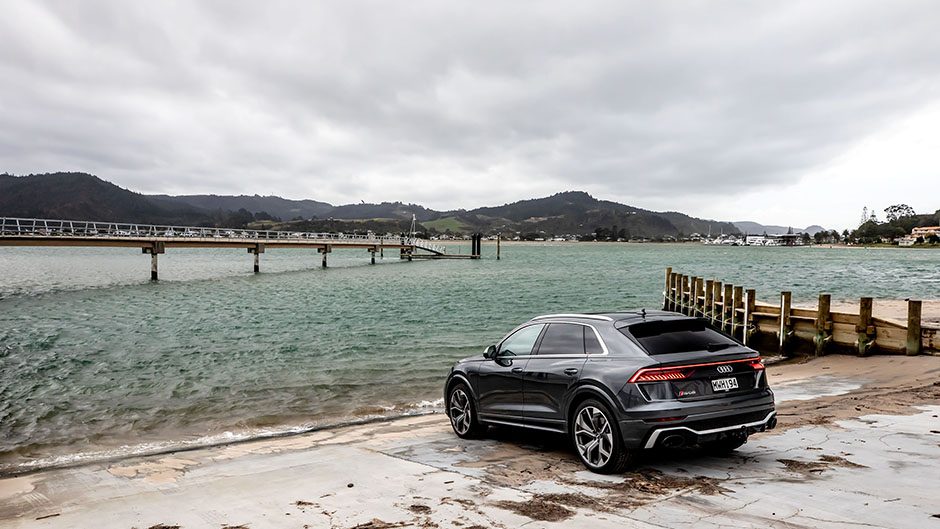 Does Q8 equate as an RS model?
Back around the turn of the millennium the RS 4 was pretty much the bee's knees in terms of performance car machinery. It was continually duking it out with the M3 for line honours. The lighter rear-drive car often prevailed but we know which one you could drive harder in the wet, and there was a strong following for this vehicle.
Then the logical thing happened – Audi started making RS Q vehicles, and these have become every bit as popular as the RS sedans and hatches. All of the German luxury vehicle makers now build hypertrucks that handle, despite the bigger ones weighing in at well over two tonnes, some over 2.5.
That's essentially the case with the RS Q8. This rolls on 23-inch rims, and has huge amounts of rubber to keep it right side up. It also features adjustable ride height thanks to its air suspension, adjustable damping, and a swag of drive modes. One is an off-road setting that we can't see many owners using.
Under the hood is something rather tasty, and quite different from what the SQ 8 utilises. While both are V8s, this one revs, right to 6700rpm, and like SQ 8 has a pair of turbos. The 4.0 V8 outputs a total of 441kW and 800Nm, the latter from 2200rpm. Audi quotes a 0-100 time of 3.8sec which doesn't make it the quickest truck we've ever had but it does put it up there. With launch control active in the RS setting, this explodes off the line, even on wet roads, and on the second run managed a 3.81sec pass. The very next it produced its best of 3.68sec. We'd not expect an improvement in the dry as there was no slip. The overtakes were consistently around the 2.4sec mark. These figures are about a second quicker than what the $200k SQ 8 managed so you pay big for those bragging rights.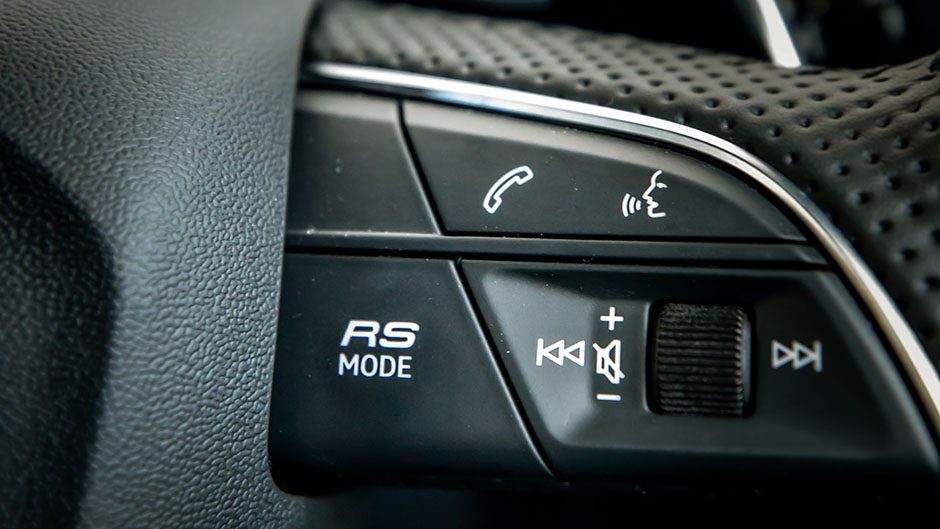 Speaking of big the RS loves a drink, despite the fact it runs 48v mild hybrid technology and displacement on demand. The long term average at pick-up was 18L/100km, and after a reset and a few days of running, that's where it ended up. Being a biturbo V8, there's not the typical RS aural histrionics either, but then this is as much a luxury liner as it is a road burner. It's certainly the latter, with its torque apportioning rear diff, rounding up into corner apices under power. Even in the wet, it offers monster grip with AWD and immense reserves of prime rubber.
Just for the hell of it, we thought we might as well give the emergency stops a go as well, and in the wet they were all right on 40m. Later on we had a shot on the one piece of drying road we could find and ended with a 34.21m best. The brakes on this vehicle are truly astonishing; the drilled discs are bigger than serving plates and the feel at the pedal is reassuring but then you'd want it to be with 2.5 tonnes of momentum to rein in.
All RS vehicles have a multitude of drive select modes from which to choose, but it almost doesn't matter which for the ride is pretty good even in the hardest core RS mode. You'd default to Comfort for all urban driving and probably Auto for everything else. With the latter, the cornering is great and so too the pampering ride quality. Most sport settings generally add a bit much steering heft for my liking, but this is different, and is not overdone.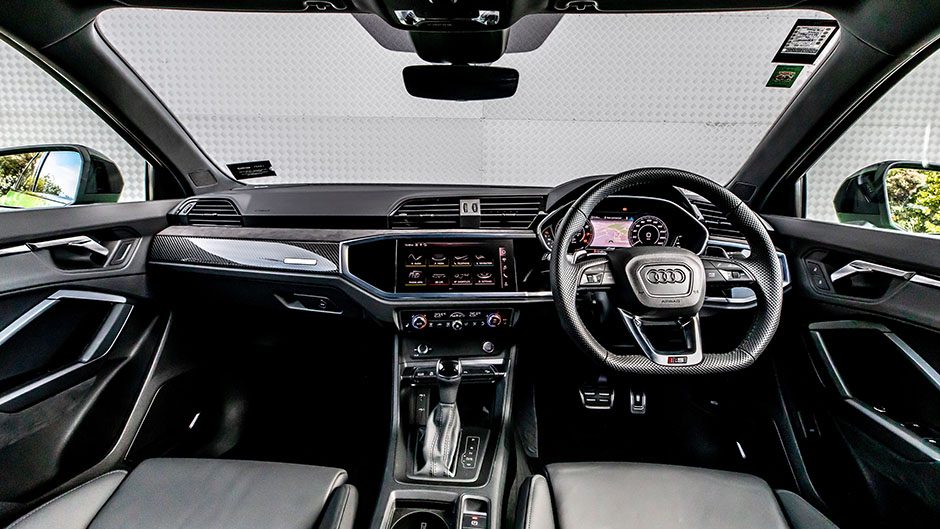 Not that this is as sweet to helm as the RS saloons; it's all a bit remote for that, but what's special about the RS Q8 is how refined it is on the go. Coarse chip roar? Doubt it, the highest readings never exceeding 68dB. We'd guess a wedge of that kerb weight is explained by sound deadening, though the athermic screen likely helps plenty in that regard.
This is a lovely place in which to hang out. The cabin is beautifully rendered but then you'd hope so for the asking price. Quilted leather sports seats are gorgeous, vented and heated, oh-so adjustable. The dash is finished in a mix of gloss black, carbon fibre and a leather upper. There's a pair of touch screens, though we're not a fan of the haptic controls. You end up having to touch and hold for too long.
Nothing much is left out on this either, and the list includes head-up display, adaptive cruise and LED headlamps, four-zone air, power door closure, comfort entry, you name it.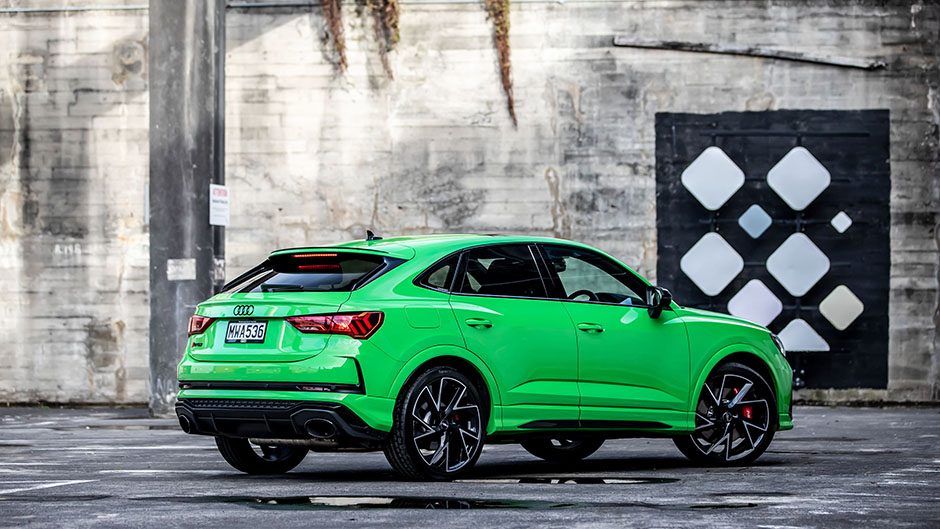 When the numbers don't matter
So how does the baby RS Q3 compare? Er, really most favourably. Where the RS Q8 is a luxury liner, albeit a rabidly quick and competent one, this is more agile and tactile, with more the feeling of a proper RS. It even sounds the part, warbling through its new RS sport exhaust system.
Back in 2014 it was the first of the RS Q models, and we really liked it, though felt the reserved looks didn't quite fit with its attack dog approach to proceedings. It was quick then, closing in on a 5sec for the sprint test, and only two SUVs had broken that barrier by then. We adored its 2.5 inline five-pot lilt, especially in the upper rev band.
That engine has since been fettled and where once it was making 228kW and 420Nm, now it's just shy of 300kW and 500Nm (294/480). And back then it resembled a boofy version of the Q3 whereas now it is unquestionably an RS variant.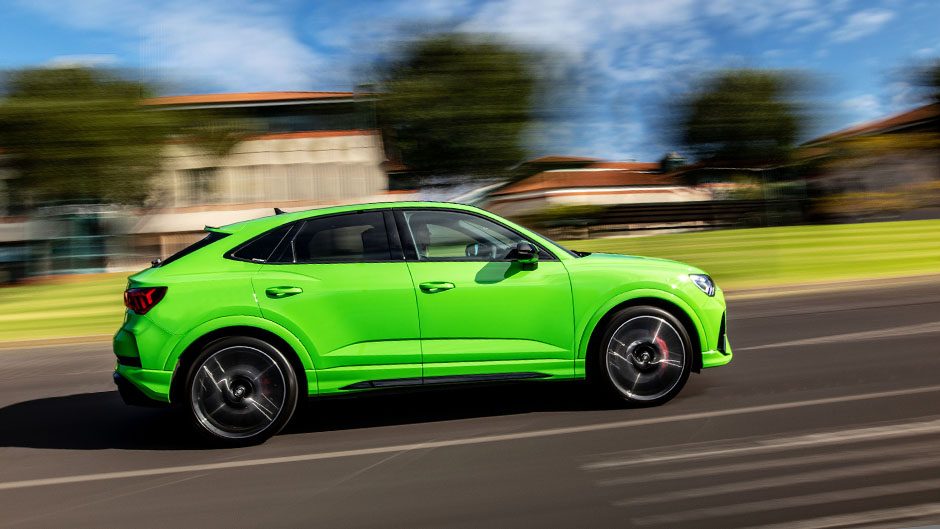 There are two actually, one the top-end Q3 SUV and the other, the Sportback you see here, the curvier coupe version. We're not so sure the lime green colour is quite right for this vehicle – everyone I asked said yeah, nah – but at least it's not ubiquitous silver. And on a series of filthy grey days during which we had the vehicle, it was fairly visible. Silver cars can so easily disappear into the gloom.
Driving this is the opposite of a gloomy experience. And having just exited the 2.5 tonnes of excess that is the RS Q8, this was like hooking up with a fit dance partner. No special torque apportioning rear diff here, although there is an electronic diff lock, and quattro AWD naturally.
The original we drove scaled up at just over 1700kg and this is just under 1800kg, but is bigger and has more power so is a solid advance on its forebear. At the wheel, there's more of a sense of what's going on down below and you get a good impression of where the power's being divvied up. So it's more confidence inspiring; you can naturally push the boundaries in the wet where you're less tempted to in the biggest RS Q. Helping in this instance are ContiSportContact6 tyres, fitted onto 21-inch rims. It really looks much racier than the original.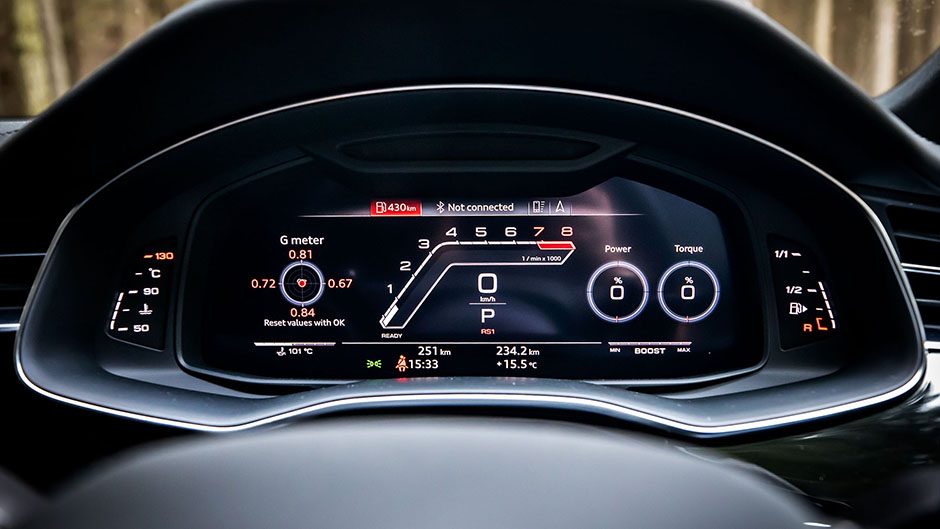 If you like the sonics of a V8, this is every bit as good, just different. The RS Q8 is regal, refined where the RS Q3 is raucous and ribald, more like a proper RS then. Indecently quick when it wants to be is the RS Q8, but the RS Q3 is no slug either. It is rated as a 4.5sec vehicle and it met that claim on wet roads, posting a best of 4.47sec, an improvement of over half a second on its predecessor. That's without launch control too, though it gets off the mark on its own in superlative fashion. That's a bit over half a second adrift of the RS Q8 and for the overtake the margin is even less.
Even more impressive is how it slows. The RS Q8 simply would not break 40m in the wet from 100km/h; this did consistently, posting a pair of low 34m stops on sopping roads. Its forebear managed a 33m emergency stop in the dry; this would surely eclipse that. Stupendous stoppers then, which is confidence inspiring in something this quick.
While it might not feel that fast at low revs in the regular D mode, this really comes alive in S, and from 3000-4500rpm you're well into it. At 3500 it seems to perk up and over the last couple of thousand revs this is potent.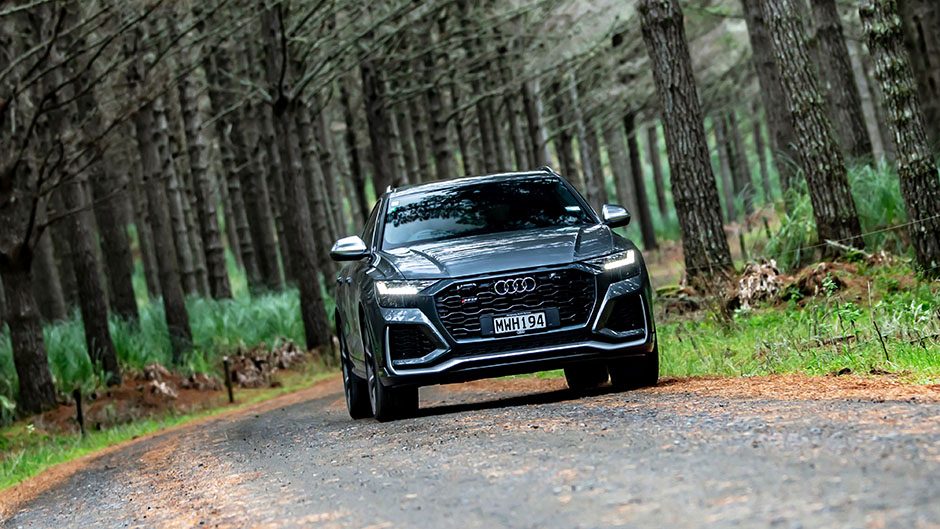 Round the burbs you get a sense of ease and in comfort mode it's pretty easy going, though not quite as plush as the air suspenders in the RS Q8. But like that vehicle, the adaptive damping seems just right in the 'Auto' mode, and whenever it feels out of sorts (not often) and a pull back on the shift lever to Sport transmission mode rattles its cage again.
Climbing from the RS Q8 into the smaller vehicle and you can see where the extra has gone, though this too gets beautifully quilted leather upholstery. The lower screen of the RS Q3 is less glamorous, the cabin components not so spesh, and there's no head-up display. But it's all relative. This costs under one-half as much as the RS Q8 ($114,900) but it's 80 per cent as good as that vehicle in most regards, and in some it's better. No, it isn't quite as roomy, imposing or luxurious but as a practical luxury sports package it's really quite something. I can't think of anything I've driven lately that felt quite so secure and relaxed as this on some of the bleakest winter days and horror road conditions imaginable. Plus it now looks the part, perhaps not in lime green though.
| | | | |
| --- | --- | --- | --- |
| Model | Audi RS Q3 | Price | $114,900 |
| Engine | 2480cc, IL5, T/DI, 294kW/480Nm | Drivetrain | 7-speed twin-clutch, all-wheel drive |
| Fuel Use | 8.9L/100km | C02 Output | 205g/km |
| 0-100km/h | 4.47sec | Weight | 1787kg |
| | | | |
| --- | --- | --- | --- |
| Model | Audi RS Q8 | Price | $243,900 |
| Engine | 3996cc, V8, T/DI, 441kW/800Nm | Drivetrain | 8-speed automatic, all-wheel drive |
| Fuel Use | 12.1L/100km | C02 Output | 277g/km |
| 0-100km/h | 3.68sec | Weight | 2467kg |