The Q5 has been updated for 2021, with mild styling changes and extra tech inside. We drive the lone petrol version, the 45 TFSI.
Now here's something you don't see on a new SUV that often, an olive green paint scheme. Green is supposedly almost resale proof, and yet this shade is really rather appealing. Everyone seemed to like it, though some felt it was a touch too close to army green. Anyhow, Audi importers, EMD, thought it fetching enough to put one on the fleet so here it is, the 45 TFSI resplendent in "District Green". But is it actually green in an environmental sense?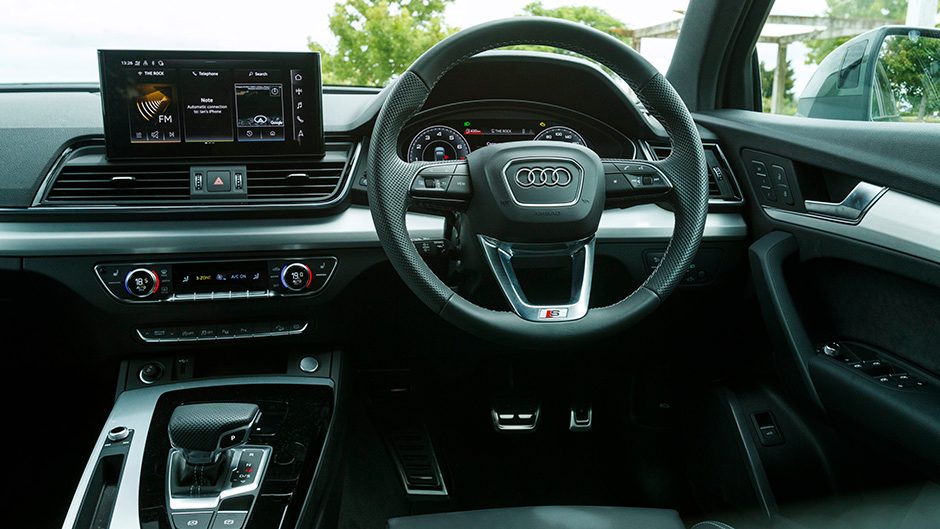 What is it?
This model is essentially the top of the regular Q5 range, costing $106,900. Above it in price is the SQ5 that's the quickest thanks to its 251kW/700Nm 3.0-litre six-cylinder turbodiesel. It's the lone model mated to an eight-speed auto; the remainder, also quattros, run a seven-speed twin-clutch transmission.
For 2021 it's the technological enhancements that count. This is the Vorsprung Durch Technic company, after all. Amongst the innovations is the first use of OLED lighting technology in a production vehicle. Organic light emitting diodes are evidently more efficient and visible. Moreover, when a vehicle approaches within 2m of a parked Q5, the taillights illuminate to help prevent 'touch parking' incidents. Three different rear light combinations are available. They don't come cheap though, costing more than an LED Matrix headlight upgrade ($3300 vs $3100). All models get LED headlamps, while the DRL design is evidently new for this year.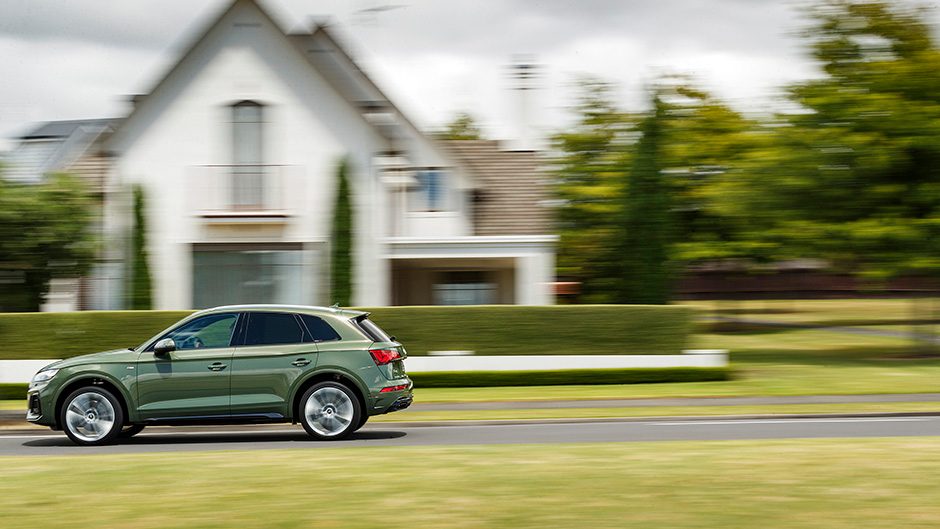 Audi reckons the 2021 update is a 'sharper, more dynamic' design, which may well apply equally to handling for this is a real talent in the curve straightening department.
The stylists describe the physical changes as portraying a 'stronger and more distinctive design language'. Cue another change to the singleframe grille which looks somehow wider than before. The 45 TFSI model picks up the S-line package as standard, and that includes a blackened honeycomb look to the grille and chrome surround to the reimagined diffuser at the rear. You get sports suspension gratis with this too. Our car also had the Black Gloss styling package, with black roof rails and window surrounds ($1500), along with 21-inch alloys ($3100) so in profile with the wavy character line this is modern and attractive. Not cheap though at $117,700.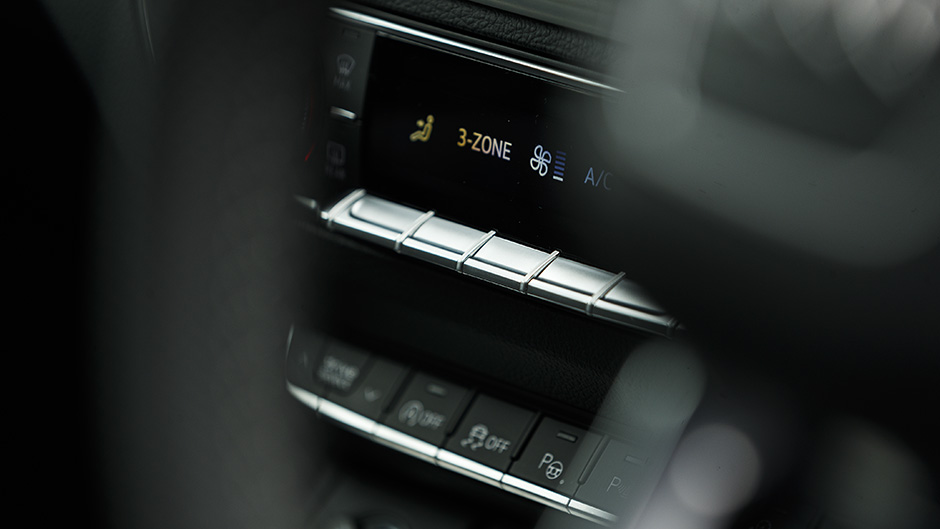 Inner sanctum simplified
Inside, the S-line package includes sports seats with quilted leather finish, gloss black centre console trim, stainless pedals, aluminium scuff plates, and a black headlining, among other things.
Conspicuous by its absence is the MMI rotary controller, and its functions instead are incorporated in the updated 10.1-inch infotainment system. This relays images from all around the vehicle – a surround camera is standard in the 45, along with parking aids both ends and self-parking – and is amongst the most detailed of screens we've encountered. High resolution stuff.
Somehow, without the MMI controller, things just seem easier to find, although there is a learning curve. Other controls are relatively simple to discern, though we prefer adaptive cruise control to be on the wheel, rather than hung off the steering column. The master volume control is a stretch, and so too Drive Select buttons.
The 45 comes standard with the virtual cockpit and 12.3-inch LCD screen. In between the two main dials is the info screen, the trip computer showing mainly how much fuel the vehicle is using. And this is relevant because the power unit is a mild hybrid design. A belt-driven starter/generator supplies the 12-volt electrical system, which incorporates a lithium-ion battery. This stores recuperated brake energy, of which there's probably heaps given how good the brakes are. The system also permits coasting with the engine off, and the stop-start system can kill the motor from speeds as high as 22km/h.
Speed satisfactory
The Q5 45 TFSI has system power and torque totals of 183kW and 370Nm, respectively, while the combined fuel figure is a claimed 7.5L/100km. Helping is an on-demand 4WD system that for the most part is front-wheel drive.
We didn't see any figures south of 8L/100km, the high was 17L/100km and the long term overall average was 10, mainly because of town running. At this it is particularly relaxed, the turbo pulling solidly from 2000rpm.
Using Sport mode – a pull back on the lever – and the Q5 whisks occupants to 100 in exactly the claimed 6.3sec, an overtake done in 4.8sec. So there's sufficient mumbo here without having to stretch to the SQ5.
If you're just as happy with a Q5 that's not quite as quick, there are two other TDI variants, differing in specification only. Both run a 150kW/400Nm 2.0L turbodiesel, Nox emissions cleansed by an AdBlue system. Their combined mean fuel figure is 5.4L/100km, and both are said to hit 100 in 7.6sec. The base model, Advance, kicks off at $92,900, while the S line TDI variant is $100,900. Both are also mild hybrids.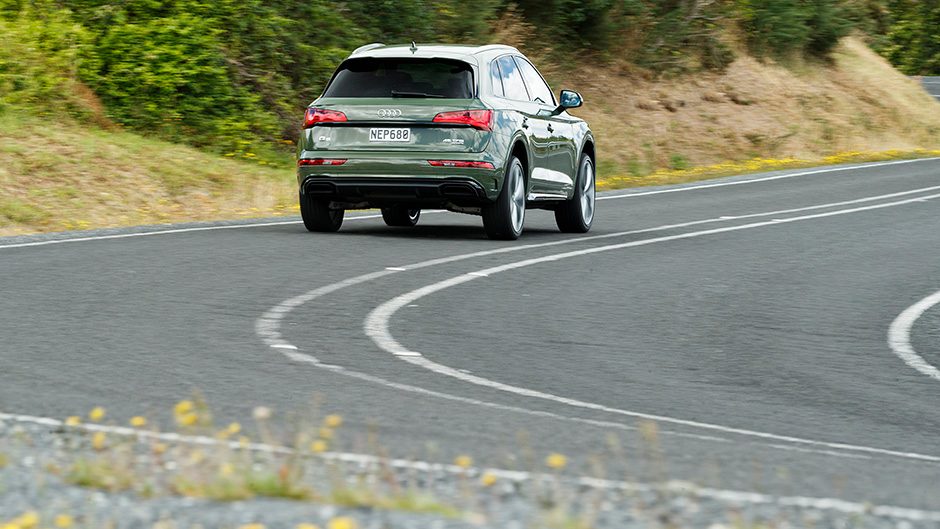 Curve capable
On the drive, the first thing to note is that the Drive Select system is essentially null and void because all it effectively alters is steering and drive. The full monty system requires that you shell out an extra $2500 for adaptive damping. As it is, the fixed sport suspension feels firm, with damping that maintains rigid body control. The downside, however, is that you tend to feel all the minor road imperfections underfoot, something that the relatively low profile rubber highlights (255/40R21s). Those with deep pockets might like to consider the $5000 air suspension upgrade. That would assuredly offer more of a magic carpet ride.
On the other hand, the PZero rubber grips like crazy and with a decent weight split (53/47) it maintains a tight chosen line, even when the going gets frenetic, aided by individual brake nipping of the inside wheels. It's a decent steer this.
| | |
| --- | --- |
| Model | Audi Q5 45 TSFI |
| Price | $106,900 |
| Engine | 1984cc, IL4, T/DI, 183kW/370Nm |
| Drivetrain | 7-speed twin-clutch, on-demand AWD |
| Fuel Use | 7.5L/100km |
| C02 Output | 173g/km |
| 0-100km/h | 6.23sec |
| Weight | 1865kg |