Marcus Armstrong claimed his second Formula 2 race win overnight at Imola, snatching the lead at the start and snaring victory.
Armstrong started second courtesy of a reverse top-ten start.
Polesitter Logan Sargeant had an awful start, which allowed Armstrong to move into P1.
The Kiwi remained there for the rest of the race, resisting a late push by Jehan Daruvala.
"[I] kept a bit of margin with my rear tyres, just to make sure that I could defend [from Daruvala] if he came strong at the end.
"I'm happy to finally get a win this season.
"It feels really cool to have so much support. My dad and my sister are here. This is the first race that my sister has seen so yeah, boom, a win."
Armstrong had no radio communications with his team during the race. The only way he could keep an eye on the margin between him and the car behind was with the trackside TV screens.
"I quite enjoyed it. It was very peaceful. I was sort of left alone with my thoughts.
"Then again, it's always nice to know the gap behind and what's generally happening.
"Luckily, there are a lot of TVs around the track, so I sort of keep an eye on all the TVs when I'm driving. Also, I could see that he was never really that close on the TV, so I didn't stress too much."
It was also a positive day for Liam Lawson.
Lawson qualified a lowly 14th on Friday but made ground during the race to finish eighth.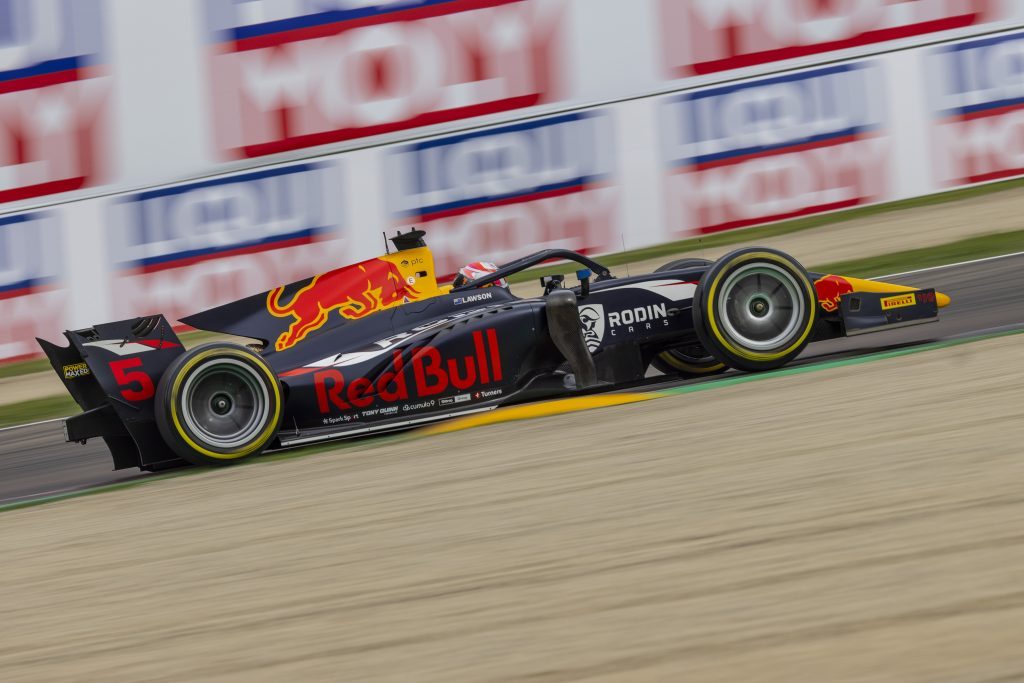 His efforts are rewarded with one championship point.
"I think we made the most of it today with a decent recovery."
Lawson starts the feature race from 14th also. He views strategy as his way to a competitive finish.
"The only way to do anything tomorrow is to do something with strategy.
"I just got to make the most of this weekend now going forwards and do a better job next time."
| | | |
| --- | --- | --- |
| Pos | Name | Gap |
| 1 | Marcus Armstrong | |
| 2 | Jehan Daruvala | 1.400 |
| 3 | Dennis Hauger | 2.200 |
| 4 | Roy Nissany | 2.800 |
| 5 | Felipe Drugovich | 7.000 |
| 6 | Logan Sargeant | 9.800 |
| 7 | Theo Pourchaire | 12.300 |
| 8 | Liam Lawson | 12.800 |
| 9 | Ayumu Iwasa | 13.400 |
| 10 | Frederik Vesti | 17.700 |
| 11 | Jack Doohan | 20.100 |
| 12 | Enzo Fittipaldi | 21.000 |
| 13 | Richard Verschoor | 21.400 |
| 14 | Calan Williams | 22.900 |
| 15 | Jüri Vips | 23.200 |
| 16 | Marino Sato | 24.200 |
| 17 | Olli Caldwell | 24.600 |
| 18 | Jake Hughes | 25.800 |
| 19 | Clement Novalak | 26.200 |
| | Ralph Boschung | |
| | David Beckmann | |
| | Amaury Cordeel | |