There's something rather exotic about a V4, particularly the noise it makes. We audition Aprilia's race-bred Tuono V4 1100 Factory and find it passes muster.
Admission – we'd already ridden the V4 1100 earlier this year, in RR form, but the Aprilia distributor insisted on us checking out the Factory version which costs only $2000 more. For that you get the full Öhlins suspension, front and rear, fully adjustable, along with an Öhlins steering damper. The Factory also gets better rubber in the form of Diablo Supercorsas, and also more of it on the rear, the tyre upsized from a 190/55 to a 200/55R17.
There are a few styling flourishes too, such as the RSV4's seat, and the Aprilia Superpole graphics, while the wheels are finished in a hard-to-miss contrasting red/orange colour and the Brembo brakes are upgraded. It looks pretty rad, even in the unlikely gray colour we get here. Bit drab for such a vibrant bike, no?
The 1100 RR was a significant step up from the somewhat unruly previous generation Tuono, as we remarked in April. The main changes, apart from the extra engine capacity courtesy of a 3mm bore enlargement, relate to chassis alterations. A 4mm extension of the swingarm aims for improved stability, while a more upright set of forks (reduced rake and trail) helps with changes of direction. As a result, the whole bike now feels more confidence inspiring to ride, further enhanced by a lowered centre of gravity, rearranged riding position, added midrange power and smoother throttle action.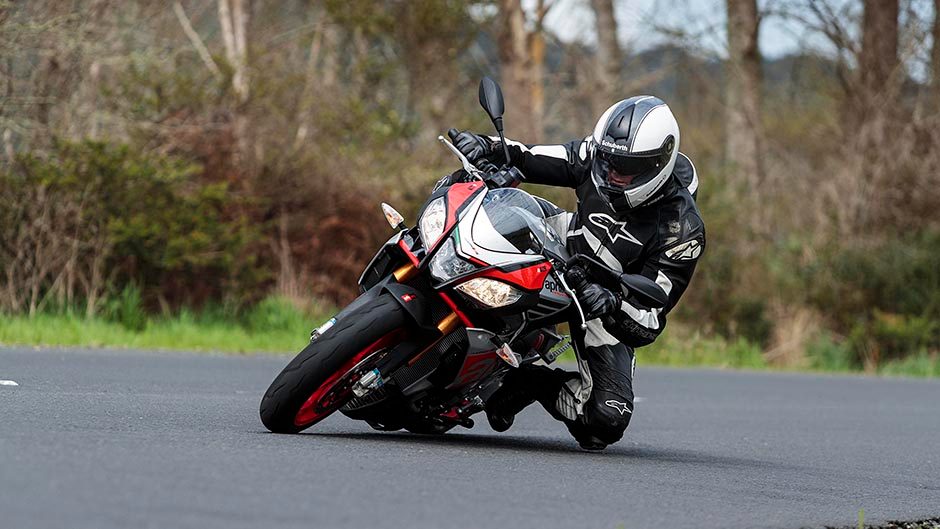 Tuono, as you're no doubt aware, is Italian for bonkers. And that's how the bike has always been, but in the latest iteration it has clearly been on a course of antipsychotics while undergoing psychotherapy, for it's no longer the criminally insane ride it used to be. It's still as fast as a speeding bullet – 200kg and 175hp is a potent power-to-weight mash-up – but as a ride it just makes so much more sense now.
Part of that must be attributed to the APSC electronics package that almost unobtrusively prevents the bike sliding out from under you, or looping out on high. There's also a line of software that prevents it from rotating vertically about the front wheel under heavy braking (rear wheel lift mitigation). Given even the throttle is controlled electronically, you'd likely have to be trying hard to fall off, which is tempting fate. But getting on the gas or brakes too hard? This has you pretty much covered.
The engine, the heart of the matter, is amongst the best of the litre-plus units available at present, apart from its penchant for a drink but with 175 horses on tap and being a V4 maybe that's excusable. We saw averages in the high fives, but most of the time something in the sixes is to be expected. A generous 18.5L tank means you're not constantly on the search for servos.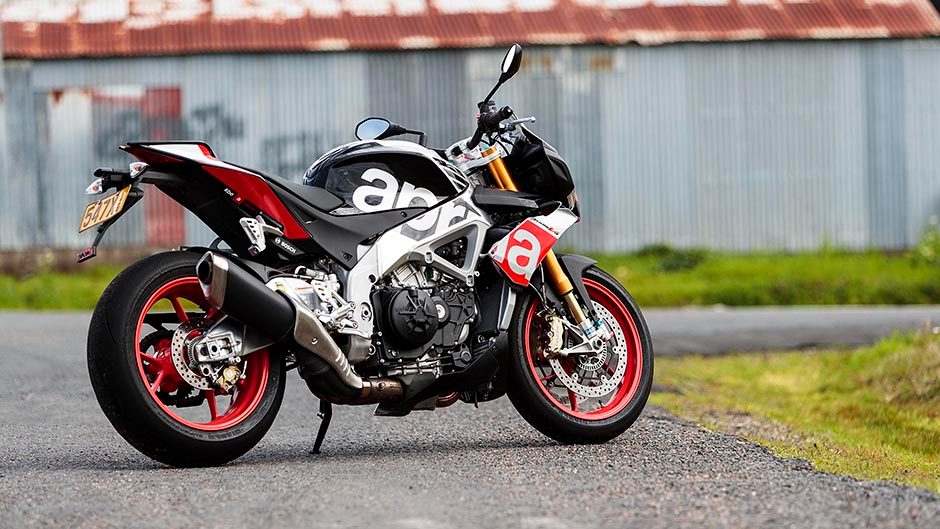 We'd pretty much excuse its thirst for this is an engine that turns hydrocarbons into heavy metal; even just idling away at start-up this sounds exotic in the way that most V4s do and most inline four superbike engines don't. The Aprilia V4 is a 65-degree example, that angle chosen mainly for packaging reasons. Looking at the bike it's hard to believe they've managed to shoehorn a V4 in there somewhere.
It may not have quite the power of the 200 horse RSV4 superbike, but 175 is surely sufficient, and there's more torque than the track bike gets, 120 vs 115Nm. The peak may be at 9000rpm but it's working fine from 2500rpm onwards and in sixth gear will pull, if pushed, from as low as 65km/h. So you can quickshift up to top and pretty much leave it there, if you want.
That said, like Tuono twins of the past, it's really happier working from about 4000rpm onwards; coming back into town after a fang and dealing with bumper to bumper traffic, the Tuono acts like a petulant thoroughbred. From 100km/h, 4500rpm, there's no need to downshift to pass, roll on alone making everything happen quickly. That's also one of the benefits of buying something with 1100cc that weighs just 200kg. But the more you ride the Tuono the more it tricks you into revving it out. From 6000-7500rpm it becomes frisky and from there it turns all Pegasus and is a flyer.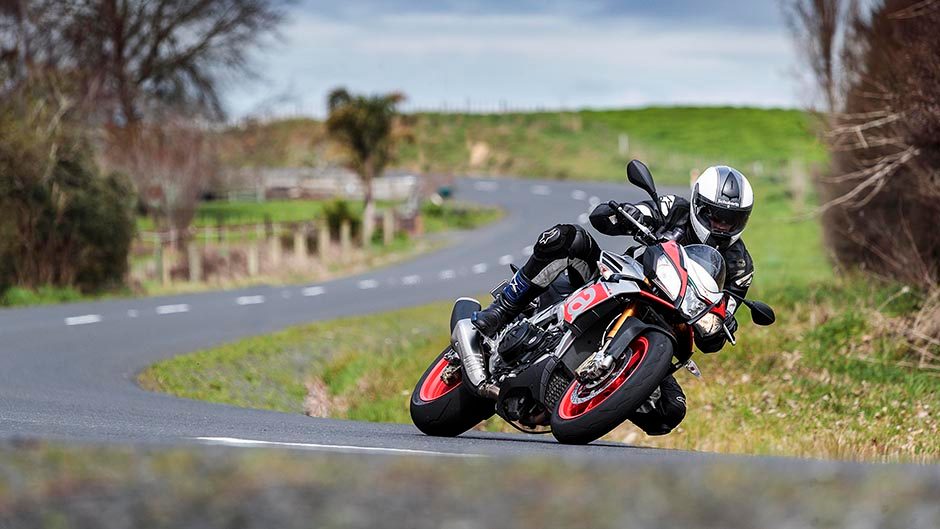 If you do decide to use the full spectrum of revs, out to 11,600, this bike is ridiculously quick. We decided to recheck performance figures because we'd left TC on in April. Turns out culling TC makes quite a difference to speed off the mark, chopping half a second from its 0-100 time. At 3.08sec, it's a genuine Italian stallion, and an overtaking time of 1.22sec ain't hanging about either. That's 0.13sec off the best we've ever recorded.
With pretty much race Brembo brakes up front – literally, it has a Race ABS system – you can wipe away excess kays in an instant. The power and precision of this set-up? Simply outstanding, even at the rear.
So is the ride itself? Back in the day, Tuonos had zero ride quality but that's no longer the case, and with the Öhlins gear it's easy enough to tailor the rear suspension to the rider weight by adding or subtracting clicks to rebound and compression. The new seat and riding position contribute greatly to overall ride comfort, and you feel more like you're part of the bike rather than perched atop it. Pegs are set a little rearward, and are raised slightly as well, but not so much you feel constricted.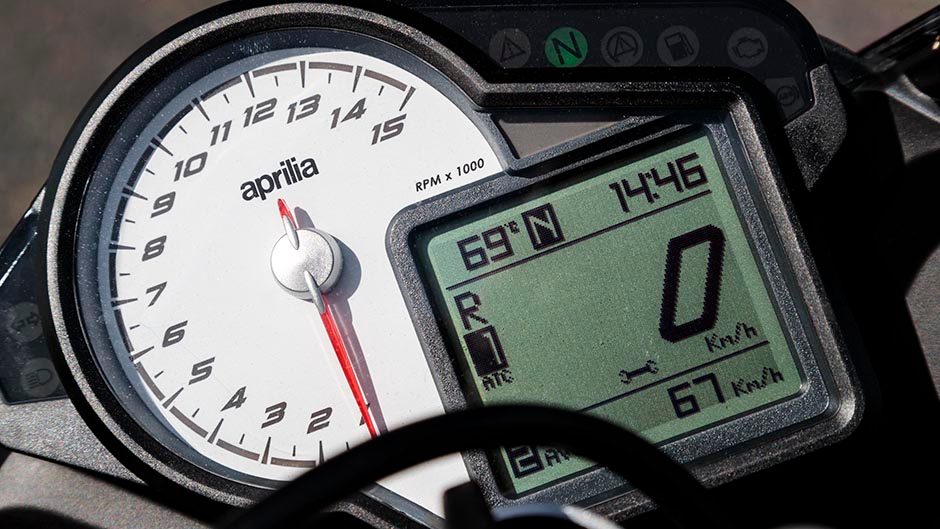 You certainly can notice the additional soft foam in the single seat of the Tuono; it's as notably comfy as its forebear wasn't. I can ride this bike for a couple of hours without having to stop for a stretch, and that's about how long you'd go on a full tank anyway. Helping with ergos, the flat bars aren't too much of a stretch and your knees grip the tank just so.
The previous generation Tuono was rather flighty; at speed the front end used to take off over small bumps, sometimes alarmingly. That's still the case under full-bore acceleration but anti-wheelie control keeps it ruly, altered chassis geometry likely contributing. The V4 1100 has a cute wee quarter fairing that makes riding the naked bike that much less taxing, especially if there's a head wind or you're gassing it over the finish line.
All these factors make the Tuono much more grounded and confidence inspiring to ride. Turn-in speed and direction changes are achieved easily without feeling nervy, and you can deck it way over to silly levels without anything touching down. It's frisky and fun.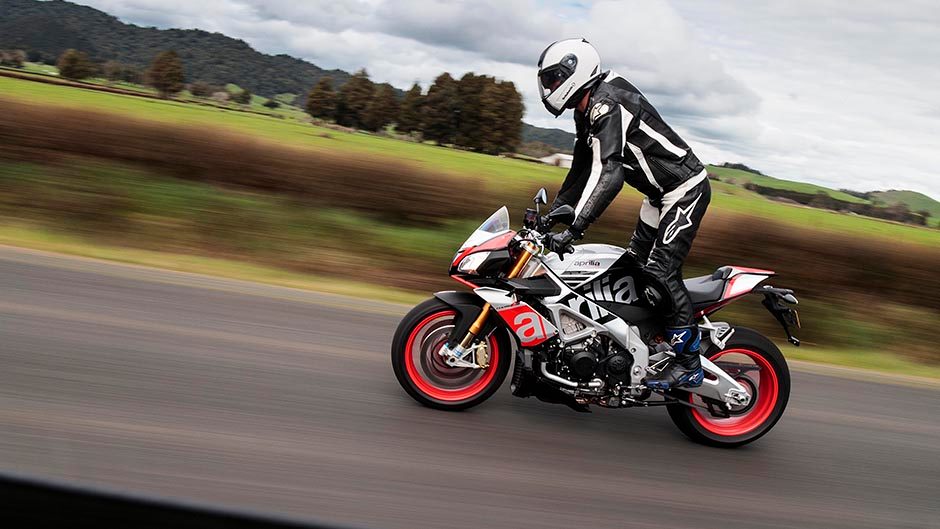 A few things aren't yet quite right but they're relatively minor. There's next to no vibration through the bars but the mirrors tingle, at their worst around 100km/h, naturally. The reflection is clearer at 120, an excuse that's probably worth trying if you get caught coz nothing else is likely to work.
We reckon it's about time Aprilia did a full redesign of its instrument pod. Revs on the left are clear and legible, but the rest is harder to fathom, even at road legal speeds. And there's a lot of data packed into a small area too. The electronics now are easier to determine intuitively, meaning a day long intensive tuition course at the Aprilia dealership is no longer necessary.
As before, the engine mode button is on the right switchblock; merely hold the start button momentarily to scroll through Sport, Track and Race, the latter being the feistiest. All three modes are silky smooth, Sport best for wet days and Track spicy enough for general use.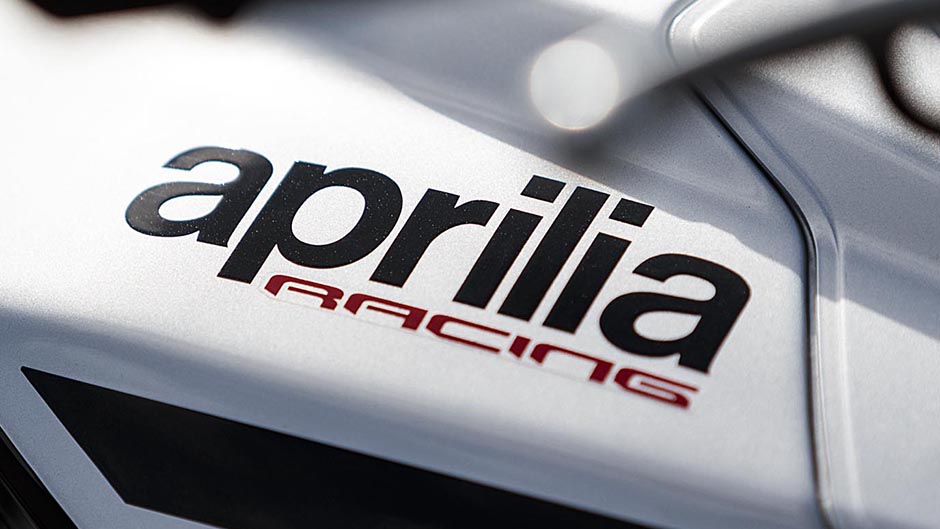 So Aprilia really does have a serious supernaked on its hands, undercutting Ducati's Monster 1200 S ($28,790) and KTM's 1290 Superduke R ($28,500), both big twins. It's quicker than this pair, but comes up against multicylinder competition in the form of Triumph's Street Triple R and BMW's S 1000 R ($25k).
It also competes with rivals at a lesser entry point, like Yamaha's new MT-10 ($20k), and Suzuki's GSX-S1000F ($18k). However, it's the only V4 of the bunch, and is the quickest and strongest of the supernakeds, not to mention the most exotic. Oh, and the sweetest sounding.
| | | | |
| --- | --- | --- | --- |
| Model | Aprilia Tuono V4 1100 Factory | Price | $27,990 |
| Engine | 1077cc, liquid-cooled, fuel injected, V4, 129kW/121Nm | Drivetrain | 6-speed, chain final drive |
| 0-100km/h | 3.08sec | 100-0km/h | 39.82m |
| 80-120km/h | 1.22sec (37.56m) | Weight | 206kg |