Alfa Romeo's facelifted 3 series competitor is now a two-model line-up, comprising this Veloce Carbon entry point and the QV range-topper. We get down to it in the reconfigured Veloce Carbon.
Some sports sedans really are standout lookers and that's something you cannot often say about sports utility vehicles. This updated Giulia Veloce Carbon is such an example, stunning in a bright red hue, as Italian cars so often are. When we first laid eyes upon it, the front three-quarter view reminded of an M3, only the grille on the Giulia is a bit more subdued.
It certainly is a shapely thing. Where most vehicles these days have highly delineated character lines running along the flanks, you really have to peer hard to see any such thing on the Giulia; it's just soft and curvaceous, finely sculpted and just damned fine to behold, especially on striking 19-inch five-hole dark alloy rims. It's about as dramatic inside now too, with its new central touchscreen, D-shaped wheel, sports leather-clad seats and discrete carbon highlights.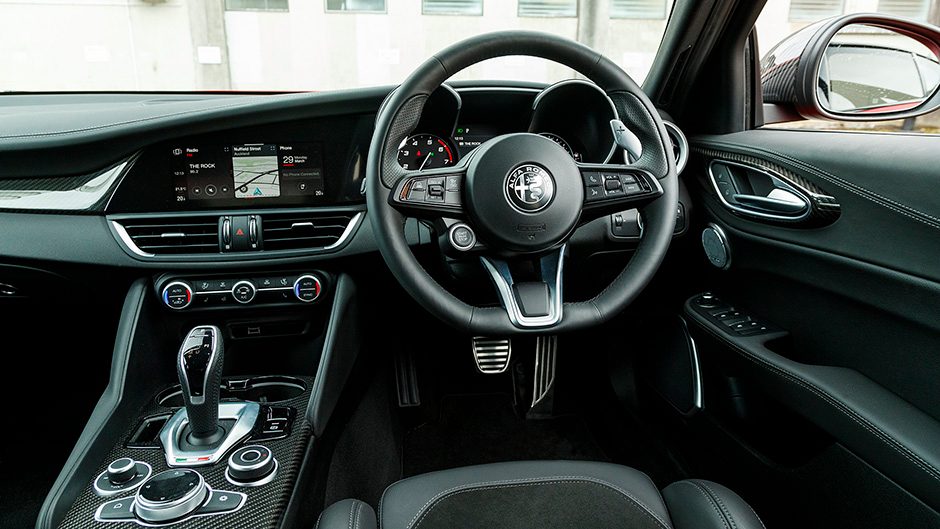 I'd scarcely driven a Giulia before, just a brief stint from town to the suburban office in the base model, and that was some years ago. But after a week with the car I was sad to see it go. Sure, there's not the room or the view out of the rear you might get with a similar sized medium SUV, nor the easy access to the luggage bay via a fifth door, but there's no denying the competence of this machine, nor its elegance, especially in its latest carbon guise.
There's no longer the entry-level Super in the slimmed down model line-up, which now kicks off at $89,990 for this model. Last time we drove the base model it was $10k less, but the carbon adds plenty, and there's now better specification, right down to seat and wheel heating, and that includes heater elements for the rear passengers. It also comes well stocked with all kinds of safety and performance bits but then what doesn't these days? The active safety features are ticked (AEB, BSM, lane keeping and the like), along with drowsiness detection, and there's adaptive cruise and active damping. Count also on nav with full-screen maps, performance management features, sports pedals, stop/start tech, and auto high beams. However, bi-xenon headlamps is a bit yesteryear; we'd have thought LEDs were mandatory at this price point. And while there's no head-up display and the reversing camera image is a bit pokey, pretty much everything else that's expected is included as standard, like wireless charging pad, H-K surround sound system, and connectivity for both smartphone types. There's voice control too. The primary option is a dual-panel panoramic sunroof ($3500).
The new touchscreen handles most of the mundane stuff, and this would be one of the more intuitive cars to operate that I've sampled lately. And that's something you don't necessarily associate with Italian machinery. All the controls are well considered, easy to operate.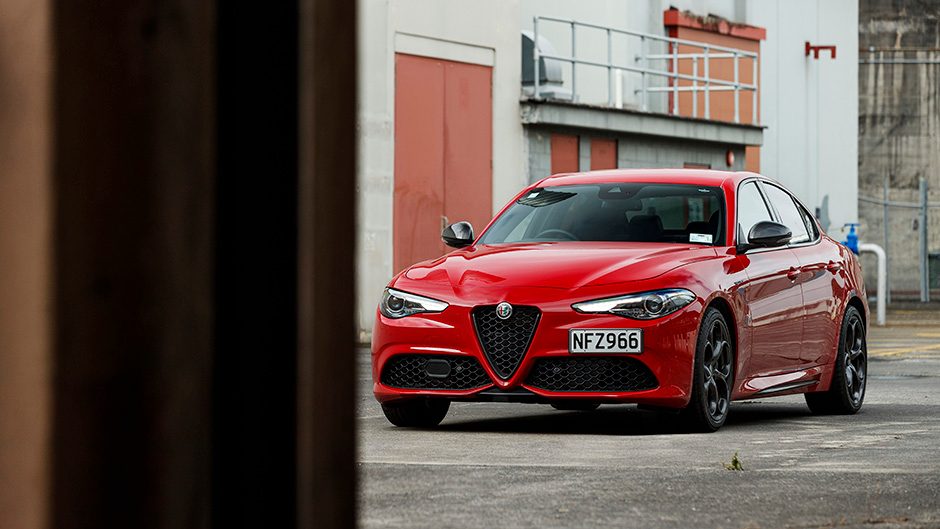 The comfort entry system isn't quite that because this is a sports sedan (low riding) with sports seats (heavily bolstered) so entry and exit require a bit of dexterity. Initially the auto-retracting steering column wasn't operational but this we reactivated in a submenu and that definitely makes things a bit simpler on the access front. The seats themselves are encompassing buckets, with power adjustment right down to solid lumbar and thoracic support. There's also a soft lining for the centre console so you can brace your left leg comfortably. Even the pedals are well sited, the brake on much the same level as the accelerator, so it's easy to step from one to the other. That's important in something with a G meter and you just know this will be up for a spot of bend swinging. More on that later.
Under the shapely hood of the Giulia VC is the same 2.0L turbocharged mill as before, conjuring 203kW and 400Nm. This supposedly imbues it with a 5.7sec sprint time but the Alfa stormed to a best of 5.5sec on its first run. Subtract two seconds from that for the 80-120km/h overtake. Compared with the more exotic M3-rivalling 375kW V6TT QF version it's not really in the hunt, but then that car is $50k more expensive, and certainly won't fare anything as well on the fuel use front, the VC managing around 9.5L/100km overall but also showing low eights at times. Its slippery Cd of 0.25 no doubt contributes to an unlikely claimed overall fuel use figure of 6.1L/100km.
Like all modern Alfas, this features a DNA drive mode system, comprising three different settings. We doubt many Alfa drivers would spend much time in the A for Eco (it's Italian) setting. So it actually stands for Advanced Efficiency but then the whole DNA drive mode premise is a bit hokey anyway. But it works well. The default N for Normal mode is the one you use most of the time, great for town and most rural running as well. However, things get a little more interesting when you select the D position, for Dynamic, power surging more readily, and the exhaust note taking on a tone that actually sounds invigorating, not easy to achieve with a four-pot turbo. It's hardly rowdy but it does suit the nature of the car well. It's noteworthy amongst a sea of other IL4T engines that sound bland or muffled.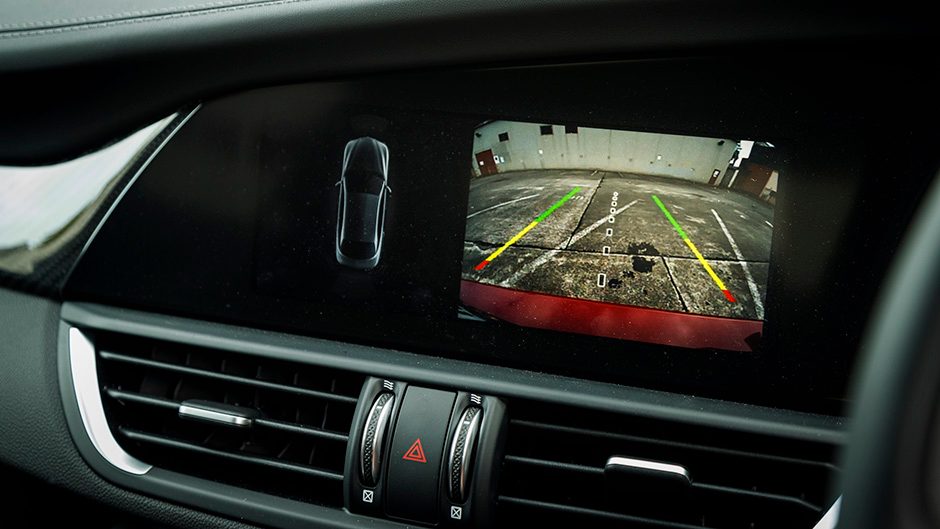 Two of the more interesting cabin features of the Giulia are the paddles affixed to the steering column – they're truly oversized – and the position of the pushbutton start/stop mechanism on the wheel, very racy. The former are so big they kind of interfere with indicator wand action. You use them a bit, but not a whole lot given how the transmission holds gears so well in the Dynamic mode.
And it's how this goes on roads of real interest that is perhaps the highlight of the Giulia drive. No, it's not as quiet as, say, the IS300 we drove previously, with a mean SPL figure of 75dB on the harshest surfaces but it's not rowdy either for the most part and the Potenzas suit the car well. The overall weight balance is as close to even as you like, a smidge over 50 per cent atop the front axle. And with its standard-fit LSD this exits corners under power like a champ. Moreover, the steering is fast and sharp, so it's highly biddable, making it that much easier to thread down ridge-runner roads.
Handling is accomplished, grip huge in the dry and the ride surprisingly supple in Normal mode, while in Sport the adaptive suspension masters on control, without progress becoming unduly firm. Want that softer ride back while in Sport mode? It's just the push of a button away, but you cannot opt for firmer damping in Normal mode. Go figure. Adding to driving pleasure are brakes that feel a bit more sensitive than the norm, not that that necessarily translates to better stopping distances, with a best effort of 34.34m.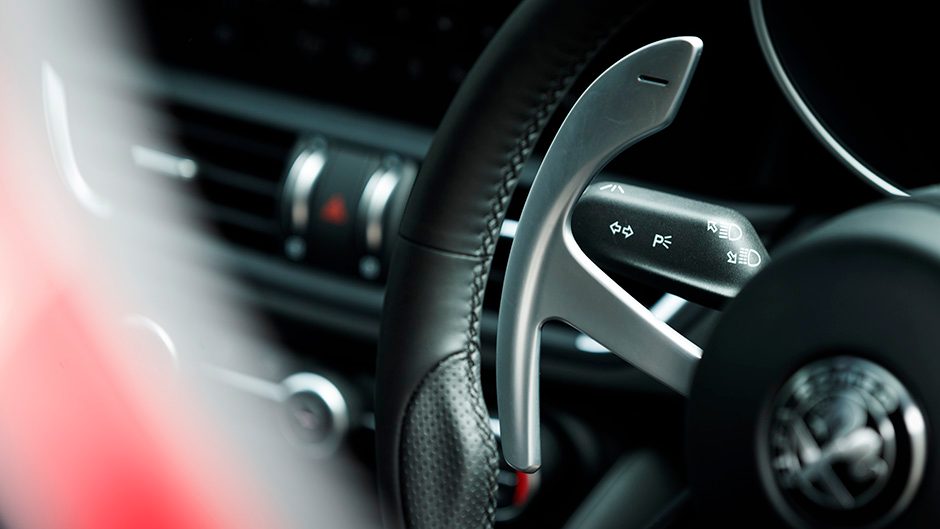 Practically speaking, there's not a whole lot of space for oddments – the door pockets are mean – but rear seat space is acceptable, and split folding helps with longer or awkward loads.
Is the Giulia any better dynamically than the competition? There's probably not much in it, given the XE and 3 Series are both whirling dervishes themselves. It's noteworthy that this and the 330i not only cost the same but have almost identical power outputs and performance figures. When it comes down to it then, the appearance takes on greater significance, and the Alfa sure is a peach.
| | |
| --- | --- |
| Model | Alfa Romeo Giulia Veloce Carbon |
| Price | $89,990 |
| Engine | 1995cc, IL4, T/DI, 206kW/400Nm |
| Drivetrain | 8-speed auto, rear-wheel drive |
| Fuel Use | 6.1L/100km |
| C02 Output | 141g/km |
| 0-100km/h | 5.52sec |
| Weight | 1605kg |