Porsche's fine road car reputation was founded by the 356, and here we investigate a local treasure trove of four very different examples.
Think Porsche and it's the 911 that springs to mind thanks in part to its longevity. And yet it's still kind of weird to think that car was directly descended from the 356, a model born in the late forties. The 356, Porsche's first production car, was designed by Ferry Porsche with a rear-mounted, air-cooled pushrod flat-four and more than a few other parts with Volkswagen lineage. The 356's production ran from 1948 to 1965, by which time Porsche was then focusing on its new 911, and still is. But we're talking 356s here, and in particular a quartet of cars owned by Porsche enthusiast, Paul. Like most, he was a 911 fan and owns a few of those too, including a 1973 Carrera RS he bought in 1988. "I used to think 356s were for old men, but then I was lent a 356 A from a member of the Porsche Club for the club's 30th anniversary, and was absolutely hooked on them. I decided I had to get one. I ended up buying a Roadster, that was my first one.
While Paul admits his love of 356s stems from how they look, a beautiful car in his mind, he was also taken by their dynamics. "I was amazed at how they handled but also how comfortable they were. For such a small car with only 1600cc and 80-odd horsepower, I was surprised with its ability to run with modern traffic." Paul's 1961 Roadster, a B body, was purchased from the US in 2006. "It wasn't too hard to find 356s in the States at the time, but it was hard to find a good Roadster," says Paul. The Roadsters aren't to be confused with the Cabriolet, Paul says, they are a continuation of the Speedster line. "On a Cabriolet the windscreen is part of the bodywork, whereas the Roadster has a bolt on screen, and it's different around the back of the cockpit too. The Roadster is more sporty whereas the Cabriolet was more the top-of-the line comfort car." The Roadster has a 1600cc flat four rated at 75bhp but Paul says over the years most cars have been upgraded with larger bore barrels and pistons and most would have around 85bhp in reality. Paul uses the Roadster regularly in the summer periods, the roof isn't quite winter proof, but says the Roadster has been fantastic in terms of reliability. A member of the Porsche club, he takes it out regularly on club runs and has used the Roadster for a two-week tour of the North Island.
It was only a year later when Paul bought his second 356, the 1957 Carrera. This is a special model on account of its four-cam engine. "The four cam was developed in 1952 for use in the race cars, and then in '55 they put it in the road cars. Mine is a '57 model with a 1500cc roller bearing engine and in 1958 they moved to a 1600cc plain bearing engine." Paul says it's not his favourite 356 to drive. "It has to be kept revving and it's difficult to drive in traffic. It has good performance at high revs but it's appalling at low revs. There's no torque, and it's very hard to do a hill start." This car was found in Sweden and bought as a rolling chassis. "The engine was in bits in boxes, and it was painted but badly, and we had to take it back to bare metal." All of the chassis work was done in New Zealand, though the engine was rebuilt in California. "It was a mission to get it running right. It has twin distributors and getting the timing right is very hard. According to Paul, there have only been two other four-cam 356s in NZ, one has since been shipped back to the States, and the other belongs to Sir Colin Giltrap. Paul said the car appealed to him because he always had an idea around his favourite colour scheme for a 356 which aqua marine blue with a red interior. "That's what the original colours of that car were so it was perfect as far as I was concerned, but I just never realised when I bought it that it was going to be such a long mission to get it going." According to Paul there's not much of a difference in the chassis between a regular 356 and the Carrera, and that it isn't actually a lot faster either. His car is a GS model but it has a few GT features like an 80-litre tank, and GT brakes, the front drums being 60mm wide instead of usual 40. And just how does it brake? "Not that well actually. The drums have a wooden feel but you get used to it."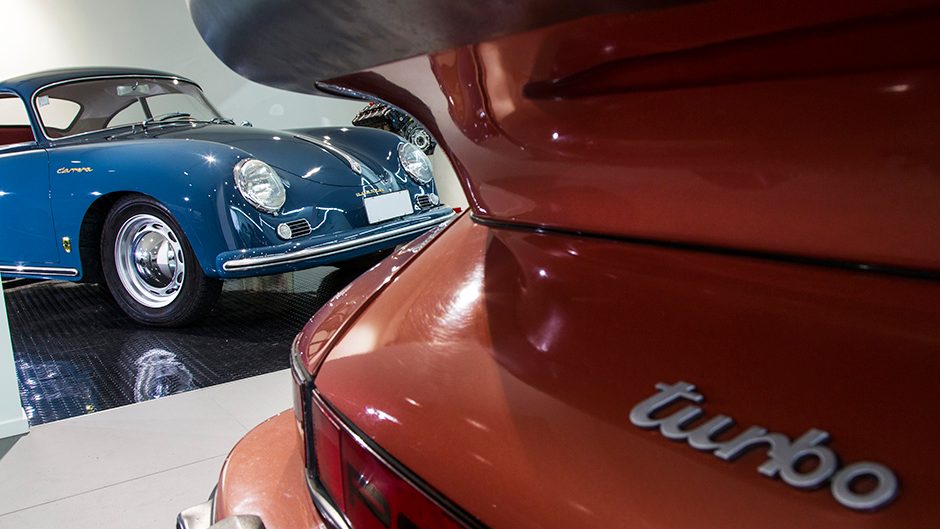 While the Carrera is in show condition, Paul's early Cabriolet is in need of a bit of attention. "I'd been looking for a while for a very early split screen 356 and this is quite an amazing car. We found it in Holland and we think it's the oldest Porsche in the southern hemisphere. It's a 1950 model, but it wasn't built until February '51. For some reason, Porsche allocated chassis numbers for the cabriolets in line with the coupes as part of the series, but the cabriolets weren't completed until later." Paul says that for the first steel production cars, Porsche allocated 600 chassis numbers and his car is number 135. "So it's an early one," he says, "just 65 of those early cars were Cabriolets, and 12 of those were built by Reutter, a company Porsche later bought out. Five of those cars have survived and only three have been restored so it's quite a rare car." It was sold new in the US, and spent most of its life there. Paul believes it was one of the the first cars sold in the US with a 1300cc engine; all the others were 1100cc then. It's booked in for restoration in February next year. What does that involve exactly? "Sending it overseas with a whole lot of money." The project will take two years and will be completed in Italy. "The thing with these old cars, the very early ones, you need someone with the intimate knowledge around all the details. There are plenty of people in NZ with the workmanship skills, but none with the knowledge of the detail around the early cars because they are quite different." Paul says the car is fairly complete. "We've got virtually everything for it, including the original engine. It's got experimental pistons with a special shaped dome. and the experts have told us they are the only set they have ever seen."
The last car in the collection is a 1958 A coupe, bought in 2012. "I bought it off a guy in Wellington, as I wanted to make sure it stayed in New Zealand. It's been here for so long and it's rare in that it has a bench seat." Of the 76,000 odd 356s that were made, Paul says around 2000 of them were built in RHD. All 'NZ new' 356s came via Australia and this one was sold to a man who worked for the bank of NSW and was transferred to NZ, bringing the car with him. Seems bankers were paid lots back then as well. On the 356, Paul says he likes the whole ownership experience. "In the classic car field you can't beat it. They're reliable, easy to maintain and hold their value but the downside now is they have a very high entry price to ownership." Ah well, guess the rest of us can keep dreaming then.