Royal Enfield has added a pair of 650 cruiser twins to its line-up and Kiwis are falling for them. We check out the naked variant.
India's Royal Enfield is continuing to expand its line-up, and now the middleweight specialist has four 650 offerings, with the addition of a pair of Super Meteor 650 cruisers.
Actually, one is called the Tourer because it comes with a windshield and fancy seat set-up for longer haul rides, whereas the slightly less expensive model is the actual base cruiser.
But they're mechanical twins. Both, by the by, are LAMS legal so can be ridden by learner riders. Hence their popularity.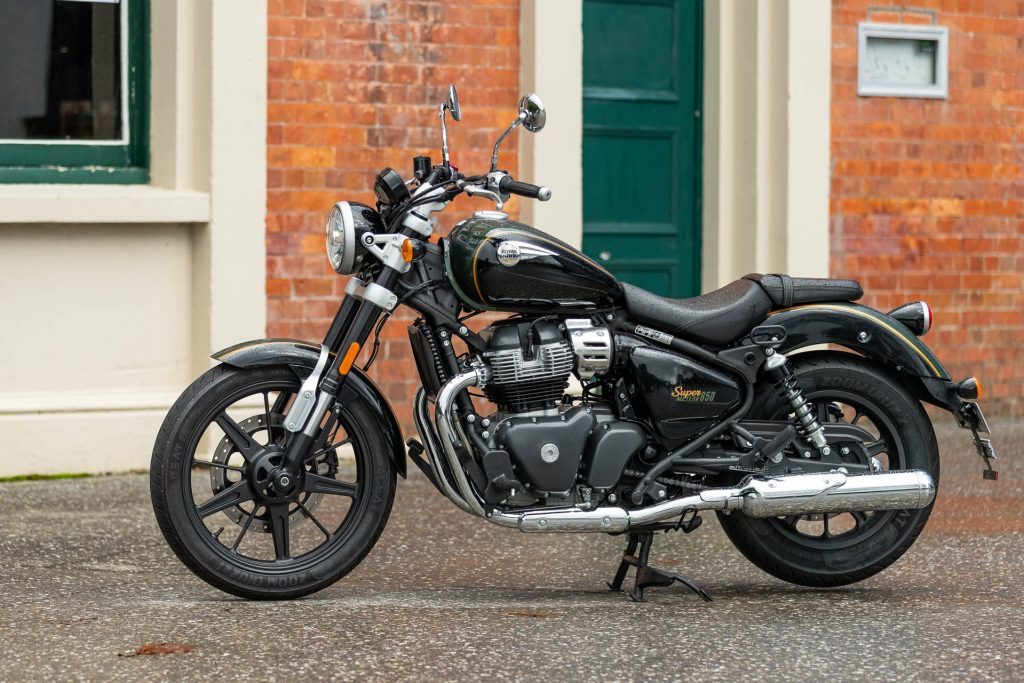 And on that, they've been the best selling new road bikes for the past two months in New Zealand. That's not unexpected either for the cruiser sector continues to be popular, and this pair is exceedingly good value.
As yet there aren't many middleweight cruisers out of China available here, so the fact you can pick up a decent capacity, retro-style 650 brand new for $12,490 in part explains why this pair is going gangbusters.
Most buyers are opting for the naked bike because it looks more the business, is a fraction cheaper and arrived first. And anyway, if you want to go touring on it, you can purchase an accessory screen to make it more like the actual Tourer which kicks off for $12,690.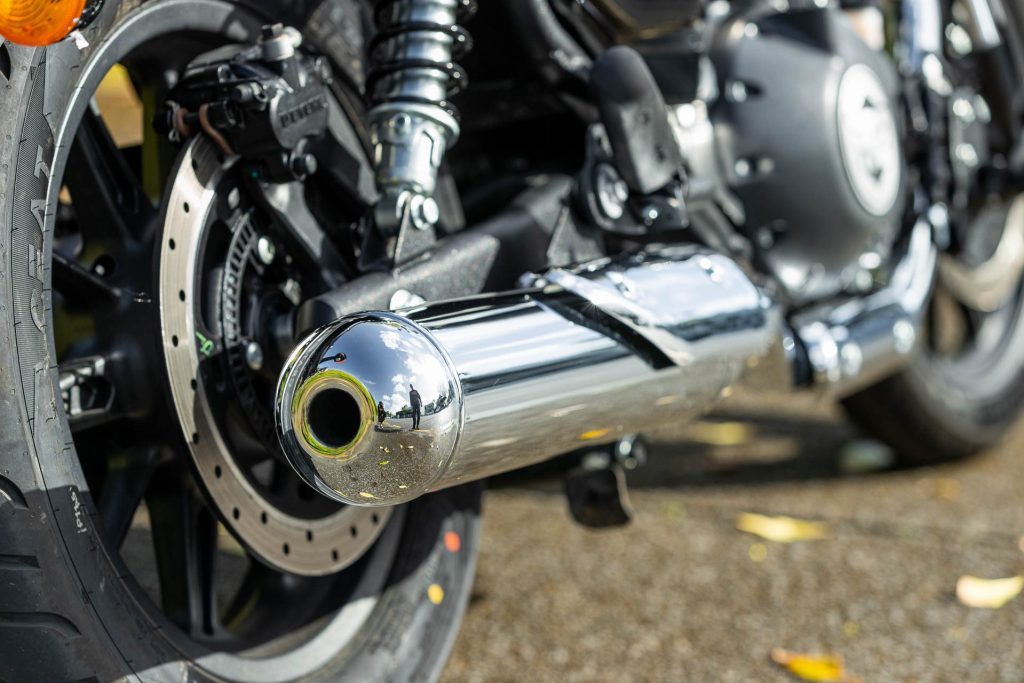 However, we'd probably advise you to go for the factory Tourer instead if long haul riding is the primary intention because it comes with a more comfy seat that is purpose built for a rider and a pillion.
There's a more generous squab for the controller and also a backrest to make life in the cheap seat a bit less arduous.
Looks the part
To behold, the Super Meteor comes across as something rather bigger and more expensive. The fact is it costs a little over $1000 more than the lighter sportier Interceptor and Continental 650 twins.
Part of the reason this is such good value against most of its opposition is that it comes with few gadgets, ABS aside.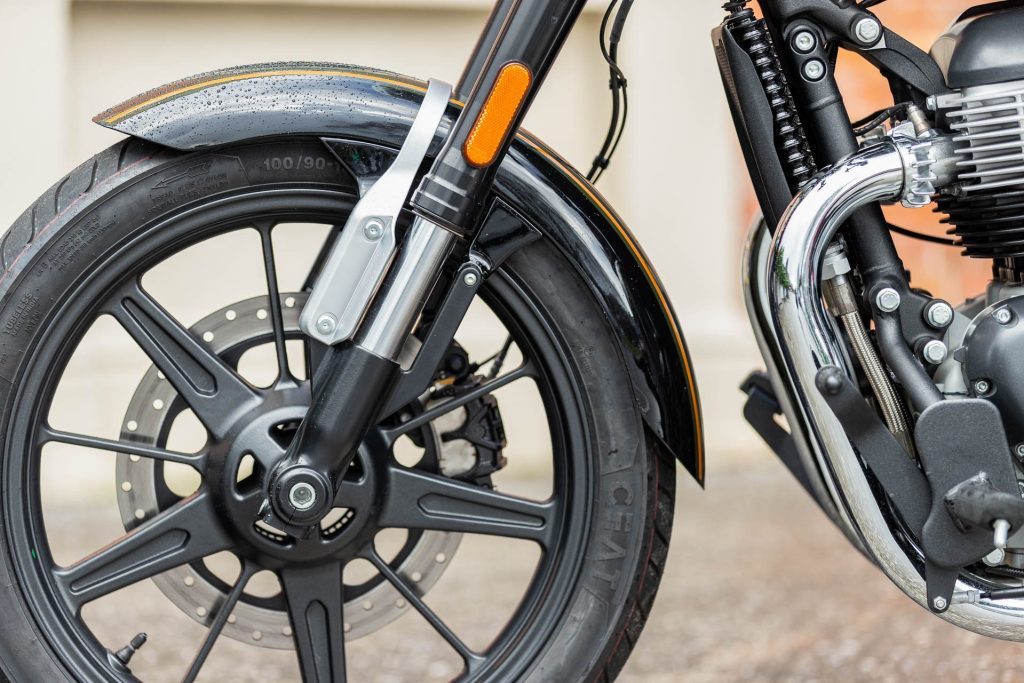 It's the classic no-frills cruiser. No TC, no engine modes, no radial-mount caliper, no TFT screen and there's also no underseat access. But the brake lever is adjustable, and the headlight is an LED unit, a first for the brand. Plus you get two-tone paint as part of the deal.
Is this just the Continental/Interceptor underpinnings repurposed? Well, kind of yes, but also not quite.
The aim in spinning off this pair from the original 650 engineering is that the Super Meteor 650s share simple controls with the original 650 sportsters (starter, indicators, lights, fuel gauge, speedo, and nav trippie; no tacho necessary).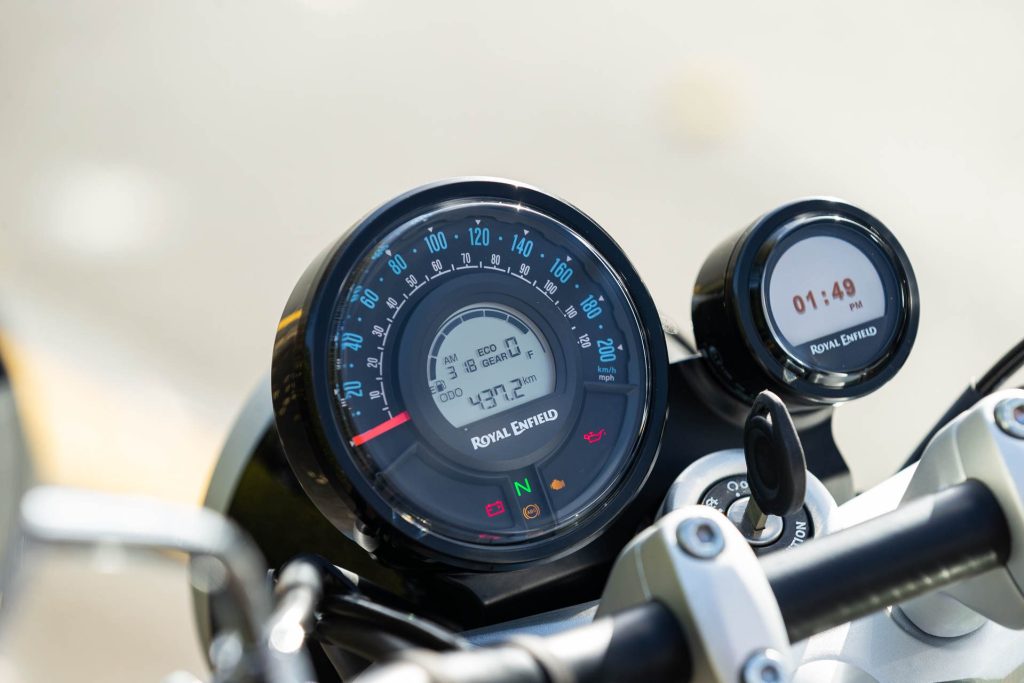 They're also designed with easy changes of direction and good low speed maneuverability in mind.
Retro-cool styling is an added freebie. This is neo-retro in the best possible sense. Even the stop and start mechanism looks like it was borrowed from a 60s machine.
Make that 1950s when the first Super Meteor debuted. And there are definite styling similarities when you compare the old with the new.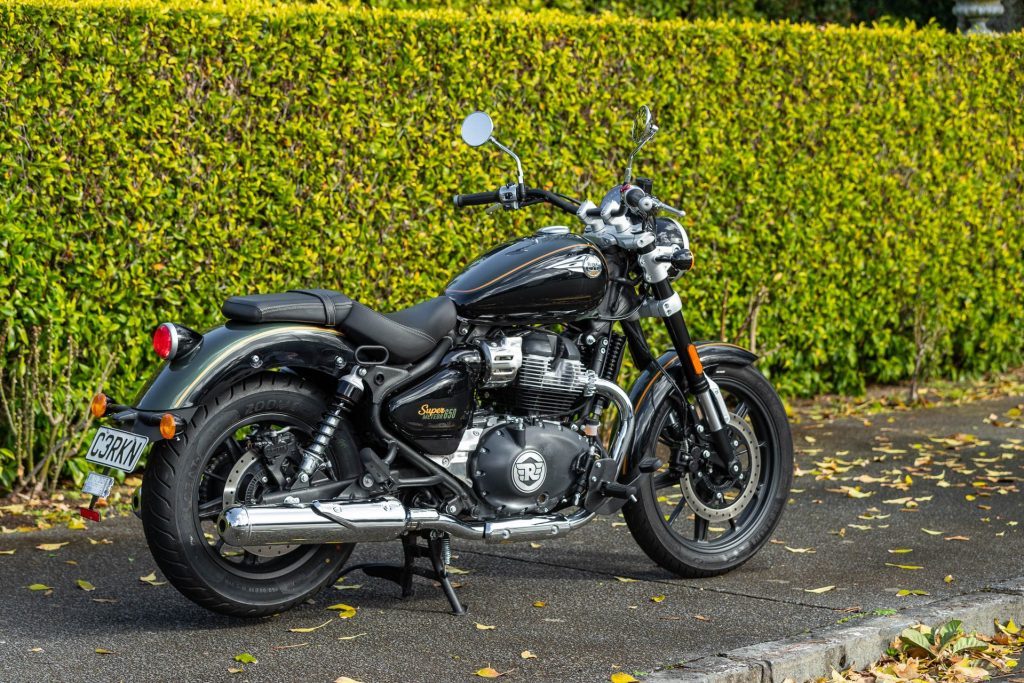 Chassis the main difference
While it does make use of the Conti's 650 twin engine, it has been fettled for cruising, with a different intake tract and exhaust system, and a remap, all aimed at encouraging low rev muscularity.
The primary difference however is that a completely new chassis was developed for the cruiser pair, aimed mainly at comfort as the middleweights are bought by those intending to have fun rides in the weekend and a spot of long distance travel.
Or not, because they go well round town too, oozing along at low revs in high gears; even sixth at 50km/h is possible.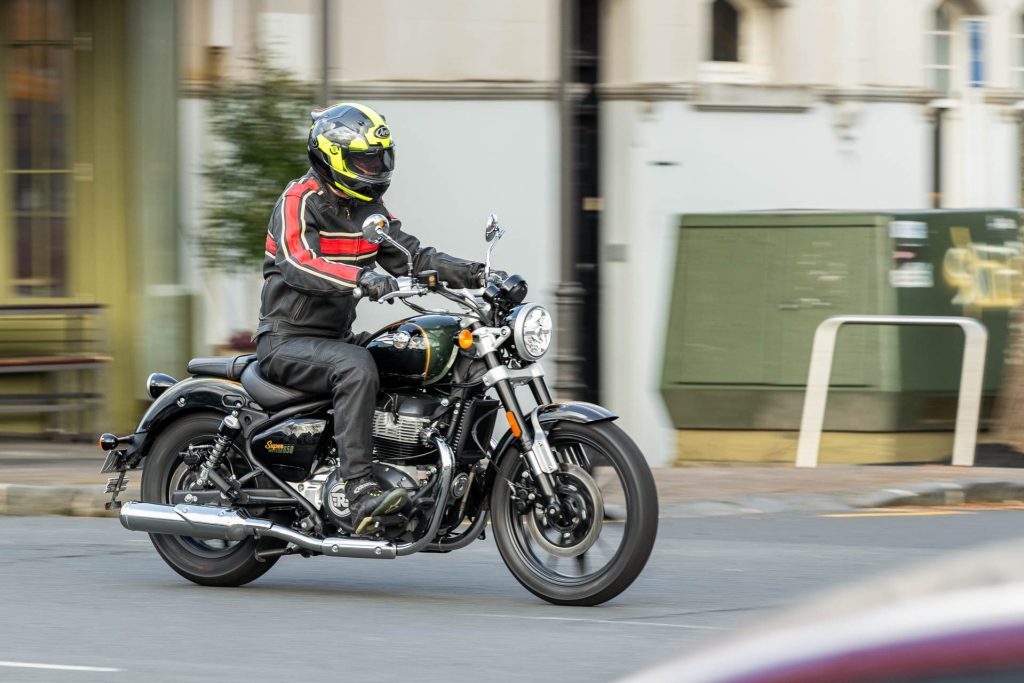 The new chassis is heavier, by around 25kg, and that shows in our acceleration parameters, lagging by about a second compared with the Continental and Interceptor.
Suspension is different too. There's a new swingarm and in a first for the brand, upside down forks feature, and they're of the Big Piston variety, although unadjustable. At the rear are twin shocks, variable for preload.
They offer 101mm of travel and the 16-inch rear wheel has a tall sidewall, such that it looks similar in diameter to the 19-inch front.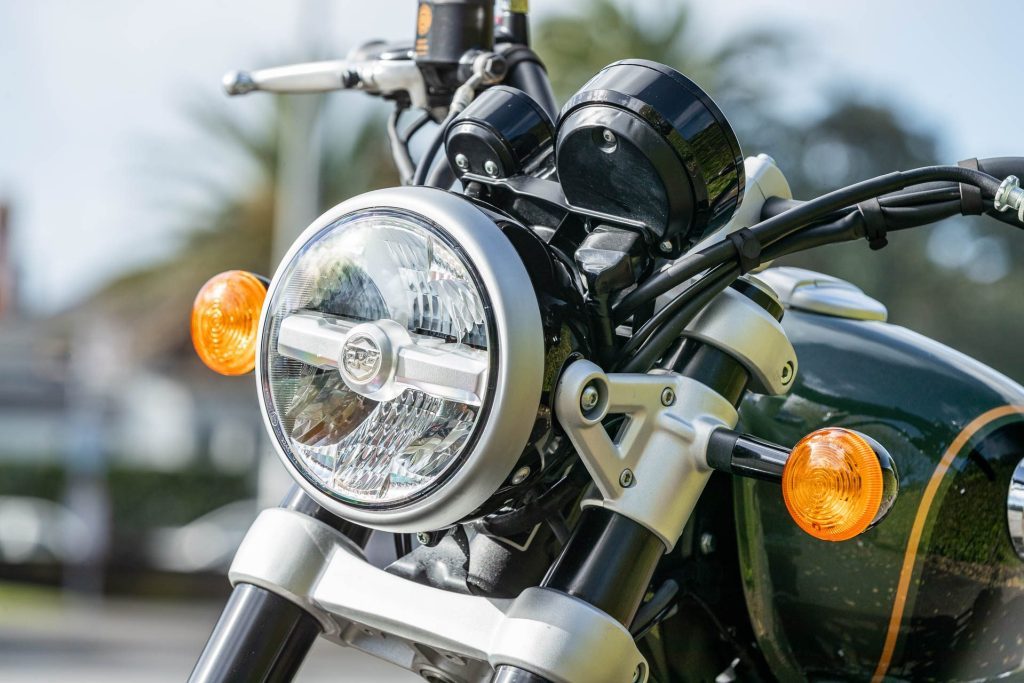 Handling is confidence inspiring, and ground clearance a shock for the genre. Good luck touching down anywhere; we tried and failed.
Loping engine great for learners
One of the big drawcards is that both of these can be ridden by learner riders. Power output is 35kW and torque peaks at 52Nm, virtually identical to the outputs of the Conti/Interceptor 650 twins. The motor pulls really well from down low and doesn't rev its head off, typical and desirable in a cruiser, no?
Which means vibes are kept in check and fuel use is modest, around 4L/100km. Output is directed through a six-speed transmission which is both lightweight and fluid in action, clunk-free, and that's not a given by any means in the cruiser sector.
Nor is ride comfort, more often than not because of the hardtail look so beloved of cruiser designers. The standard seat is a little firm on the bike we rode but the Tourer version looks comfier.
While the ride on some of our rougher secondary roads comes across a shade firm at the rear, it feels better at town speeds. And the preload was on setting two.
Stops in a hurry
Both tyres are from Ceat, an Indian firm and similarly the brakes, by ByBre. Up front is a single two-piston unit, with a 320mm rotor, and it works pretty well, though you need to give the lever a decent squeeze.
At the rear is a similar unit, with a 300mm disc. The two work together synergistically because of the rearward weight bias, producing a best 100-0 stop in under 38m.
Both the SM 650s come with a centre stand which takes a bit of learning to master. The bikes are available in a variety of colours; the Tourer gets the brighter ones.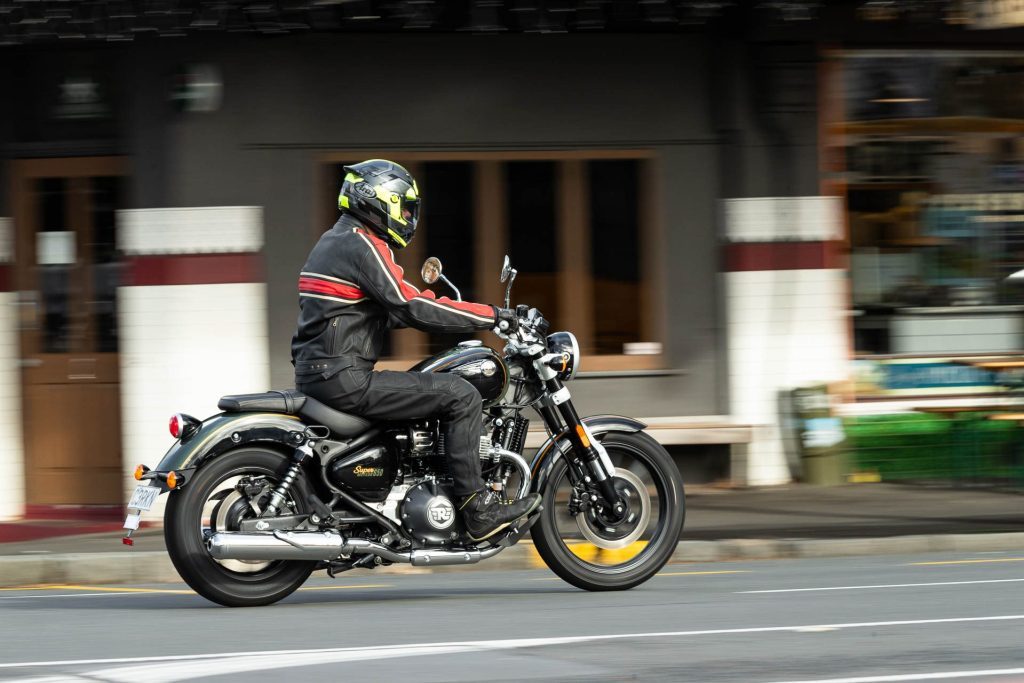 Fancy a stylish cruiser but just can't afford the asking price? You might find you can with this pair, and you'll be getting something easygoing and alluring at the same time.
Small wonder they're proving popular.
| | |
| --- | --- |
| Model | Royal Enfield Super Meteor 650 |
| Price | $12,490 |
| Format | Air/Oil cooled / Fuel Injected / IL2 |
| Engine | 648cc |
| Max Power | 35 kW @ 7250 rpm |
| Max Torque | 52 Nm @ 5650 rpm |
| Cylinder Head | SOHC / 8v |
| Gearbox | 6-speed |
| Drivetrain | Chain final drive |
| Front Suspension | 43mm USD forks, unadjustable |
| Rear Suspension | Twin shocks, preload adjustable |
| Front Brakes | Twin-piston calipers, 320mm discs |
| Rear Brakes | Twin-piston calipers, 300mm disc |
| Safety Systems | ABS |
| Tyre Size | F – 100/90ZR19 / R – 150/80ZR16 |
| Tyres | Ceat |
| Wheelbase | 1500mm |
| Seat Height | 740mm |
| Rake/Trail | 27.5 degrees / 118.5mm |
| Fuel Capacity | 15.7 L |
| Measured Weight | 238 kg |
| Weight Distribution | F – 108 kg / R – 130 kg |