Electrification is happening at Jeep, initially with hybrids and soon its first BEV arrives. We drive the top PHEV, the Grand Cherokee 4xe.
It has been a while in the making but Jeep is now transitioning from an ICE power company to an electric entity, aiming to be the 'greenest' SUV brand. It's early days with the first EV, the Avenger here at year's end.
Prior to that, Kiwis get plug-in hybrids with 4xe (meaning 4 by E) versions of Renegade, Compass and Grand Cherokee. Pricing kicks off at just under $70k for the Renegade, and $77,490 for the Compass. Each of these is eligible for the plug-in rebate.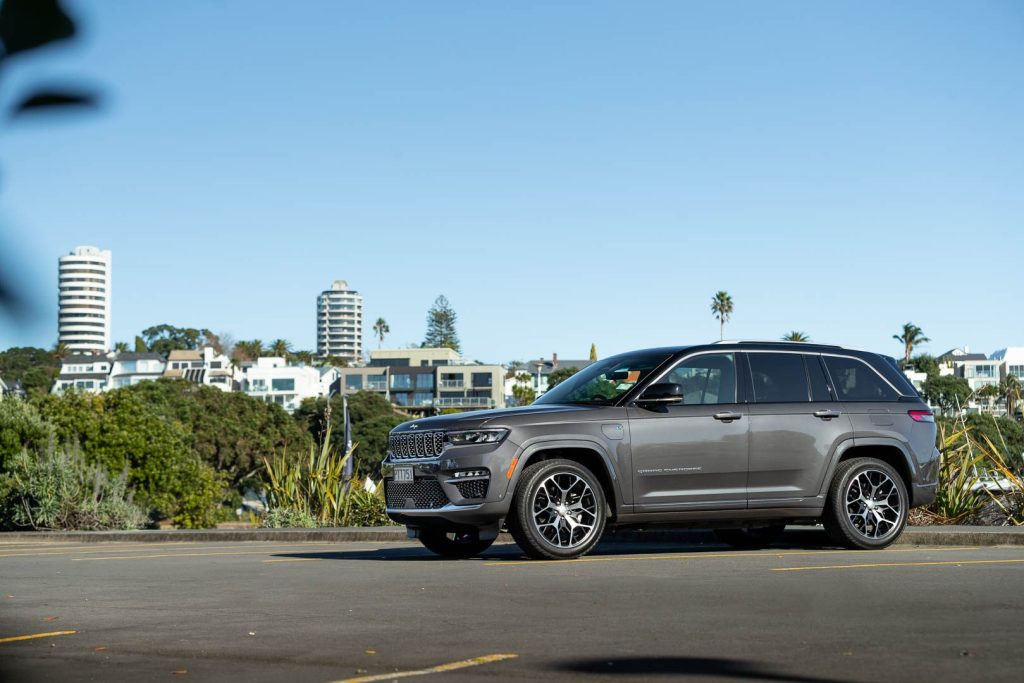 The Grand Cherokee isn't however, on account of it costing over $80k. Actually, it's around double that because the top-end Summit Reserve is the only local option.
Our tester had an optional $6k tech pack, comprising a head-up display, wireless charging pad, night vision, and a front passenger interactive display. The latter offers nav, camera viewing and entertainment via HDMI. The other cost option is paint; add $2k for any non-white hue.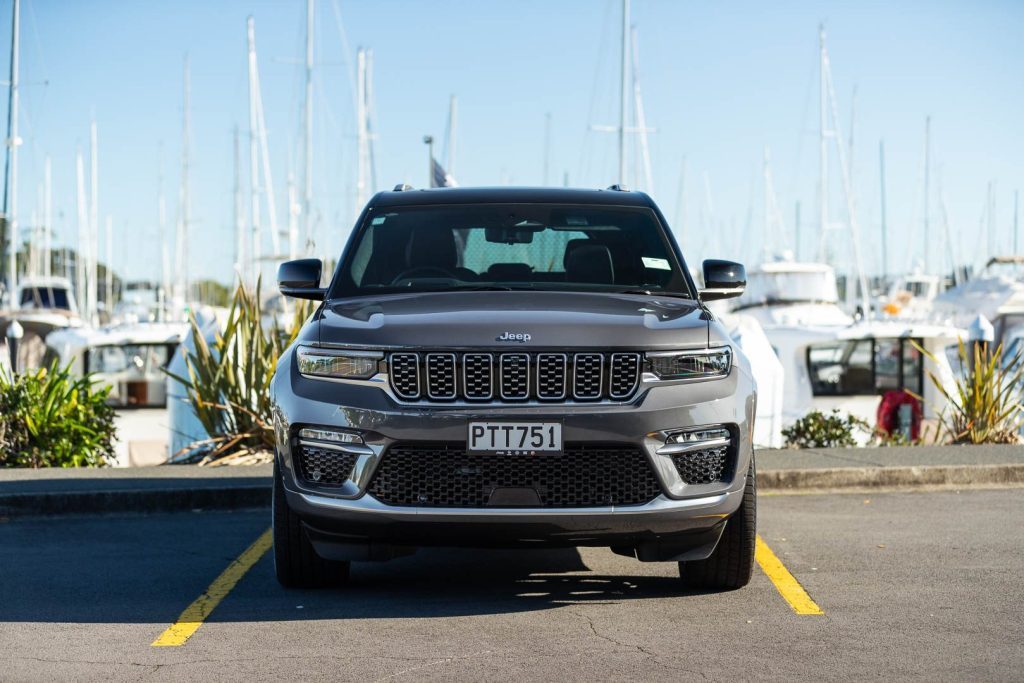 Grand Cherokee models kick off here at $92,900 with a 210kW/344Nm 3.6L V6. In the Overland we averaged around 14L/100km but the PHEV is more abstemious, though how much more depends on how you run it.
There lies the trap or the advantage of PHEVs – use them primarily in town, be particular about recharging regularly and Jeep reckons you can achieve 3.2L/100km (74g CO2/km).
Rightcar says 3.8L/100km. This then is aimed at townies primarily, who might do the odd rural ramble but don't want the hassle of recharging on the go and figure 700km-odd of range between refills.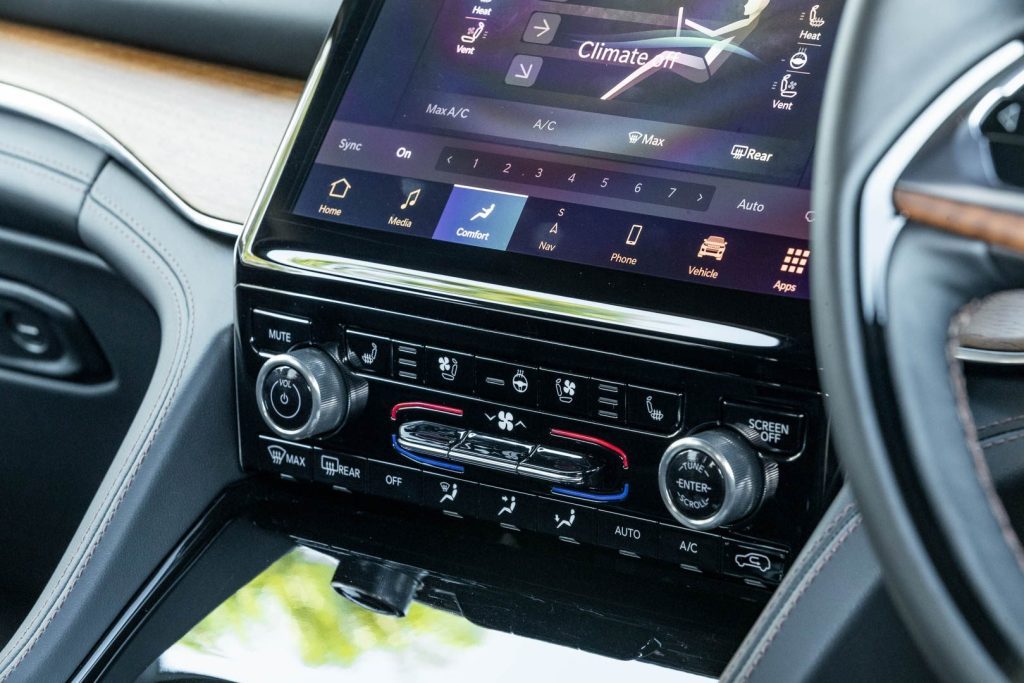 After pick up, we hit the open road and the Summit Reserve returned around 11L/100km while in E-Save/recharge mode (as we wanted to preserve the battery for town use later). Generally speaking, the Hybrid is the best operating mode in extra-urban running.
There are three different E-Selec options; Hybrid utilises the engine and the motor for best performance and efficiency, Electric is just that, and E-save either recharges a depleted battery (to 80 per cent) or holds the charge for later use.
In the latter mode it runs on ICE power alone, though it eases away from full stops with brief electric assistance.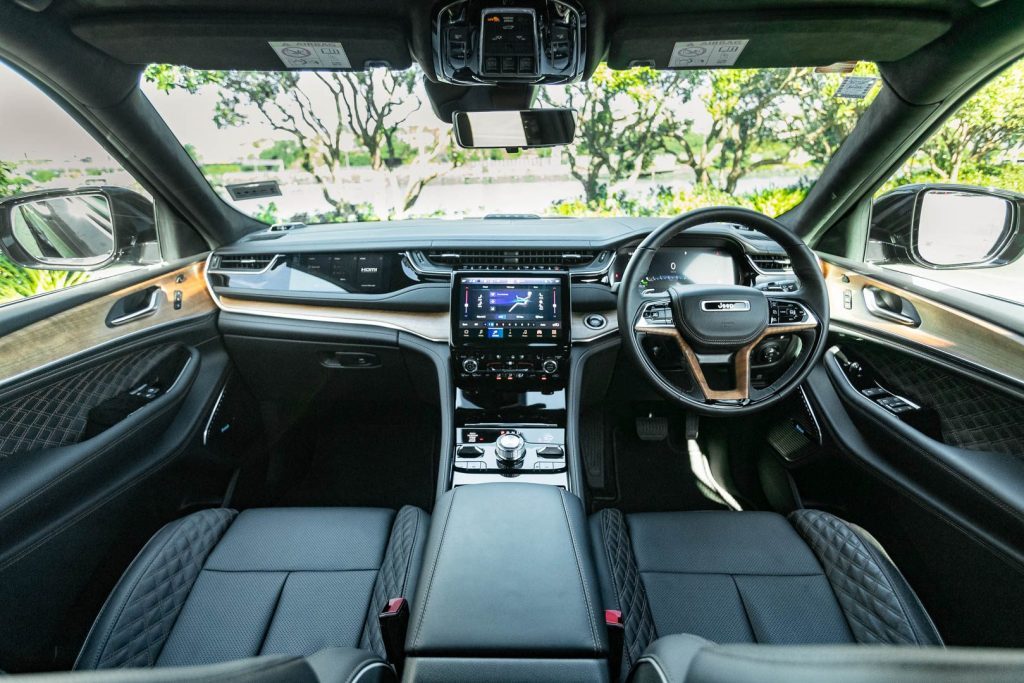 Is the new Jeep Grand Cherokee's engine any good?
The 2.0T engine does a pretty decent job of propelling what is an almost 2.6 tonne vehicle. But the doubling up of power trains is much better; along with a belt starter generator, there is also an electric propulsion motor that resides within the transmission.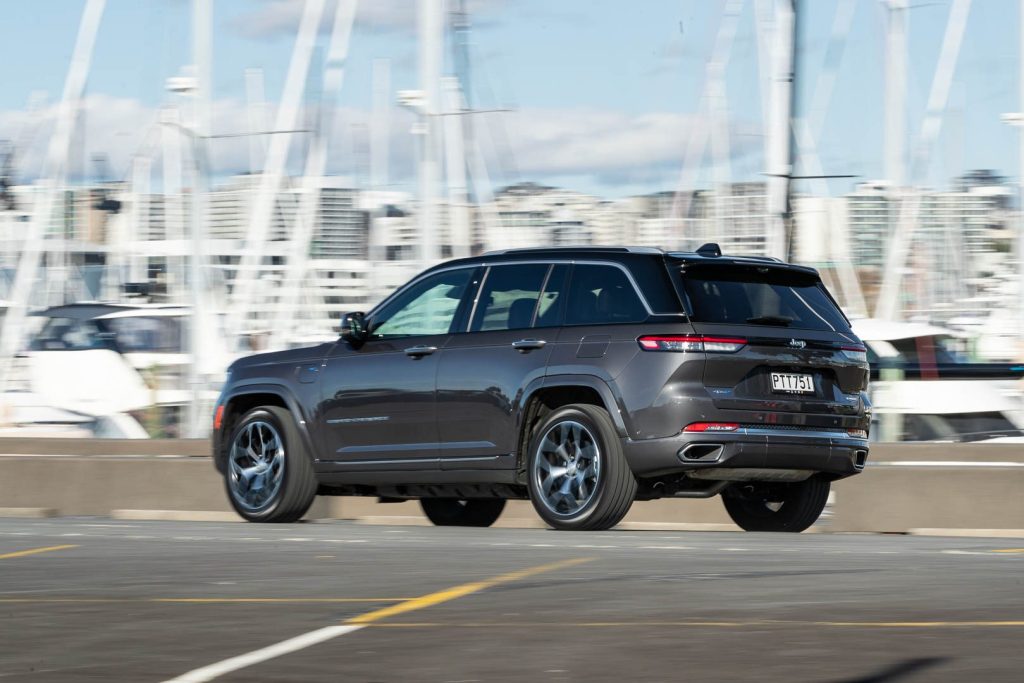 The 17.3kWh lithium-ion battery lives under the rear seat and helps even out the weight split. Home charging on a three-pin plug takes about 12 hours but only two hours with a wall charger.
Intuitively you might not think a 2.0-litre IL4 turbo will work that well in this setting but it outputs 200kW and 400Nm of torque, and it proves perky enough in the real world rev range, pulling nicely from 2500-3500rpm, the eight-speed auto extracting the best from the engine. In E-Save mode it feels about as quick as the naturally aspirated V6. Only the IL4 doesn't sound as hearty as the bigger mill.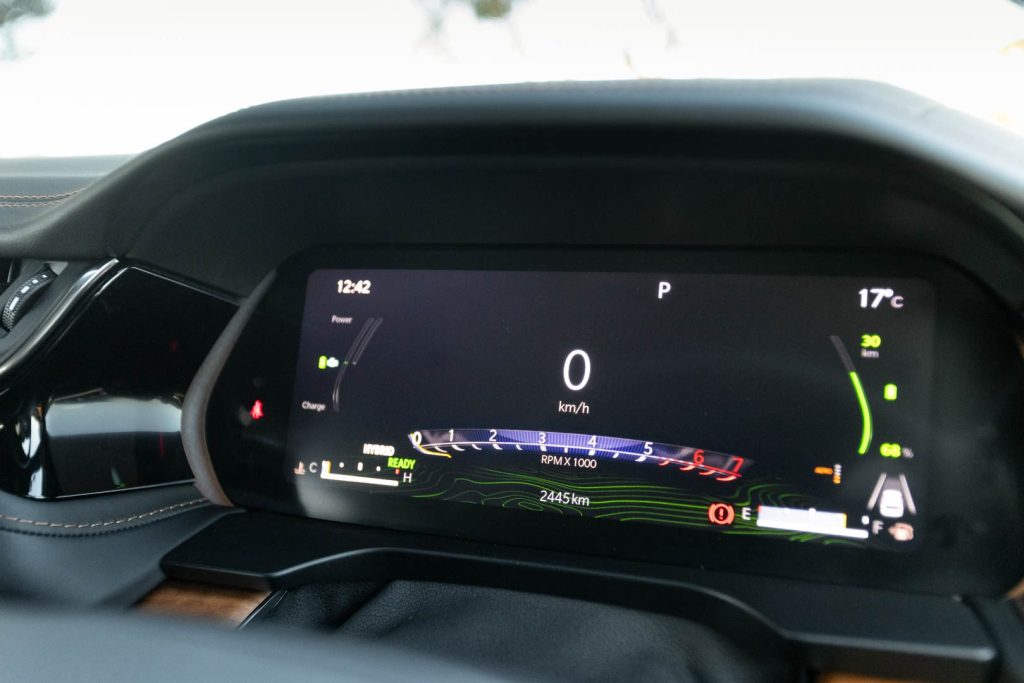 How is the new Grand Cherokee's hybrid system?
Tie the two powertrains together and you're looking at an output of 280kW and 670Nm, more than the former Hemi V8. This manages zero to 100 in 6sec, and an overtake takes just under 4sec.
It requires roughly 100m on the wrong side for an 80-120 pass. Even if you're in the E-Save mode, flattening your foot will wake up the electrics so it contributes to getting past in safe fashion.
In town the engine shouldn't fire that much.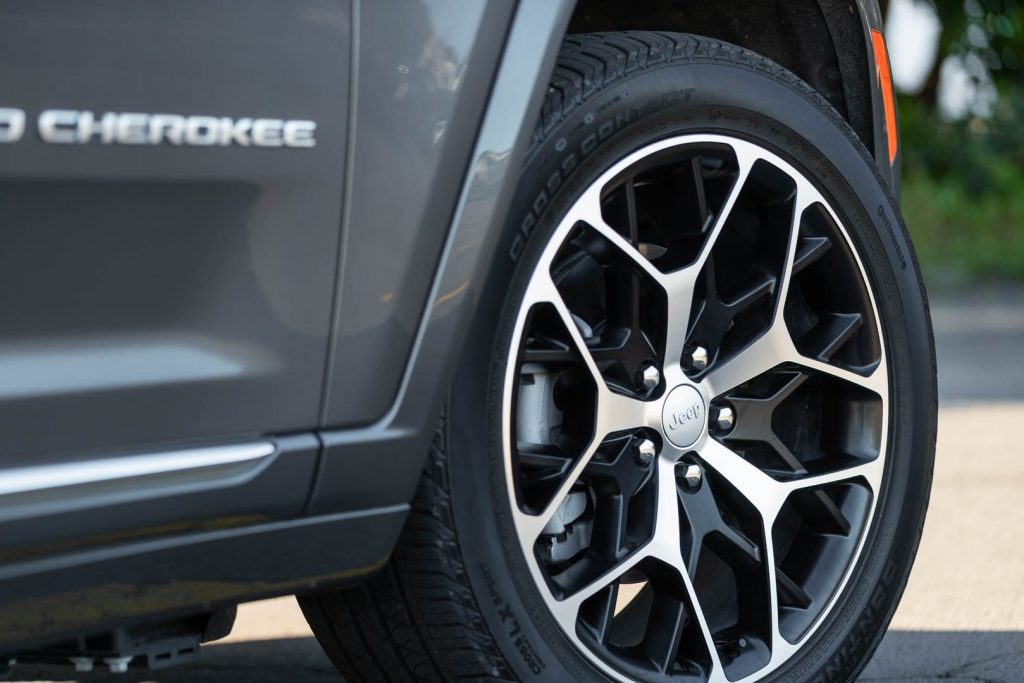 And on that, we set it to E mode for town running thereafter. As with the IL4T alone, there's enough oomph to get by but it's by no means an electric rocketship (107kW/245Nm).
Push the go-pedal too far or fast and the ICE power adds to the action, handy when you're going for a gap. Naturally it is almost silent running on e-power alone, but even out in the wilds you'll not see dB readings in the 70s unless the chip seal is freshly laid.
Traditional styling all round
The design you'd not mistake with the unmissable Jeep seven-slat grille and the squared off wheel arches. Jeep badging is blue tinged, to signify electrification. Inside is traditional, with the wood and leather finish, and a button-intensive cabin.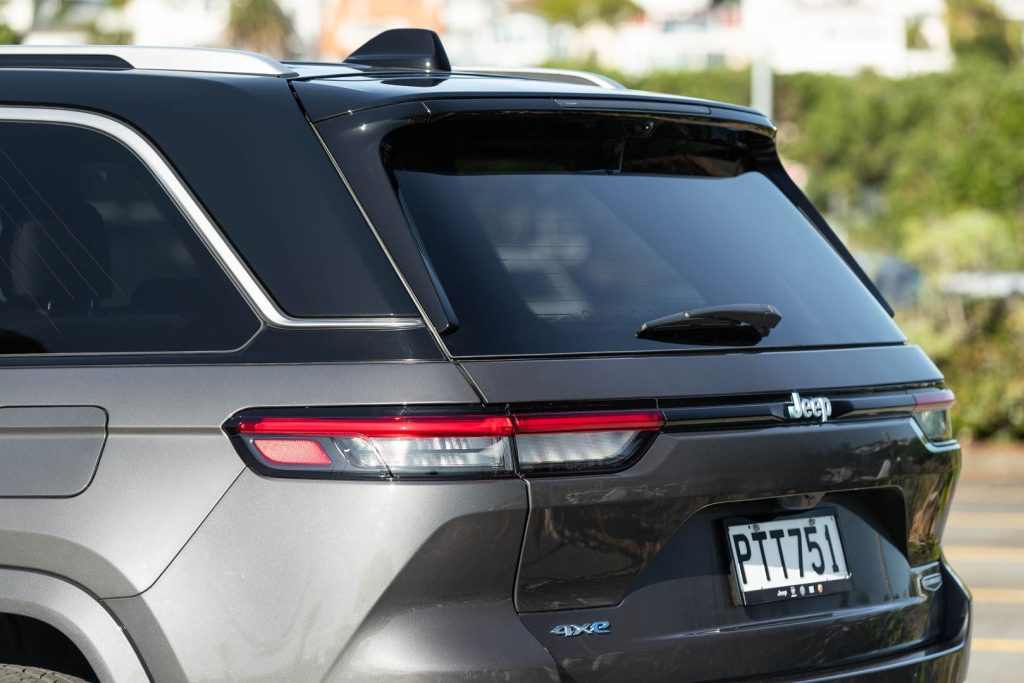 The rotary gear selector works well, better than most. However, the traffic sign recognition you'd not put much stock in; it blithely reports 100km/h as you drive past 80km/h traffic signs.
The variable regeneration isn't much chop either; there seems to be precious little happening during lift off on the open road. Hit the far-sited max regen button and there's palpably more retardation during coasting. The paddles aren't that easy to use so we didn't bother as the eight-speed 'box is a good'un.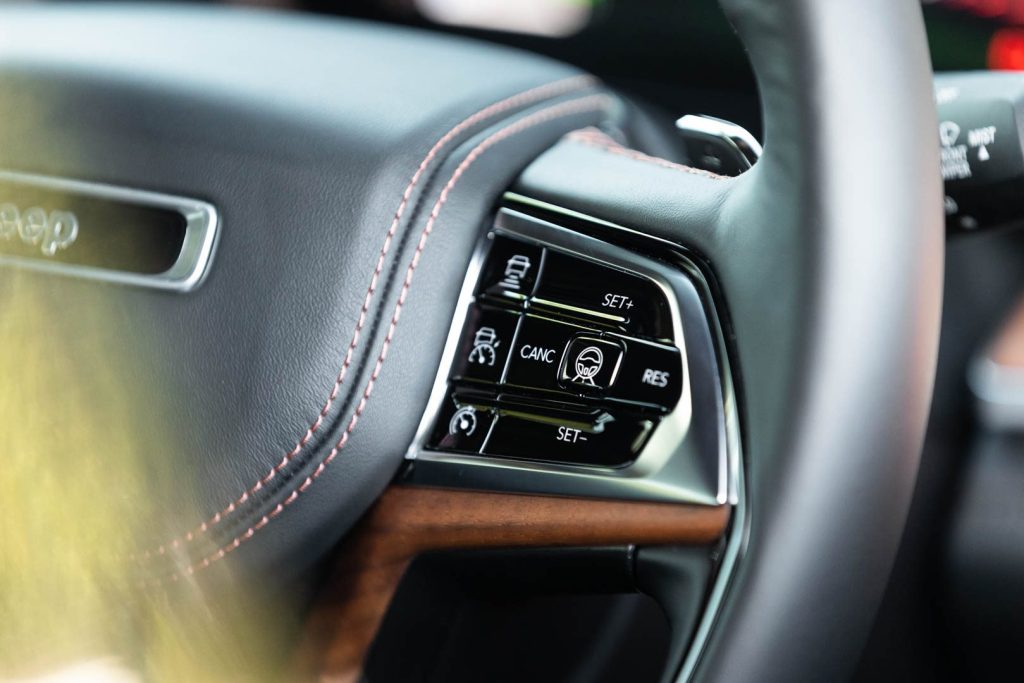 As to other drive settings, Sport mode we used primarily for performance figures; it firms everything up a little, and while the ride is pretty accommodating, with air springs and adaptive damping, it would likely be better on smaller wheels with taller sidewalls. Ones that are easier to clean would be welcome too.
The Auto drive mode is just fine on the whole and most will end up leaving it there permanently. We liked the quilted leather seat coverings, and standard seat massaging up front is pleasant.
Steady as she goes
This doesn't handle like a hulk because the weight is well distributed. The front end responds nicely to changes in throttle angle and you need to be pushing on to goad it into understeer. You're more likely to run into independent brake nipping first.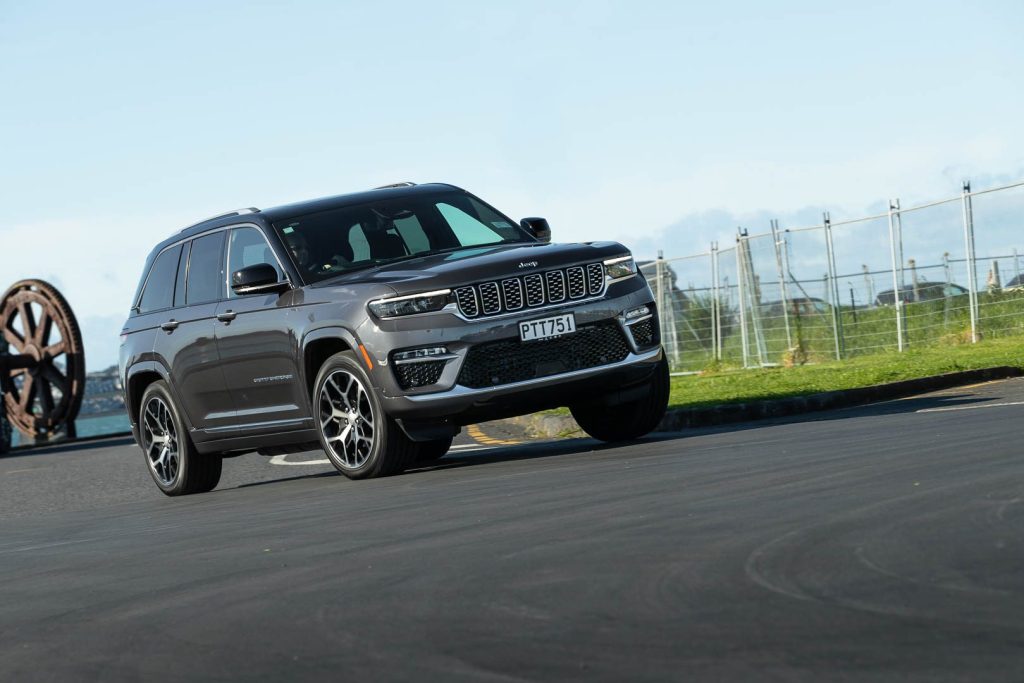 With front axle decoupling, most of the time on road it is a rear-drive machine. Anyhow, you can generate a reasonable flow on twisting roads. Brakes do the trick well enough, although emergency stops required 40m or so.
There's nothing much that hasn't been included in the spec list for the five-seater Summit Reserve, right down to a heated wheel and seats, powered tailgate, four-zone air, self-parking, a panoramic sunroof, and a special McIntosh sound system with 19 speakers, a 10-inch sub and 950wpc amplifier. Head-up display shouldn't really be a cost option here, nor non-white paint.
This is bigger inside than it used to be, easily accommodating five adults and with generous boot space of 580L.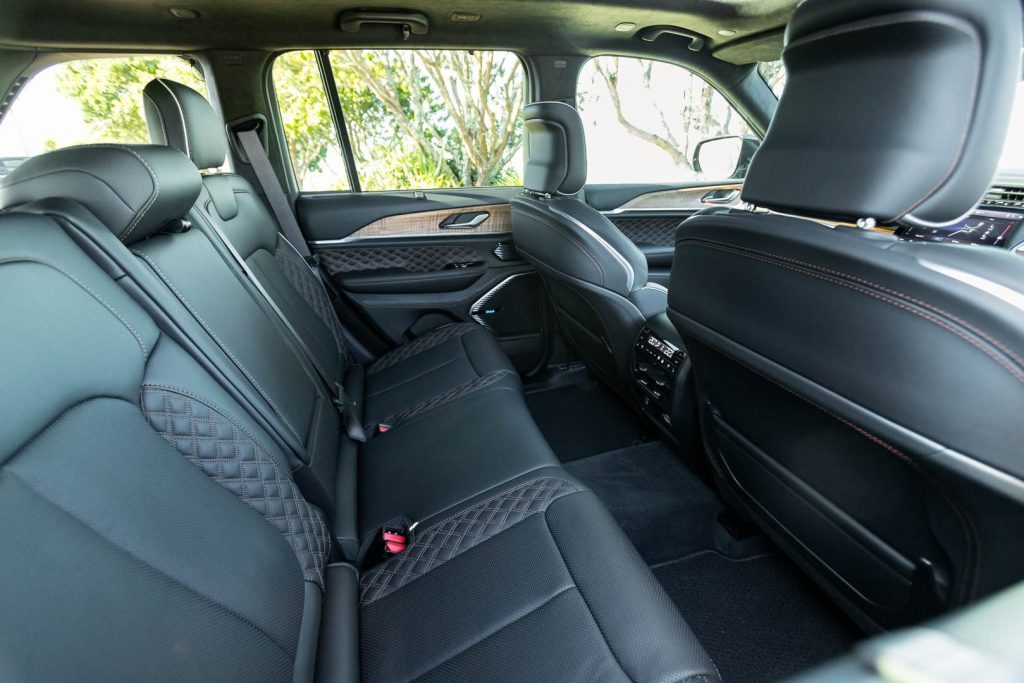 What's the new hybrid Grand Cherokee like overall, then?
All this doesn't come cheap (almost $70k over the base model) and it's a pity that a lesser 4xe isn't also offered because in the US there are six 4xe GC variants. It would be nice to have the choice of one other here at a price closer to $100k than $200k.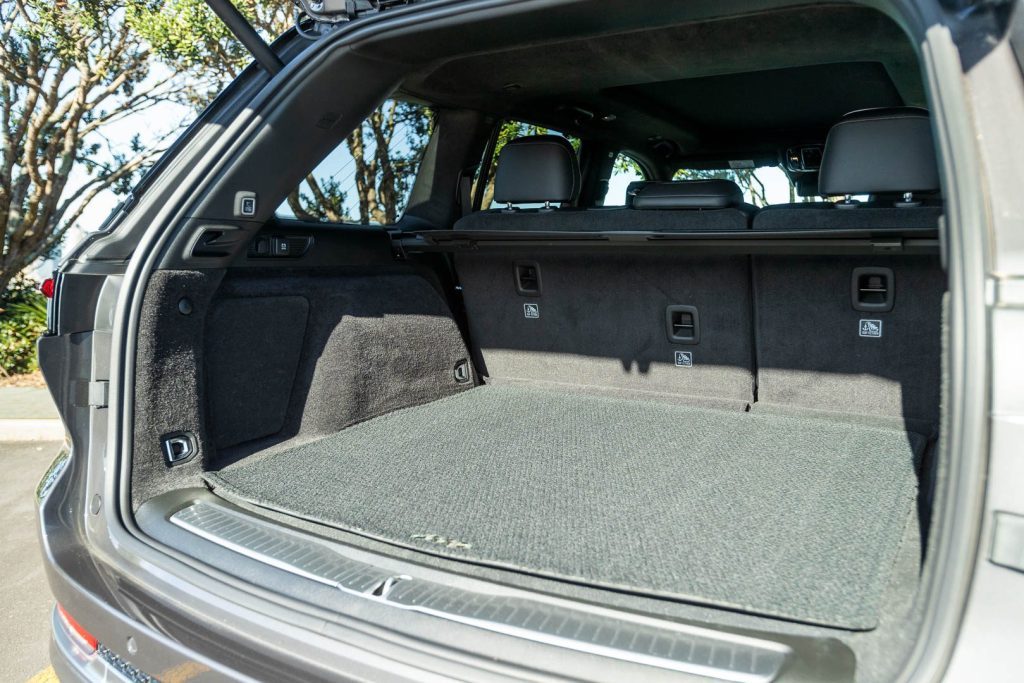 Not everyone is going to want to take their Summit Reserve into the sticks either, though with its Quadra-Trak II 4WD system, Select-Terrain, eLSD, two-speed torque-shuffling active transfer case and upwards of 276mm of ground clearance via Quadra-Lift air suspension, it should be well capable off road. It will haul braked loads of up to 2722kg as well.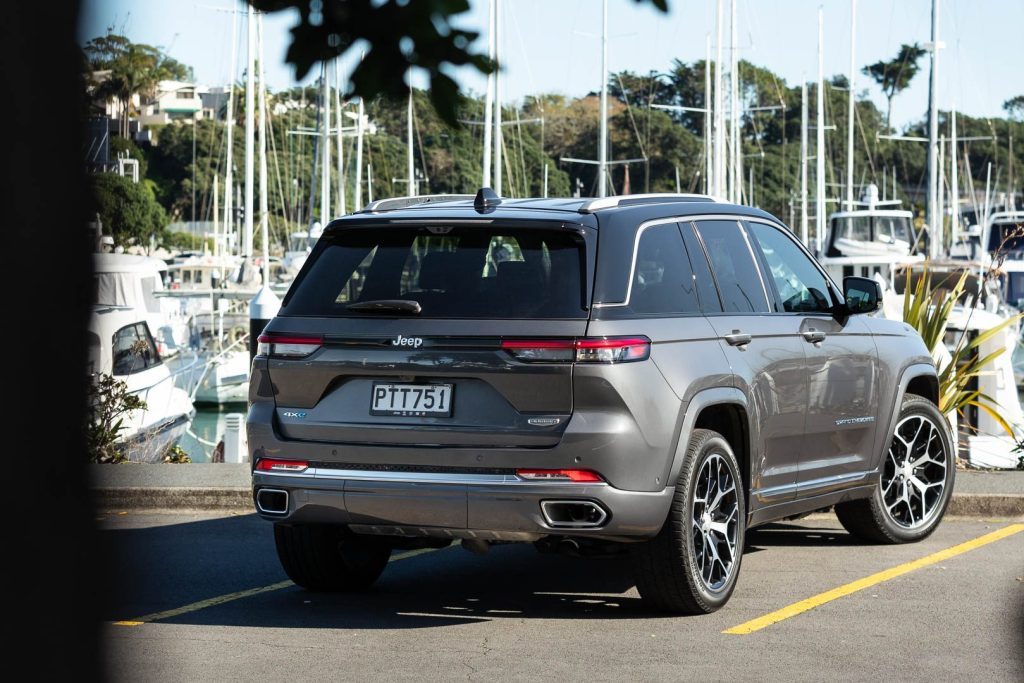 But the lone model is up against some tough opposition, the likes of Q7 TFSIe and X5 50e that are only a tad more expensive, have six-cylinder engines and are quicker, while the BMW has an electric range of 110km. Not to mention like-sized fully electric SUVs for similar coin.
Model
Jeep Grand Cherokee 4xe Summit Reserve
Price
$154,990
Clean Car Discount
Neutral $0
Engine
1995cc, IL4, T, DI
Power/Torque
200kW@5250rpm / 400Nm@3000rpm
Electric Motor
107kW/245Nm
Hybrid System output
280kW/637Nm
Battery
17.3kWh
Range
52km (WLTP)
Drivetrain
8-speed automatic, on-demand AWD
Fuel Use
3.8L/100km
C02 Output
88g/km
0-100km/h
6.06sec
80-120km/h
3.76sec (106.3m)
100-0km/h
38.96m
Stability systems
ABS, ESP
Safety
AEB, ACC, BSM, LDW,
RCTA, ALK, AHB
Luggage capacity
580-2005L
Tow rating
750kg (2813kg braked)
Service intervals
12 months/12,000km
Fuel Capacity
72L
Warranty
3yrs, 100,000 km
ANCAP rating
5 stars (2017)
Weight
2578kg