While the badge might suggest Sport, the latest Jazz RS is mainly about fuel saving, on account of it adopting Honda's eHEV hybrid powertrain. Is it a blend of sport and economy or more eco practicality?
Honda might be talking up this new RS model as allied to the Civic Type R but the founding father's battle cry (If Honda does not race there is no Honda) is from a bygone era. Any similarities between Civic Type R and this hybrid RS are strictly limited to both being Hondas.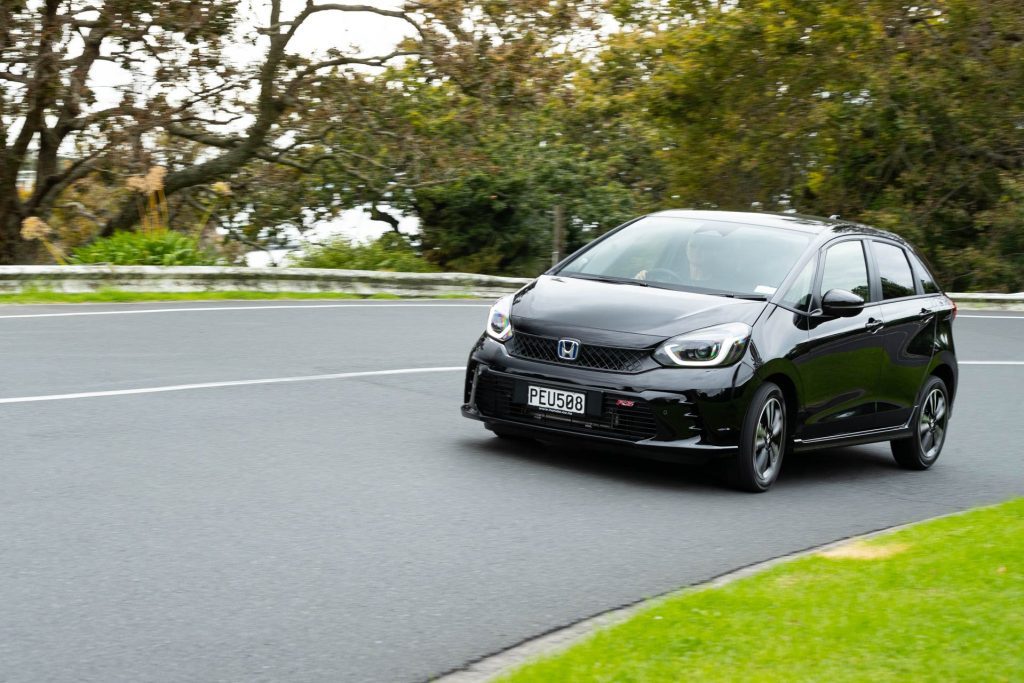 The company mentions this has "sports DNA" which may refer to firmer suspension, a new grille and bonnet, roof spoiler, flash alloys and blacked out headlight rings and mirror caps. But does that make it RS sporty?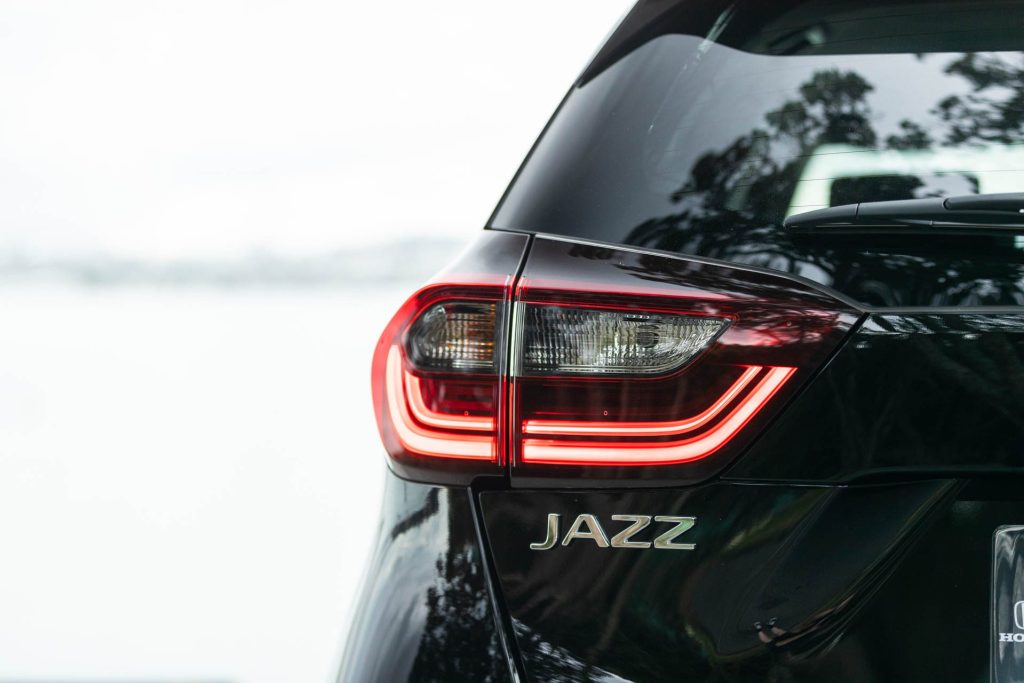 Perhaps we have the wrong RS moniker. In Europe it relates to race and rallying but in Honda-ese RS means Road Sailing and that's much closer to the mark here. This particular hybrid features four levels of regeneration, one for coasting, the very essence of Road Sailing.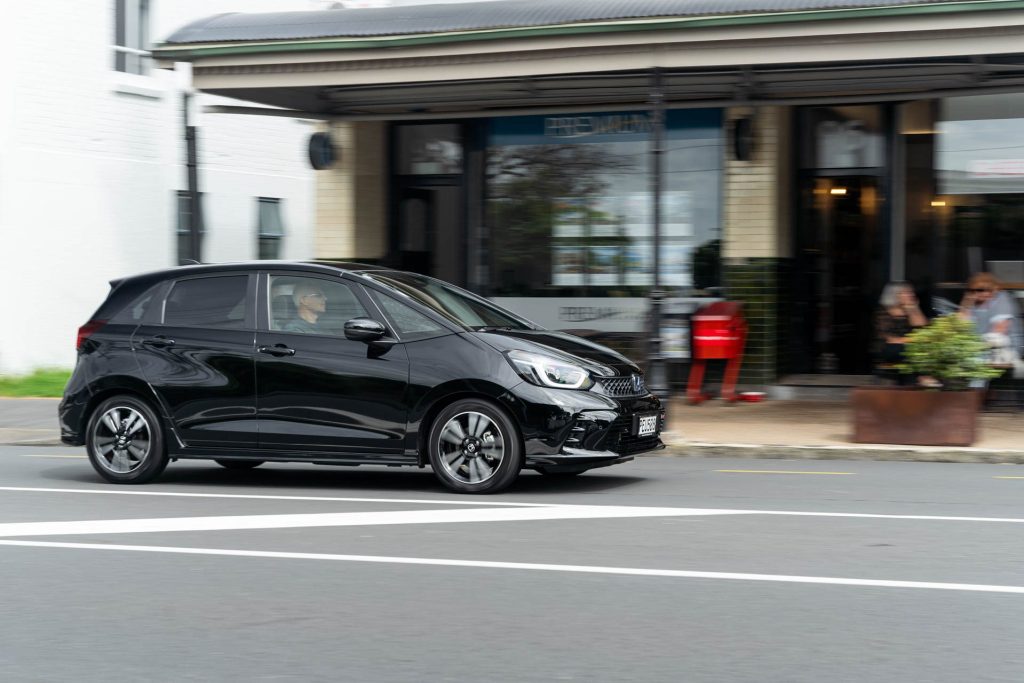 Added sophistication
Jazz RS costs $36,700 but it's eligible for a Clean Car rebate of $3930, for an all-up cost of $33,720. Once upon a time you could buy a Jazz RS for $26k but nowadays it's way better specified, with all the Honda Sensing Suite safety gear, including adaptive cruise (active only above 30km/h however), lane keeping, and crash mitigation.
There's also LED headlights and auto high beam, parking sensors front and rear, self-locking, pushbutton start, and a security system. Even ultrasuede finishings, whatever they may be.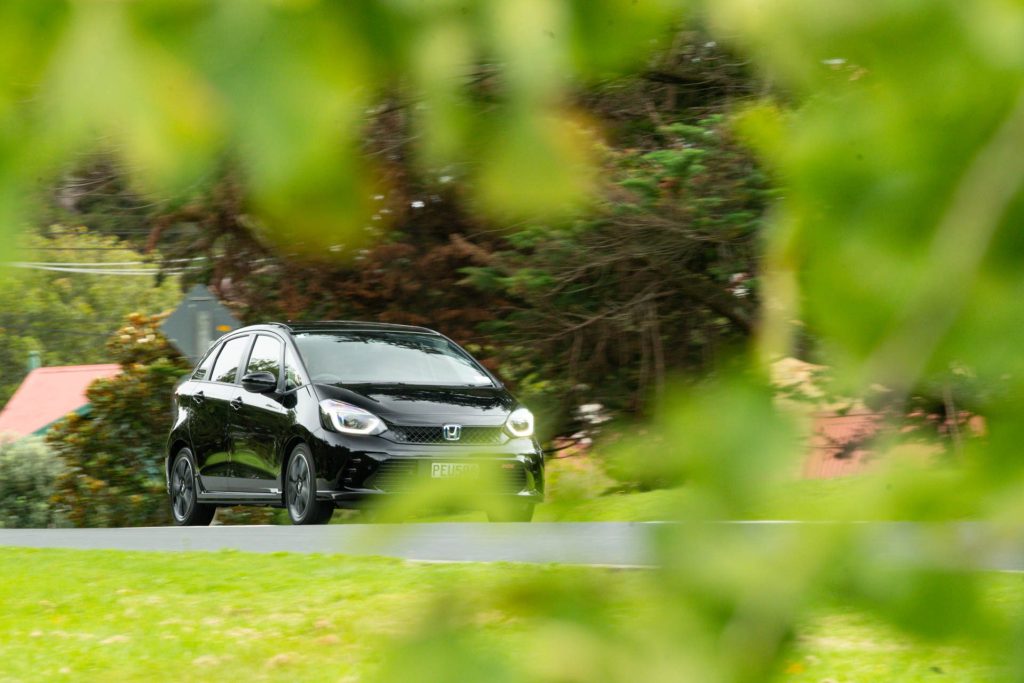 It's mechanically more sophisticated than back then too, featuring a high-efficiency Atkinson-cycle engine and a couple of motors that allow a little zero emissions running. Not much though because the battery isn't that big.
We'd propose the RS also stands for Rather Spacious, a Jazz hallmark. The sizeable doors offer easy entry to the high-mount seats, which are nicely finished in sporty yellow stitching, and there's a surprising amount of head room and knee space out back given its modest dimensions.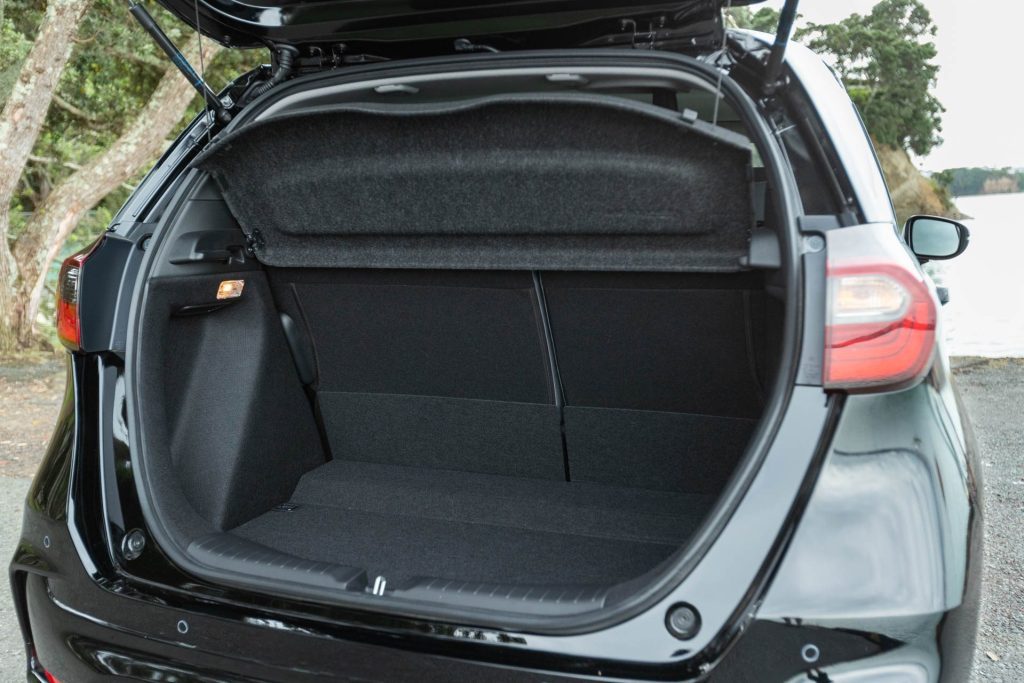 The hatch itself isn't quite as big as before (304 vs 359L) because of the battery pack beneath but it does have an underfloor 14L cubby and retains the useful Magic Seat set-up. Split folding produces a completely flat load space with 1199L when packed to the roofline.
But really it's the e:HEV fuel miser aspect most will be chasing here. If you're a fan of the Jazz Crosstar looks, unfortunately it's not available with the hybrid powertrain, which is only to be had with the RS and Luxe Sport.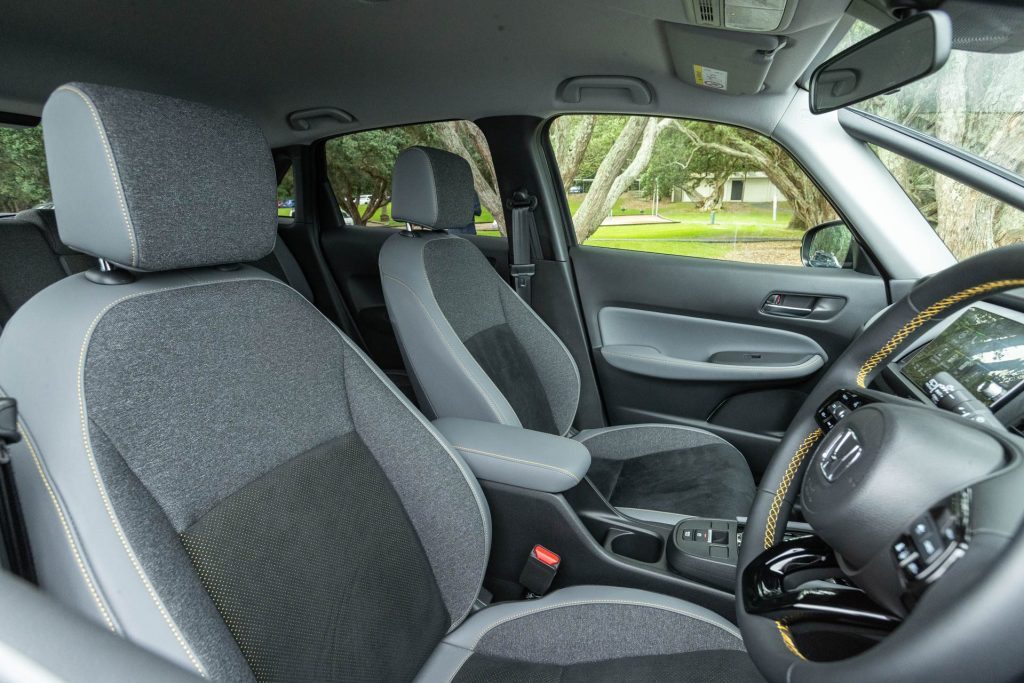 The Crosstar's conventional 1.5-litre four uses half as much gas again as the RS and isn't eligible for any rebate. So it's probably smart to shell out the grand extra over the two-tone Crosstar for the Jazz RS instead. It doesn't have the elevated look of the Crosstar but neither is exactly drop dead gorgeous. It's what's beneath that counts.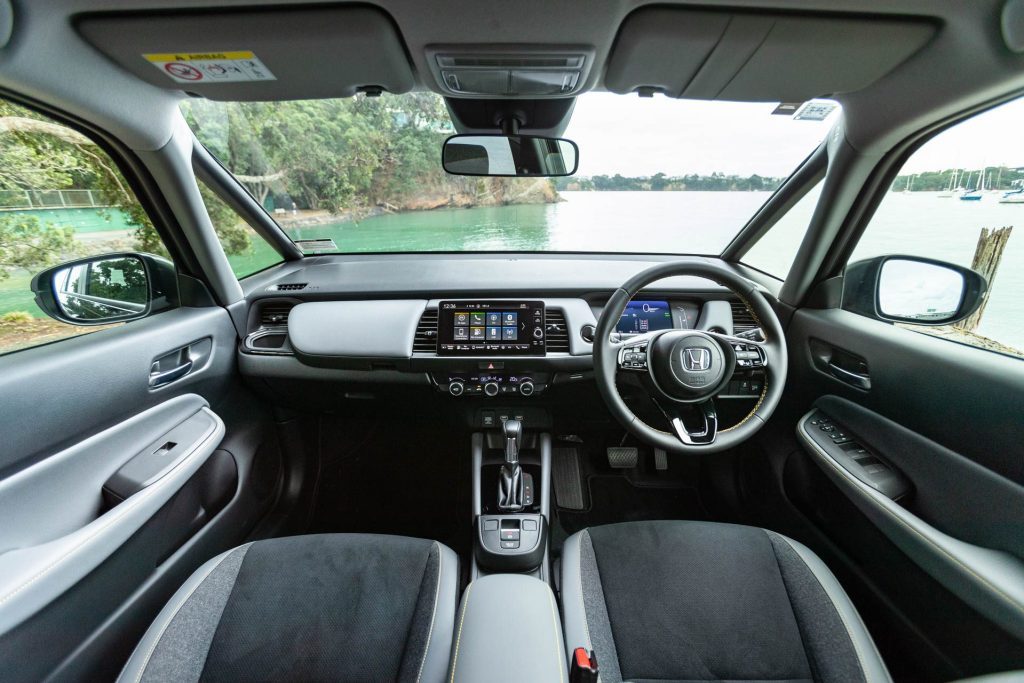 Keeping it real
The main aspect of this vehicle, clearly, is fuel efficiency. Performance is almost identical to that of previous RS models with ICE power alone. It's Roughly Sufficient. It can mooch along at open road speeds easily and quietly, while in town it can be encouraged to EV plenty.
It would be even more abstemious with a larger lithium-ion battery pack. Engine off mode never lasts very long because of the battery capacity (0.8kWh). You can watch as the battery level blips extinguish and after a few hundred metres, sometimes a km or so, the engine (which is used primarily to turn the generator to recharge the battery) powers up again.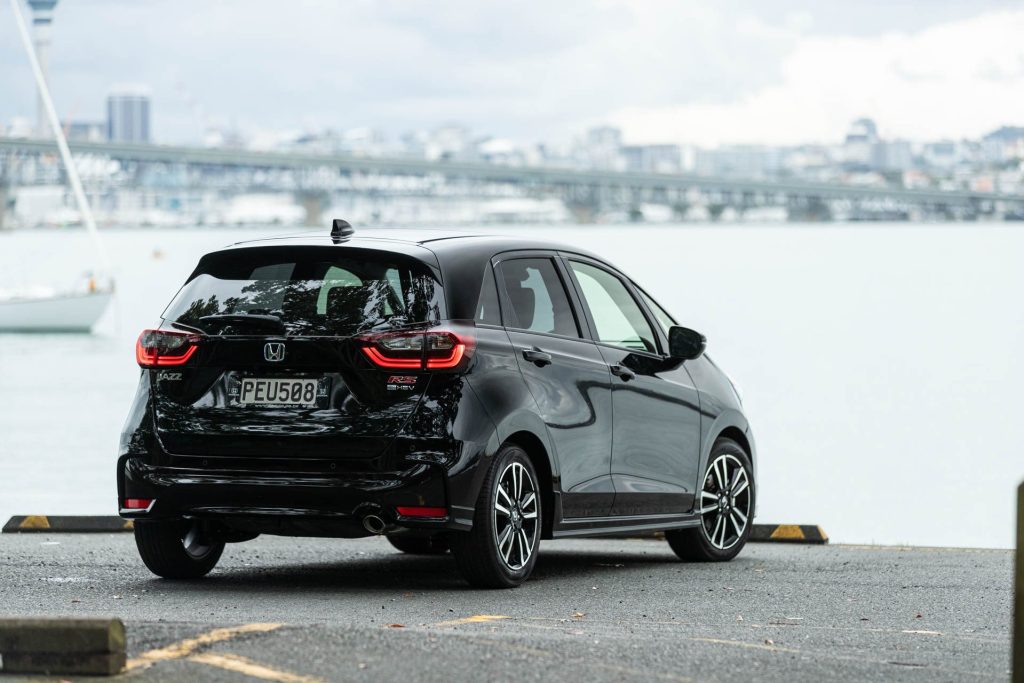 It's rather a complex system but there's little you can do to influence proceedings. Choose the Econ mode but you won't much, at least out of town because it somewhat enfeebles proceedings. Better to leave it in Normal. Opt for Sport when teaching it a lesson, which supposedly is a bit stroppier than before.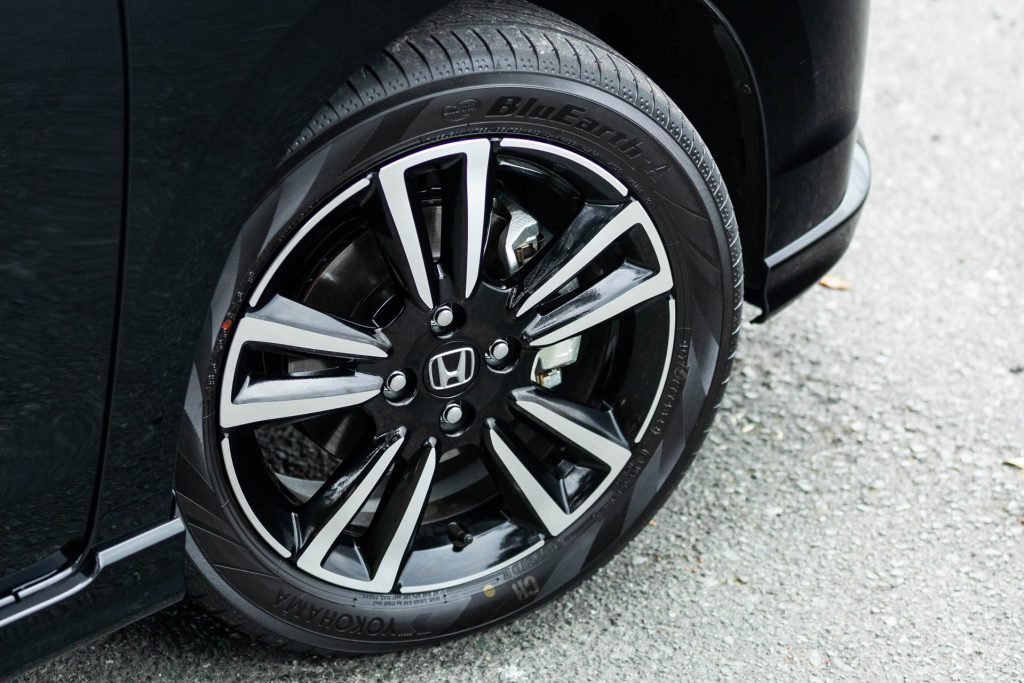 The latest e:HEV uses a 78kW/127Nm 1.5-litre Atkinson cycle four, up a handful of kW on its forebear, and two electric motors, one a generator, the other the 90kW/253Nm propulsion unit, which is responsible for most of the driving.
Think of this more like an EV with an engine that generates power for the battery. Told you it was complex. The generator charges the battery too and when it's sufficiently full, the propulsion motor draws from that, the engine switching off.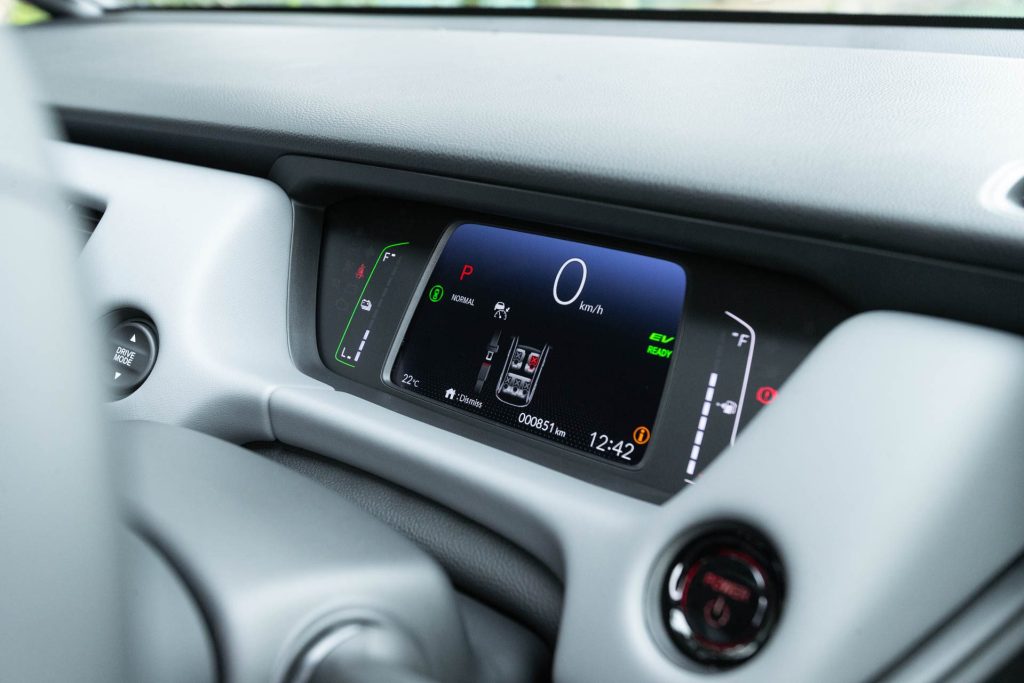 EV mode, for lack of a better description (no button; it happens automatically) is prioritised for low speeds and take offs but the engine quickly kicks in if the lithium-ion battery is low in charge.
At intermediate town speeds, the engine is usually beavering away to supply energy for the electrics. On the motorway, at certain speeds, the engine alone drives the car, called Direct Drive.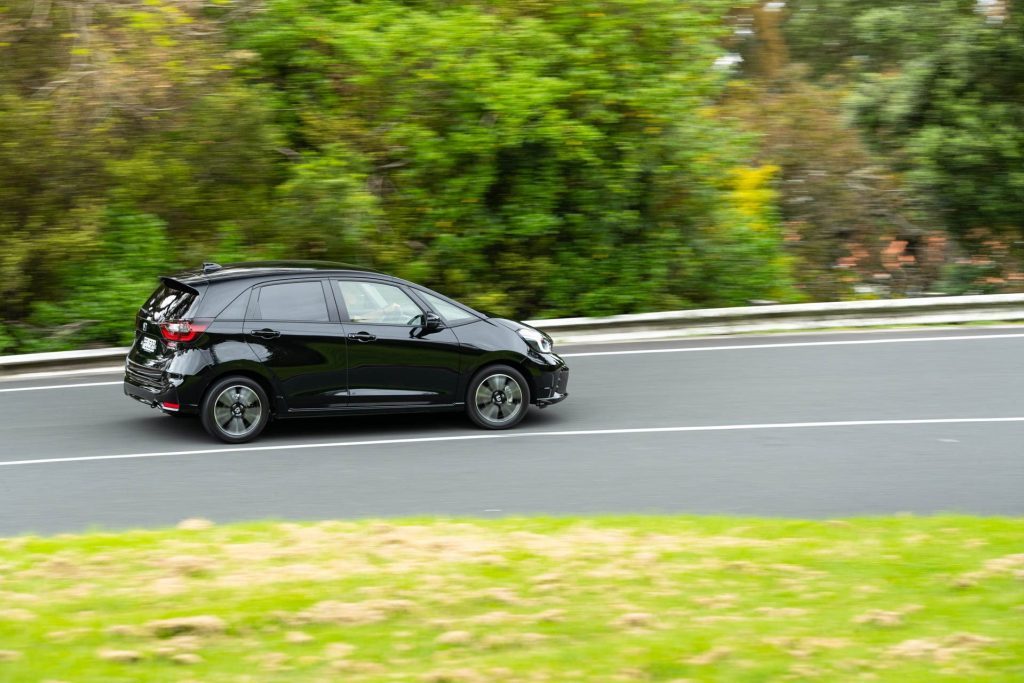 Fuel use then?
Honda rates mean combined fuel use at 3.8L/100km (68g/km). On a trip involving a mix of open road speeds (80-100km/h), we managed an overall fuel use figure of 4.0L/100km, occasionally rising a little higher to 4.5 and in town falling into the 3s.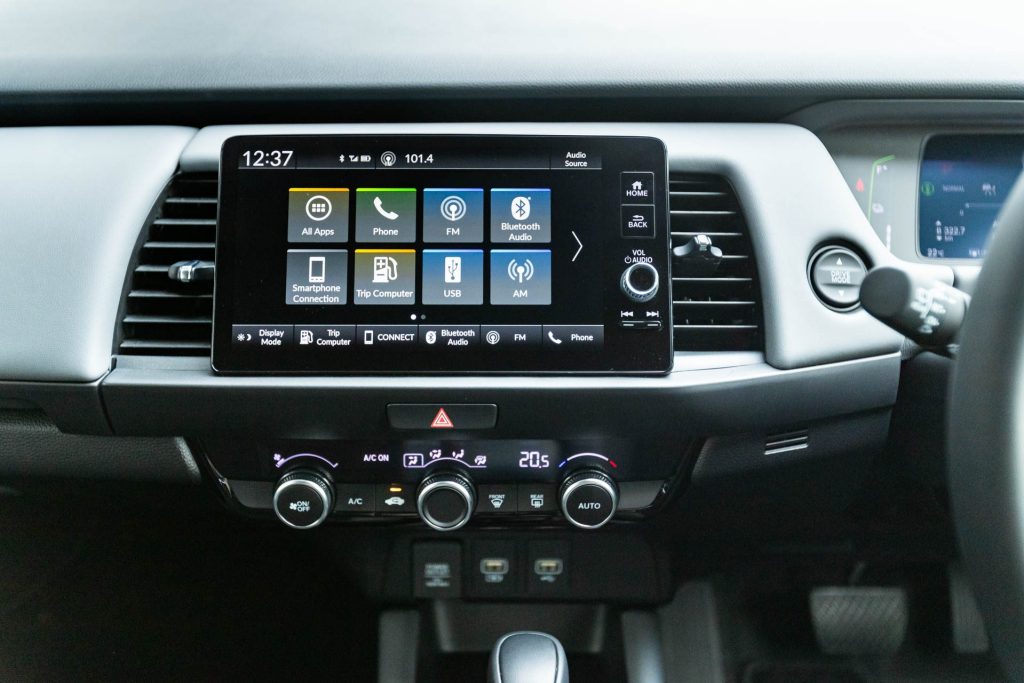 The engine can sometimes kick in and rev away higher than expected but for the most part is relatively innocuous. Regen is by paddles but the top setting, also accessible as the B mode gear lever position, is hardly enough for single-pedal driving.
As befits a system that is largely autonomous in the way it goes about saving fuel, there's not too much to monitor. The main flat screen for the driver has a power flow diagram but it's a bit distracting.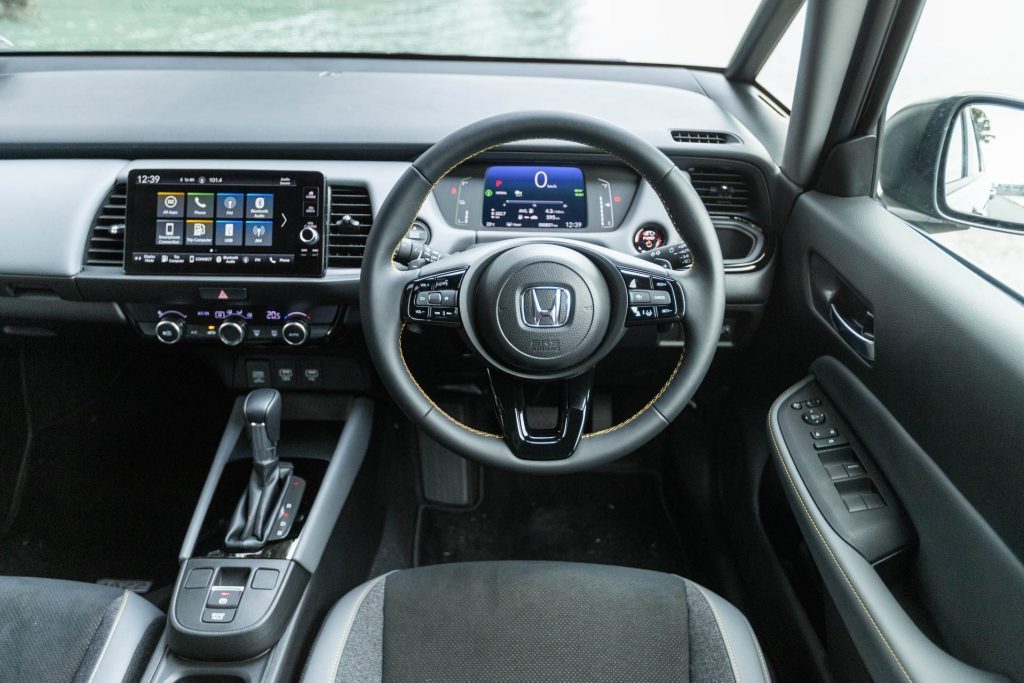 Better to leave the screen on range (upwards of 1000km) and fuel use (uses 91 in its 40L tank) while in the central touch screen you can similarly view your hypermiling efforts. Or not.
Just drive undistracted and be happy that the fuel gauge drops so slowly you wonder whether it might be broken. There's no nav – use your phone – or traffic sign recognition.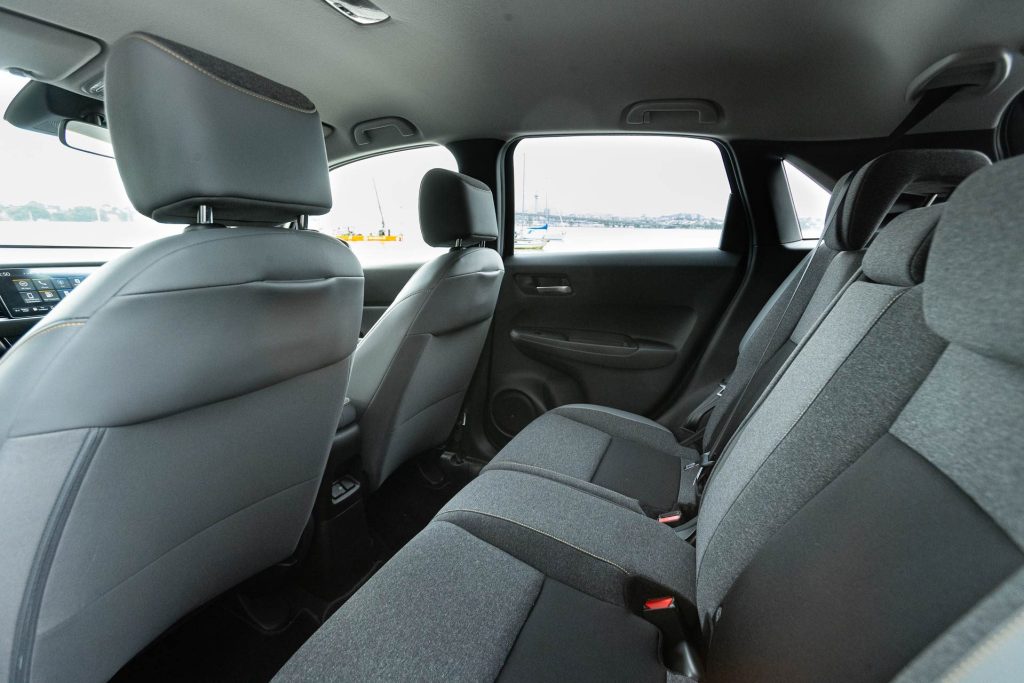 The Jazz shape hasn't changed materially in the refresh, but inside is a bit flasher, though with a few hard surfaces still. The new sports seats look nice enough with their multi-textured finish but lack lumbar adjustment and decent support. However, they look sporty as does the wheel if you like yellow stitching.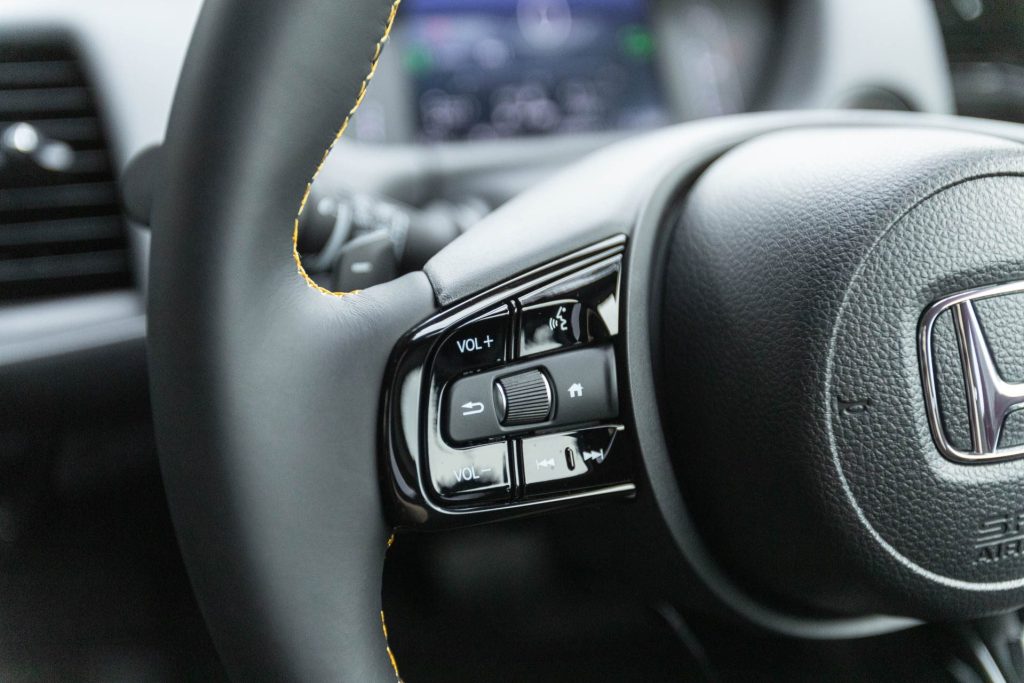 Visibility is outstanding. The sizeable quarter lights mean you shouldn't miss anything hiding behind the A pillar. If the neck's stiff then rely on the mirrors and reversing camera image instead, all good, as is the picture-perfect view out the rear window.
Controlling and caring
The sport suspension involves slightly firmer damping and springs all round and stiffer sway bar and bushes up front. But really the main arbiter of cornering here is the skinny Yokohama BluEarth eco-rubber.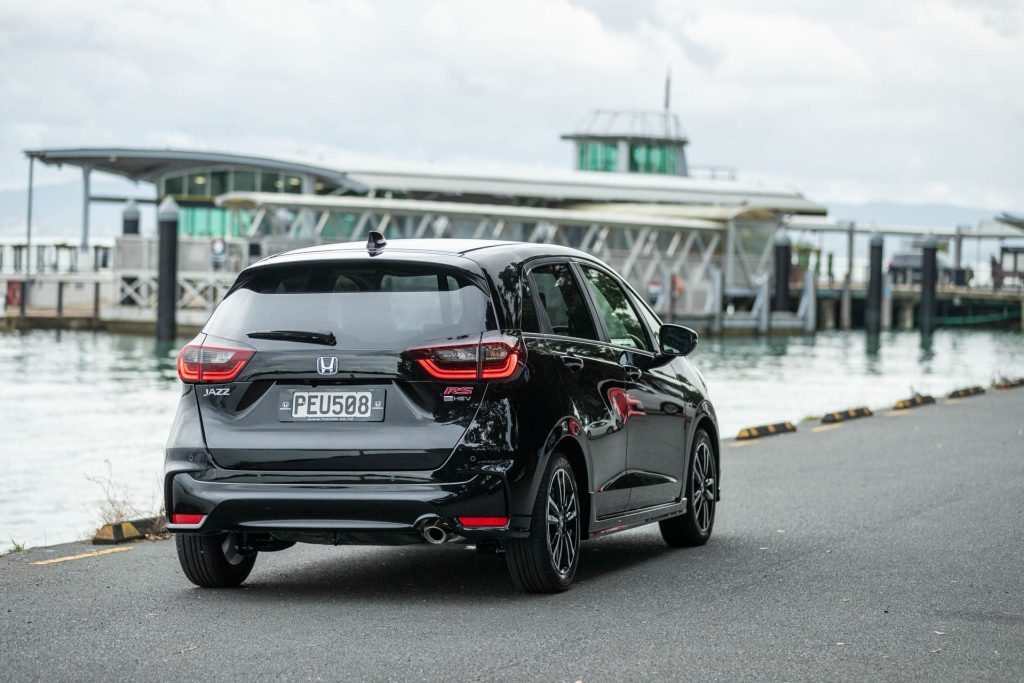 Torque vectoring by brake keeps things civil as the grip goes off. It's all Rather Safe. Expect less roll in corners but Honda hasn't forsaken comfort, the suspension still absorbing all but the harshest bumps with good grace.
Earlier generations of Jazz let through lots of road noise but this is much more subdued, seldom harsh. Ride Sophistication, if you will.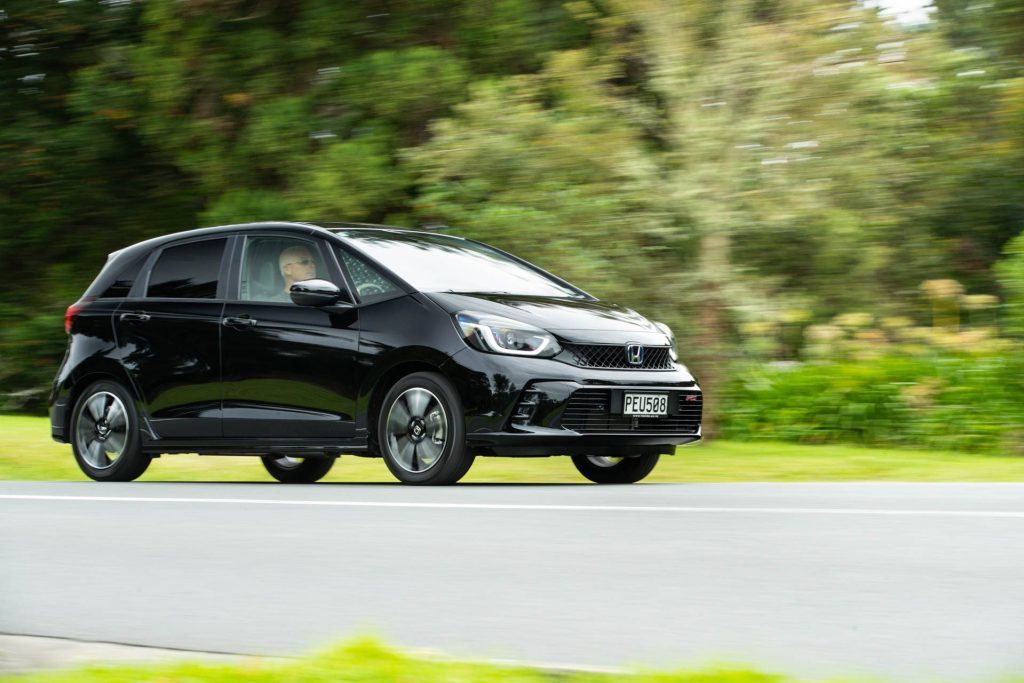 What's it up against? For similar money there is the Yaris Hybrid ZR, a slightly more fuel efficient option but with less space.
Or Yaris Cross GX hybrid, also for similar money, but with less spec. Swift hybrid is less expensive than all these, price starting with a two, but it's less thrifty and without the interior or luggage space of the Jazz.
Model
Honda Jazz e:HEV RS
Price
$36,700
Clean Car Discount
Rebate – $3,930
Engine
1498cc, IL4, EFI
Power/Torque
78kW/127Nm
Hybrid total output
90kW/253Nm
Battery
0.8kWh
Drivetrain
e-CVT, FWD
Fuel Use
3.8L/100km
C02 Output
68g/km
0-100km/h
8.96sec
80-120km/h
6.99sec (200.63m)
100-0km/h
38.75m
Stability systems
ABS, ESP, TV
Safety
AEB, ACC, BSM, LDW,
RCTA, ALK, AHB
Luggage Capacity
304-1199L
Tow rating
Not rated to tow
Service intervals
12 months/20,000km
Fuel Capacity
40L
Warranty
3 years/unlimited km
ANCAP rating
Not yet rated
Weight
1320kg