Nissan pumps more of everything into the new Pathfinder, elevating its position somewhat. Also raised is the price point, so is it worthy?
Another of Nissan's 'all-new' line-up is the Pathfinder. The big, beefy seven-seater has been missing from the showroom for a while but is back, with two variants on offer. It's again coming out of America, where power and engine capacity still rule, unchecked by any meddlesome governmental intervention on emissions.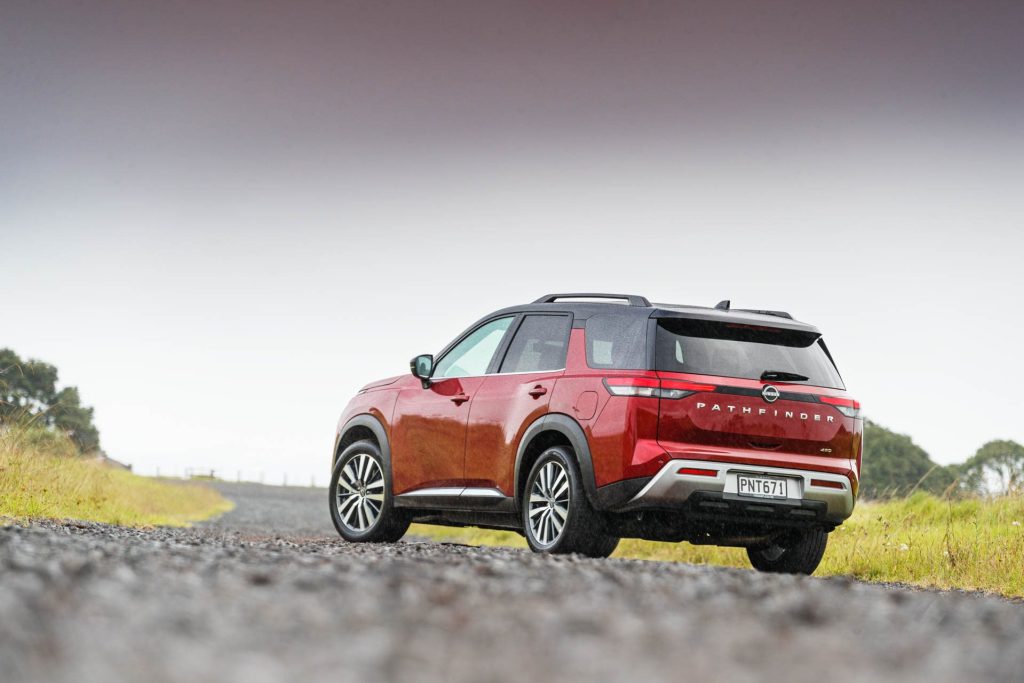 So it returns with its big 3.5-litre V6 to motivate its two-tonne mass. That's not great news for interested parties in Aotearoa, where there are penalties for larger emitters. With fuel consumption determined at 11.7L/100km, which equates to 273g/km, buyers are pinged with a $5002.50 fee. That's a tricky one to compare to the smaller offering from Nissan – the fee neutral 2023 Nissan Qashqai Ti-L. However, larger families may have no other choice.
That's all on top of the large sticker the Pathfinder now wears too. In Ti form it's $83,490 while this Ti-L we have on test is $88,490.
So it must be loaded then?
Well, yes. Nissan isn't shy when it comes to filling up its new models with features. You get 20-inch rims, quilted leather trim, most adjustments are power operated including the steering column, there are three zones of air con, ambient lighting, seat heaters in the second row and ventilated pews up front. There are all manner of driver and safety aids too.
The Pathfinder has a mix of the old and new in the cabin. For instance there's the 12-inch driver display but it's lumped with the old infotainment system and its nine-inch screen. There's wireless CarPlay and wired Android Auto to circumvent the set-up should you desire.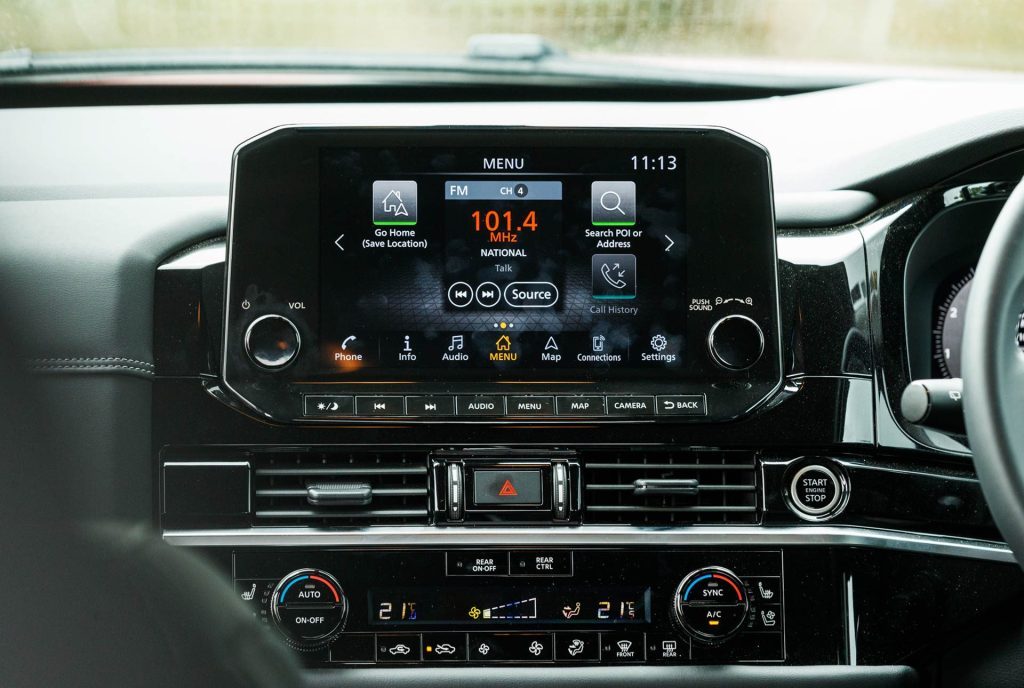 And there's a wireless charger while some five USB ports throughout the cabin keep everyone's digital levels topped up.
Nissan has been busy raising its cabin quality of late, at least in the top models we have trialled, and this is no different.
There's leather, or a convincing version of it, on most surfaces, and overall it manages to impart a solid, stately ambience.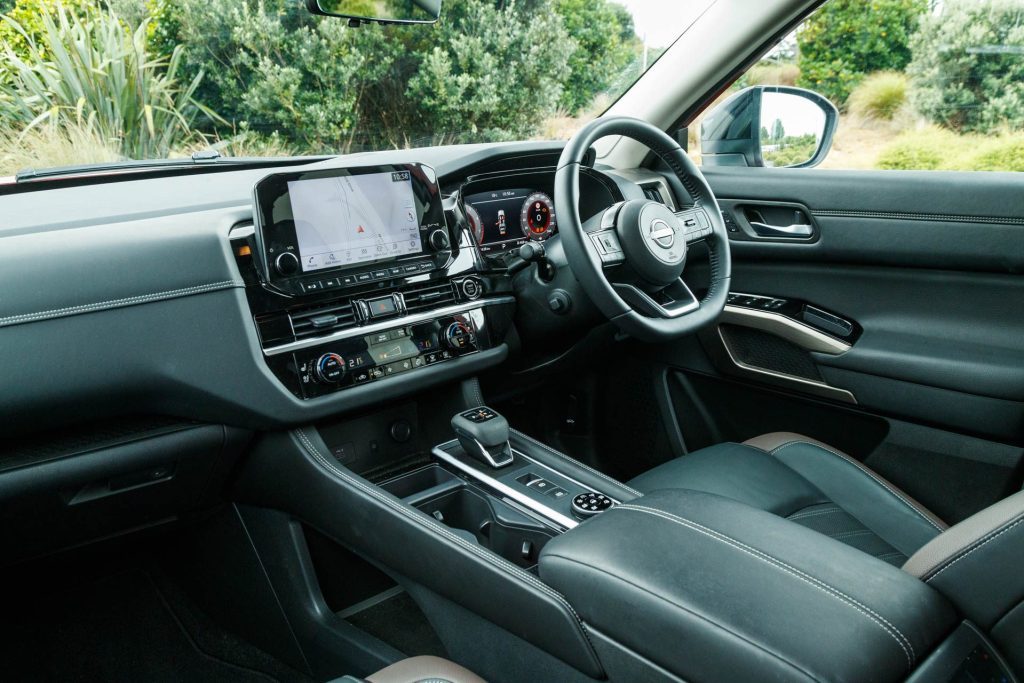 So how many seats does the Pathfinder have?
It's still a seven-seater, though in the Ti-L, they are arranged a little differently. Open up those large rear doors (which extend out wide for better access) and you'll find a pair of inviting individual chairs in the middle row, both as sumptuous and supportive as those up front.
There's a storage console of dubious worth in between them, incorporating two of the 16 drink holders the Pathfinder offers. No one is going thirsty in this rig.
Access to the aft pews is excellent thanks to a one-touch tilt and slide mechanism on the middle seats that moves them right out of the way.
In the back are three spots for the kids, or two adults if you must. So, actually it's now more a 6+1. Manipulating the third-row seats is straightforward, although the headrests need to be stowed first before the seat will fold.
Also, the seat belt for the middle person hangs from the roof which is hardly ideal.
With all seats in use there is still useful luggage space left over, including some generous underfloor storage while in four-seater mode there's simply oodles of cargo space.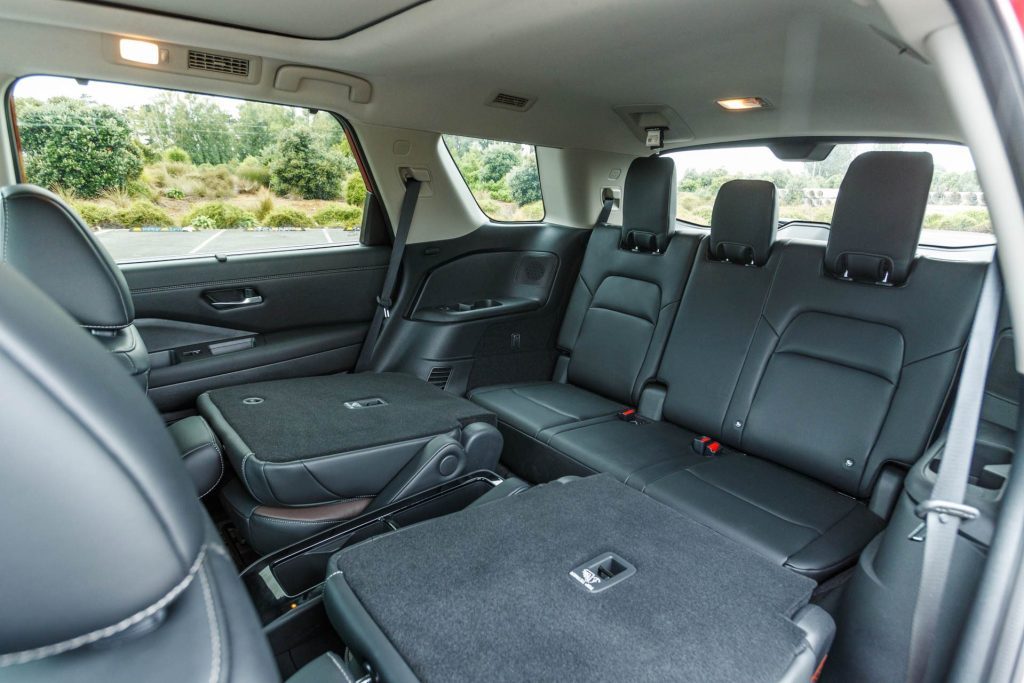 So the Pathfinder is a good bus then?
Yes, though it is a big school bus. Its dimensions haven't changed much from the old model, which was quite large. This is a tad wider, so most car parks feel like a squeeze to pull into, and getting the kids out can be hairy with those big doors. The turning circle is manageable for such a vehicle, though the steering we reckon could be lighter at slower speeds.
The clarity of the 360-degree parking camera could be better too. It rides well enough however, considering the 20s it wears. The V6 and new nine-speed auto (gone is the CVT) make a good pair. It moves away smartly, the variable all-wheel drive making it stick.
There's the usual smooth and torque-rich delivery from Nissan's big six. And with plenty of cogs, which are swapped efficiently, you don't often need to whip it hard to get it moving. It even goes okay in Eco mode, though this does little to knock back the fuel consumption, which hovered around the 12L/100km mark for us in a mix of urban and motorway travel.
There was more of the latter, so if you spend time mainly in the burbs, expect a higher average still.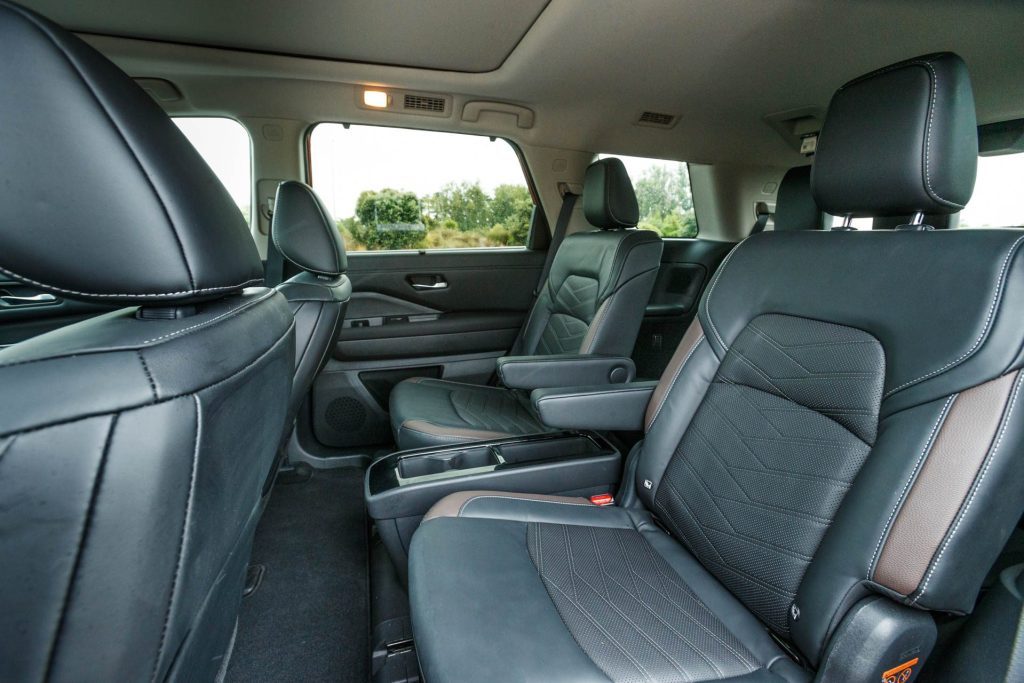 Does it go all right out of town?
It has long legs thanks to the nine-speed auto, the V6 doing 1400rpm at 100km/h. Pathfinder is fairly refined too, tyre noise generally subdued, although the rear end seems to transmit more bumps as speeds increase.
Come time for an overtake, the auto doesn't need much encouragement, kicking down quickly to invigorate the V6 and unlock its top-end power. It has various drive modes, though you'll probably just leave it in Auto. There are a few off-road settings, and one for towing, the Pathfinder rated to haul up to 2700kg, not bad for a unibody crossover.
Come time for the bends and it's fairly competent, for the large, heavy machine that is. The steering is oddly weighty but lets just enough info through to the driver while filtering the road shock.
It does turn quite diligently and while excess roll is contained, all that mass catches up with it and starts stressing the tyres.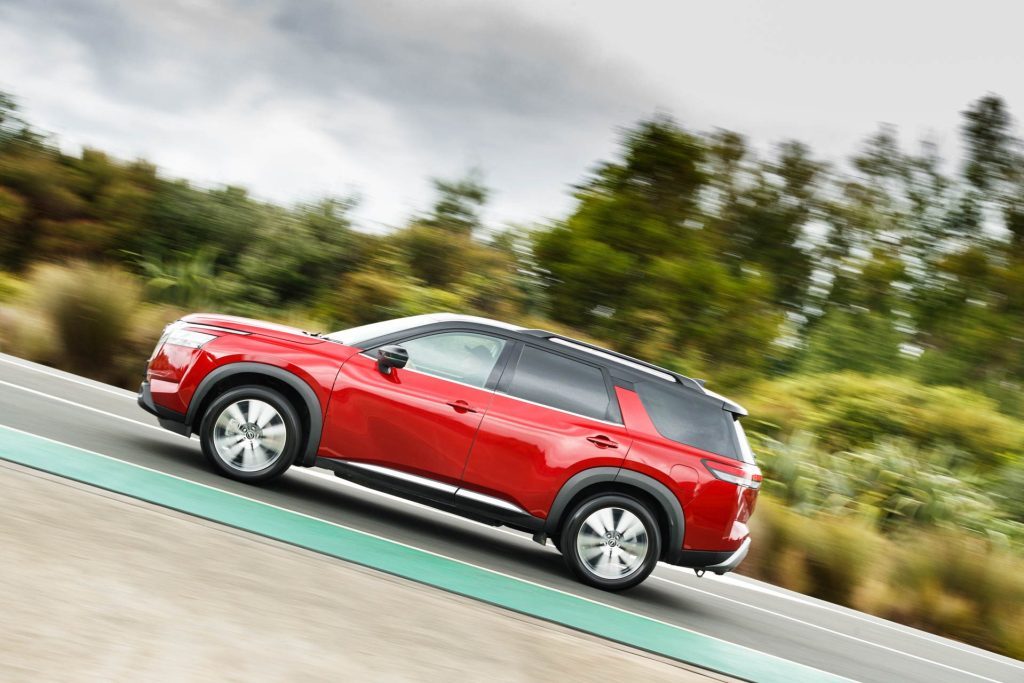 Worth it but?
While it is more expensive, it's now a luxurious rig, with plenty of comfort, space and presence. The Maureen's of this world will be okay with the fuel use/emissions.
However, others in the segment, like the Toyota Highlander, Kia Sorento, and Hyundai Santa Fe, offer hybrid options for less of an outlay once fees and rebates are taken into account, although supply is an issue for some models.
Model
Nissan Pathfinder Ti-L
Price
$88,490
Clean Car Discount
Fee – $5002.50
Engine
3498cc, V4, DI
Power
202kW@6400rpm
Torque
340Nm@4800rpm
Drivetrain
9-speed auto / on-demand AWD
Fuel Use
11.7L/100km
C02 Output
273g/km
0-100km/h
8.19sec (estimate)
80-120km/h
5.50sec (120m)
100-0km/h
37.65 m
Stability systems
ABS, ESP, TV
Safety
AEB, ACC, BSM, LDW,
RCTA, ALK, AHB
L/W/H
5004 / 1978 / 1798mm
Tow rating
750kg (2700kg braked)
Service intervals
12 months / 15,000km
Warranty
5 years / 150,000km
ANCAP rating
5 stars (2022)
Weight
2083kg (claimed)