It might sell for toy money but Horwin's EK3 is what a modern scooter is all about. Stylish, nippy, and zero emissions. 
What then is this wee lightning bolt? It's a Sino-Austrian affair, devised and designed in Europe, and built in China. There are two models available initially, the first being the EK1, essentially an electric moped that can be ridden on a car licence. No warrant is needed either. It features a 36Ah removable battery that powers a 2kW motor and top speed is limited to 50km/h. Unusually, it also comes with cruise control, a reverse gear and a USB output for phone charging. With on-roads and charger included it costs just over $5500, and comes with a two-year warranty. Horwin reckons it costs roughly a cent per km to run. A recharge for another 80km of range takes about four hours.
If you're after a little more fire power, there's the EK3 that you see here, for just under $8k. It utilises the same battery and (quite remarkably) has the same range but with a 6.2kW motor that generates a surprising 195Nm of torque it can hit speeds of up to 90km/h. We saw that indicated on the motorway. A combined brake system means both front and rear brakes are applied whenever one is used, handy at highway speeds then where things happen more quickly. This higher spec unit also features an alarm and keyless start.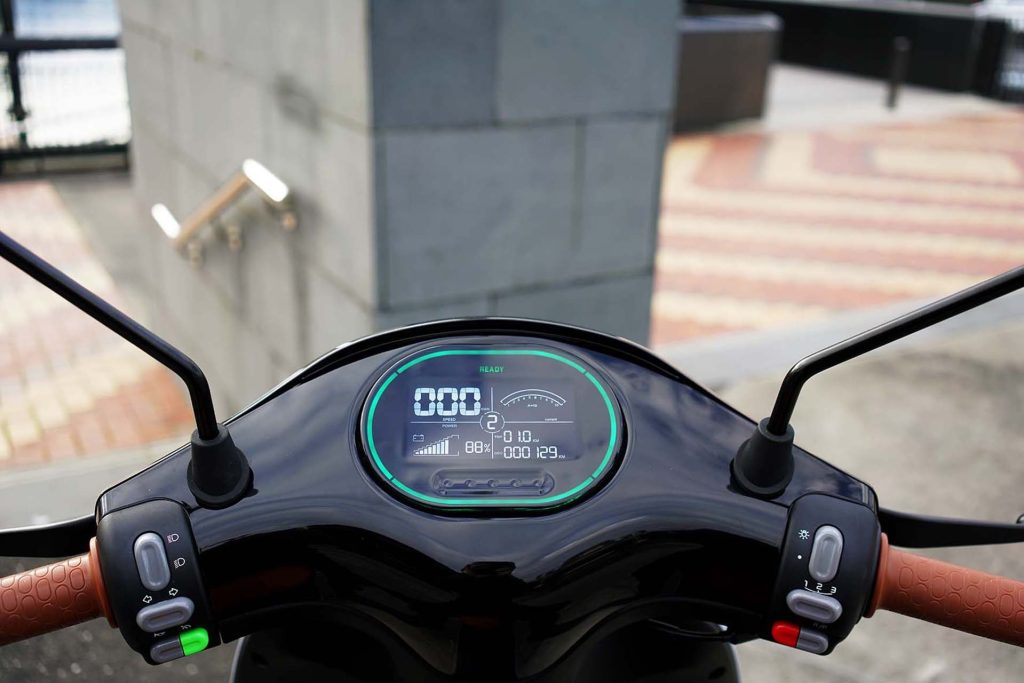 Without really knowing very much else about this, we togged up and hit the road. There are several methods of getting underway and we probably chose the wrong one, which was to simply turn the off switch to on. It's a rotary device down by your right knee. Some of the time it turns easily, sometimes not. We later discovered by merely hitting the unlock on the remote that it powers up and also activates the rotary switch.
Turn the switch left (once you hit the unlock button on the remote) and you can access the under seat storage. There you will find space for an open-face helmet and the lithium-ion battery. This you can either remove for charging (for those with no off-street parking) or you can charge it in situ. Alternatively, there's an external charge port that we used. Turn on the charger and it's a fairly noisy affair, the little fan making its presence known.
If you've extra capital or need more range, you can slot in two batteries under the seat and just run them sequentially, for double the range. We wouldn't bother.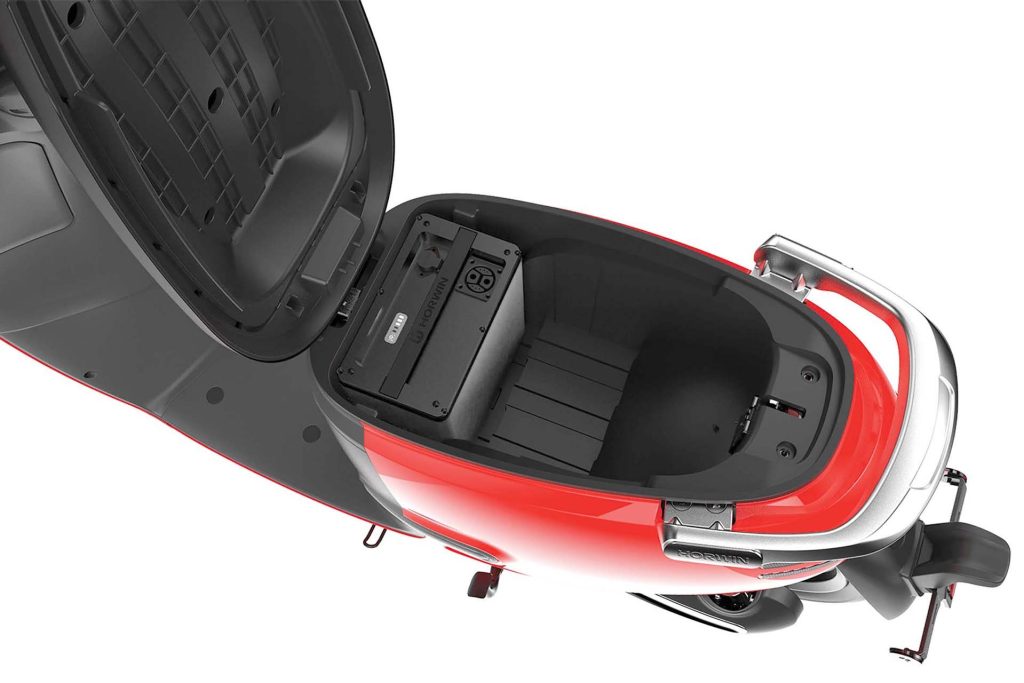 So off we went not really knowing what to expect. Straight away there's a comforting balance between agility and stability, at least for a scooter, the slightly bigger 14-inch front wheel helping. Being only 110kg heavy aids with moving it around and changes of direction.
There are a few buttons you need to know about, one with 1-2-3 on it. That's essentially power output. On 1, it feels too Eco-y, whereas 2 is much more like it. Now we're cooking, only not with gas. Humming is more like it. Most people who like a quick thrill will run it on the top setting because it is just so fun like that.
Crikey but this can honk. It's addictively quick off the mark, not hoist-the-front-wheel quick but sharpish for sure, and it just seems to build from there, scooting away from all the dual trackers behind you. There's a fair amount of whirring that accompanies this, just to keep pedestrians aware of what's around them. But given they're mostly wearing headphones…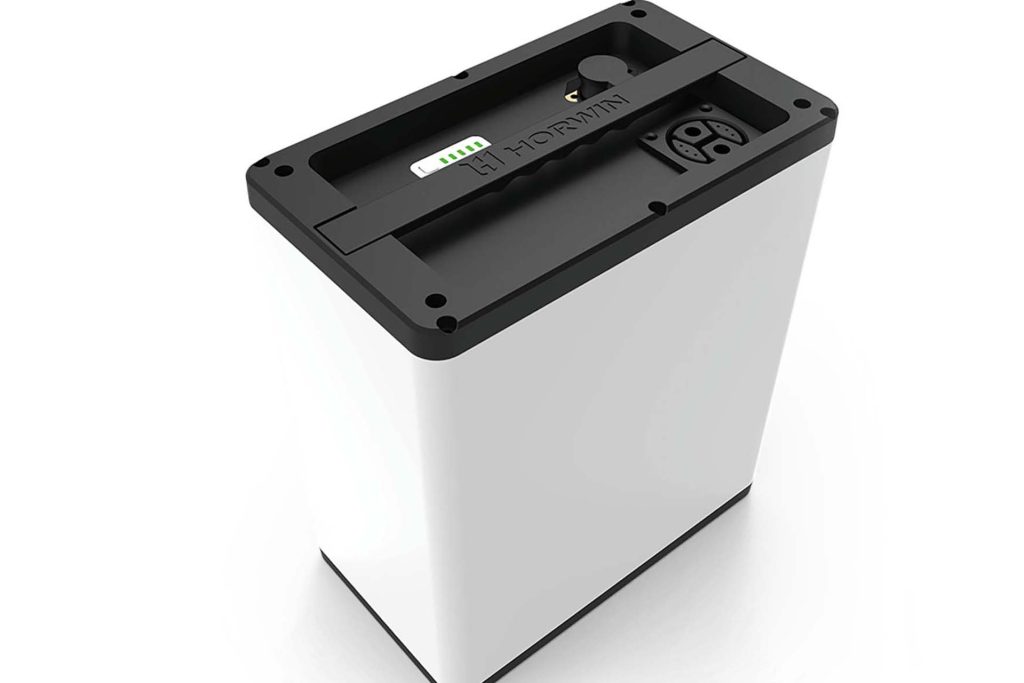 This has thoroughly decent brakes. No, truly. On most scooters the brakes are there simply for legal reasons. But stoppers with genuine power are a rarity. The combined braking system helps.
It rides the bumps nicely too, even the sharpish ones that give scooters with smaller wheels conniption fits.
And one other unusual thing about the Horwin EK3. It has chain final drive, which makes much less noise than regular belt-drive CVTs fitted to almost all scooters. Give me the odd bit of maintenance and lack of unwanted driveline noise any day. Tubeless tyres mean less risk of a puncture too, and the only maintenance required, chain care aside, is brake pads and tyre replacement.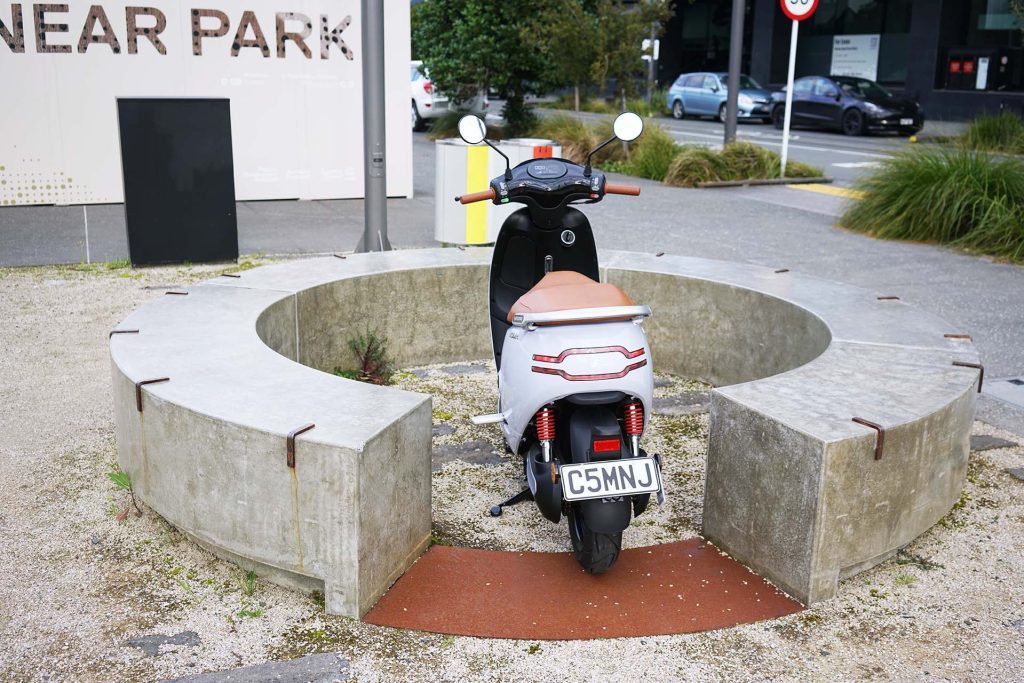 I recall riding my first Chinese electric scooter around 20 years ago. It was so rubbish I couldn't bring myself to write about it. This is the diametric opposite.
And for one final oddity about the EK3; you won't be able to buy one from a scooter store. They are instead being sold in car showrooms. How come? Because scooter dealers don't understand electric whereas car folk do. 
My advice? Don't ride one; you'll only end up buying it. This is as addictive as a decent e-bike.