The TD2000 looks so much like an mg from the 1930s that it'll have anglophiles wetting their lips. To test the Malaysian-made look-alike, our man dons the cheese-cutter, and then starts sounding more and more like Stephen Fry.
There's evidently a sector of the population that says no to progress. These people don't want their lives cluttered with modern gadgetry, and this extends to their means of conveyance. They're likely to be male in persuasion, bespectacled and bearded. And they're your classic car nuts.
Course, there are modern classics and older versions. And then there's a mix of the two. Like the recently arrived TD2000. In a nutshell, it's a Malaysian soft-top convertible two-seater that looks like a WWII-era MG but sports RAV4 Toyota running gear. A case of classic style and modern substance.
So how did this bitser come about? You evidently need to turn the clock back some seven decades to the time of the 'T' line-up of MGs, which ran from the TA Midget in 1936 through to the MG TF in 1955. The jigs of the original MG TD ended up in Australia in the '80s, resulting in two products that were essentially stillborn.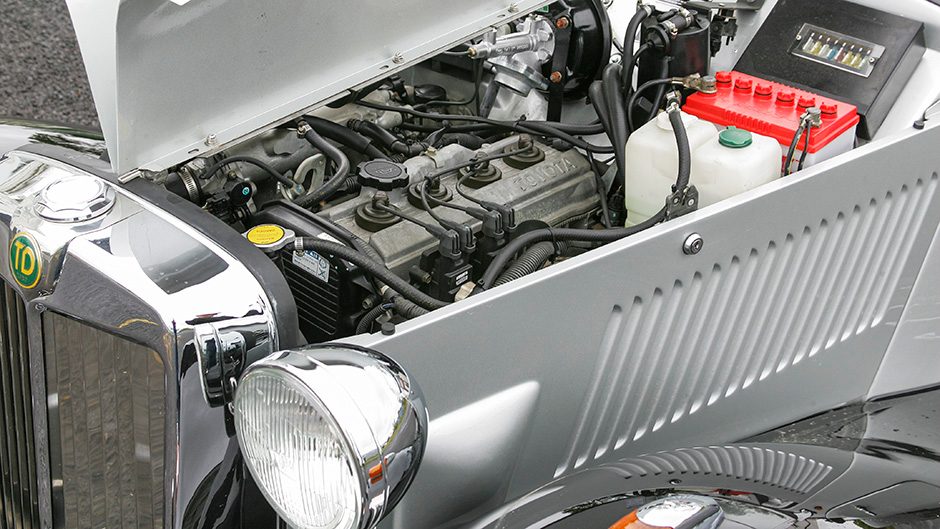 Enter Malaysian businessman, Edward Teo, MD of TD Cars Malaysia. He first saw the TD 2000 concept (the number denotes engine size) in Australia in 1989, and organised to purchase all the assets and intellectual properties of the existing Australian TD 2000 Pty Ltd. Commercial production of the hand-built roadster was under way by March, 2000, and it's still going strong. So, a case of third time lucky.
TD Cars retained the original styling and fitted the RAV4's 96kW/180Nm 3S-FE 2.0 litre fuel-injected 16-valve engine, along with matching five-speed manual or four-stage auto gearbox. The rear axle is a modified version of the Borg-Warner Falcon unit. Its tail is suspended by semi-elliptic leaf springs and telescopic shock absorbers, while up front is an independent coil-spring and wishbone set-up.
The redesigned car was also aimed specifically for world export. Since sales to Australia commenced in 2001, the TD 2000 has been exported hither and thither, and now it arrives in NZ, meeting the latest Australian Design Rule (ADR) Certification levels.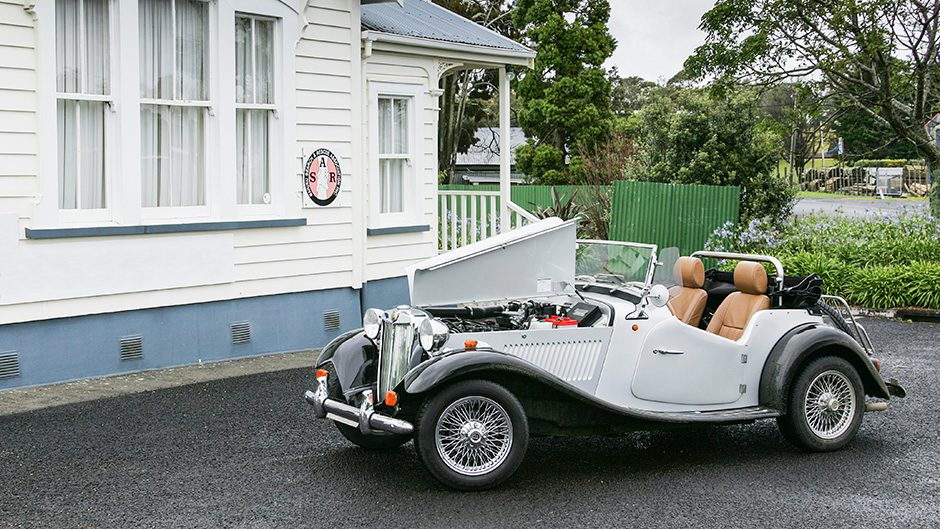 TD2000 sits on a box-framed steel ladder chassis that is welded on the original TD jigs. Aside from the frame and running gear, only the bonnet and front and rear bumpers are made of steel. The body, including the petrol tank, is composed of fibreglass. Claimed kerb weight is 910kg.
In terms of fidelity to the original, only the overall look is close. The front wings, running boards and dashboard cowling are said to more closely approximate those of the later MG TF, and while the original TD did not have chromed wire wheels, they certainly add an authentic look on the modern version. As do the suicide (front-opening/rear-hinged) doors. With its faux bits, like wing nuts on the fixed screen, you'd never know the TD came from another millennium, at least at a casual glance. Even the extended hood opens like the original, in two parts and each bi-folding.
The day we got to drive the TD, it dawned dull and went downhill from there. By the time we reached Lotus Cars (the TD2000 importer/retailer) in Waiuku, it was raining Datsun cogs. The sort of weather ideally suited for testing umbrellas but sod all else. Certainly not a soft-top roadster.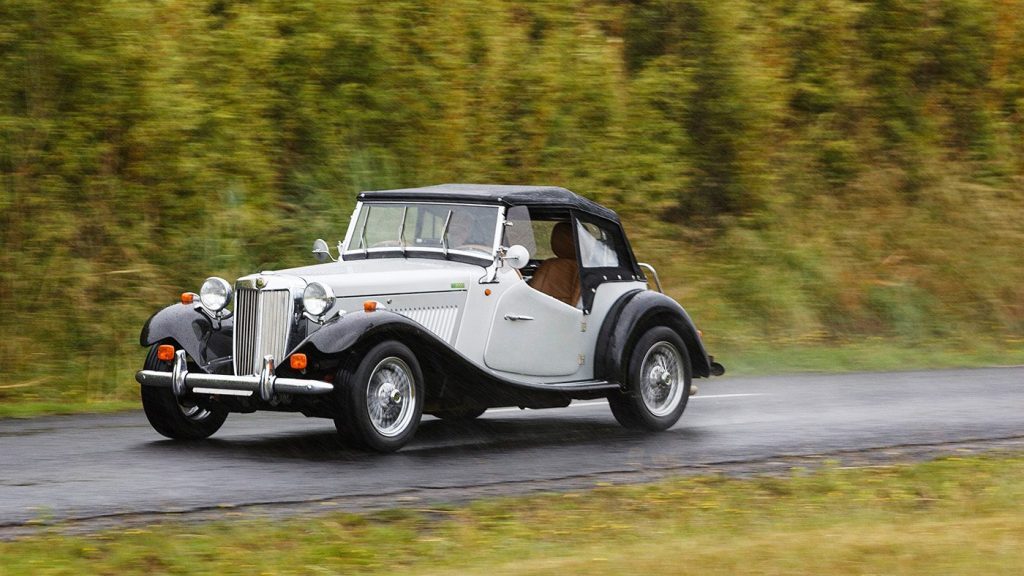 While I was never a great fan of the first RAV motor, subtract a substantial slug of weight from what it's pushing and this engine takes on a more sprightly demeanour. It doesn't half sound bad either, though noise levels rise once the ornate tacho needle swings past 3000rpm. Where it needed to be flogged in the RAV for decent performance, it's much happier in the TD 2000, pulling away from low revs in any gear without snatch. Which makes for an appropriately relaxing drive in a car that looks vintage. The engine and gearbox are the highlights of this car, which is not surprising given they're the most modern bits and are developed by one of the world's biggest – and certainly the most profitable – car makers. The shift is sweet and positive, and clutch action lightweight, but forget about driving the TD if your shoes are clown-sized. Anything much bigger than a ballerina's hoof and you'll be shift braking simultaneously.
The easygoing, flexy nature of the engine is not the only reason it's happiest tootling along at a two-figure clip, at least with the top up. Anything above about 60km/h and the velcro and push-tabbed side screens attempt to shred themselves free. Importer, Roger Philips, says he is working on solid side screens for just this reason. But why the manufacturer hasn't sorted this is a mystery. The same goes for the odd lack of steering self-centring, and – even more mysterious – the TD's shameful braking performance. There's an initial delay after applying pedal pressure before anything much happens, and once the booster comes to the party, the stoppers have a tendency to grab, and then cling on afterwards. The upside is a healthy quadriceps' workout. It's odd, given they're modern discs all round, vented up front. But these features smack of cavalier beta testing; the onus should be on the car maker to sort the basics, not the importer or owner.
Dynamically, the TD2000 is no MX-5, and even the X5 would run rings around the Malaysian. But bear in mind, the chassis's no spring chicken. So you expect some scuttle shake, and for spinal integrity to take a mauling over more severe potholes, but a roadster should at least steer well. The lack of self-centering isn't that big a deal and nor is the car's tendency to wander, given it's happiest cruising at speeds of 100km/h or less. But the absence of feel is more of an issue, as is the road shock that trickles up through the steering column. Despite low gearing – almost four turns lock to lock – the long front turns in well. And with a decent slug of power, the TD2000 is not averse to a little drifting action, though it's no 200SX. Too much axle tramp for that.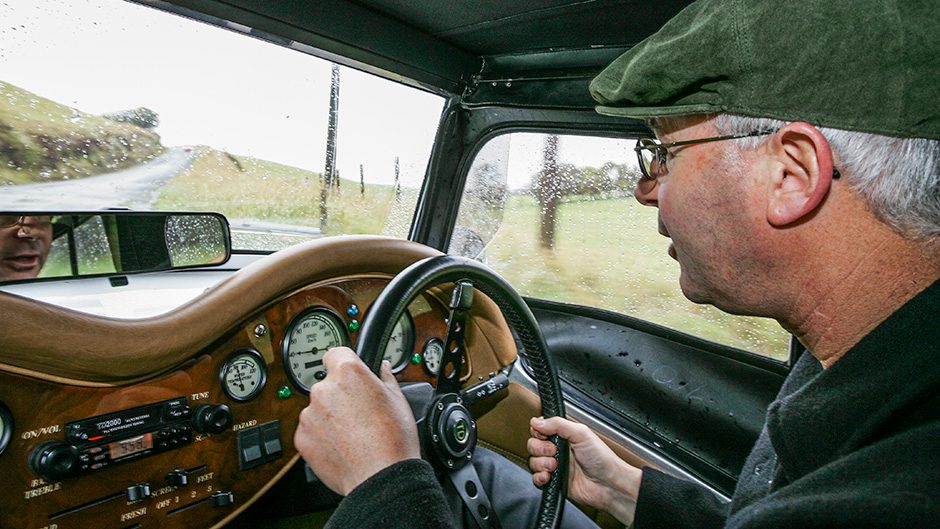 With this car you can be assured of exclusivity. While the base model retails for a fiver under $50K, some items you'd normally expect on a new car are options here, like air conditioning, which adds $2000, and the four-speed auto costing an eye-watering $4600. The base price for the five-speed manual version includes wire wheels, vinyl seats, walnut dash and gear-lever knob, cloth roof and tonneau, roll bar, and monotone colouring. With certification and on-road costs, you're looking at $51,095. The Silverstone version, which adds tan leather trim and seats along with a CD player, among other items, costs $59,035, ready to roll. Maxed out with every option, you're looking at a cost of over $70K.
If you're seeking an almost authentic MG TD experience, the interior certainly comes close. VDO instruments virtually ape the Jaegar originals, and there are mad triple-wiper blades that work best below about 80km/h. Don't plan on driving this car if you're a beanpole body style as the steering column is fixed and there isn't much fore and aft movement. Seats, like the pedals, are designed more for stick-figure frames.
Try as I might, I just can't come to grips with most forms of classical music, and perhaps it's the same with classic cars the likes of the TD2000. Or perhaps it was just the crap weather; eventually it was so wet that water was flowing out of the tape slot in the head-unit. For a few minutes before returning the car we had the top down, and I liked the car a whole lot better. Those wanting a reliable example of a classic vintage roadster might like to take a look. Me? Perhaps I just need to grow a beard.
| | |
| --- | --- |
| Model | 2005 TD2000 |
| Price | $49,990 |
| Engine | 1998cc, IL4, EFI, 96kW/180Nm |
| Drivetrain | 5-speed manual, rear-wheel drive |
| Fuel Use | N.A. L/100km |
| C02 Output | N.A. g/km |
| 0-100km/h | N.A. sec |
| Weight | 910kg |