Toyota's Sportivo concept, a turbocharged 4WD performance coupé built especially for the 2004 Melbourne motor show, showcases a new emphasis on exciting design. It signals that future products to emanate from Toyota Australia will have more x-appeal.
FFFWWWAAAHHHH, WHAP-WHAP-WHAP.
Bloody hell! Ten seconds into driving Toyota Australia's $1 million-plus Sportivo Coupé concept car and I've broken the thing. I rapidly lift off the drilled alloy throttle pedal – the noise is gone – then press it again. FFFWWWAAAHHHH, WHAP-WHAP-WHAP.
It sounds like someone's sucking air down a vacuum pipe at about 200dB, followed by a hollow flapping as if a metal Albatross is clunkily lurching into the air. Lift off again. Gone again. Accelerate again. FFFWWWAAAHHHH, WHAP-WHAP-WHAP again. The penny drops. It's induction noise followed by the turbocharger wastegate doing its thing.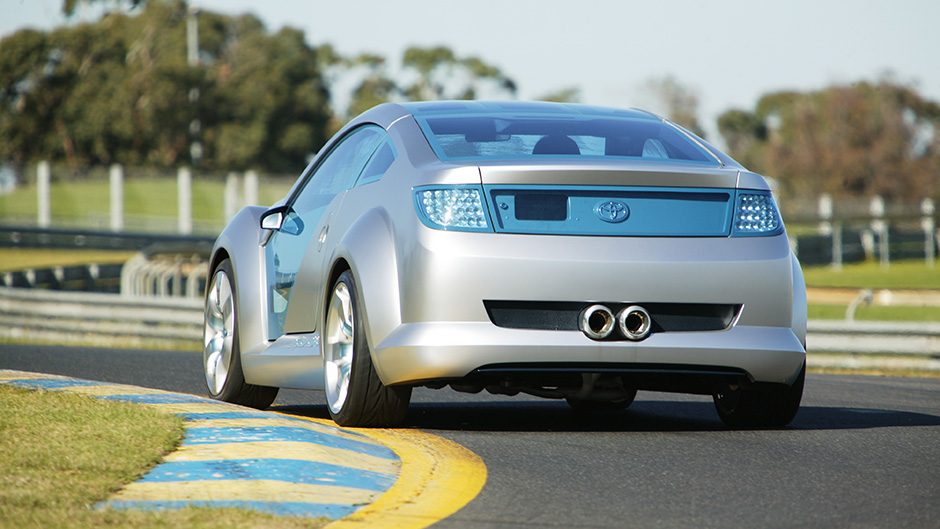 It's an insane symphony, unlike anything I've heard in a car before. Not even the rally cars I've ridden in have made this much racket. But after the initial shock, I realise the intrusiveness of the Coupé's prototype engine is just the sort of rawness I'd been preparing myself for before heading out onto the Sandown race circuit for this drive. Concept cars are meant to look good, but quite often they either run as rough as guts or are simply mock-ups that only move when rolled down a hill.
Well, the Sportivo Coupé certainly hits the mark on the looks. Good is an understatement. This thing is aggressive, even brutal. There's a fierceness about its form that would not go astray in some of the creations that emerge from the famed carrozzeria of Italy. It's hard to believe it's a Toyota – even more so an Australian Toyota created in a nondescript rented office space not far from Sandown.
The second part of the concept car contention seems to be just as true based on those first few seconds of driving: 'rough' might be an understatement. But a few more minutes and I'm not so sure about that. This thing is actually good fun and – while you couldn't call it refined – it is surprisingly civilised. Granted, I'm on the smooth surface of a motor-racing circuit, under the watchful eyes of various Toyota minders, and I'm making sure I don't tramp the throttle too hard or exceed the imposed 60km/h limit by too much.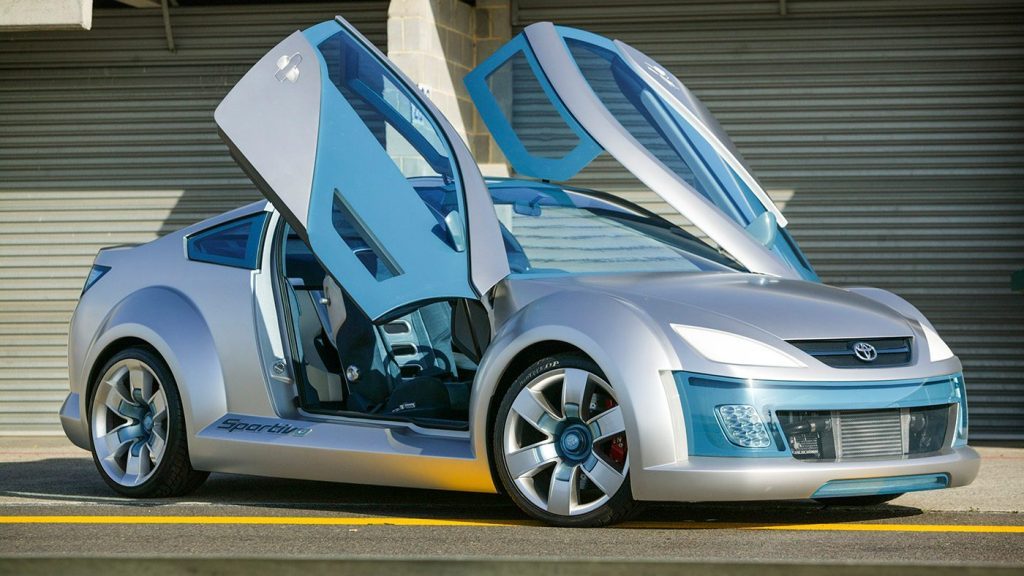 And sure, there are inconveniences and flaws. The steering wheel is sitting in my lap because the powered rack only goes down, not up; the driver's seat is built for looks not comfort; the passenger door doesn't work; there's an array of wires bursting out from under the dashboard; the cap has come unglued from the alloy gear shift; and without air-conditioning or winding windows, the car's extensive amount of glass area means I'm soon working up plenty of sweat and steam on this blue sky day.
But I can't stop smiling. Despite sounding like a demented chaff-cutter on steroids, the engine is the crown jewel in an impressive driveline with plenty of midrange punch; the car steers straight and true on its massive 21-inch wheels and tyres, and pulls up promptly via equally massive PBR vented and drilled discs and six-piston calipers up front, four at the rear.
When analysed, it's actually not that big a surprise that Sportivo Coupé is as refined as it is. After all, Toyota Australia has gone to those most reliable of underpinnings to support the most remarkable vehicle it has ever ushered into life. That's right, somewhere under there is a Camry.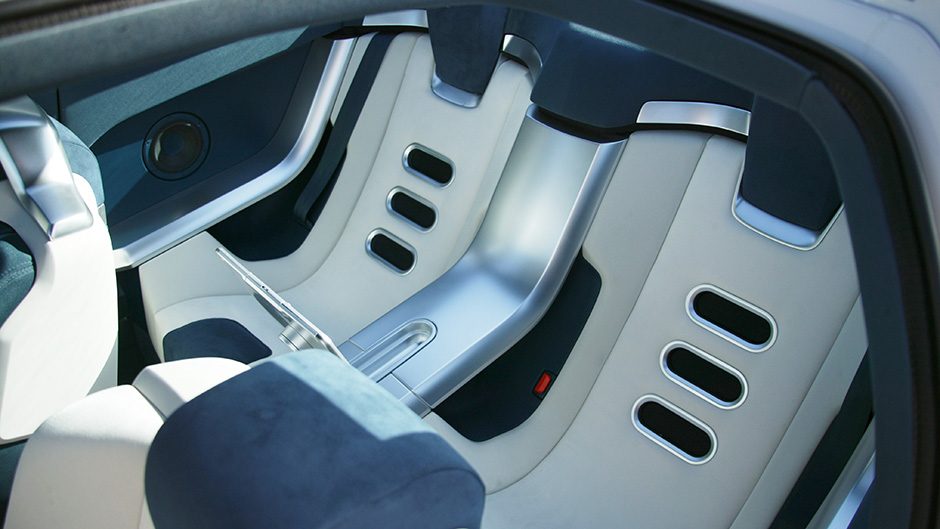 To be precise, the mechanical basis of Sportivo Coupé is formed around a 'Hokkaido-spec' Japanese Camry. These you might find on the odd second-hand import yard in New Zealand, and they feature the same constant four-wheel-drive system as the RAV4 compact SUV to deal with traction issues in Japan's most northern and iciest island.
That car's standard-issue four-speed automatic gearbox has been swapped for a five-speed manual gearbox in the interest of sportiness. This was the decision that triggered the hardest task of the entire build process because the change of front differential necessitated a change of rear differential to match it.
"It just didn't fit; there was a lot of work required to physically get that into place," explains Toyota Australia's Peter Eustace, who was responsible for building the car – as opposed to dreaming up the original idea. "We had to make up bracketry and alter diff surfaces accordingly to enable us to utilise existing architecture where possible."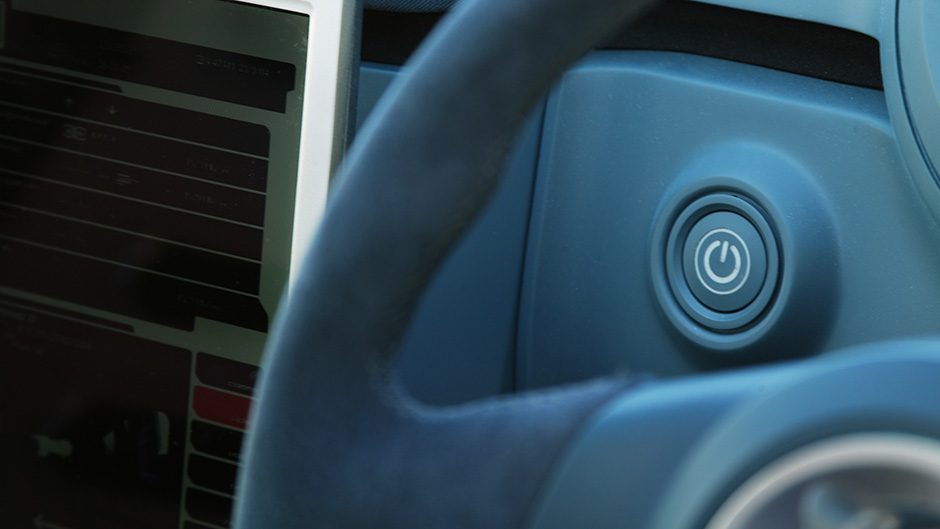 Meanwhile, under the bonnet, regular Toyota Australia supplier, APS, was commissioned to seriously pep up the familiar 2AZ-FE 2.4 litre inline four-cylinder engine. Courtesy of a Garrett GT25 turbocharger, an intercooler mounted low down behind wire mesh in the nose, and specially fabricated exhaust system, Sportivo Coupé now pumps out 180kW at 5500rpm and 305Nm at 4500rpm. Compare that to the standard car's 112kW at 5600rpm and 218Nm at 4000rpm. That's without any attention paid to the engine internals and only rudimentary ECU re-mapping.
"We were a bit surprised we ended up with that much power considering we only spent a day and a half, or maybe two days, on the dyno, and we were doing that on a mule car working in parallel," adds Eustace.
"If we were really serious, we would then go into camshaft development and we could go into more exhaust system development," he says, eyes glinting at the prospect.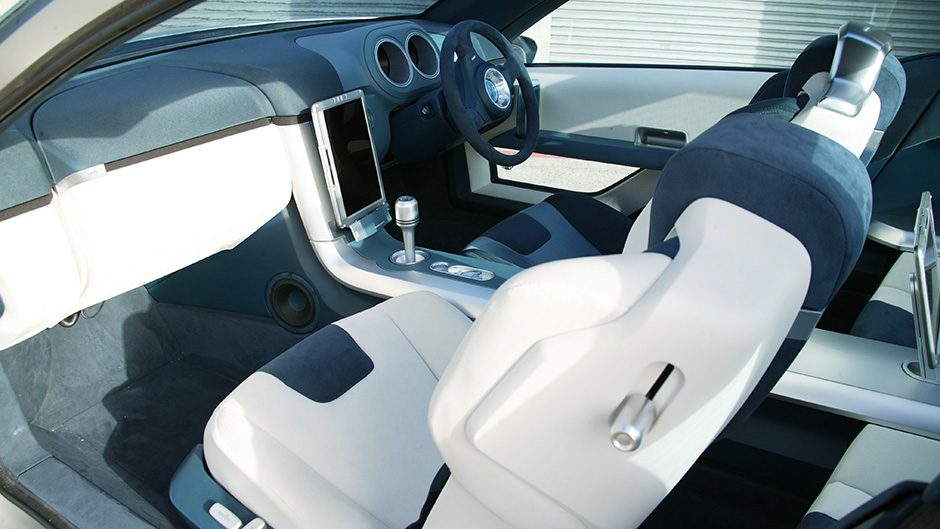 "This engine hasn't been turbocharged before to our knowledge, so we had to start with a clean sheet of paper…so the turbocharger has been designed to suit our requirements, and that is lower-end performance so it spools up quicker. So the internal diameters are tuned to give it quicker spool-up and more useable power for urban use."
He's not wrong there. Put the wastegate noise to one side, and the potential of the engine is obvious. It would provide one hell of a boost to the Sportivo line-up, one that is apparently being examined.
Suspension remains the standard Camry struts all round, albeit with reset springs to cope with the ride height change brought on by those enormous wheels and tyres. The Aisin power-assisted steering rack – Aussie Camrys use a Delphi unit by the way – employs standard internals but has been repositioned higher in the subframe to allow for the manual transmission, which in turn meant modified steering knuckles, relocated tie rods and tie rod ends.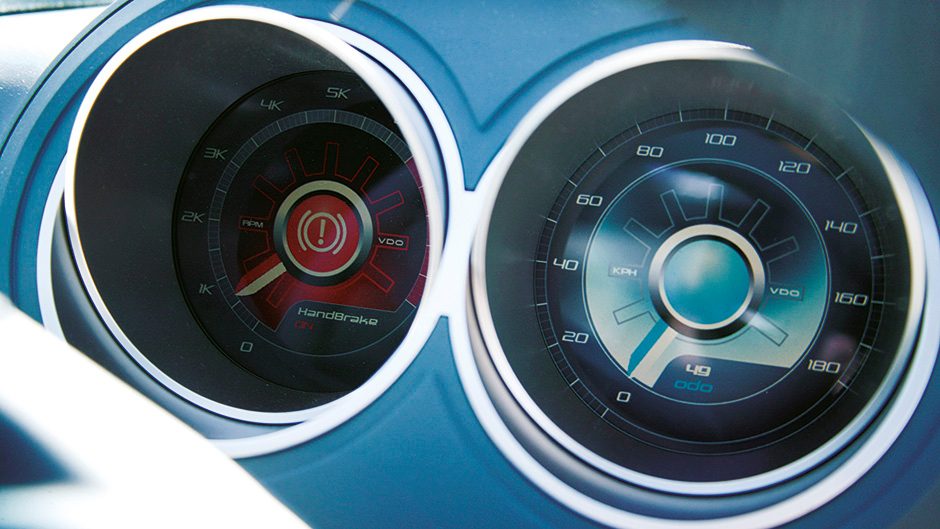 "There were lots of little challenges in putting this car together, but there was nothing that gave us sleepless nights," says Eustace. "There were a few sleepless nights building it in time though."
In fact, Sportivo Coupé came together from scratch in just 30 weeks. It has its genesis in the success of Toyota Australia's first concept car – the all-wheel-drive utility called 'X-Runner' that was presented at the Melbourne Motor Show in 2003.
Because that car was executed so well it prompted Toyota Australia to mull over what to do next, and by July, the company's board had approved the concept of the Sportivo Coupé. Driving the idea was Aussie design veteran, Paul Beranger, chief of Toyota Style Australia. You may have heard of Beranger. Formerly of Nissan, formerly of Millard Design, the man behind the aXcess Australia concept cars. But if you haven't heard of TSA, don't worry: you are not alone. Most people had little clue it existed until Sportivo was unveiled.
But as Toyota Australia gains more independence from the Japanese 'mother ship', the importance of its two-year-old styling department can only increase. For instance, Beranger's team has done the design work on the facelift that will grace the Aussie-built version of the Camry from September.
Under Beranger's guidance, Sportivo Coupé made the Melbourne event, made the headlines, and has been displayed at the Adelaide and Perth Motor Shows. Soon it is off to Japan for first-hand inspection at Toyota headquarters, and then it goes to the Middle East for a tour of Toyota Australia's most important export market.
This is a true concept. Some ideas and elements may eventually appear somewhere but you'll never see a Sportivo Coupé on Auckland's southern motorway. It is very much a flag-waving exercise for Toyota Australia as it seeks to introduce itself to a new, younger generation, so much so that many of the ideas which shaped the car and its functions originated in a series of information-gathering exercises involving around 100 Sydney and Melbourne 14- to 18-year-olds. Urban teenagers were sampled to gain their initial thoughts on the positives and negatives of their lifestyles, and then they were recalled about three weeks later to give their thoughts on the 30 to 40 exterior and interior designs developed by TSA based on their input.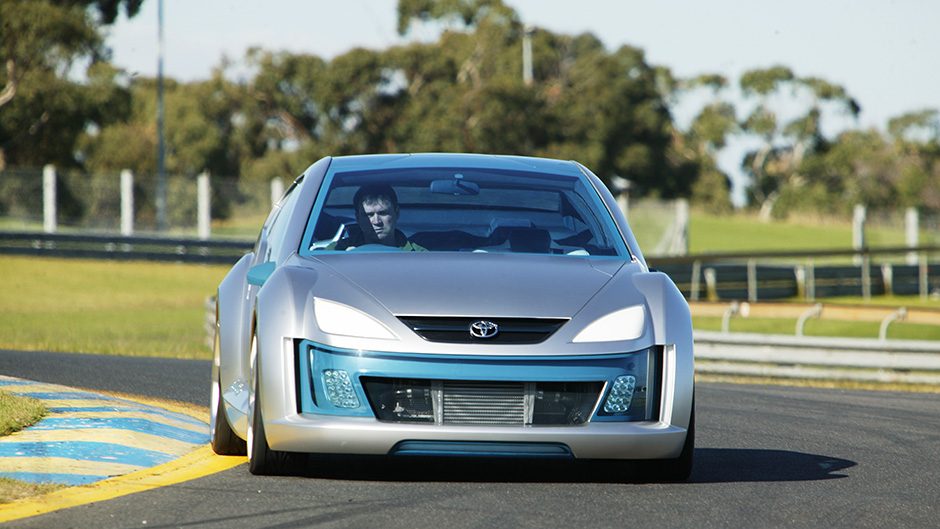 "Personal mobility and communications were two things that came out as being very important," explains Beranager. "Naturally, they were up with all the latest technology but they didn't want way-out technology: they wanted technology they could trust and use straight away.
"They saw the use of the car as being an urban mobility thing, although some of them wanted to have a bit more of a race around and enjoy the car for a bit more performance, so it was a…balance between all those things."
Interestingly, there was no particular emphasis placed by the kids on alternative energy sources, such as hybrids or fuel cells, or on the vehicle having off-road or drop-top ability. Nor does the car have an opening bonnet, merely a hatch where fluids can be replenished.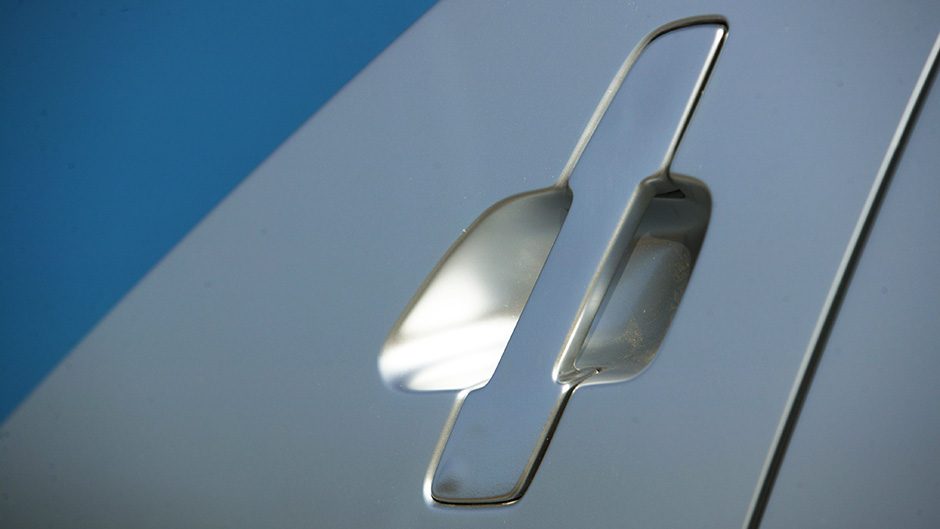 "Sporty cars were preferred, although not with two seats because that is not seen as particularly social, so they wanted four seat cars," Beranger says. "But they didn't want four doors because that is seen as a 'Mum and Dad' car."
In the true spirit of multi-skilling, this car is also intended to promote the Sportivo name and to advertise the fact that talented engineers and designers can look further than Ford and Holden if they want a career in the local car industry. The car's chief designer, Nick Hogios, is testament to that. The 29-year-old won a 'young designer' award back in 1999 and was then hired by Ford where he worked on BA Falcon, taking the lead on the XR range. The move to Toyota followed, and having completed Sportivo, he is now in Japan working on the next-generation Camry.
Highlights of his design include the use of about 380 LED lights supplied by Hella, dihedral doors that hinge up and forwards instead of outwards, the extensive use of glass panels, and bodywork shaped in carbon-fibre composite and bonded to a tubular steel chassis.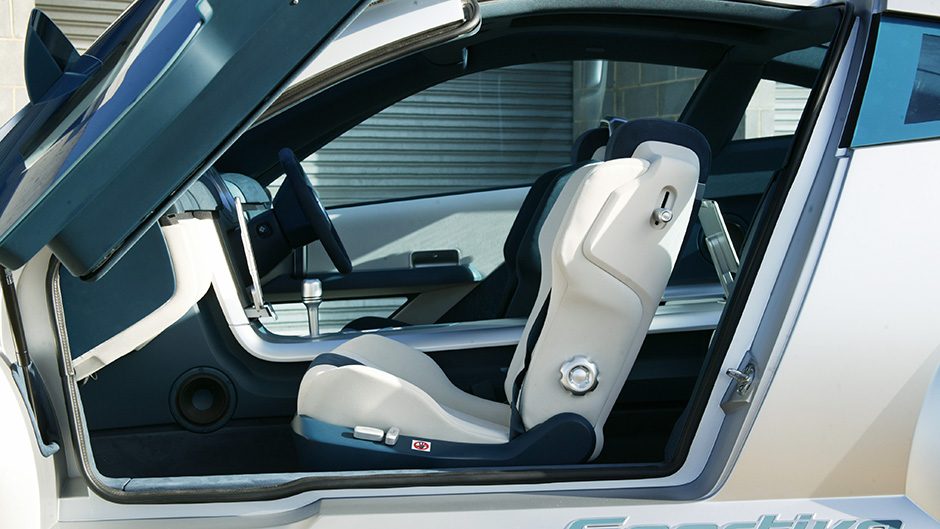 What looks like the headlights are really only standby lights that activate when the car is ready to start. At the centre rear, two massive exhausts exit together. The Sportivo Coupé is painted a satin silver colour like a mobile phone to emphasise its relationship with modern technology and the glass is blue, designed to simulate the lens of a mobile phone or piece of electronic equipment. There are some obvious places where style has triumphed over function, as it should in a concept. Rearward visibility is a joke and the mirrors are hopeless. It can also be a tortuous exercise negotiating your way past the door and the evil-looking A-pillar (lacerations for the unwary there).
Inside, it's just as outlandish. There's a bespoke four-seat interior that has a driver-centric cockpit area, including a flat-screen instrument panel, push-button start, a seat design with different contours, and a four-point harness developed by Autoliv. The three passenger seats all sport three-point harnesses. In the back there's a surprising amount of legroom, but headroom is at a premium, and there should be no shortage of sunburn as the roof is – you guessed it – yet more glass.
But the thing Toyota is making the big deal about is the car's Telematics systems. Called 'T-Link', this electronic system is based around the driver's license, which is a mobile phone-style SIM card that would be embedded with a host of data. The licence would not only allow the driver access to the car, but also provide individual settings for driving position, radio stations, phone numbers, GPS tracking data for friends – and even engine output.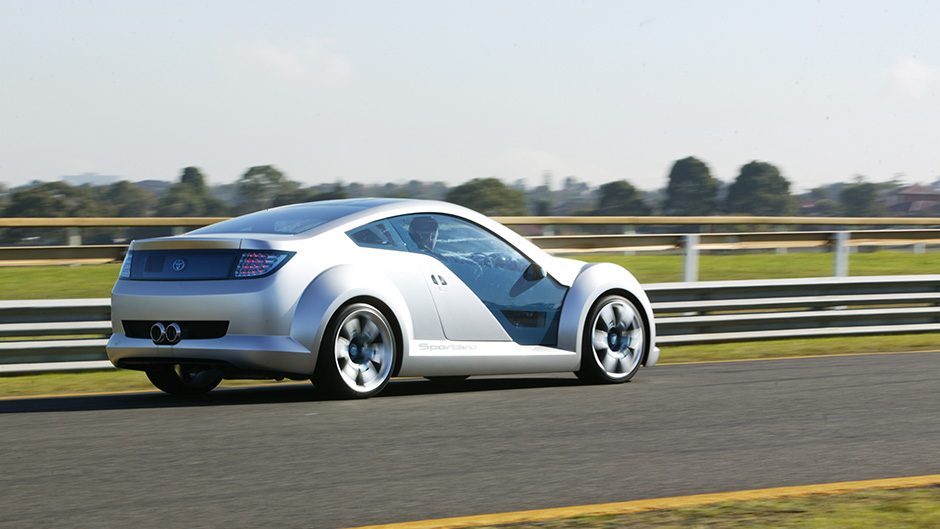 The system, developed with the support of suppliers, including Australian Arrow and Sumitomo, also allows the personal electronic licence number of the driver to be displayed on the number plate, as well as 'P', 'L', or handicap plates if applicable. Toyota says speeding fines, toll-way charges and even parking fines could be sent through T-Link to the driver responsible, rather than the car owner.
"We are challenging the 100-year-old assumption that the owner of the car is the most important person," Beranger explains. "We are recommending and suggesting…that the driver is the most responsible person for the car when that driver is associated with that car."
Beranger rejects any suggestions that T-Link has any Orwellian overtones.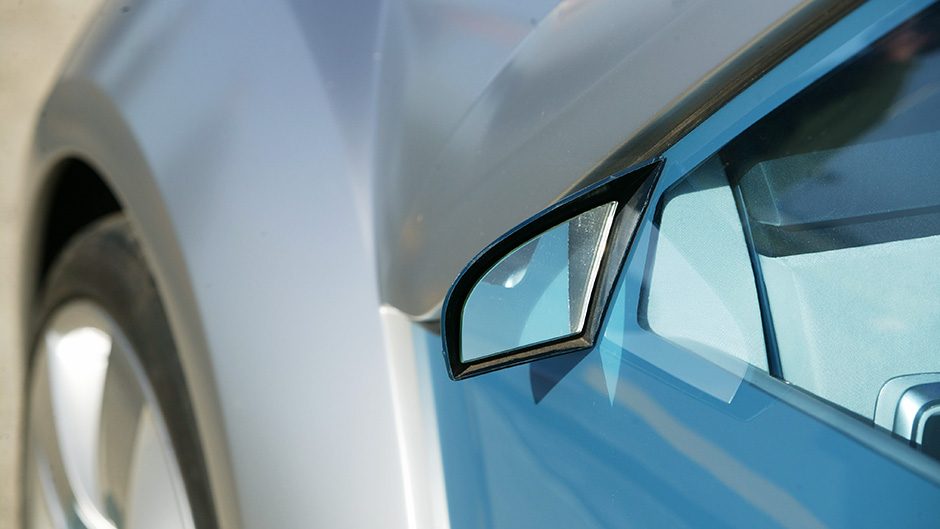 "Toyota is not here to be big brother. Toyota is here to build cars that people can enjoy."
Another innovation is the digital speedometer developed with Australia's largest instrument supplier, Siemens VDO, which reconfigures its analogue-style display so that the prevailing speed limit is always located in the 12 o'clock position.
The third electronic innovation is the use of GPS 'Friend Finder' tracking. That enables the occupants of Sportivo Coupé to see where their associates are through icons on a screen and allows them to navigate electronically to a central meeting point.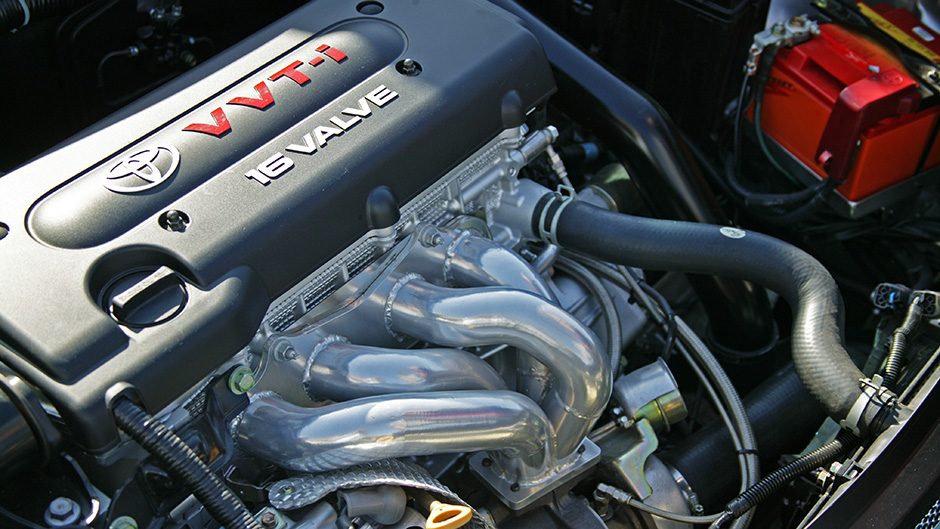 "The technology we are showing in this car would not be owned by Toyota," Beranger says. "Effectively, Toyota's innovative technical concepts would be the property of the regulators and industry.
"The options we are presenting here could be progressively introduced over the next five to 10 years, and industry would work collaboratively with government to make it happen."
But back in the present day on this sunny Monday morning, not much of T-Link can actually be experimented with. I like the way the dials open and close when the ignition fires, and their cartoon-style graphics. The touch screen is nifty looking too, but in reality, I'm simply enjoying the driving. At idle the engine is not at all rough, and only when you accelerate is noise the big intrusion, although it does take a while for the revs to die away on the over-run once you breast 3000rpm.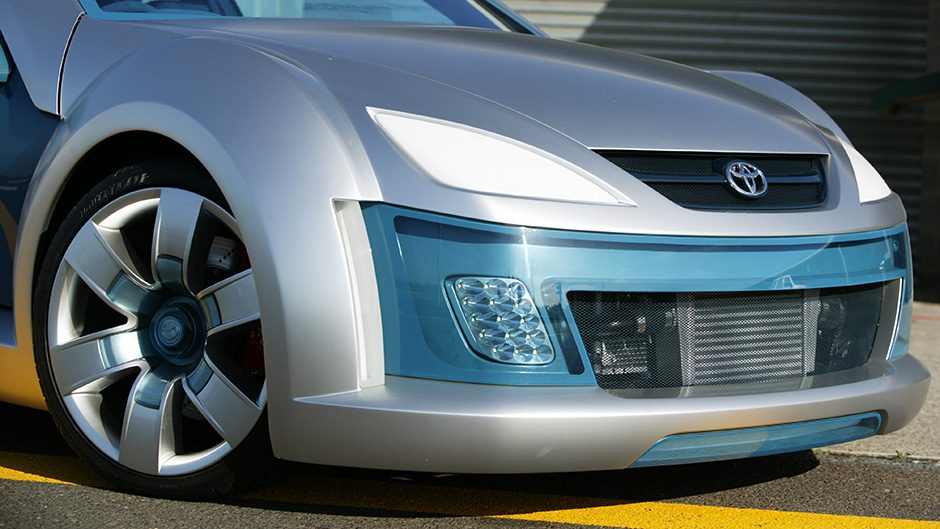 The steering is light and linear back through the suede steering wheel, not lumpy at all. There's plenty of grip courtesy of those massive tyres. The gear change is direct without notchiness, the bog-stock clutch not protesting at all at the repeated stops and starts required by photographic runs. There's less clunkiness in the driveline than you would find in your average FPV or HSV hot V8.
When Tom signals he's shot his final frame, I'm actually disappointed to be heading back to the pit lane. It's not been an in-depth drive by any stretch but it's been enough to establish the validity of Sportivo Coupé.
One last chance, why not? FFFWWWAAAHHHH, WHAP-WHAP-WHAP.
Love it.
| | |
| --- | --- |
| Model | Toyota Sportivo Coupe Concept  |
| Price | $1,000,000 |
| Engine | 2362cc, IL4, T/EFI, 180kW/305Nm |
| Drivetrain | 5-speed manual, all-wheel drive |
| Fuel Use | N.A. L/100km |
| C02 Output | N.A. g/km |
| 0-100km/h | N.A. sec |
| Weight | 1490kg |