Looking for a sporty daily driver with equal measures of fun and reliability? One with a slick-shifting manual combined with a rev-happy four-cylinder engine sending its power to the rear wheels? Fancy something that'll go well on the track every now and again but aren't looking to invest in a 2k cup racer? Look no further – Miata is always the answer.
That would have been a good sales pitch for the car Mazda displayed at the 1989 Chicago Auto Show, when it revealed its tribute to the bygone British roadster. By now everyone with Internet access knows about the MX-5 and how it can provide sports car thrills for hatchback money. But if you've forgotten, a small history lesson.
The NA generation of MX-5 (or Miata for our American readers, which derives from Old High German and means 'reward') hit showrooms on the eve of 1990. It boasted a 1.6-litre DOHC inline four producing 90kW and 136Nm with a five-speed manual as standard. Suspension was via independent double wishbones all round and it had disc brakes on all four wheels. A viscous limited-slip differential was offered as well. Powerful it was not but thrills it had in spades, evident in its place on Car and Driver's 10 Best list from 1990 to 1992. It also featured pop-up headlights, making the NA MX-5 the happiest looking roadster to ever be built.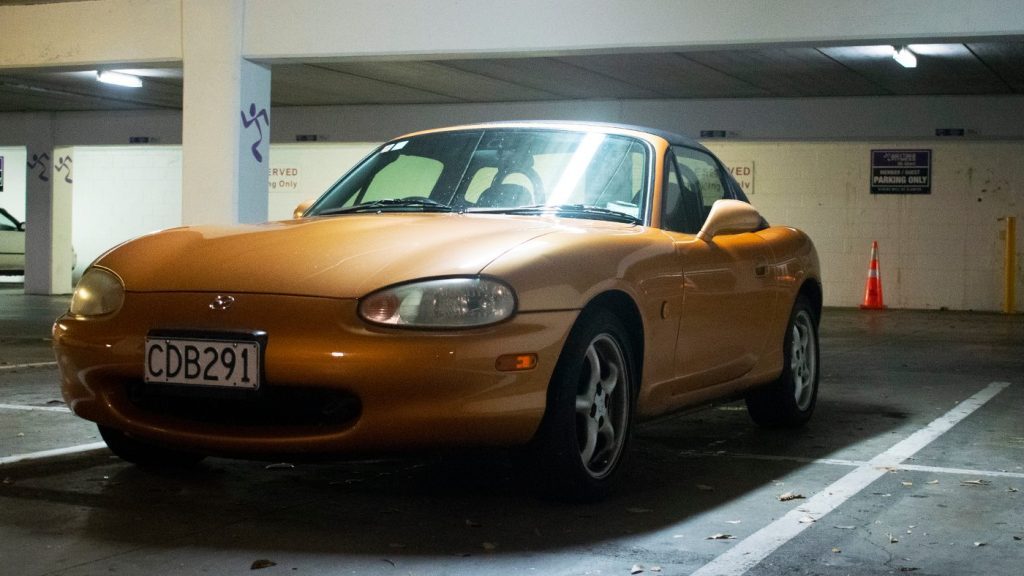 Come 1994 and the cries for more oomph were heard. Mazda stuck a DOHC head on the 1.8-litre B8 engine powering the Mazda 323 at the time. Power 'skyrocketed' to 96kW but it was torque that was the winner, making a healthier 165Nm at lower engine speeds. Crucially, the revvy nature of the 1.6 was retained, with redline set at 7000rpm.
Three years later, the second generation of MX-5 was revealed with the NB debuting at the 1997 Tokyo Motor Show. This featured numerous performance improvements but, thanks to more stringent pedestrian safety tests, the pop-up headlights were replaced with fixed units. Gone was the smiley face, now the MX-5 looked like the Dodge Viper's awkward younger sibling.
The NB kept the 1.6-litre B6-ZE engine as a base offering but reworked the 1.8-litre donk to boost power to 104kW, though torque took a minor hit, now registering 161Nm. A few years later, Mazda introduced further tweaks, adding variable valve timing on the intake side among other changes, which pushed output to 113kW. Mazda kept the four-wheel independent suspension, beefed up the anti-roll bars at each end and added slightly larger brakes as an option.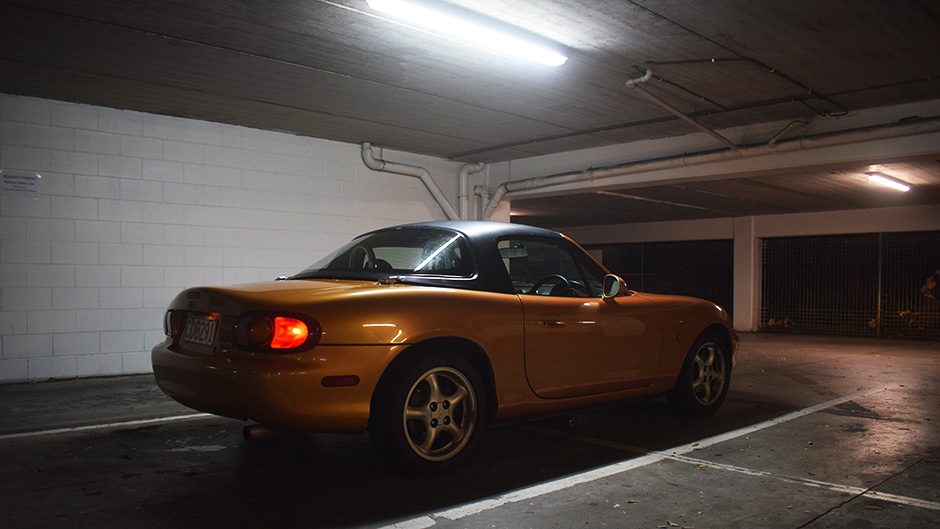 The 1998 version of the NB is what we're focusing on here, specifically an Evolution Orange RS-spec example. More details on that specification later. It has done over 230,000km, 48k in Japan and the rest on New Zealand roads when it was imported here in 2004. Why this specific MX-5 and not a nice showroom-ready one? Because this one is mine and I know everything that's right – and wrong – with it. So let's treat this as both a review and a buyers guide of sorts.
The NB is often overlooked because it falls in the mid-90s dead zone of car development were Japanese manufacturers seemed to be focusing more on refinement and evolution rather than revolution, which is evident in the NB MX-5. The interior is passable at best. The RS-spec models came with a nice three-spoke leather-wrapped Nardi steering wheel and a Nardi gearshift (which has since been replaced by an aluminium unit here) which are both nice but the HVAC controls are uninspiring. There are electric windows which astonishingly still work, as do the electric mirrors.
The dash has italicised digits and even a splash of colour. RS versions got slightly different dials, which have the needles pointing straight down when the engine is switched off. Pre-2001 models have pretty useless seats if you want to do anything sporty. There's very little bolstering which means you'll be bracing yourself against the door and centre console more than necessary. A set of sports seats are a must, although take your time and find a set that will fit on the standard seat runners.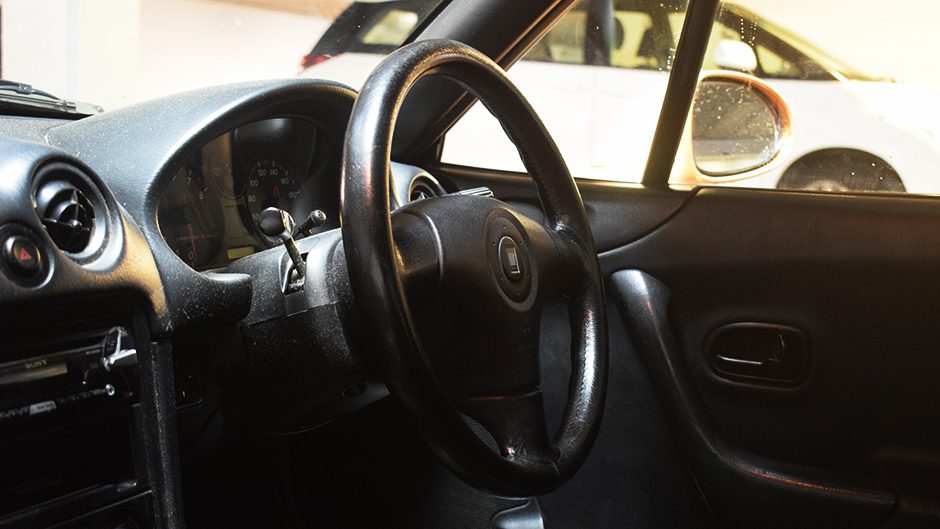 ose speakers line the doors, which sound fine, if somewhat woofy. Adding Bluetooth capability for music and handsfree calling is high on my list of immediate recommendations.
The soft-top featured a glass rear screen, sometimes heated, so checking the hinges, connecting clips and if the glass still demists is a must. A leaking soft-top is an instant day-ruiner and they're not particularly cheap to remedy. If you can find one with a hard-top, put it higher on your watch list. Those slabs of fibreglass are easily worth more than a grand now and they make the car look more like a coupe (read: better).
The RS came with Bilstein shocks as standard which help take care of one common MX-5 complaint – body roll. Standard MX-5s get a decent lean on when cornered hard, a byproduct of finding the balance between handling and on-road compliance. They never feel too bad when you're behind the wheel but if you go power hunting you'll want to upgrade the suspension as well as the brakes. And the tyres too, while you're there. The NB came with 195/50 treads at either 14-inches or 15-inches in diameter. They're wide enough to generate some decent cornering performance but it's all too common to find MX-5s here with the cheapest WoF-able rubber available. Case in point, the Supercat tyres fitted here. A set of Bridgestone Potenzas are on the list and should make a marked difference.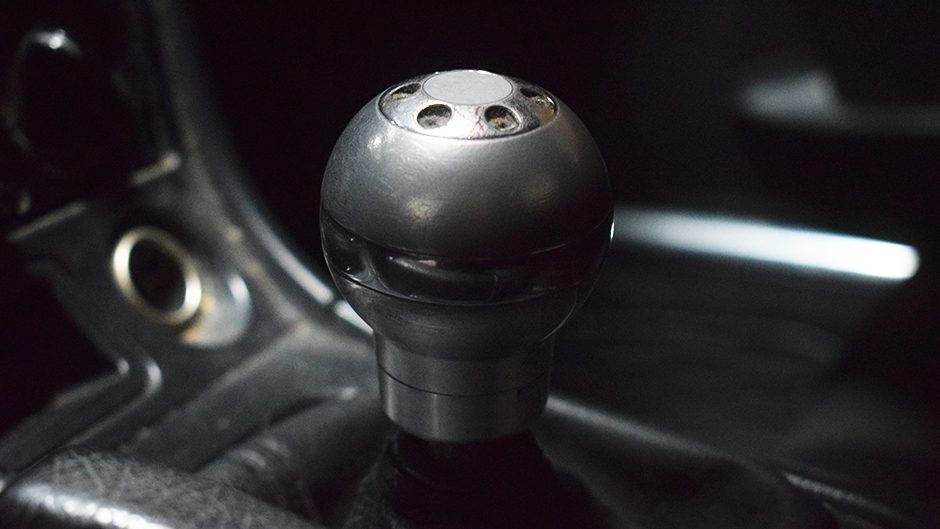 Lifting the hood reveals that mighty inline-four. They all look a bit grubby now but don't worry about that, unless there's oil visible. Look out for the classic 'hot-air' intake mod – if the standard airbox is missing the engine may have had a hard life.
As with any car of this vintage, a pre-purchase inspection is a must. Any car can suffer from rust and it's all too common to forgo regular oil changes in favour of saving a few bucks. Have someone in the know give it a good once over.
Right then, driving. A notchy or graunching gearbox action in the lower gears is a common issue, borne of simply being an old sports car. A six-speed became standard after 2001. It's a great 'box with closely spaced ratios though that results in 100km/h asking 3000rpm from the engine. It doesn't affect fuel consumption too badly, with 500km per tank attainable with light-footed highway driving.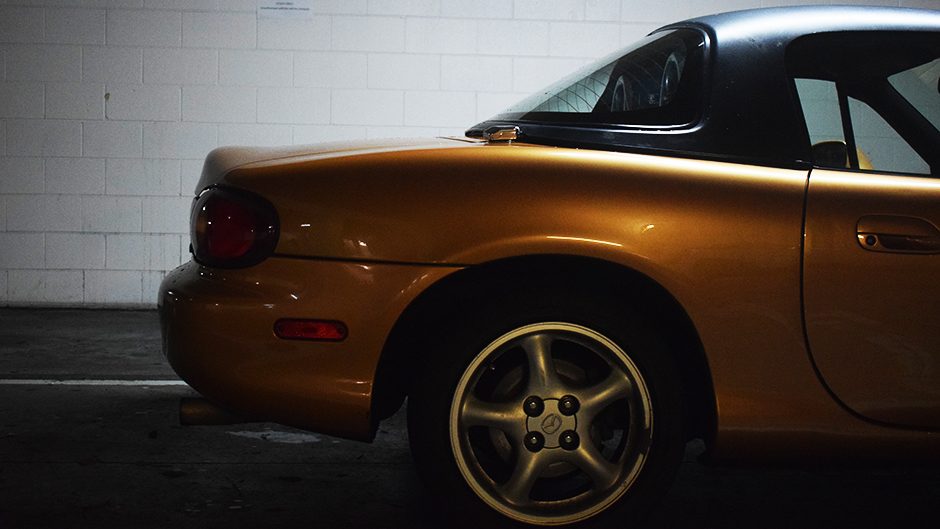 Little is sweeter than getting the perfect heel-and-toe downshift while tearing through New Zealand's backroads in an MX-5. It's easy in the NB thanks to a well-spaced pedal box and that lovely gearbox. And as the car isn't all that powerful, you won't be doing speeds best described as "terrifying". You'll probably have more fun than someone in a more expensive/powerful car because you can dance with disaster as if it were a stage rather than a razors edge. (read: superbikes). Finding a model with a limited-slip differential just adds to the experience.
The brakes are good, despite looking small. The NB weighs around 1050kg, give or take, so it doesn't need big stoppers. However, ABS was still an option, despite the car coming with two airbags. The easiest way to tell if a car has ABS is a light on the dash which should illuminate when you turn the key. Alternatively, you can look under the bonnet for the ABS unit.
Mazda facelifted the NB in 2001, introducing standard foglights, a new dash and better seats. The body was strengthened, gaining 16 per cent in bending rigidity and 22 per cent in torsional rigidity.
Having owned an early-model NA as well as this NB, the later MX-5 is the one to get. They're overlooked in favour of the NA, however, I prefer the NB's mechanical superiority. A more powerful engine, stiffer chassis, better suspension and brakes all push it above the NA's retro appeal.
But – and this is the best bit – that's just my opinion. If you want comfort and ease of driving over anything else, you might like the look of the later NC. From what I've experienced so far, the NA has more aftermarket support if you want to go down that route. People online often say that while the NB is the better car, the NA is the better MX-5. However, at the end of the day, both offer a purity of driving yet to be replicated for the price. Scratch that – all MX-5s do.
As for me and my NB, I'll be seeing how long my clutch and gearbox last at a track day. Stay tuned.