This 1975 Chevrolet Monza has had 2200 man-hours invested in its build, honing it into a potent racer for the central muscle car race series. It's the car that Wayne
'Jacko' Anderson built.
Wayne Anderson of Pinepack Racing fame and best known by family and friends as Jacko, is the most unassuming man you will ever have the pleasure of meeting. These days he lives on a lifestyle block in Kumeu, West of Auckland, that not only incorporates a large sprawling brick house, but an equally large man cave/workshop, with all the gear that a man of so many skills could want. It has two vehicle hoists, a lathe, a mill, welding equipment, fabricating and sheet metal gear, plus a paint booth, clean room, and the list goes on and on.
Wayne and older brother Bruce raced and worked together for many years running the family sawmilling and forestry business, known as Anderson and O'Leary, after their father Neil, also a keen motorsport enthusiast, was tragically killed in a freak road accident. Whilst Bruce was academically inclined, "Jackie Boy" as his father Neil called him, had little time for schoolwork. He proudly says, "I only got five marks for English in School C, but I was top of metal and woodworking. That's all I was ever interested in so I left school the moment I turned 16 and have never regretted that decision."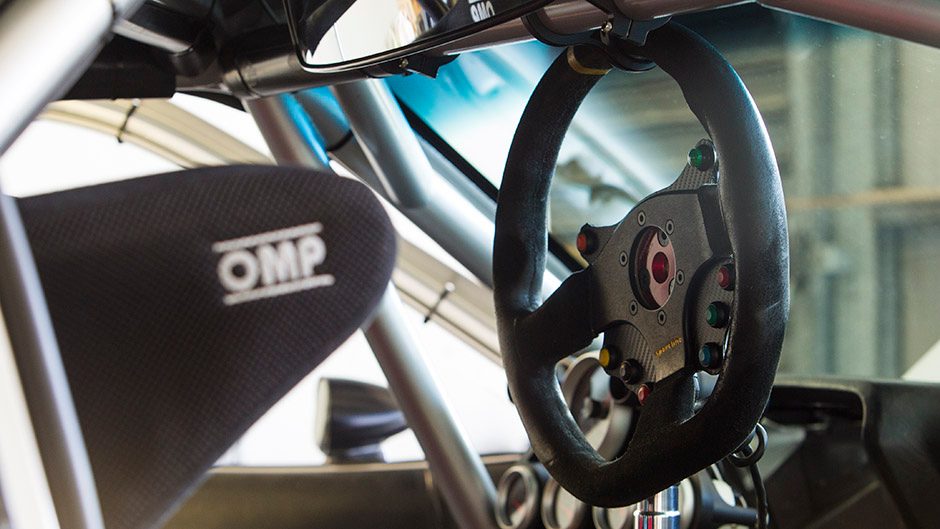 Over the past 30 years Jacko has been involved in building and running race cars both for Bruce and himself to drive, as well as many other people who have beaten a path to his workshop door over the years. He was also instrumental in the formation of V8 Supertourers, along with Garry Pederson and myself. Jacko was responsible for the finishing of the prototype V8 Supertourer after the bare chassis arrived in New Zealand from Pace Innovations Australia. The latter designed and built the chassis and basic front and rear suspension for the newly formed V8 Supertourers Company.
Jacko was primarily responsible for developing the V8 Supertourer kitset build program along with his son Tony, who gave up building to learn the metal fabrication trade under Jacko's tutorship. He quickly proved indispensable in fabricating and manufacturing the many parts that make up a V8 Supertourer kit, from which 22 examples were completed. With the withdrawal of Jacko's AV8 Supertourer team from the championship, he turned his attention to building a sports sedan for Tony to drive in the popular GT series. This in turn led to him 'opening his doors' to more and more outside work, which is how the Knights Monza project ended up being built by AV8.
Given my close working relationship and friendship with both Jacko and the Knights, it was not difficult to persuade the Christchurch-based father and son duo of Peter and Andy Knight to have their dream Central Muscle Car project built here in Auckland under my management, utilising Jacko's car building skills.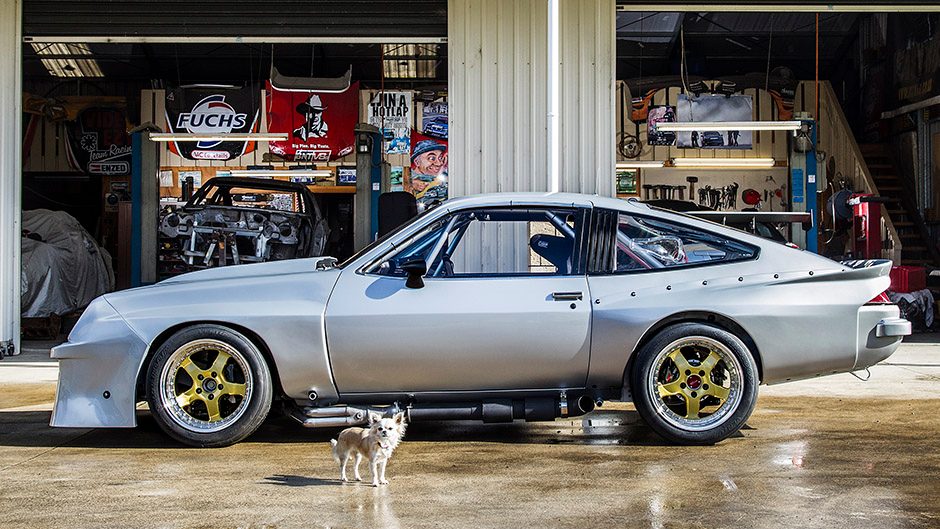 The Knights originally wanted to build a mid-70's Pontiac Firebird muscle car. However Jacko was convinced that the Chevy Monza would make a better race car due to its lighter weight and smaller frontal area than the Firebird. A donor road-going Monza was needed, and needed in a hurry, so after much time Googling every Chevy Monza offered for sale in the USA, I found a suitable road car which we duly purchased. However, shortly after buying the car in California, a bare Monza shell surfaced in Auckland owned by the well known racing driver and muscle car exponent, Angus Fogg. He had purchased a very rusty body shell some years before but never got around to working on it.
A deal was done before the original donor car had left the US as it appeared that the build could commence immediately. However, in hindsight, it proved to be a costly decision due to the significant amount of rust perforation and the need to cut away large sections of the body shell, and then replace those with hand-crafted replica panels. The original American-sourced car was sold to yet another father and son team, Colin and Michael Wallace from Dunedin (vehicle is seen in the background of the opening photo as a bare body shell). It proved to be far less rusty and saved over 200 hours in the build of what will be AV8's third Chevy Monza Muscle car.
With the completion of the basic build of the Knight car, Jacko had well and truly 'caught the bug' and found what looked to be the perfect donor car advertised here in New Zealand on TradeMe. A successful bid secured the 1975 Chevy Monza and it was soon on its way North from its home in Timaru. After stripping the car of everything that could be unbolted or would need replacing, the bare shell was trailered to Rotorua for acid dipping. This literally eats away all the underseal and any rust, leaving virgin metal exposed. It normally requires several dips in the acid bath to get rid of everything. In this case the shell needed four trips through the acid before Jacko was satisfied that it was ready to be transformed into a race car meeting the stringent rules of the popular Central Muscle Car Category.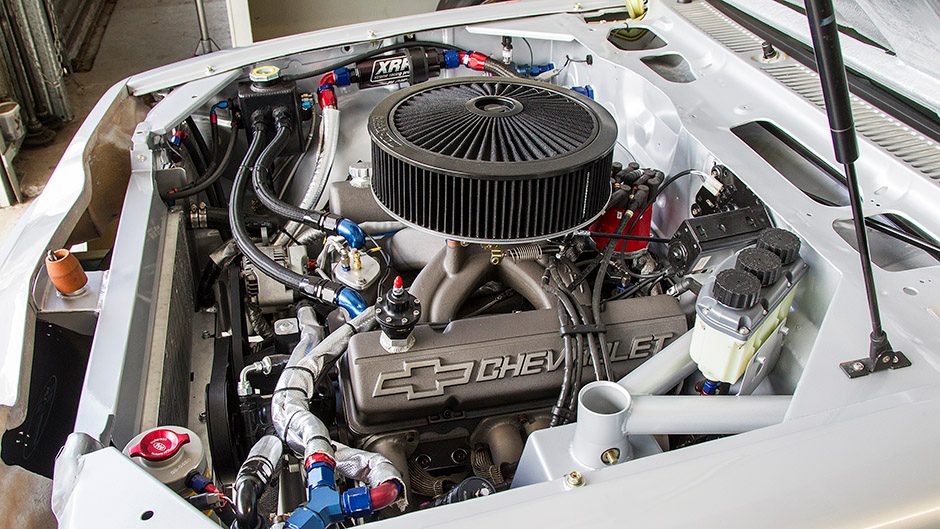 Whilst his bare body shell would require less input than the Knight car, it was also far from perfect and required more than 2000 man-hours before being sent to the paint shop. Once the bodyshell was back from Mosel Panel & Paint in Henderson, it took a further 200 hours to complete all the component and mechanical installation. This despite the fact that everything bar the wiring loom had been trial fitted prior to the body shell being sent off for painting.
Central Muscle Car rules demand the use of a steel engine block and a single carburettor but other than that pretty much everything else is open. Whilst five-speed gearboxes are permitted, most CMC competitors use a Jerico or similar four-speed gearbox as all the Category One cars have at least 6.0-litre engines producing a minimum of 820Nm of torque. Jacko's engine was built by famed engine builder, Randall Edgell, using components specified and supplied by Shane Johnson of Segedin Auto Parts in Mount Eden. It is designed to produce a very broad range of useable power from as low as 3000rpm through to 7500rpm.
Whilst the car was 95 per cent finished at the time of our photoshoot, it will also sport stainless steel exhaust covers down each side, concealing the side pipes and multiple mufflers that are needed to keep the exhaust noise to less than 93dB. Jacko is in no particular hurry to debut the car and has yet to decide if he or his son will drive it in the CMC Championship. "I built the car for myself as a labour of love and if I can't do it justice, I will be more than happy to have Tony take over the driving duties".