Porsche wasn't the first manufacturer to run an 'RS' badge on its cars but the two letters are now synonymous with the most desirable versions of the 911. The original dates back to 1973, fuelled by the hefty ambitions of a giant-killing race programme.
There was a time when badges such as GT and RS meant something. But these once revered symbols of performance and aspiration have become irrelevant in many cases, overused by marketing executives down through the years. Labels traditionally reserved for models of sporting elite have been plastered on everything from soft-core ragtops to mum wagons aimed at the daily school run.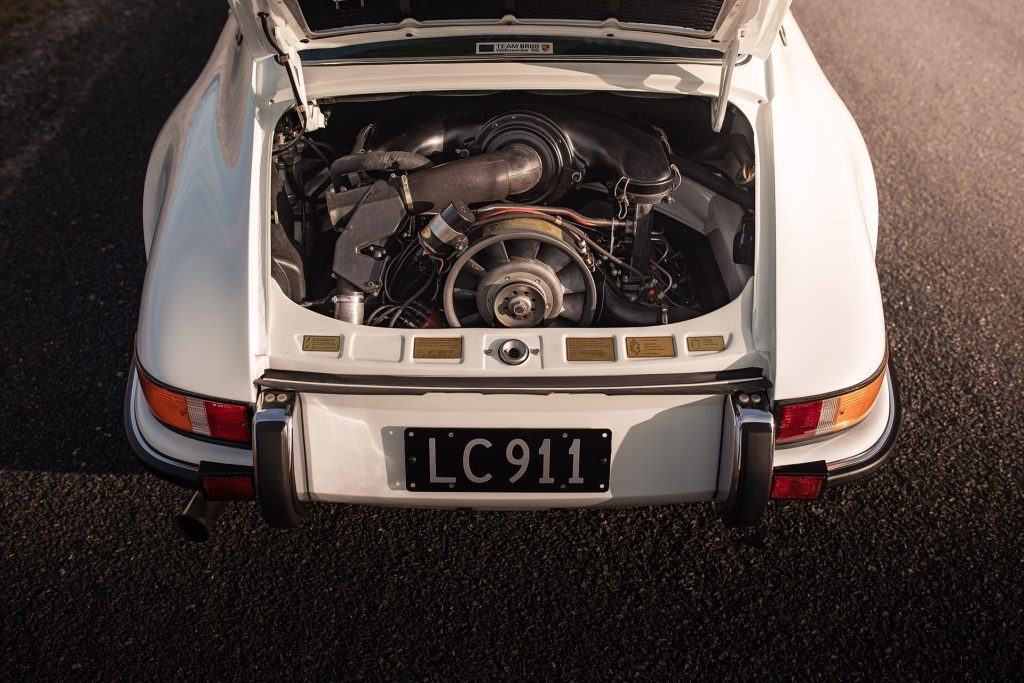 Certain manufacturers – and I'm looking squarely at that sporting marque from Stuttgart – have remained true to the cause however, conscious of the purity and the passion attached to these monikers. And while we've seen those two evocative letters, "RS," thrown about with liberal abandon among the vehicular landscape, Porsche has ensured the initials have held weight.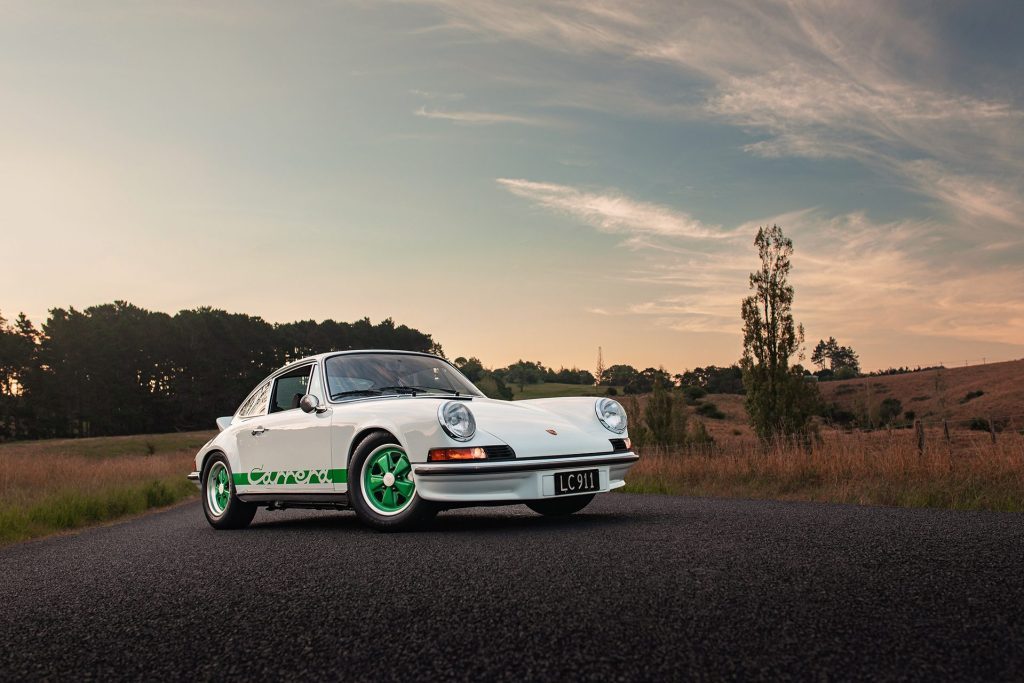 "RS" is simply an acronym for Rennsport. In English, it literally translates to "racing," and it's genesis, on a road car at least, goes back some 50 years.
To understand the creation of the 'first' road car to wear the "RS" badge, the 1973 model year Porsche 911 Carrera RS 2.7, to use it's full nomenclature, we need to cast our minds back twenty years earlier.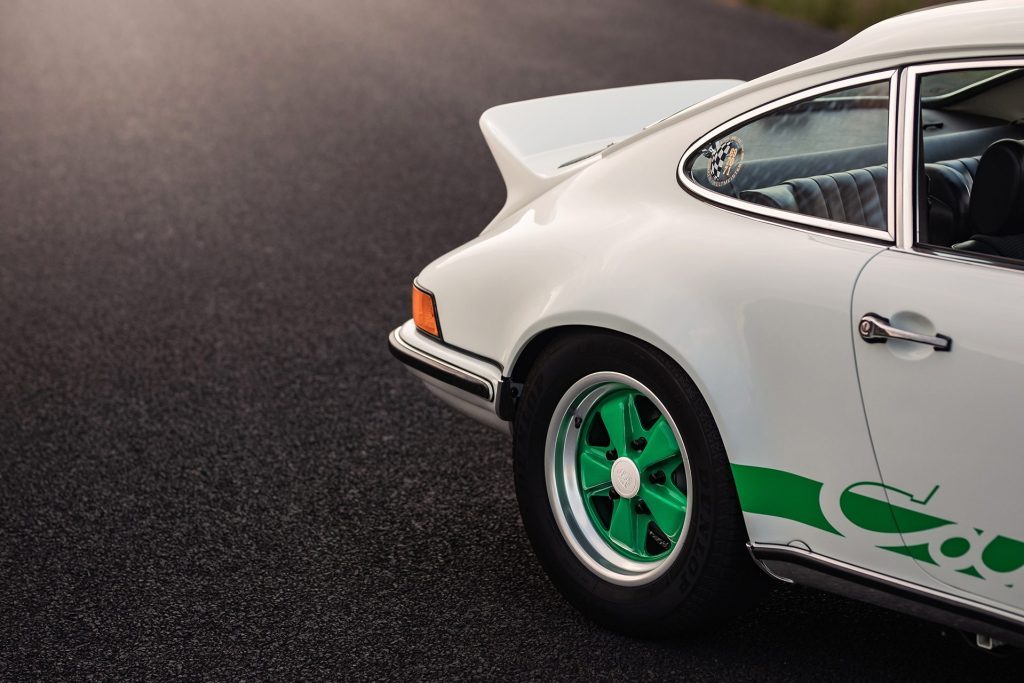 In 1952, a Porsche entered the Carrera Panamericana, a cross country race between borders in Mexico, covering 3436 kilometres of the Pan-American highway over the course of six days. Although distances of this nature weren't uncommon by European standards (Mille Miglia, for instance), the Carrera Panamericana was notorious for its high average speeds and 3000m of altitude variation. Both were tests of speed and reliability and, for the very first race in 1950, only 47 of 126 starters made the finish in El Ocotal.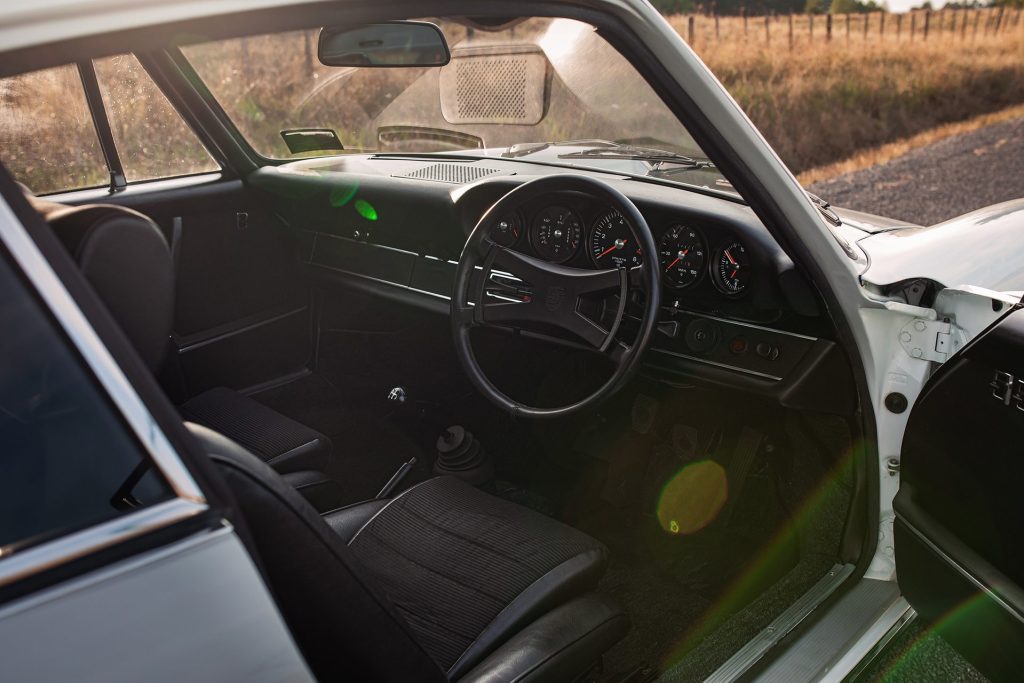 The performance of Prince Alfons von Metternich in his Porsche would see him finish eighth in the sports car class, the diminutive 1500cc machine outgunned by its much more powerful Mercedes-Benz and Ferrari opposition. But it helped kick off a legacy of Porsche success at the Panamericana, specifically in the up-to-1600cc class, with the name 'Carrera' indelibly inked into Porsche legend following class domination in 1954, the final 'original' Carrera Panamericana.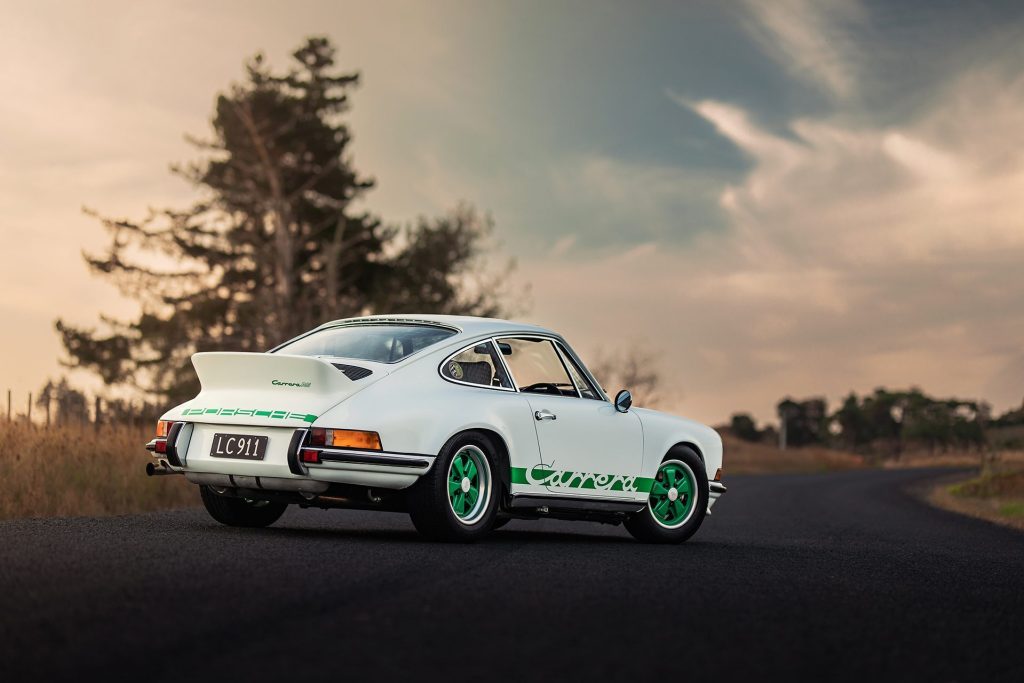 Porsche would begin to use 'Carrera' on a range of specialised models. Focused around the four-cam engine, the 356 Carrera would represent the epitome of road-going performance for that platform. And racing models like the 904 Carrera GTS and 906 Carrera 6 would ensure the name was at the forefront of competition too.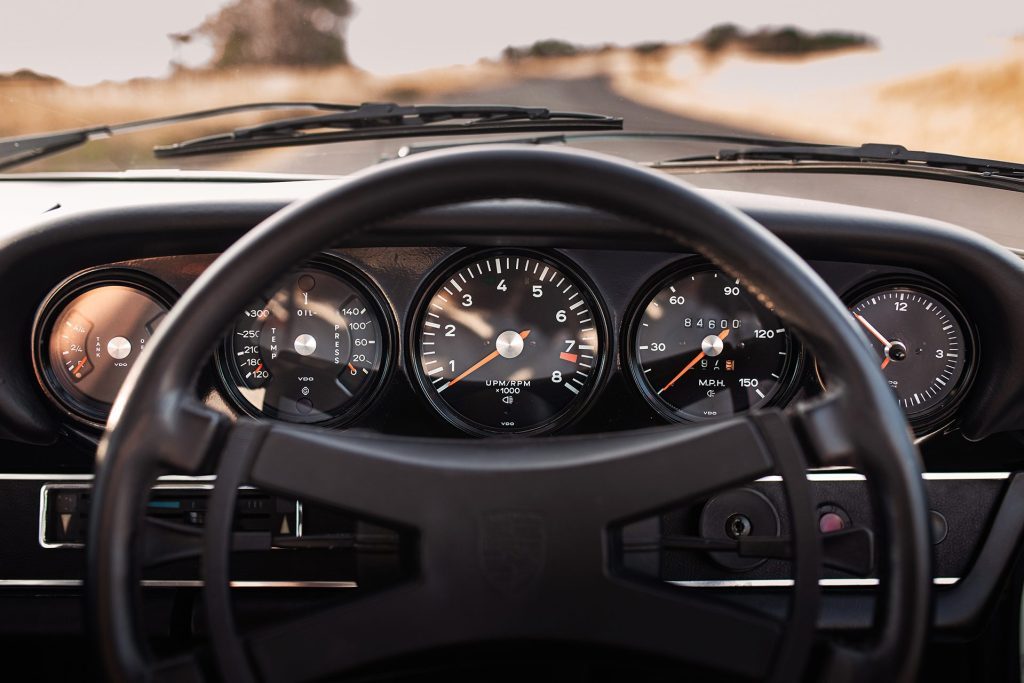 The 911 entered the fray in 1963, to much adulation, superseding the 356 with more space, and added performance from its 2.0-litre flat-six powerplant. Although yet to attain it's almost mythical status, Porsche would soon develop more hardcore versions of the 911 aimed purely at winning. The engine was stretched to 2.2-litres, then 2.4 in 1972. There was even the 911R, produced in 1967, foreshadowing the Carrera 2.7 RS with its significant use of lightweighting, and mooted production run of 500 for GT-class homologation. The production never eventuated, stymied by the marketing department, and only 23 ever saw daylight.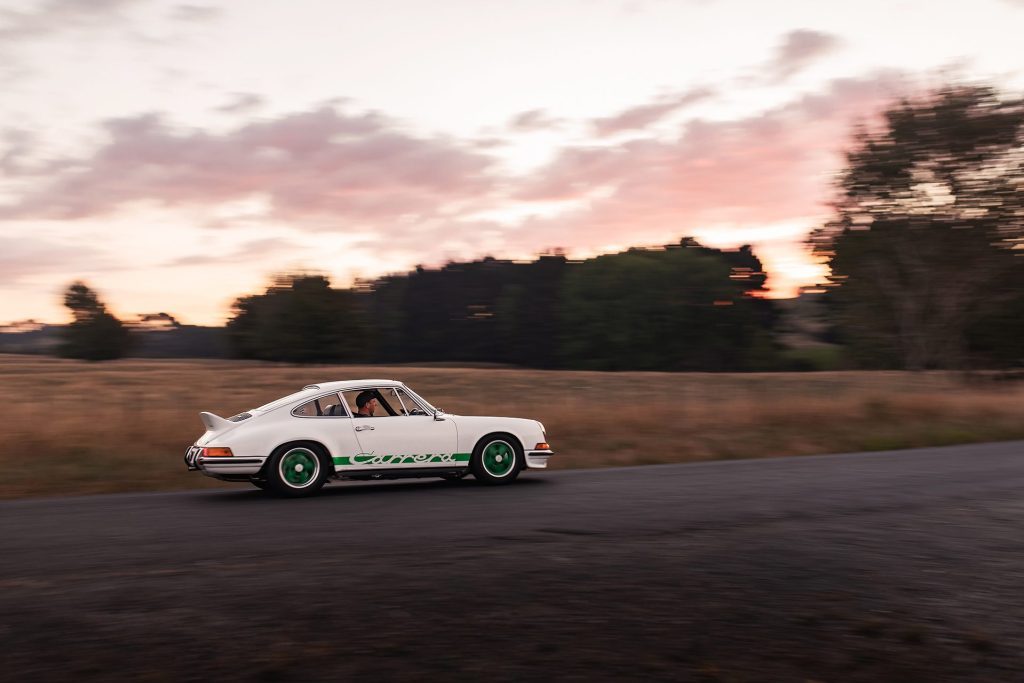 But even though the 2.4-litre was producing a handy 270hp in race trim by 1972, thanks to mechanical fuel injection, Porsche was struggling to maintain the pace required to best the 3.0-litre Ford Capris and BMW CSLs. The 911 needed more displacement and less weight. Enter the Carrera RS 2.7.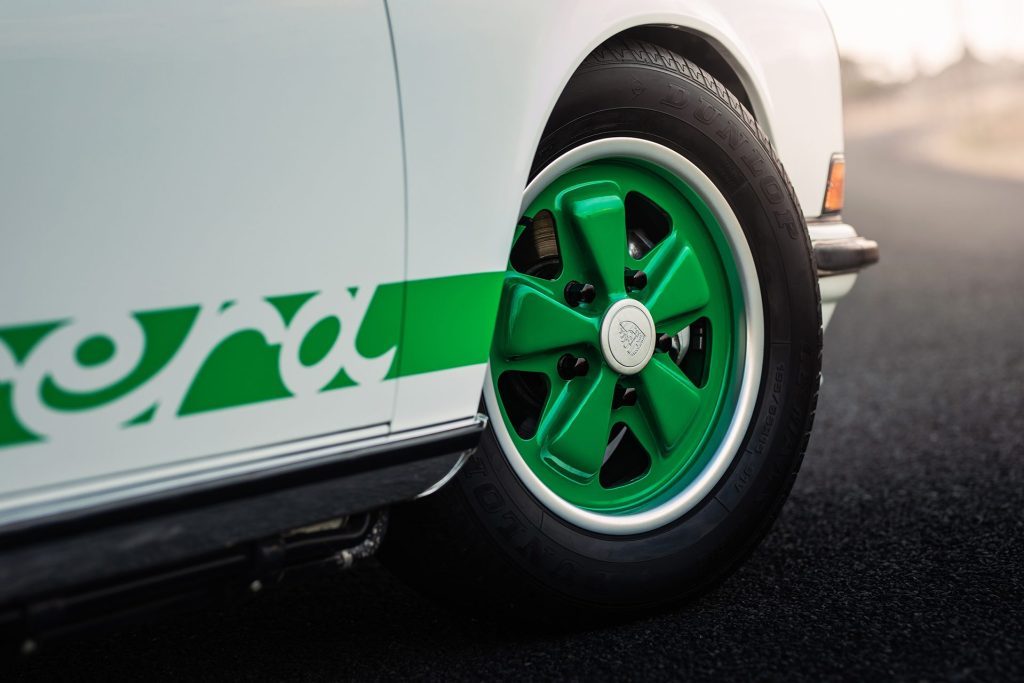 The catalyst for development of the 2.7 was the pace of the aforementioned cars. At a touring car race at the Hockenheimring in spring of 1972, Porsche chairman, Ernst Fuhrmann, reputedly remarked, "Why are we eating their dust?" in response to a spanking on track by the big 3.0-litre saloons. Young engineer, Wolfgang Berger, was all ears and explained the homologation policies followed by both Ford and BMW to allow such production-based weapons to enter touring car competition.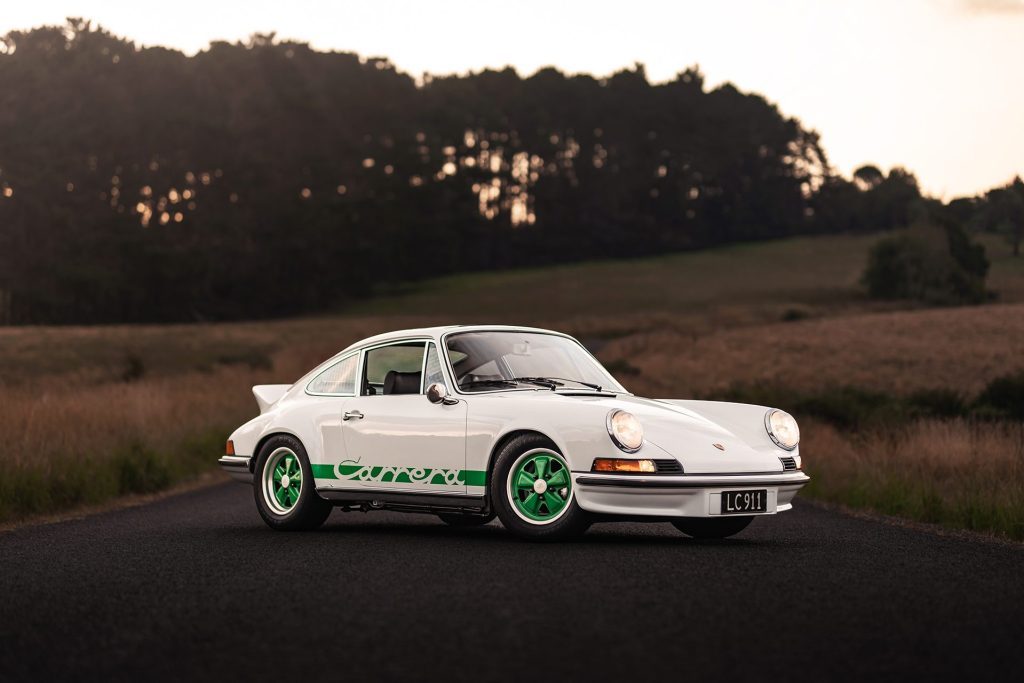 Fuhrmann understood. In as little as three months, Berger had produced a working prototype. It featured an engine punched out to 2.7-litres thanks to Nikasil-coated cylinder walls permitting a much larger 90mm bore. Road car comforts were not a priority, ensuring a marked reduction in weight and augmented by the use of thin sheet metal and glass. This helped bring the kerb weight under 1000kg. Broader rear arches permitted wider rubber, while front and rear spoilers improved aerodynamics, ensuring the new, fiery 911 would stay glued to the tarmac.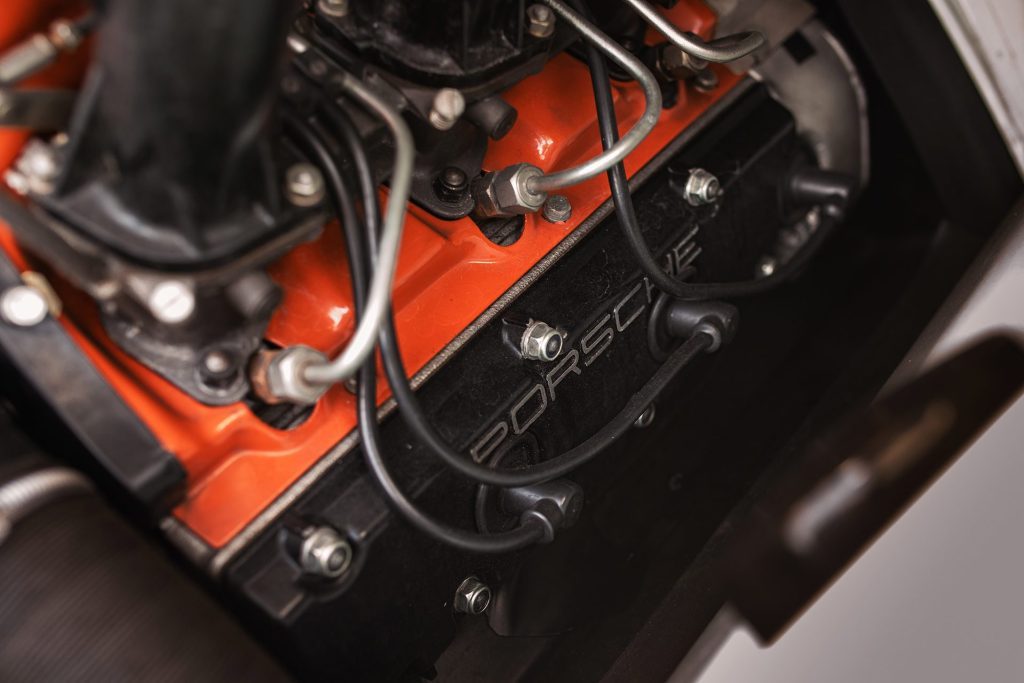 For homologation in Group 4 racing (touring and sports car), FIA rules dictated that 500 examples of the Carrera RS 2.7 needed to be built. Much like the 911R before it, the RS would also run into opposition from the marketing department.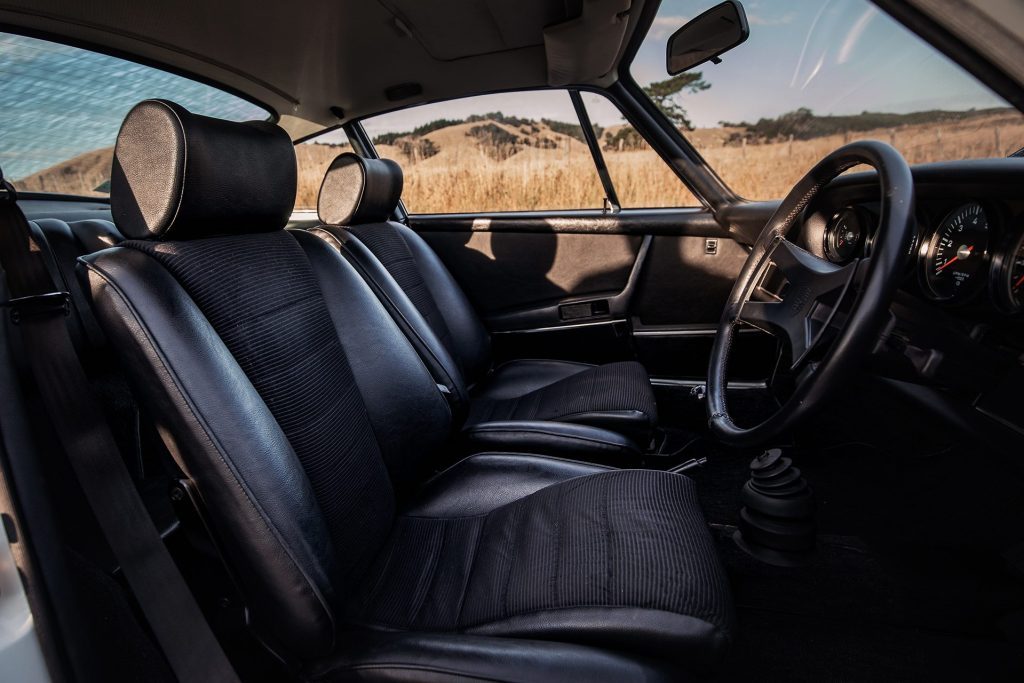 A more road-friendly 2.7-litre 911 had already been mooted and marketing was in full swing. Even as late as June 1972, Porsche's marketing people still weren't convinced that a lightweight variant was going to sell, explaining to Fuhrmann in an internal memo that "even if this car can be expected to be extremely competitive, past experience suggests, as you will agree, that we can hardly expect to sell more than 80 of them to active, independent drivers."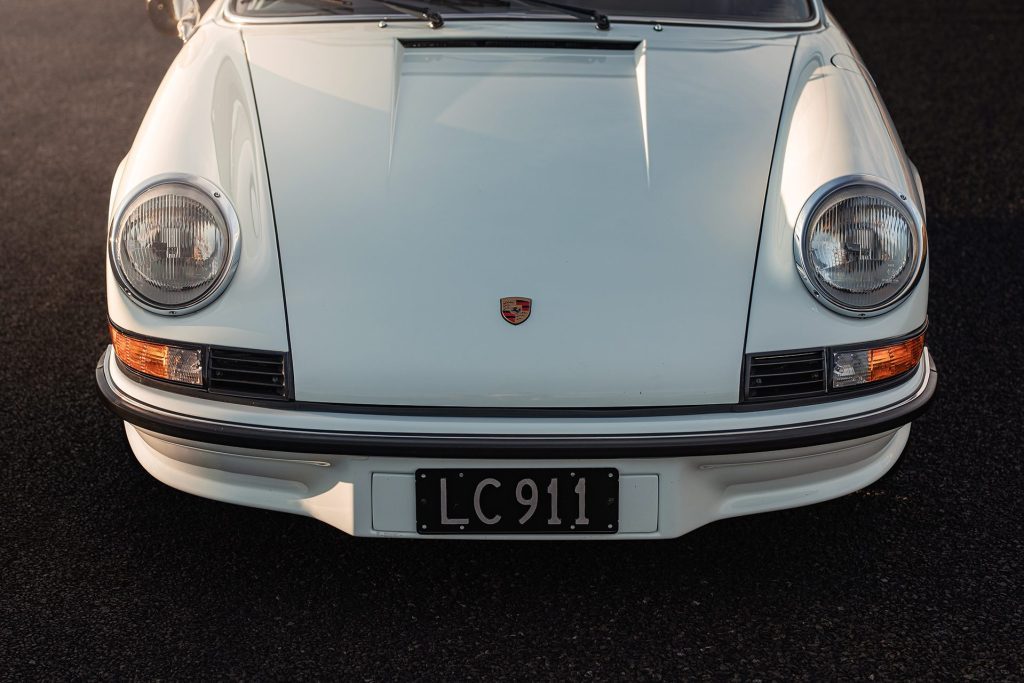 Despite this tension between businessmen and engineers, thankfully the latter won out. Fuhrmann would lay down the law, and choose the lightweight version, over the proposed 2.7-litre 911S and, with that call, the marketers would have to work with what they had.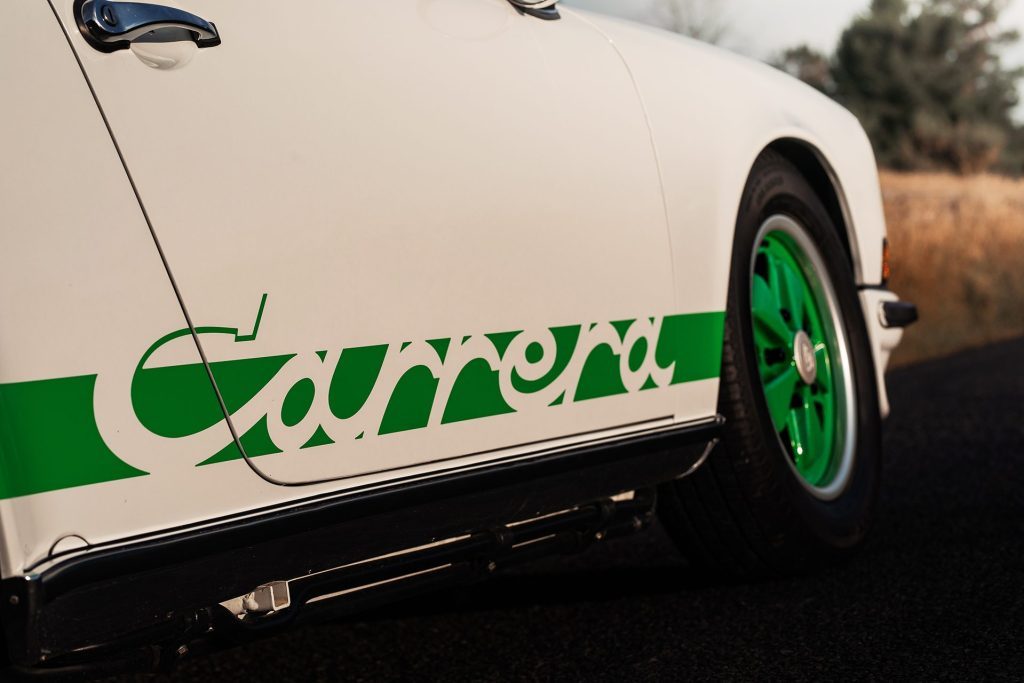 In October 1972, at the Paris Motor Show, what many consider to be the ultimate 911 was launched. Iconic, especially in grand prix white, with a bespoke 'Carrera' script running down it's flanks, the RS 2.7 proved contrary to the marketing department's reservations. Only days after the Paris debut, the Carrera RS met its initial 500 unit goal, with Porsche continually accepting orders until in total 1580 models were sold throughout the model's short lifespan.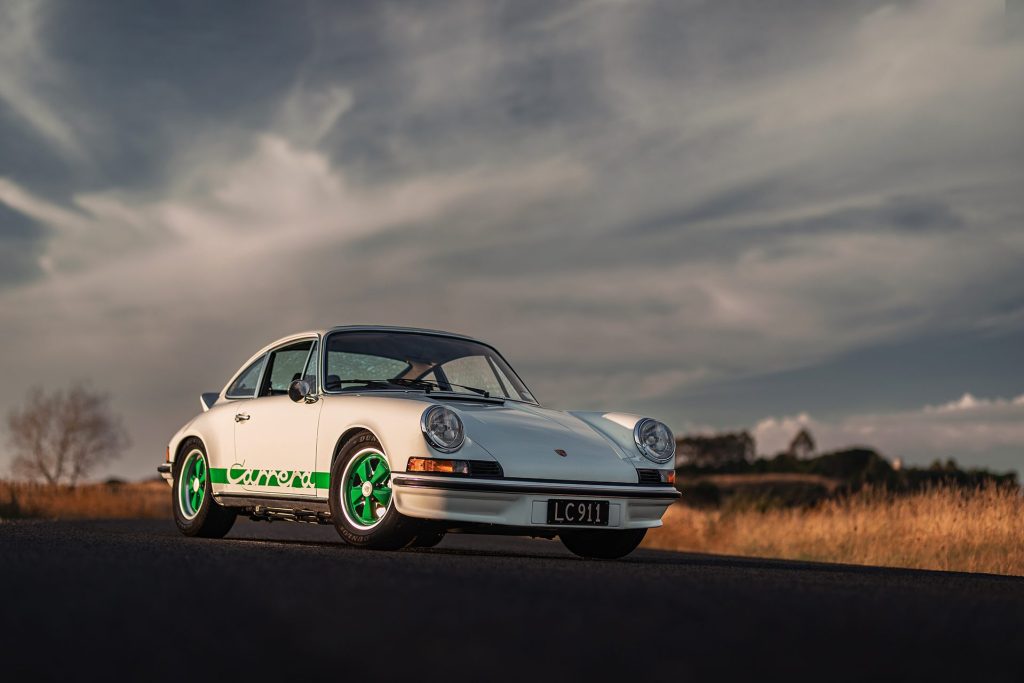 Clearly the attraction of the 2.7-litre flat six was paramount. Power was up to 210hp at a heady 6300rpm – the tacho redlining at over 7k – while peak torque of 255Nm was reached at 5100rpm. Fuchs alloys measuring seven-inches wide filled the rear arches, a full inch fatter than the front examples, and colour-matched to the script along the sides.
Buyers could opt for two versions. One was a lightweight model with option code M471, doing away with such trivialities as a glove box door and opening rear quarter windows. The other was the touring model, M491, which exchanged a little weight for a few more creature comforts, ultimately proving the more popular option with over 1300 produced.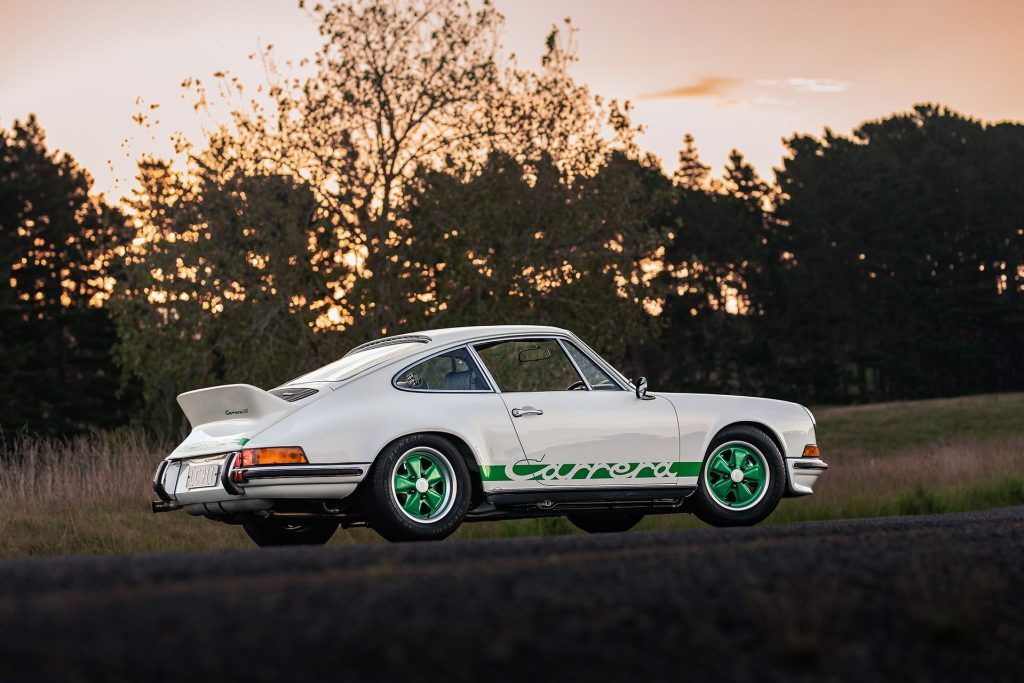 The Carrera RS earned a reputation as the ultimate driver's 911. Even today, superlatives like thrust, pointability and adhesion are levelled at the Carrera RS driving experience. It's raw, unadulterated air-cooled 911 at its most focused. The signature flat-six wail, as it passes through the 4500rpm mark on its way to the redline is one of the more iconic soundtracks and, with such low weight and respectable power, it's still quick by today's standards. A Carrera RS will zip to 60mph in 5.6 seconds, on its way to a 150mph (more or less) top speed.
We're lucky enough to still have a Carrera RS 2.7 on Kiwi soil and, despite the rarity, it's one that sees the road on a semi-regular basis.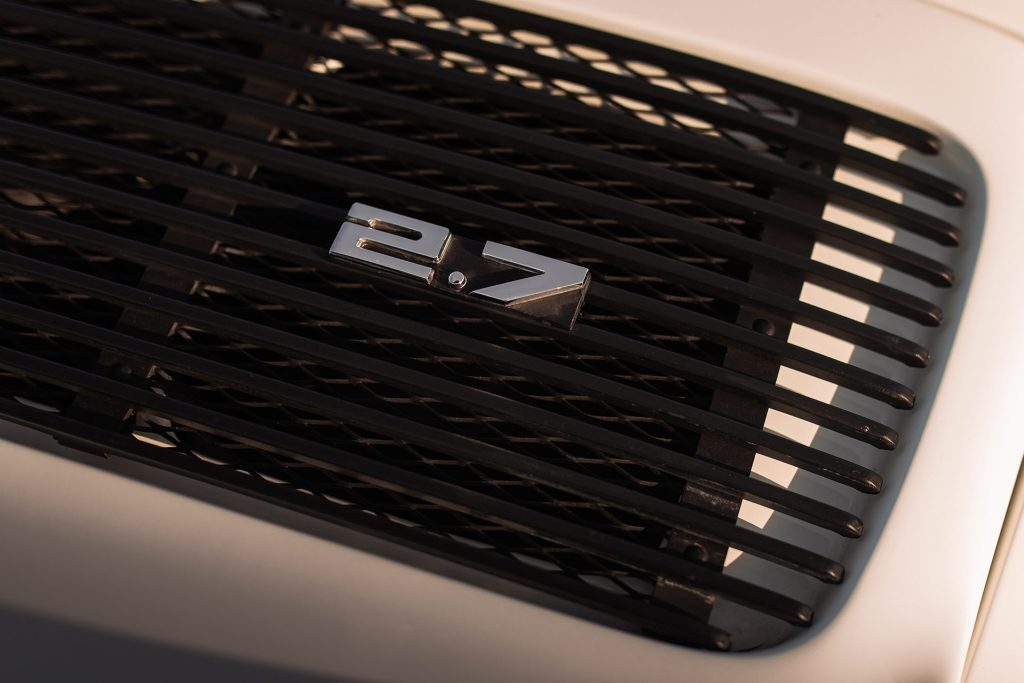 It is owned by certified Porsche aficionado, Paul Higgins. Although the car is strictly a '1973' model year, it rolled off the production line in November 1972, one of only three right hand drive cars produced in the first batch, with chassis number 73, kitted out with the M491 touring option, including comfy Recaro seats and a sunroof.
Eventually it would make its way to New Zealand, landing here in 1982, and Higgins' first encounter with the car would be early in 1985, when he explains he was, "looking for my first Porsche."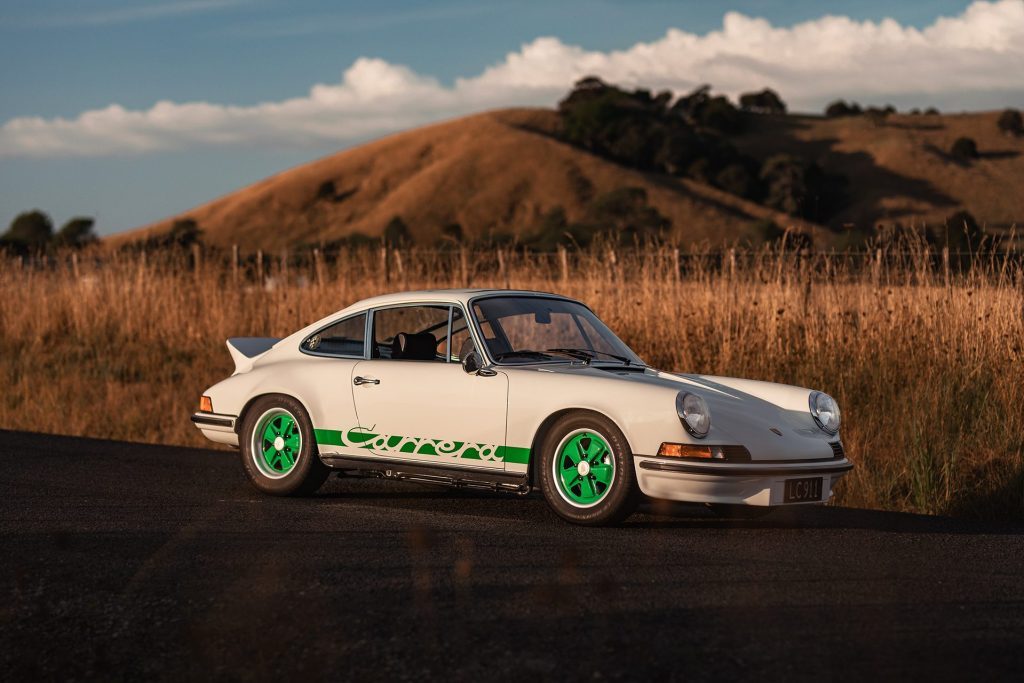 "I saw a car advertised, an RS Carrera, in Remuera," explains Higgins, "so I took it for a drive but it rattled and banged, and I thought 'this isn't what I'm looking for,' so left it.
"I didn't really understand what it was at the time, but Ollie Newbegin, one of the Porsche club founding members bought it, and raced it for a while."
Soon after, Higgins had scored his first Porsche, a newer, more comfortable 911SC, but he does recall asking Newbegin at that time to let him know if he ever wanted to sell the RS, to please give him first option on the car.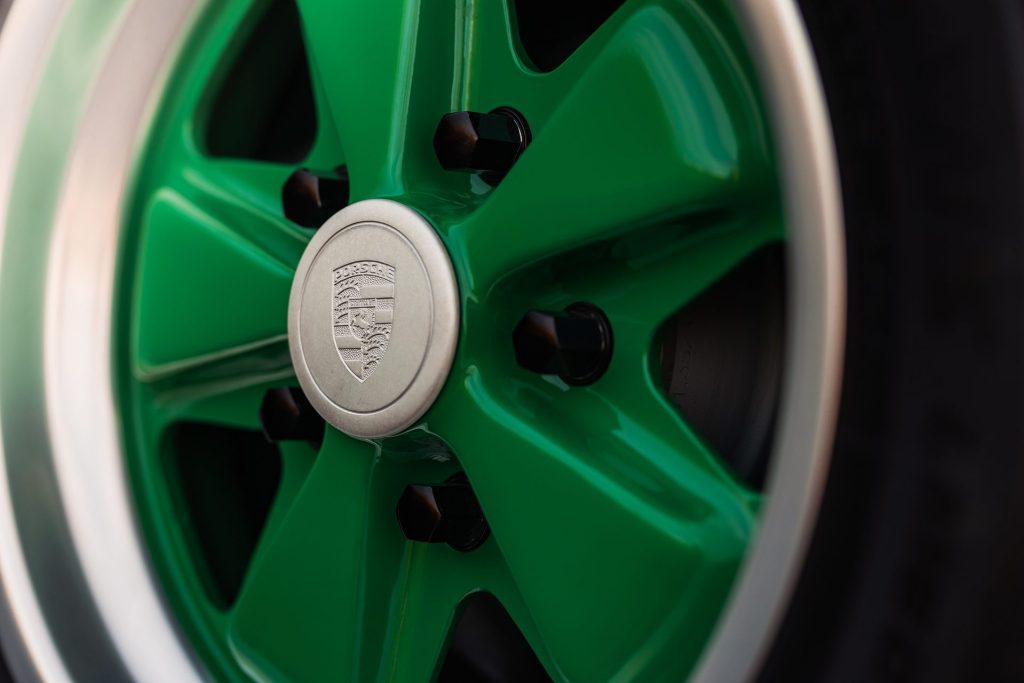 "He rang me one day, and told me he wanted to sell," Higgins says, "and in December '88 I bought it."
The car had been vastly improved since that first encounter, with Newbegin's tenure including a regime of bringing all deferred maintenance up to date, as well as effecting a handful of improvements in the name of track performance. Higgins freely admits the appeal of the car dawned on him once he'd learned more about the Carrera RS, and its significance in Porsche folklore. He'd go on to race it occasionally, although not seriously (like some of his other cars), but the RS would go on to see the odd daily driver duty.
"It's got such incredible throttle response; you need to be careful in the wet," Higgins smiles. "Compared with the Turbo, it's actually a harder car to drive; it's sharper, lighter and stiffer, it's a more direct car and it's less forgiving," he says of the Carrera RS.
In 2004, Higgins made the call to pull the Carrera RS down, and embark on a ground-up restoration, the first full-blown rebuild he'd put his mind to.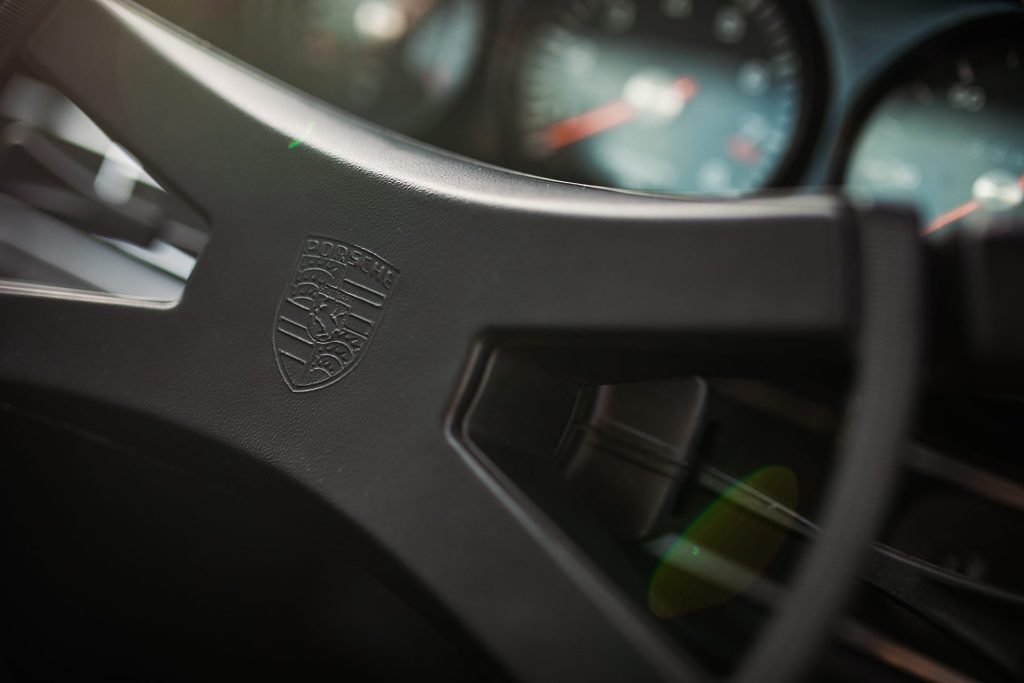 "It took us four years," laughs Paul. "I'd never done a restoration and a lack of knowledge on my part made it drag out a bit." The car rolled into the sunlight on the morning of the 2008 Ellerslie Concours, with the front badge applied as the finishing touch just minutes before the car made its debut.
"It was a wet Concours that year," Paul recalls, "and we entered it in the teams event with the Porsche club. We ended up winning the teams trophy, and the RS won the top car of the teams event." It's testament to the attention to detail and passion that Higgins instills into any car that finds a place among the collection.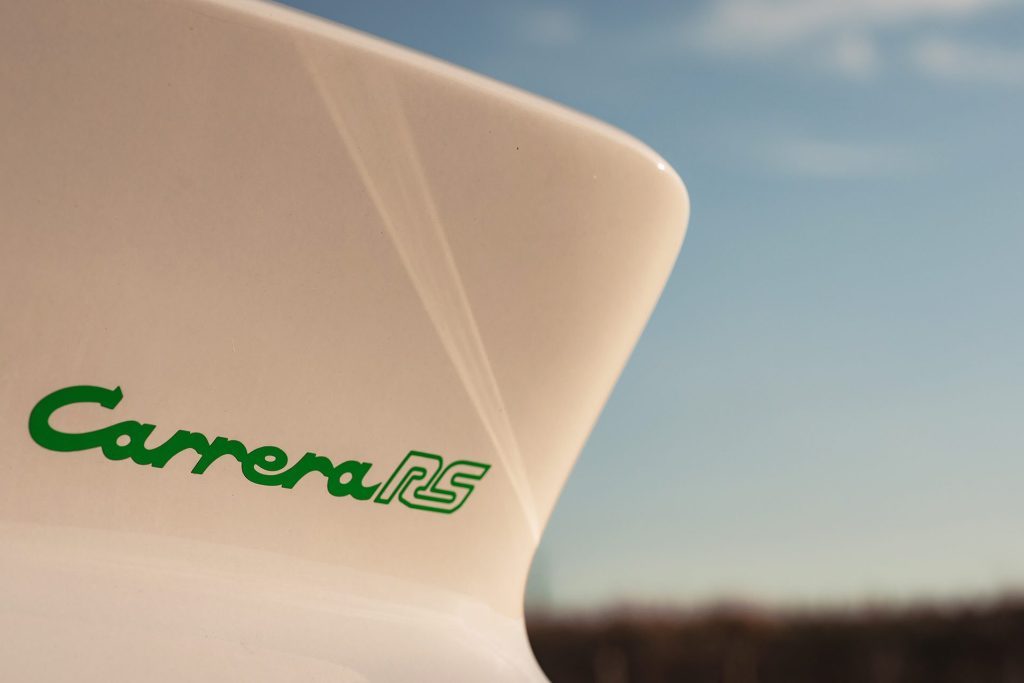 Other 911 Carrera RS 2.7s have come and gone here, but the Higgins example remains. It's a part of the family now, a car that saw duty as school transport, something that's been part of the Higgins clan fabric for nigh on 35 years. "If ever I've made noises about selling it I get shouted down quickly by everyone, including my wife!"
It can still be seen on the streets occasionally, its distinctive flat-six howl reverberating through the hills, as it's still driven like a 911 RS ought to be. If anything, it's a reminder of just how powerful a couple of letters can be, and how much they can symbolise.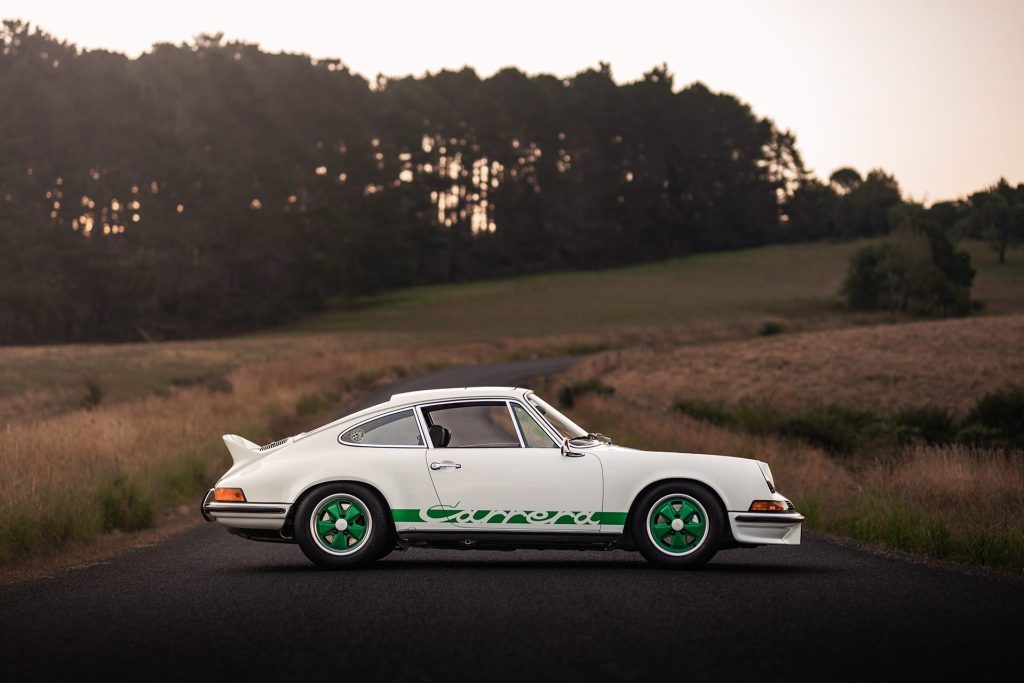 More classic Porsche features: