Historic racing is a varied scene, with many ideas on what constitutes a classic. Rex Bentham's 1960 Jaguar Mark II is a minor celebrity in the classic community and is built to simulate racing "the way it was"
The "golden era" of Kiwi motorsports is often recalled by a generation lucky enough to have watched local heroes and international superstars alike wage war on local tarmac. That period through the late 1940s to the 1970s hit the sweet spot with the Tasman series enticing Formula 1 royalty to Kiwi shores.
There was also the rise of saloon car racing and those brutish Formula 5000s. Those cars now form the classic motor racing scene, the passion project of thousands across the country inspired by the glory days. However, like contemporary motorsport, the cars and classes have evolved. Lap times have tumbled as these classic racers have strayed from 'period' configuration, particularly in the tin top classes.
For a while it felt like 'everyman' classic racing was losing that special character. Competitiveness began to take priority over period simplicity. You could argue we reached a classic motor racing 'peak' in the mid-1990s, at least in subjective terms. 'Ordinary' classic vehicles appeared more accessible and it cost less to go racing with these. Think of grids bursting with everything from Lotus Cortinas and Alfa Romeo 105 GTVs to MGB GTs and beyond. In most cases, cars didn't stray too far from road legal specification. Full interiors were the order of the day, punctuated by basic roll bars. Warmed up engines were a given adding to the aural spectacle of older cars being taken to their limits and beyond.
Cars like Rex Bentham's 1960 Jaguar Mark II, now competing in the Historic Saloon Car group, epitomise these years of classic motor racing. The car's no spring chicken to the classic race grid either. The story of LN1960 and her speedy endeavours began 38 years ago, with its chance discovery by Steve Thompson, already a confirmed Jaguar nut.
Part 'restored,' Thompson drove the metallic brown Jaguar off its Napier driveway for the princely sum of $1500 back in 1981. He'd seen a bright red 'Coombes' converted Mark II in a Jaguar book and its louvred bonnet, triple SU carbs, rowdy exhaust and wire wheels would prove something of a blueprint for the transformation of LN1960.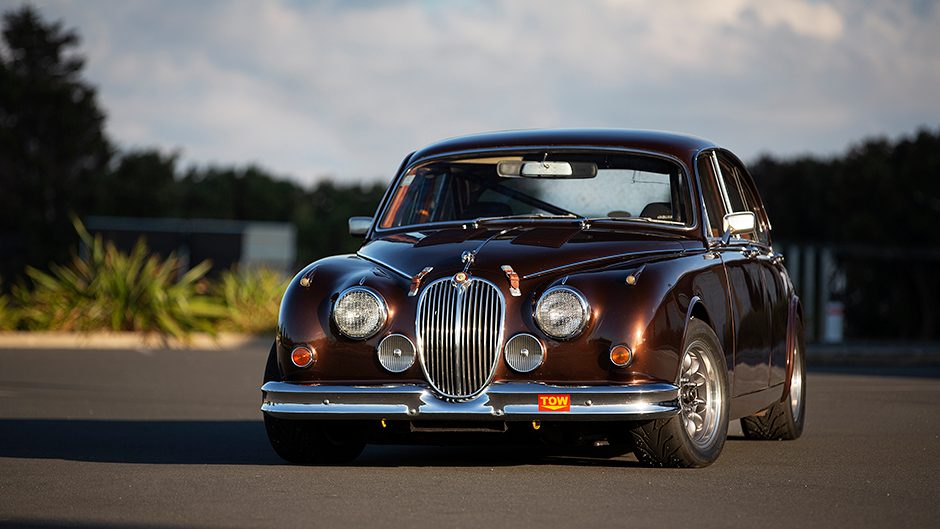 But first the tired 3.4-litre 'XK' twin-cam six was replaced with a 3.8-litre which had been languishing in a paddock. Thompson bored the larger lump 40 thousandths of an inch oversize, and fitted an XJ6 straight port head and a trio of SU HD8 carbs. Backed by a four-speed Moss gearbox, he said it ran like a dream, topping the iconic Jaguar cam covers with a bonnet louvred by a local panel beater. Thompson pressed the car into race duties throughout the 1980s, and it even wore wire wheels for a period, which allegedly did nothing for the handling, behaving like "tired old tennis rackets."
The raucous exhaust, Moss 'box and hair-trigger throttle made for a great classic racer, but not a wonderful family sedan. And so Thompson advertised the car for sale with the only respondent being a "larger than life" character by the name of Mike Westall. Prior to inking a deal, Westall took the car on an allegedly wild test drive, exclaiming if it had blown up, it wouldn't have been fit for purpose.
Details on his tenure are somewhat hazy, except that his driving style matched his personality, with a penchant for driving the absolute wheels off the big cat. The car piqued the interest of one Mike Uhlenberg and after a chance meeting with Westall at a Manfeild race, he grasped the opportunity to take LN1960 for a spin and ended up keeping it! Uhlenberg cracked on with racing LN1960 until a fateful encounter with a stock-loading ramp while belting up the Ngawhini hillclimb.
The impact tore the five-point harness from the floor, injuring Uhlenberg, and the Jaguar was bent beyond repair. Recuperated, Uhlenberg sourced a clean 3.4 Mark II automatic, reshelling the race gear into the new car. A fresh 4.2-litre engine was installed utilising a cleverly packaged dry sump arrangement all contained within the engine bay. Triple 45mm Weber carbs handled the air/fuel mixture, while a coil pack conversion ensured the spark arrived on cue.
A rare Getrag five-speed from an XJ-S took all the torque the new 4.2 could throw at it, with a power steering conversion the cherry on top. Uhlenberg campaigned the Mark II for many years throughout the North Island with a focus on local Taranaki club events. In 2000 he won the Sybil Lupp trophy. Six years later, LN1960 was to change hands again, this time to David Hunter, fresh out of racing his own 125T and looking to make the change. Hunter noted the Mark II had "everything I wanted in a race car."
Big four-pot Wilwoods had made their way onto the front hubs by this stage, as well as XJ-S rear suspension and matching race seats and harnesses. It was a well sorted, potent classic racer. Hunter's first outing in it lasted six laps before spinning the bearings. Duly rebuilt, the car managed a couple of meetings at Teretonga and Levels before damaging the bearings again at the Skope Classic in 2008.
The dry sump system proved the culprit, with a crank scraper, mesh sump liner and plumbing refinements sorting it. Dyno tuned to 283hp at 6000rpm (with more in it!) Hunter then spent time refining the chassis and brakes. The Jag was then livelier than ever, able to be steered on the throttle and a competitive front runner despite the 1.5 tonnes of mass being dragged around.
Nine years of enjoyable classic racing followed, sharing track space with four or five other Mark II racers, before current owner, Rex Bentham took the reins. Growing up and working on a Waharoa dairy farm, busy schedules meant that competing was never a pursuit for Bentham in his younger years. He does recount taking his Mark I Cortina GT to watch the racing at Baypark, "sitting up in the terraces green with envy," watching the rapid progression in motorsport as the Allcomers saloons got wilder by the year. "Whenever I had any money I'd get off milking cows, and get over the hill to watch," he quips, "and that's where the passion began."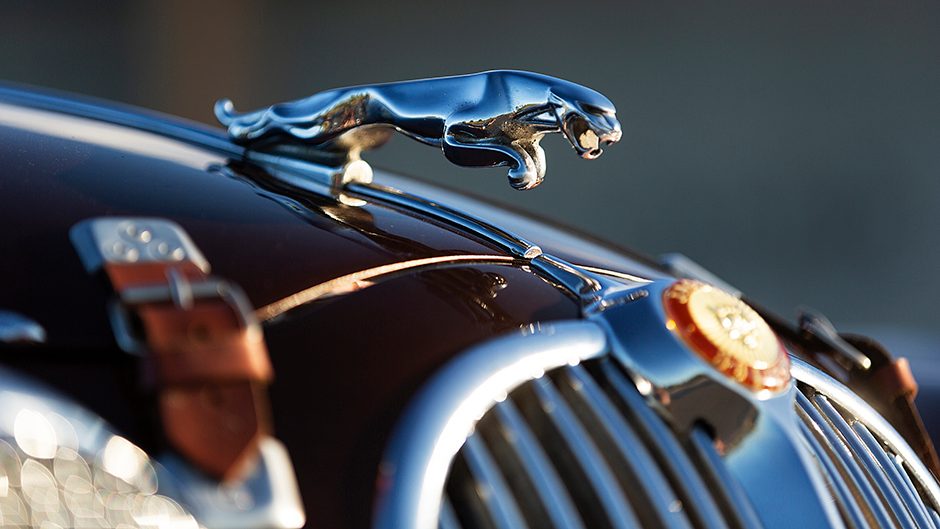 Life happened, as it does. The classic Kiwi OE, marriage, and making a living on the farm. He built a large workshop, circa 2000, which needed a project car to fill the excess space, and a passing affinity for Jaguar saw Bentham return from a trip South with an XK150. A nine-year restoration saw the decrepit coupe transformed into a usable classic, but not before another XK150 had been acquired as a possible donor car.
That also turned into an ongoing restoration, perhaps a story for another day. Long story short, Bentham's XK150 introduced him to classic competition. "I sort of got the bug, I wanted to do more track stuff, so started looking for a race car and found this MGB roadster in Wanganui." Bentham ironed out a few initial issues and with the car fairly sorted he learned his way around a track with the classic trials crew before progressing to running amongst a full grid in the European Racing Classic series. Ultimately, persistent engine troubles killed the MG vibe, with the decision made to sell up.
"That was going to be it, I was just going to focus on the green XK150 and take that out every now and then," Bentham reckons before continuing, "but then as you do I was scrolling through Trade Me and this Mark II popped up!" "It looked stunning. I caught the next flight to Dunedin and met the bloke. He chucked me the keys to his shed and let me spend as much time as I wanted looking it over." LN1960 was destined for the North Island again, and Bentham was back on the circuit.
After a couple of meetings, cooling problems punctuated Bentham's Mark II experience. With the head off, the engine was assessed and ultimately sent down to Bruce Mason in Dunedin for a complete refresh. New forged pistons and some tickles to the head saw the new 4.2 lay down a stout 320hp on the rolling road.
But the cooling problems persisted, eventually rectified with an upgraded radiator set-up ensuring the snarling 4.2 was reliable once again. It's that confidence in a classic racer that makes the whole experience more enjoyable. With the Mark II running like clockwork, Bentham headed to the Historic Saloon Car grid.
"I like the idea the car hasn't really been modified or cut up. It still has its full interior, and these guys all seem to have the same idea," Bentham says of the HSC grids. "They're a wonderful group, everyone is welcoming and forthcoming with ideas and encouragement, even when I was feeling a bit despondent about starting from the back of the grid at Manfeild."
It's classic car racing the way it was. Reinventing the glory days of motor racing, keeping things simple and stylish. LN1960 is one of a handful of cars that have come full circle and is a testament to racing like it ought to be.