The Superb is half way through its third life cycle, and has been refreshed with a styling and technology makeover, along with an expansion of the local line-up.
A Scout 4×4 200kW high-riding wagon is the main addition, going for $64,990, but this report isn't about that. Instead, it's about the $67,990 TDI Sportline Combi. In other words, Škoda's AWD diesel-powered wagon. It's the less expensive alternative to the top TSI petrol variant which is more powerful (200 vs 140kW) and a heap faster as a result (0-100 in 5.7 vs 8.1sec). That said, the diesel is more abstemious, Škoda NZ quoting 5.6L/100km overall compared with 7.1 for the petrol version. WLTP figures however suggest around 6.5L/100km for the diesel and that's closer to the seven figure we saw.
The diesel is a 2.0-litre Euro6 variant that runs AdBlue to achieve lower NOx emissions. Its 140kW chimes in from 3500-4000rpm while peak torque of 400Nm is to hand by 1900 and hangs in there until 3300rpm. Because you tend to drive diesels on their torque rather than on their power most of the time you operate the Superb Sportline TDI in the 2000-3000rpm range, riding the torque wave. It's a perfectly adequate engine for its mission here, and Combi TDI will even tow up to 2200kg braked. However, in the D transmission setting turbo lag off the mark is noticeable. Turning right at a T intersection for example, you need to be mindful of this and either select the S mode for the transmission – merely pull the lever back – or hit the gas a moment before you intend to take off. Otherwise, you might find yourself with a buried foot but nothing happening.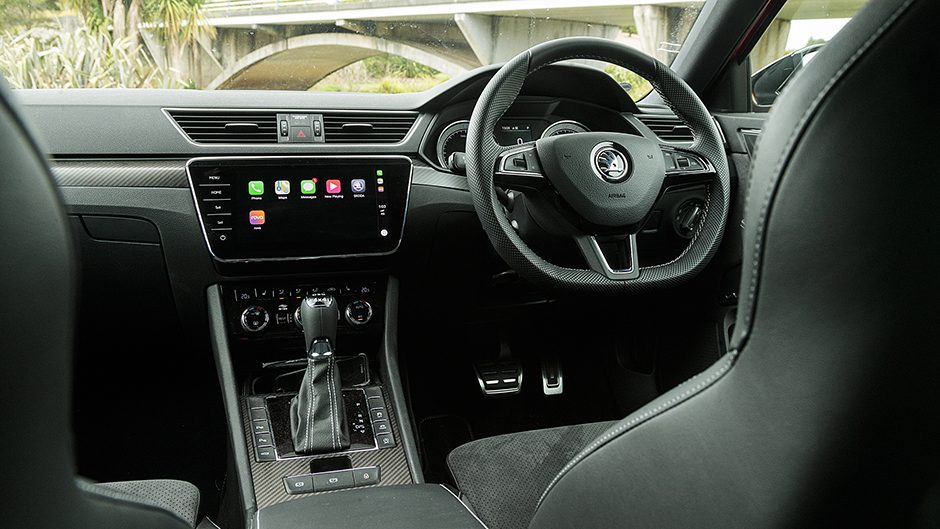 Once up and running, and with drive modes optimised, we couldn't quite understand how Skoda quoted an 8.1sec sprint time for we could only manage 9.6sec. It was then the light bulb went on. Using manual sequential and upshifting around 4000 instead of 4500 gets the best of both the power and torque from this engine. And the first run netted precisely 8.1sec. The new seven-speed transmission probably helps some too. This latest Combi TDI is quicker than the TSI 132 petrol-powered example we tested in 2016.
On the open road, overtaking is achieved efficiently enough and it stops pretty decently, in a best of 35m, thanks in part to sticky Potenza rubber. However, these big boots generate a fair amount of road clamour. In cabin SPLs of 73-74dB can border on intrusive. On hotmix there's no such issue.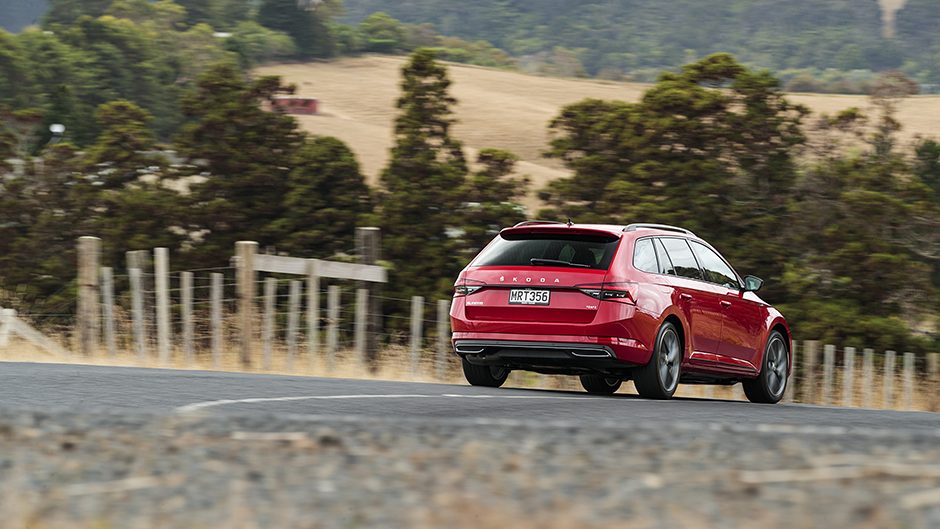 We wonder about suspension settings for the TDI; the Sportline gets a lowered (-15mm) set-up but it's more the various modes that don't seem to quite gel with out-of-town Kiwi conditions. The default mode for the adaptive dampers is the Normal setting, which is cushy in town. But on the open road at the legal limit, it's underdamped, bouncing too much over undulations. Opt instead for the Sport mode and it's now tied down, but minor indentations and irregularities in the road seem to be highlighted. This mode also resets the transmission to Sport, which is acceptable as it's sharper and even in sixth the gearing is tall. Besides the Sportline has paddles attached to the D-shaped sports wheel. Or you can always just pull the spring-loaded shift lever backwards which resets the transmission to Drive. The Sport setting was the drive mode we used primarily out of town, Normal or Individual back in. It corners nicely in Sport mode, with loads of grip, and gentle understeer at the limits.
This latest Superb is the best looking yet with crisp character lines, techy headlamps and fetching gloss black highlights.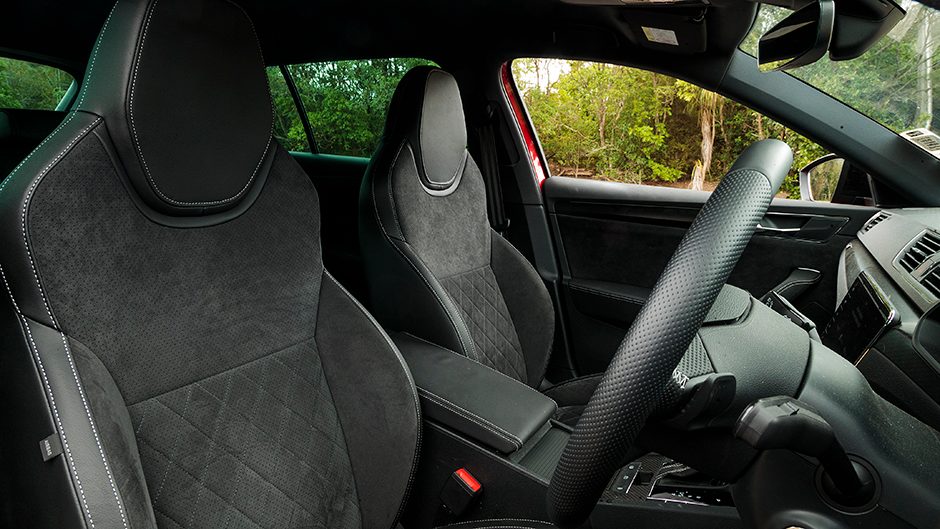 The interior is a whale; few full-size wagons offer this much stretch space in the rear, while the boot is cavernous at 660L, our gear for two of a weekend swam in the back.
The seats themselves are rather nice, finished in Alcantara and leather. Other items include adaptive LED headlights, surround camera, 10-speaker Canton sounds, window tints, smart key, a powered fifth door, active cruise, tri-zone air con, and active safety for Africa. There's even voice enhancement to make it easier for rear seat occupants to hear.
Not into diesel? There's always the base TSI 140kW Combi at $59,990.
| | | | |
| --- | --- | --- | --- |
| Model | Skoda Superb TDI Sportline | Price | $67,990 |
| Engine | 1968cc, IL4, TDI, 140kW/400Nm | Drivetrain | DSG, AWD |
| Fuel Use | 5.6L/100km | C02 Output | 145g/km |
| 0-100km/h | 8.09 sec | Weight | 1721kg |